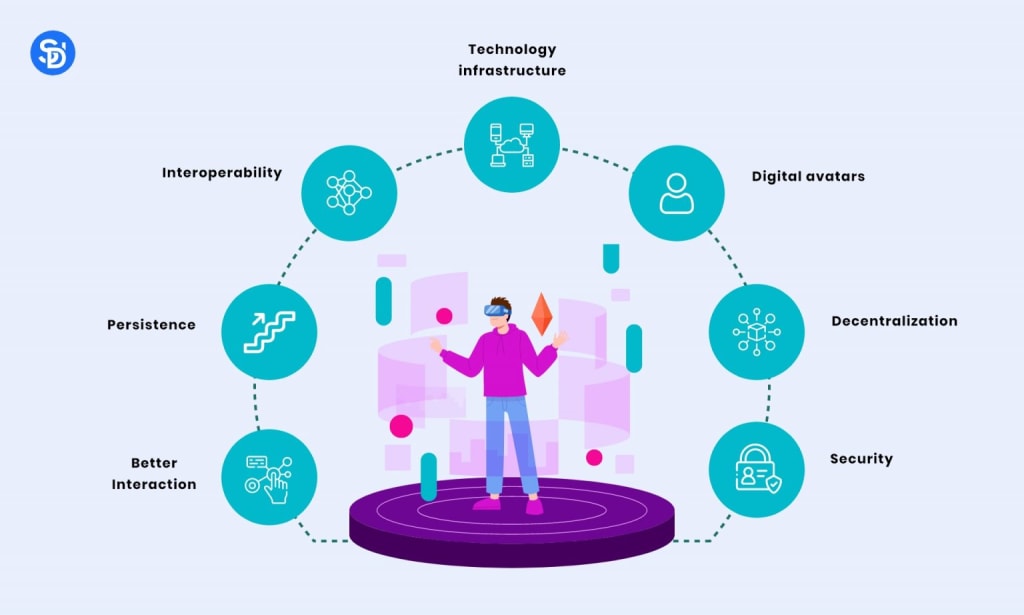 The gaming world is keenly waiting to merge with the Metaverse. Industry experts are of the opinion that this universal 3D world has the potential to restructure businesses like gaming, real estate, retail, etc. to create a win-win situation for every stakeholder.
Currently, the objective of this post is to explore:
What are the Major Features of Metaverse Gaming?
First appeared in the science fiction novel 'Snow Crash' in 1992, Metaverse is gradually evolving as a bright reality. In the game segment, the arrival of the Metaverse will set a new benchmark. It will allow developers and publishers to maintain quality and perfection in gaming. Ultimately, this will ensure an amazing end-user experience quite naturally.
Now!
Have a look at the top Metaverse gaming features:
1.Immersive Visuals
In the Metaverse, every gaming platform will serve users with a smart, appealing, and intuitive user interface. Moreover, the use of top-notch 3D graphics will gain visibility when you explore backgrounds and interact with game characters in the Metaverse.
Similarly, leveraging the power of Augmented Reality and Virtual Reality, the distinction between the game and the real world will be eliminated quite naturally to boost engagement and profitability.
But to introduce these immersive elements, consulting a reputed Metaverse game developer will be quite productive.
2. Decentralized Environment
Decentralization is a core pillar of the Metaverse. This will grant players facilities like asset ownership and control authority, determining game mechanics, rules, updates, etc.
Previously, the existence of a centralized architecture in gaming used to benefit developers and publishers exclusively. Gamers hardly had the scope to vehemently participate in the world of gaming.
Metaverse has everything to offer combining players, developers, and publishers simultaneously. It means everyone has a fair chance to earn profits in this decentralized 3D platform quite conveniently.
3. Ensure Data Privacy
At the moment, gaming data is preserved in a centralized server. No doubt it helps in stacking every piece of information under a single roof. At the same time, also provides a golden chance for hackers to steal them smoothly.
But such unpleasant incidents will never take place in the Metaverse. Using blockchain technology, every metaverse game developer will have the option to preserve your end-user and asset data in servers that run on a peer-to-peer network.
4. Unlock New Possibilities
The chance to capitalize on new opportunities is very limited in the conventional game world. Now, discover new gaming opportunities in the immersive land of Metaverse with the help of technologies like Artificial Intelligence, IoT, and so on.
Landing your game business in the Metaverse will help you to spot unexplored possibilities quite easily to make money within a short time.
As a player, you have plenty of surprises awaiting in the land of Metaverse. Your earnings from gaming will be doubled.
You will not just earn by playing games superbly but also have the option to sell or lease your earned assets to make money in cryptos, NFTs, or real cash.
5. Massive Collaboration
To make money in Metaverse gaming, the contribution of players is equally vital like other stakeholders. They will also receive a fair chance to participate in shaping the levels, mechanics, rules, features, and characters of a game in a collaborative environment.
This will eventually boost the creativity of every mobile game development company. It will empower them to shine in the world of Metaverse to maximize profitability and user base quite amazingly.
How Much Does it Take to Build a Game in the Metaverse?
The budget of a Metaverse game depends on your basic requirements, technology stack, launching new updates and features, project complexities, storyline, etc. Moreover, the budget tends to vary during frequent modifications, resource availability, and so on.
What are the Top Metaverse Games?
Metaverse will soon emerge as a mainstream game development platform. Right now, games that have the potential to fit this decentralized 3D world include Axie Infinity, Decentraland, the Sandbox, Gods Unchained, etc. When building games targeting the Metaverse, seeking assistance from a professional mobile game development company will be quite fruitful.
What is the Future of Metaverse Gaming?
Every statistical report is quite optimistic regarding the prospect of Metaverse gaming. It is estimated that by 2027, the worldwide market size of this gaming segment will reach $710.21 billion which is a massive hike from the previous figure of $36.81 billion in 2022 (Source: Global Market Estimates).
This revelation is enough to motivate investors to spend resources in the Metaverse gaming business to achieve robust dividends within a short time. Besides, you also have to observe the latest industry trends to emerge as a leading player in this competitive business.
Author Bio
Red Apple Technologies is known for its outstanding game development services. Besides, the organization has also gained attention for serving industries with result-oriented app development, e-commerce and enterprise solutions, art and design services, etc. This reputed organization has been running under the guidance of Mr. Arup Roy. As a CEO and Founder, he has helped the company to achieve new milestones with perfection and innovation.
Reader insights
Be the first to share your insights about this piece.
Add your insights