Unleash Your Gaming Potential with the Xbox One S 500GB: The Ultimate Gaming Console!"
Unleash Your Gaming Potential with the Xbox One S 500GB: The Ultimate Gaming Console!"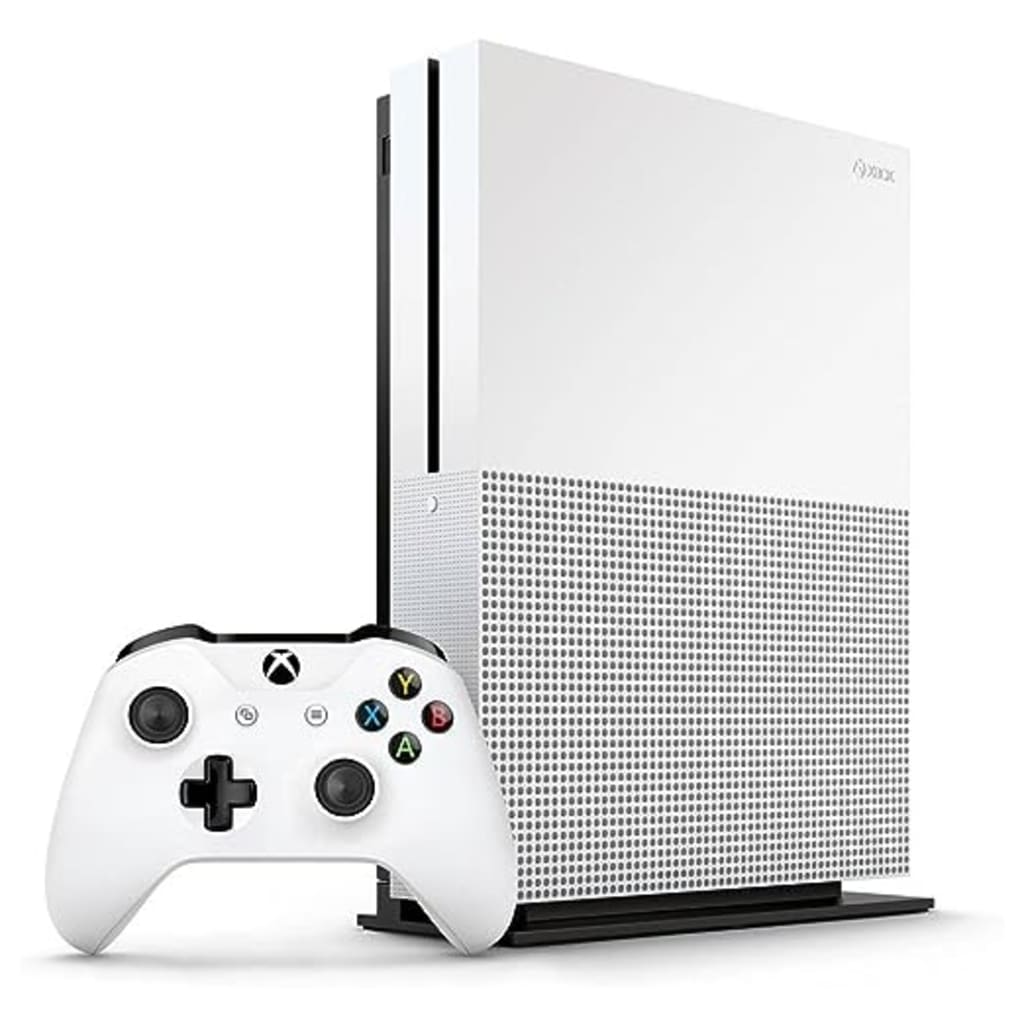 The Xbox One S 500G is an impressive gaming console that has been taking the gaming industry by storm since its release. It is a console that has a lot to offer and has a variety of features that make it a great choice for any gamer.

The Xbox One S 500G is the perfect gaming console for gamers who want to take their gaming experience to the next level. This gaming console comes with a 500GB hard drive which means you have ample storage space for your favorite games. In addition, it has 4K Ultra HD and High Dynamic Range (HDR) which delivers vivid and rich visuals that take gaming to another level.

If you're an avid gamer, you're likely to spend a lot of time playing your favorite games, and this can cause the console to overheat. The Xbox One S 500G has a unique design that features a built-in power supply that allows for maximum cooling, which means you can game for hours without worrying about overheating. Furthermore, it is also incredibly silent which means that you can fully immerse yourself in the gaming experience without being disturbed by any loud noises.

Another impressive feature of the Xbox One S 500G is that it has a fantastic library of games to choose from. The console boasts over 1300 games which are constantly updated, so you're always spoilt for choice. Some of the most popular games available on this console include FIFA, Fortnite, Minecraft, and Halo, just to mention a few. What's more, the console is backward compatible, meaning that you can also play your favorite Xbox 360 games on it.

The Xbox One S 500G is not only a gaming console, but it's also an entertainment hub. You can easily connect to your favorite streaming services like Netflix, Amazon Prime, and YouTube to catch up on your favorite movies and TV shows. Furthermore, the console is voice-enabled, and you can control it with your voice, thanks to the Xbox skill on your Alexa-enabled devices. This makes it even easier for you to navigate through your games, music, and TV shows without using a controller.

If you're a multiplayer enthusiast, you'll love the Xbox Live Gold. The console comes with a free 14-day trial of Xbox Live Gold, which gives you access to a whole world of multiplayer gaming. With Xbox Live Gold, you can connect with other players from around the world, play online, and enjoy exclusive member benefits.

Finally, the Xbox One S 500G is sleek and compact in design, which means that it's easy to set up and takes up less space. It also comes with an improved wireless controller that's comfortable to use and features a textured grip and Bluetooth technology. You can also customize your controller by swapping out the thumbsticks, d-pads, and paddles.

In conclusion, the Xbox One S 500G is an impressive gaming console that's perfect for any gamer who wants to take their gaming experience to another level.
Anyword has many exciting features to help marketers craft better copy. Please connect from your Mac or PC to check them out.
As a devoted gamer, I am confident that there is nothing quite like the Xbox One S 500G. In terms of both aesthetics and functionality, this gaming console is the pinnacle of gaming perfection. Whether you are a seasoned veteran of the gaming world or simply an enthusiastic beginner, the Xbox One S 500G has everything you could possibly need to take your gaming experience to the next level.

One of the things that sets the Xbox One S 500G apart from other consoles is its sleek and beautiful design. The console itself is incredibly compact and stylish, making it an ideal addition to any gaming setup. The cool white exterior is elegant and minimalistic, yet at the same time exudes an air of sophistication and class. This is the perfect complement to the immersive and intense gaming experience that the Xbox One S 500G is known for.

In terms of functionality, the Xbox One S 500G truly delivers on every level. This console is jam-packed with features that make it an absolute pleasure to use. One of the key selling points of this console is its powerful performance, which is evident from the moment you switch it on. The 500G of storage ensures that you have plenty of space to save all your games and content, while the lightning-fast processor guarantees that everything runs smoothly and seamlessly.

Of course, what truly sets the Xbox One S 500G apart from other consoles is its vast selection of games. With hundreds of titles available to choose from, ranging from action-packed shooters to intense role-playing games, there is truly something for everyone. And with the ability to play some of the biggest and most popular titles in stunning 4K resolution, the Xbox One S 500G delivers a gaming experience that is unrivaled in its beauty and quality.

In conclusion, if you are looking for a gaming console that combines incredible design with top-of-the-line functionality and an unbeatable selection of games, then look no further than the Xbox One S 500G. From the moment you start playing, you will be blown away by the stunning visuals, smooth performance, and immersive experience that this console offers. So what are you waiting for? Grab your Xbox One S 500G today and start gaming like a pro!
Reader insights
Be the first to share your insights about this piece.
Add your insights