Top 10 Horse PC Games
Alright as a horse lover and owner along with being a gamer horse games are a must for me. Here are my top ten.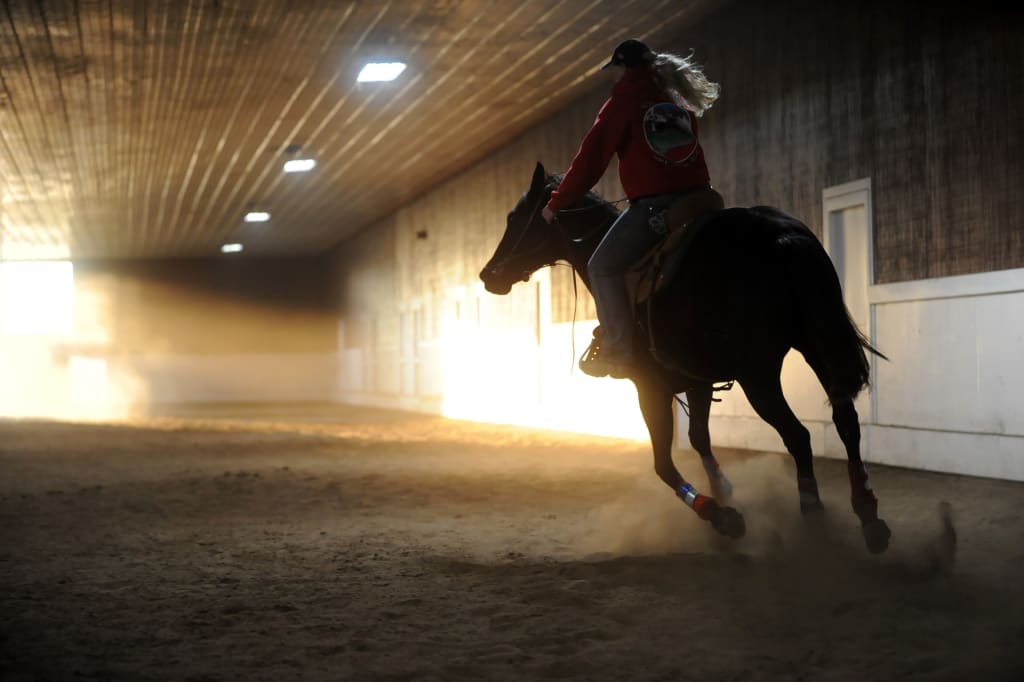 So I have always been a horse lover, and I have always had at least one horse in my pasture. But in my free time I'm also an avid gamer. So horse games are a huge must have in my collection. So here are my top 10 favorites to play on my PM.
Number 10: Pippa Funnell Ranch Rescue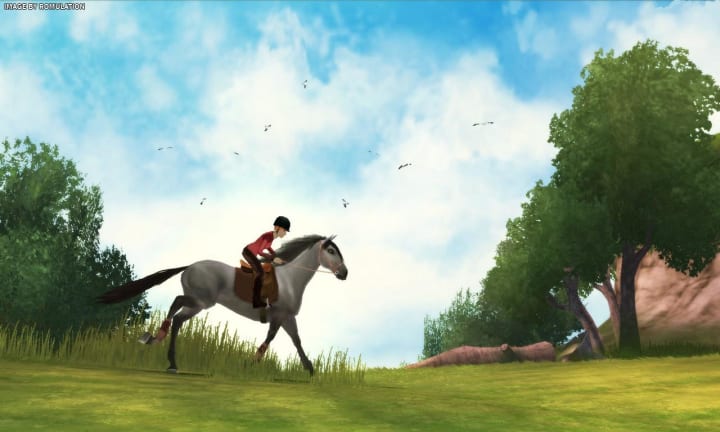 So I came across this game years ago. It is a great game, super fun and interactive. It doesn't really have a lot of downfalls about it, other than once you complete the game it gets boring and very old fast. It has amazing graphics, (thanks ubisoft!) and loads of ways to interact with your horse, from grooming to training. You even get to do small mini games to further their training. It's called "breaking in" in the game. It also has a great storyline, and a fun interactive world. Now mind you, it's not a huge world but it is still fun to just go ride around in the plains and along the beach. Overall, I would personally give this game a 8/10. It just gets old fast, and although I still have it on my PC, I only play it once in a blue moon.
Number 9: My Riding Stables 1
This game has a 1 and a 2. The second one will also be included on this list later. But the first one, as far as graphics go, I've seen way better, the horses move in a strange way, and I hate the way they made the draft horses look. I mainly stick with the basic horses on here. There isn't really a story line but its mainly you choosing one of three occupations:
Stable manager. You get to choose two horses and you mainly make income through guests staying at your stables and breeding foals for clients, or breeding and selling your own foals. It's pretty slow in this occupation but if you have patience and like cute foals, then this is the one for you.
Riding instructor. This is my personal favorite. You choose one horse to start off with and your income comes from training your pupils that come to stay at the stables. A basic pupil pays $100 a lesson, and the most you can get from a lesson is $300. You can house and train up to three pupils at a time, so this adds up quickly.
Riding star. This is fun if you like playing competition-based horse games. You start off with one horse and you get your income by hosting horse shows in your arena you build. You can also compete in these shows. This is a good way to earn money and I like doing this occupation.
All in all this is a good game if you like building up your own stables, and like a relaxed game play. My only downsides are the graphics could be better, but this is an older game, and it's very slow when you're starting out. I'd personally give this game a 8/10.
Number 8: Lets Ride: Friends Forever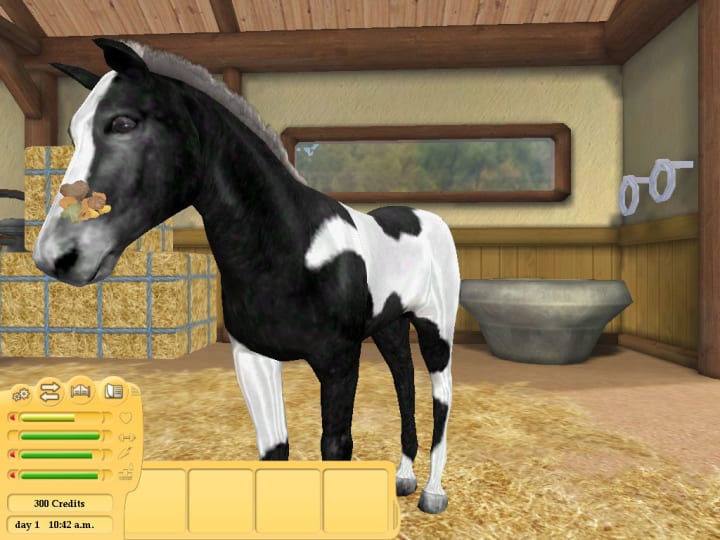 So the Let's Ride series is a great series in general. I love just about all of the Let's Ride games; this one is another old one, but it is a good one. You pick out a foal and fill in the foal's info, then you spend your days, feeding, grooming, taking it on walks, and even dressing it up for shows. Soon, when your foal reaches three years old, you then get to ride it, train it and compete in jump shows with it! The graphics are pretty good for the time frame that it was released in, and it's a great game, but for it to be pleasing to you, be prepared to have to groom it a lot, and make sure its fed properly and taken care of. In this game, your horse can get sick and even injured, so you have to go and stock up your medicine cabinet to take care of your best friend! I'd give this game a 8/10.
Number 7: Pippa Funnell: Golden Stirrup Challenge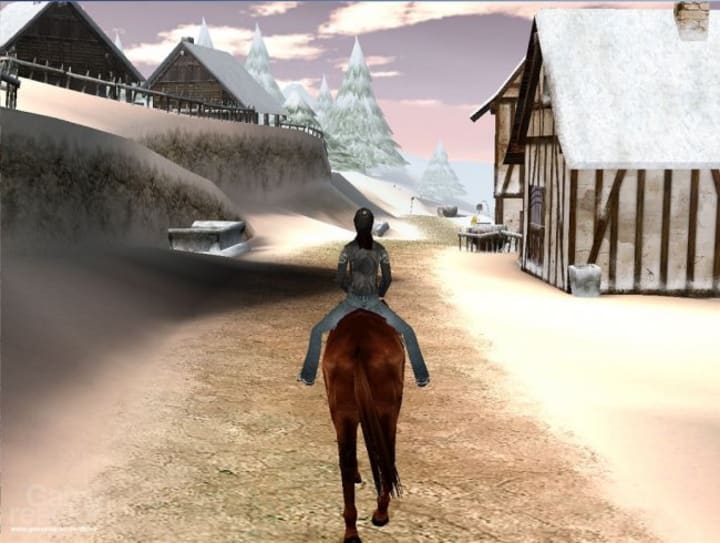 So the legendary rider Pippa Funnell has a few games out that she helped produce. This is a great one, and I love how active and involved you are. You are playing a girl named Flora, who was accepted into a prestigious riding academy in Italy. You and your horse must compete on your school's eventing team! But it's hard work, you have to fill out your timetable for the week, you have to get a certain average of scores in, popularity, show jumping, cross country, dressage, horse care, and eventually foal care and learning. So, you train and learn all week long, and then over the weekends, you compete in competitions. I enjoy this game for the story line, the involvement with your horse, and the graphics. The graphics on the horses are good for the time frame the game was released, but I really enjoy the graphics on the people and the environments you get to ride in. You travel from Tuscany to Alasce, and even to China to compete to win the Golden Stirrup. This game I would give a 9/10.
Number 6: Star Stable Series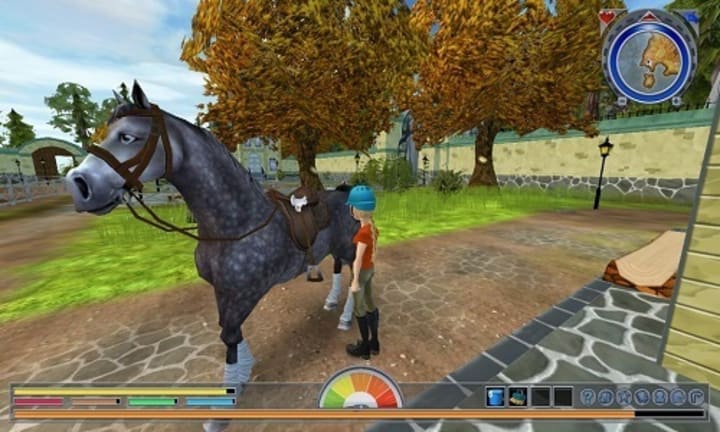 This game series is also an old one but I'm still totally in love with it. The game company recently came out with a free-to-play online version, but I'm not really a fan of it. This series has four games taking place in each of the four seasons, each game being in a different region of the horse-driven island of Jorvik. No one on Jorvik doesn't ride; there are horses everywhere, and between you and me, I wish it was real because I would move in a heartbeat! But basically you ride horses from a home stable, and can travel all over the region freely, picking up and doing quests for the people of Jorvik. This game is pretty awesome; you get to ride freely wherever and even do races, dressage, and even jumping with the various trainers around Jorvik. This game is an old but good game for sure! I would give it a 9/10.
Number 5: Let's Ride: Silver Buckle Stables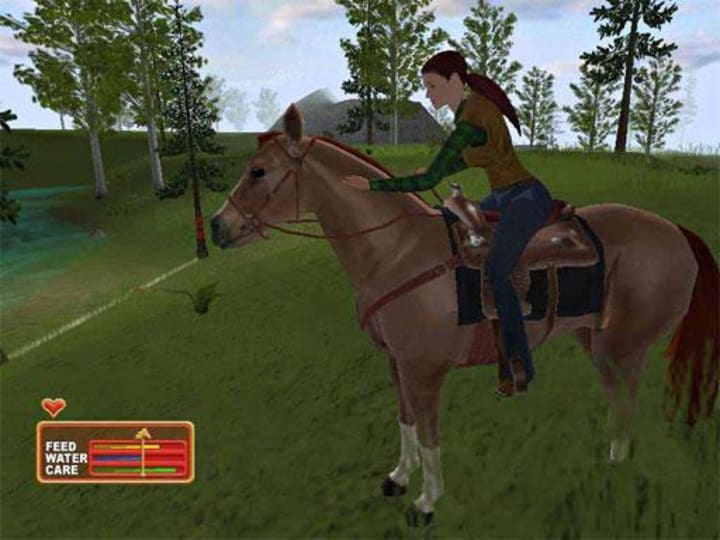 Calling all Western riding fans! This game is all about Western rodeo, and boy do I love it, considering the fact I do rodeos myself in my actual day to day life. I really enjoy this game. You start with one horse, and as you progress, you get up to four horses in your barn. You can take them for a trail ride around your barn and the forests surrounding it. You can also take them to rodeos to win buckles! You get to choose their name, coat color, hair color, eye color, and what tack they wear. You get to feed them treats, pet them and make sure they have food and water in their stalls! You also get to do some grooming, but it's not a lot. So, if you love excessive grooming then don't bother; it's a very quick grooming process with this game. The graphics are great, and I love how realistic it is. My only take away is after you win all the buckles and mini games, you really can only repeat the rodeos and ride around the barn, which for me gets pretty boring fast. I'd give this game a 9/10.
Number 4: Let's Ride: Riding Star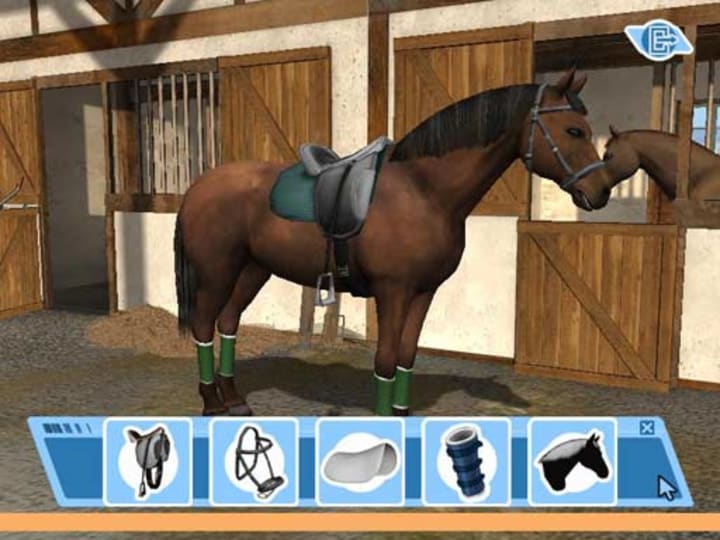 Now calling all English-eventing lovers! This game is amazing—graphics, game play, and interactive content. You get to pick which discipline to start off with, between jumping, dressage, and cross country. You get one horse per each discipline. You have to train, groom, and feed your horse, and get it into top shape to compete, starting at a beginning level and working your way to the top riding level. My only downsides are in dressage, the controls can be confusing and take some time to get used to. I'd give this awesome game a 9/10.
Number 3: My Riding Stables 2: Life with horses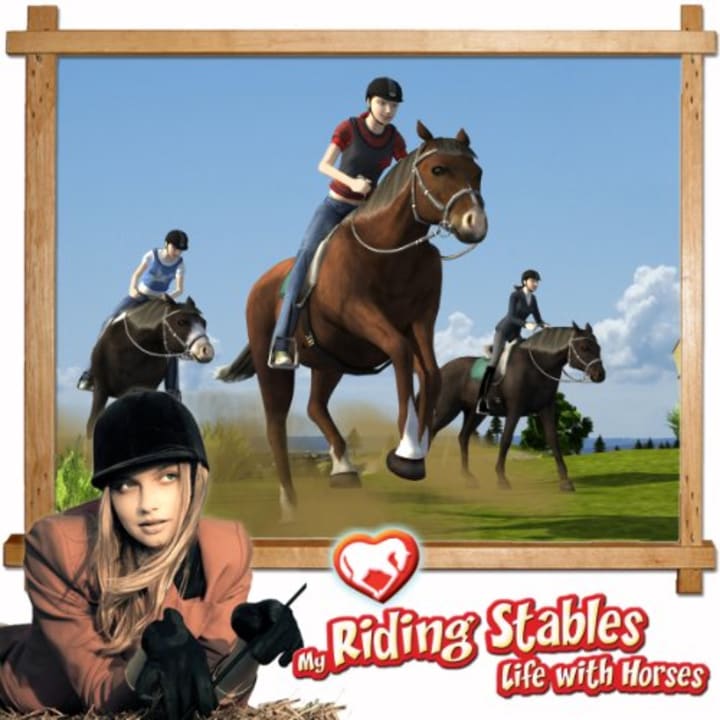 I told you guys the second one would be on here. It is way better than the first one as far as graphics and game play go. You are playing the grandchild of a previous stable owner; the stable is a bit run down, and it's up to you to restore it to its former glory. You earn money from certain facilities in your stables, and from training your horse, along with running/winning cross country competitions. You can also save money and build a guest house to house guests for more income, along with training client foals, massaging client horses, and even breeding client foals. You can also breed your own foals and train them, you can choose to keep or sell the foal once its grown. This game is pretty amazing as far as graphics and interaction with horses go. I'd give this game a 10/10.
Number 2: Planet Horse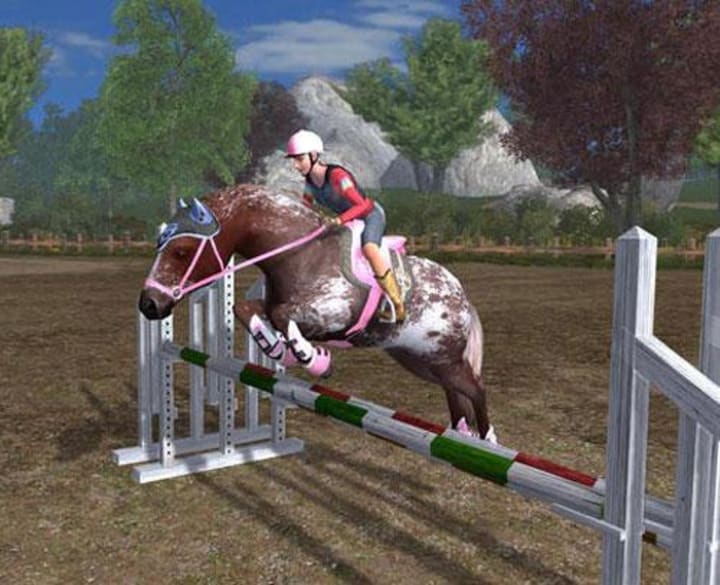 Alright, this is a fun, easy, interactive horse game that I love. You can also get the PC download off of Amazon for pretty cheap. You start off with one horse, and begin training on a stud farm in England. You can train in jumping, cross country, and even endurance. You can go on rides to better your horse's stamina while helping people gather lost things, while also exploring the countryside. At certain points in the game, you even get to travel and ride in the Rocky's of North America on a Native American Reserve. This game is great all around and I can't say really anything bad about it! I'd give it a 10/10.
Number 1: Petz Horse Club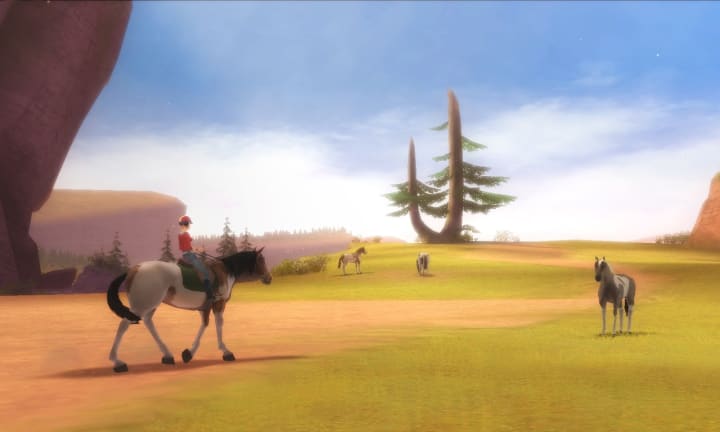 This game is just... Wow, okay, I can't really put into words how much I love this game! It's from the same producers as Pippa Funnel's Ranch Rescue, and the graphics are similar, and you are still playing Lilly, the same girl from Ranch Rescue. But this time, you're staying at your friends wild mustang reserve while you train for the most prestigious competition you've ever been in: the Legends Cup. You train in steeplechase, cross country, and even jumping, all while trying to help figure out what's wrong with the mares on the reserve, and why they aren't producing foals anymore! You even get to become friends with the mustangs, and ride them in your competition and around the reserve! This game has great graphics, a great storyline, and even great interaction with the horses all over the reserve! I'd give this game a 11/10!