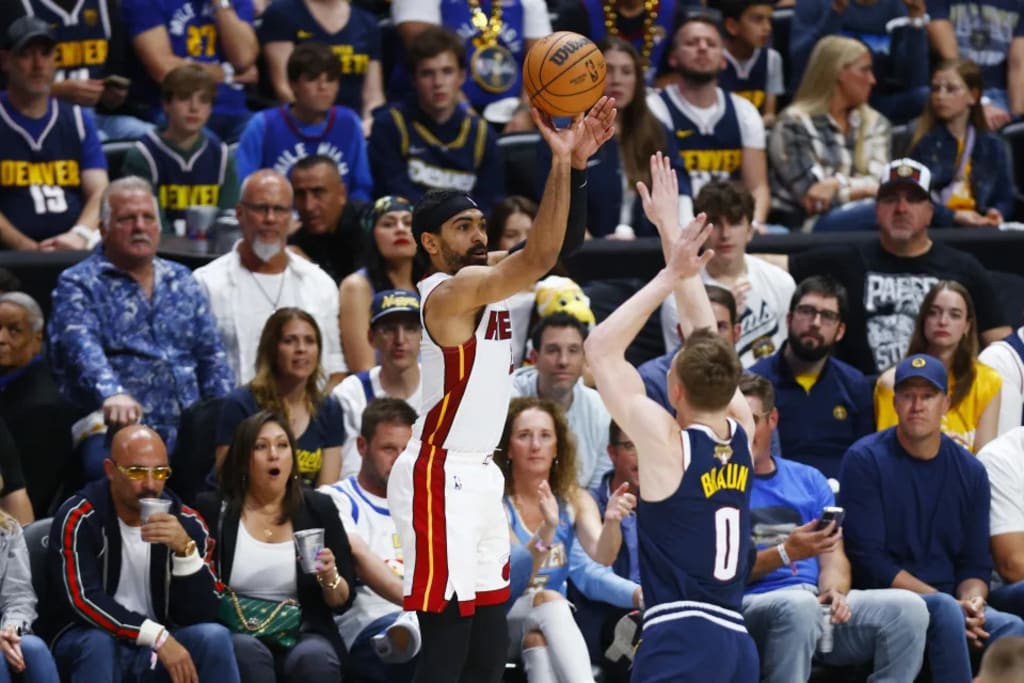 The Miami Heat made a strategic move in Game 2 of the 2023 NBA Finals by inserting Kevin Love into the starting lineup. Love, who had been a spectator in previous games, played a crucial role in helping the Heat secure a 111-108 victory over the Denver Nuggets. This blog post will delve into Love's contribution, Miami's resilient fourth-quarter performance, and the shifting dynamics of the series.
"Our guys thrive on competition," expressed Heat coach Erik Spoelstra in the aftermath of the triumph. "They relish the opportunity to showcase their skills during those decisive moments. Thankfully, we exhibited remarkable defensive prowess in the final stretch, coupled with numerous impactful contributions from our players. It's an essential component when facing a formidable team like this."
Love's Return Ignites Miami Heat Offense:
After sitting out several games, Kevin Love made his presence felt as he aided the Heat's offense. Though not the leading scorer, Love's size and ability to spread the floor provided a boost. With 6 points and 10 rebounds, Love helped create scoring opportunities for his teammates, complementing Miami's pass-happy style of play.
Fourth-Quarter Surge:
Miami's fourth-quarter performance proved pivotal in their Game 2 triumph. Duncan Robinson's early scoring spree, Max Strus finding his rhythm from beyond the arc, and Gabe Vincent's stellar point guard play propelled the Heat. They embarked on a 12-4 run and showcased their offensive prowess, with Bam Adebayo's and-1 layup sealing a commanding lead.
The Heat's defense transformed the second half, as they intensified their physicality against Denver's star player, Nikola Jokić. Employing double teams and employing multiple defenders, Miami disrupted the Nuggets' rhythm and limited their supporting cast's effectiveness. Jokić still managed an impressive performance, but the Heat's swarming defense made it a challenging outing for the Nuggets.
While Love's inclusion was notable, Miami's reliable duo of Jimmy Butler and Bam Adebayo were key contributors to the victory. Adebayo's outstanding two-way play, battling against Jokić and finishing with 21 points and 9 rebounds, bolstered the Heat's quest for a championship. Butler's clutch plays in the fourth quarter added to his 21-point tally, solidifying Miami's victory.
Shifting Momentum and Home-Court Advantage:
With the series tied at 1-1, the action now shifts to Miami for Game 3. The Heat's return to their home court, known for providing familiar bounces to shooters, coupled with potential player recoveries, adds an intriguing dimension to the series. The possibility of Tyler Herro's return and the continued growth of emerging players like Caleb Martin makes it clear that the NBA Finals are far from over.
In a fiery fourth-quarter clash, the intensity of the game reached its pinnacle as both teams fought tooth and nail for control. The Denver Nuggets Nikola Jokic, fueled by his explosive performance in the third quarter, continued to display his scoring prowess, relentlessly attacking the Heat's defense. However, the Miami Heat, recognizing the threat posed by Jokic, tightened their defensive tactics, hoping to curtail his dominance. As the game unfolded, it became apparent that Jokic's brilliance was not enough to secure victory for the Nuggets. Despite his remarkable 41-point outing, the lack of assistance from his teammates hindered the Nuggets' offensive rhythm. While Jokic soared, it was Jamal Murray who provided a complementary spark, contributing 16 points to the Nuggets' cause. As the final buzzer sounded, the Heat emerged victorious, successfully adapting their tactics to contain Jokic's playmaking abilities and securing a hard-fought win in Game 2.
Kevin Love's impact, Miami's resilient fourth-quarter surge, and their stifling defense against Denver's offense were pivotal factors in the Heat's Game 2 victory. With the series now headed to Miami, the Heat hold the advantage of home court. As the battle for the 2023 NBA championship intensifies, fans can expect more thrilling moments and a competitive clash between these two talented teams.
About the Creator
🌍 Welcome to PR World, your go-to source for valuable information!
📚 Stay informed and inspired as we unlock knowledge one post at a time.
Reader insights
Be the first to share your insights about this piece.
Add your insights