The S Tier of Maxis Match CC Furniture for the Sims 4| 1: Sixam CC
A highlight on incredible cc creators. (There are gifs and images here, you have been warned low bandwith folks)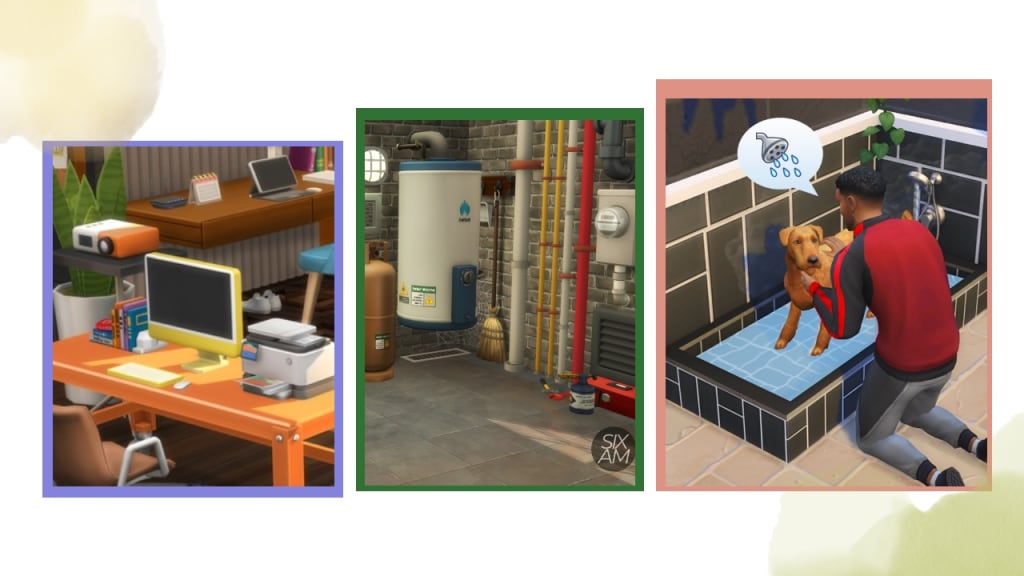 Not all CC is created equal.
Some simmers believe they shouldn't have to pay for CC.
I, as much as I like free stuff have to object. If the custom content creator is giving me something that isn't originally in the game, something that doesn't require meshes, something that doesn't resemble anything from the original game - to me, I recognize them as people who SHOULD be working for Sims but haven't been presented with the opportunity of receiving a paycheck. They deserved to be paid and shown appreciation for their contributions. At times, we may not like it because we can't afford multiple subscriptions but they deserve payment for all the work they put in!
I originally wanted to write a story featuring a list of S-tier maxis match furniture cc but then I realized that there are so many pieces of gold to feature for the S-tier creators that just listing them might not be good enough. People won't really understand why these creators are so amazing if I just list them off.
Sixam CC is a creator who specializes in making maxis match sims 4 furniture. What stands out about them is that their content is wacky, retro, and very sims-esque in essence, their content reminding one of older sims games and more.
I was disappointed initially, their username is Sixam, the name of a hidden alien world in the Sims 4, so I assumed that they would be making content for aliens- I love aliens, but they are a neglected occult sim race there's not much you can do with them. However, Sixam's cc itself did not disappoint, you can find their content on patreon.
First off, yes, you have to pay for most of Sixam CC content but there's still a handful of their CC that's also free. Today we'll be discussing some of their content that stands out.
One of the many things Sims 4 lacks is detail and organization. I am a simmer that uses the sims to write sims lit, and sometimes to make videos, so I like to have a little detail in my homes whenever I build, clutter- a non-functional and purely for decoration object usually helps with that. But, the sims 4 lacks clutter objects, you have to use a cheat just to open up and unlock the "debug" items- decoration objects the creators used to create the world- in the sims to try and decorate your homes, but since the list is completely unorganized, it pulls up every debug item in existence, briefly slowing down the (my) pc and sometimes even causing it to freeze.
That's why downloading clutter cc (for me) is simply less painful and annoying, cause it's easier to find.
And that is why when I saw this, Sixam became the GOAT in my mind.
With Sixam CC's Home Improvement cc pack you can finally flesh out your house and make it look more realistic.
Behold the clutter available! As well as a few functional items like the water sprinkler, ac, woodworking table and stools.
In sims 4, we get lights, but no light switches, appliances like computers and tablets but no outlets.
Thermometer and air conditioning but no vents, electricity, but no utility box.
A workbench but where do you put your tools? It magically appears in your sim's hand.
And this is fine, because most simmers don't care. But for those who love building, detail and decorating it does. For sims making sims vlogs, and stories, it does. They need something to work with to emulate realism! And Sixam did just that.
This isn't a free pack.
Moving on to the next pack.
Was I the only one disappointed when we got the Incheon Arrivals Kit? A clothing kit of South Korean airport fashion.
It seemed to me like a missed opportunity to make some airport furniture content or more importantly give us suitcases as decor items. With Sixam's Hotel Bedroom CC pack I finally got my suitcases (there were cc creators who made suitcases but this is the first one I've seen that looks simply maxis match, no shiny or realistic texturing)
I would say the highlight of this pack would be the mini fridge, hotel keycard doorlock, the desk- reminds me of something that belongs in a motel as well. The carpet flooring, curtains, and the hotel door.
This is a free pack.
Next up.
I haven't bought the laundry pack yet, but I've been meaning to so I can write medieval stories and have my sims wash their clothes in a basin.
Anyway, there's this pack, aside from the necessary clutter and cuter/more modern-looking washing machines, I'd say the highlights of this pack are the dog food bowls, pet bed, the shelf that you can also sit on at the bottom and dog bathtub (my personal favorites would be the spray bottle clutter, and laundry instruction sign) When we first got the pet's pack they only had food bowls, and an automatic feeder. Pets do not just eat all the time they drink water too you know!
This is not a free pack, like the one for home improvements you need to be at Tier 2 to access.
Moving on once more.
First off what I love is that the pack's cover design. It's a call back to Sims 2's, the Pleasant Family twins, Angela and Lilith. Lilith was a goth/punk and Angela a girly-girly/coquette. They're unforgettable to me, the moment you played you were introduced to the drama of their Dad cheating with the maid!
Ahem. But yes, this "modern" teen room pack (although I personally feel they could have made Angela a Coquette girl) These two sisters seem to be split between artistic goth, while the other is giving athletic girl. As it seems she could like cheerleading but also judging from the cleats on the ground she also plays soccer.
It's the detail that I love people, the detail.
The highlights of this pack are the posters, the bed with shelves, the neon wall lights
and most importantly the tablet computer with the stylus you can use to draw on.
Once again not a free pack.
There's another reason why people consider Sixam a GOAT. Many simmers miss the create a world mod from sims 2, and in Sims 4 are worlds are very small with few lots. There have been talks and suggestions of new worlds but the last thing anyone was expecting was for a CC creator to make a world.
I could go on all day about this, but I will just leave you with the link to feast your eyes on. I would say that the highlight of this pack for me...there's actually a lot but my ultimate favorite would probably be the rectangular blue doors, arches and windows.
You have to be a patron to access this.
Next up, the Work from Home CC Pack! The highlights of this pack would be every electronic. And the wifi router decor! For sims lit writers this is a godsend. You can now set up projectors and decorate your workplace scenes to make it look more legit! It also has items for children... which I suppose don't get much attention or content these days now that I think about it.
Behold:
Once again not for free.
But as thanks for sticking through this here's some items that are!
Modern farmhouse doors!
Chalet- a home for herdsmen.
I'm super in love with the ceiling and wall lights as well as the fireplace. I'd like to use the windows for my church's, and the seats are inspiring me to write cabin in the wood death game vibes. The highlight of this pack aside from the fireplace is definitely the dog door.
I'd argue the highlights of this pack are the seat swing, the giant flamingo float, the dangling hanging lights, the fireplace, open door arch and what looks like an outdoor stove. I'm already been writing a story about my sims visiting a resort, the real challenge is finding cc to help make a lazy river, these floats have really saved me!
And Lastly, this beauty.
The highlights of this FREE gorgeous kitchen pack aside from everything is probably the stove...and the pot and bowl clutter- do you know how hard it is to find some decent plates and pots?
Reader insights
Be the first to share your insights about this piece.
Add your insights