The Complete History of the Rainbow Riches slot game
Like most great games, Rainbow Riches too had a humble beginning.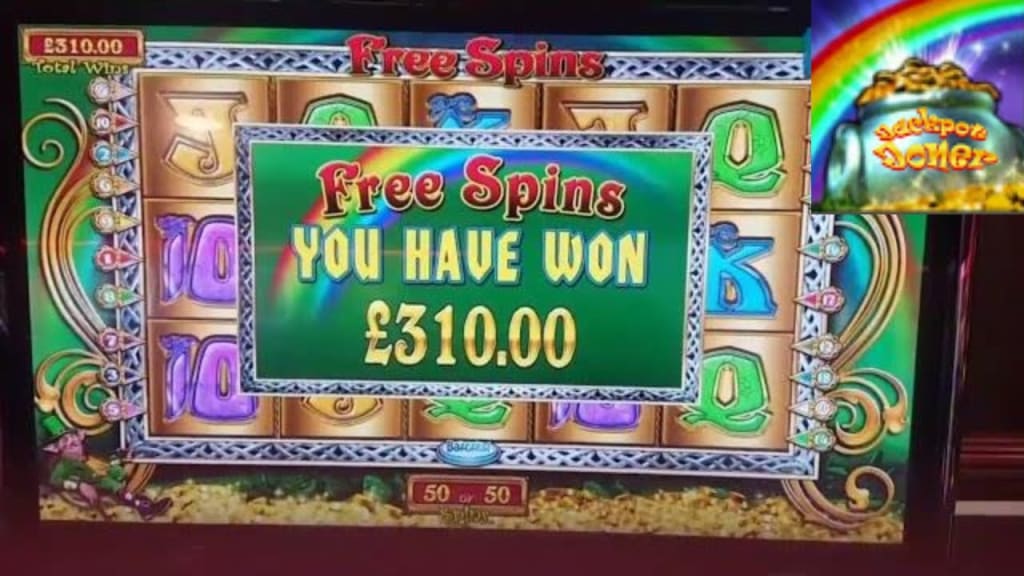 Win screen of £310 in a modern version of the Rainbow Riches slot machine.
- Rainbow Riches is the most popular slot games in the United Kingdom. Developed and maintained by Barcrest game studios, Rainbow Riches promises slot players great riches in a luck-themed environment with rainbows, leprechauns, and gold and silver coins.
The first Rainbow Riches slot machine was launched in 2008 and it had two screens, one for the 5x3 reels and one for the feature located above the main screen. Called the Road To Riches, the feature allows players to win more rewards in a wheel-of-fortune fashion.
It had a huge success and dominated local pubs and gaming shops ever since. It was a fast-paced slot game that looked great and had a good reward system, and higher return rate compared to other slot machines.
Rainbow Riches Today
Due to its massive success, newer Rainbow Riches versions soon followed. Rainbow Riches Slingo was released in 2018 and combines the traditional Rainbow Riches with bingo.
Rainbow Riches Megaways was released in 2019 and adds the Megaways win lines system to the classic Rainbow Riches game.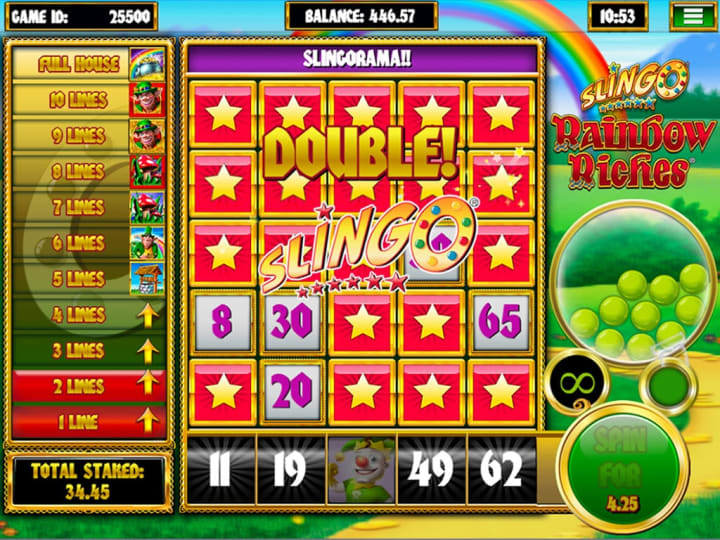 Rainbow Riches Slingo is quite a unique slot game, it mixes both slot and bingo games in a smart way. The classic 5*3 rainbow riches reels are replaced with a 5x5 bingo board. One round of Slingo consists of 10 spins during which the player must complete lines to win increasing prizes.
Hitting a Joker symbol will allow the player to mark any row on the board. Devil symbols block the row they appear on. Free Spins symbols add 1 extra spin to the number of spins left.
Rainbow Riches Slingo is similar to standard slot games in that you have to press 'Spin' for a game to start, but that's about the only similarity. Actually, there's another thing that Slingo has in common with standard slots. You will need to select your wager before you start playing. In order to do that, you should use the plus and minus buttons placed below the winning combinations, left of the grid.
To win Rainbow Riches Slingo you should get as many slingos as possible. A slingo is any combination of five symbols from one to the opposite side of the grid, regardless whether the symbols are aligned vertically, horizontally or diagonally.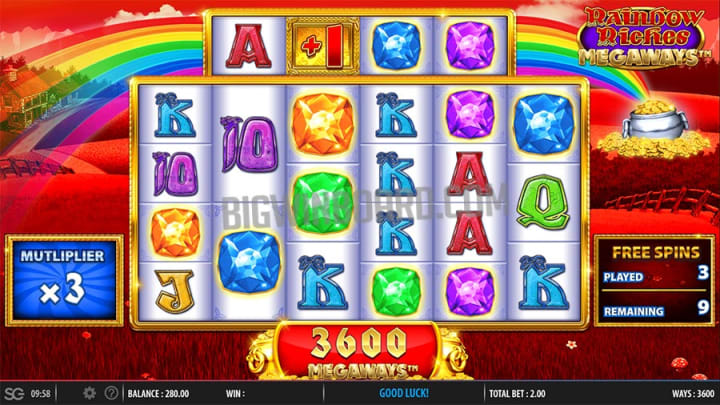 Every new year one or two new releases followed. Each new addition brought something new to the series, a feature, bonus or a new game mechanic.
For example, Megaways adds up to 117,649 ways to win. Besides increasing the players chance to win it also adds multipliers that increase the amount that can be won. A new feature also comes with this version, the ability to buy the bonus game directly for a higher-priced bet called Buy A Bonus.
All Rainbow Riches games by date
2008 - The first version
2009 - Rainbow Riches with extra features
2012 - Rainbow Riches Pick 'n Mix
2017 - Rainbow Riches Free Spins
2018 - Drops of Gold
2018 - Rainbow Riches Slingo
2018 - Home Sweet Home
2019 - Rainbow Riches Megaways
2019 - Leprechauns Gold
How to play the game
Playing Rainbow Riches is easy and pretty straight forward. Insert the money into the slot, wait for the credits to appear on-screen, set the bet and you are good to go; spin to win. Press the "Info" button to bring up information about the win symbol values, jackpots.
Use the +/- keys to set the desired bet.
Conclusion
If you played it today for the first time, you couldn't tell that you played a decade-old game. It's that good! The game has a great theme, great payouts and rewards, expertly designed bonus features and great music and sound effects.