The best Iphone 12 you should buy right now!
"The Power of Performance: Apple iPhone 12 (128 GB)"
The Apple iPhone 12 (128 GB) is a flagship smartphone that embodies the pinnacle of modern technology, performance, and design. As part of the iPhone 12 series, it upholds Apple's legacy of excellence in the world of smartphones. Here's an overview of what makes the iPhone 12 (128 GB) a standout choice in the mobile device market:
Design and Display:
The iPhone 12 boasts a sleek and sophisticated design, featuring flat edges and a Ceramic Shield front cover for added durability.
It sports a 6.1-inch Super Retina XDR display with HDR support, delivering stunning visuals, deep blacks, and vibrant colors.
Performance:
Powered by the A14 Bionic chip, Apple's fastest chipset to date, the iPhone 12 offers exceptional performance, ensuring swift multitasking and app launches.
It handles resource-intensive tasks, such as gaming and video editing, with ease.
Camera System:
The dual-camera system on the back comprises a 12 MP ultra-wide and a 12 MP wide camera, capable of capturing remarkable photos and recording 4K Dolby Vision HDR videos.
Features like Night mode, Deep Fusion, and Smart HDR 3 enhance photography in various conditions.
Storage Capacity:
The iPhone 12 (128 GB) provides ample internal storage, offering users generous space to store an extensive library of photos, videos, apps, and files.
This storage capacity suits the needs of those who require space for both personal and professional use.
5G Connectivity:
With support for 5G networks, the iPhone 12 enables faster download and streaming speeds when connected to a compatible network.
iOS and Ecosystem:
Running on the latest iOS, the iPhone 12 grants access to a vast ecosystem of apps, services, and seamless integration with other Apple devices.
Features such as Face ID, Siri, and Apple Pay enhance security and convenience.
MagSafe Technology:
The iPhone 12 introduces MagSafe, a system of magnets on the back that enables easy attachment of MagSafe accessories, including wireless chargers and cases.
Battery Life:
The iPhone 12 offers decent battery life, ensuring all-day usage for most users. It also supports fast charging and wireless charging.
Water and Dust Resistance:
With an IP68 rating, the iPhone 12 is resistant to water and dust, adding durability and peace of mind in various environments.
Environmental Commitment:
Apple is dedicated to reducing its environmental impact, and the iPhone 12 incorporates recycled materials and avoids harmful substances.
In summary, the Apple iPhone 12 (128 GB) is a flagship smartphone that combines ample storage with top-tier performance, exceptional photography capabilities, and a stylish design. It caters to a broad spectrum of users, from tech enthusiasts to professionals and everyday smartphone users. With its seamless integration into the Apple ecosystem and 5G support, it represents a compelling choice in the competitive world of smartphones.
Apple iPhone 12 (128 GB) - Zwart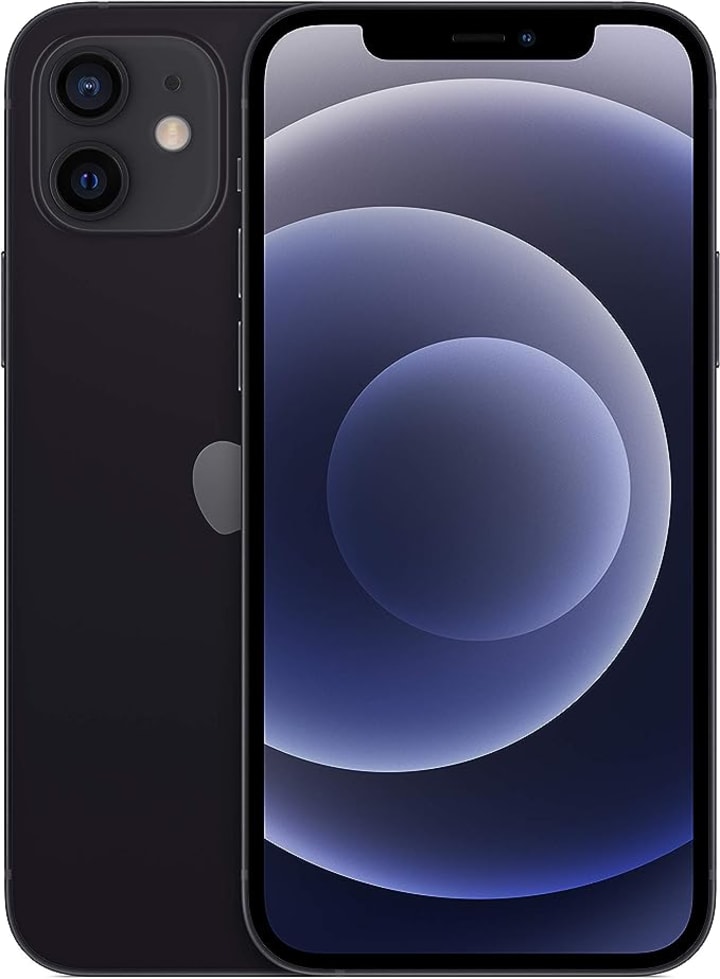 In the realm of cutting-edge smartphones, the Apple iPhone 12 (128 GB) stands as a beacon of technological prowess and innovation. Apple, renowned for its unwavering commitment to redefining the mobile experience, has once again delivered a device that seamlessly blends form and function. With a generous storage capacity of 128 GB, the iPhone 12 not only offers ample space for your digital world but also introduces a range of features that push the boundaries of what a smartphone can achieve.
In this article, we will embark on a journey through the key attributes and capabilities of the Apple iPhone 12 (128 GB), exploring why it has garnered acclaim and captivated the hearts of tech enthusiasts and everyday users alike. Whether you are a fervent follower of the latest advancements or a pragmatic user in search of a reliable and high-performing mobile companion, the iPhone 12 promises to leave a lasting impression. Join us as we delve into the world of mobile innovation and discover the unique qualities that set the Apple iPhone 12 (128 GB) apart.
Reader insights
Be the first to share your insights about this piece.
Add your insights