Sceptre Curved 24.5-inch Gaming Monitor
Best for Gaming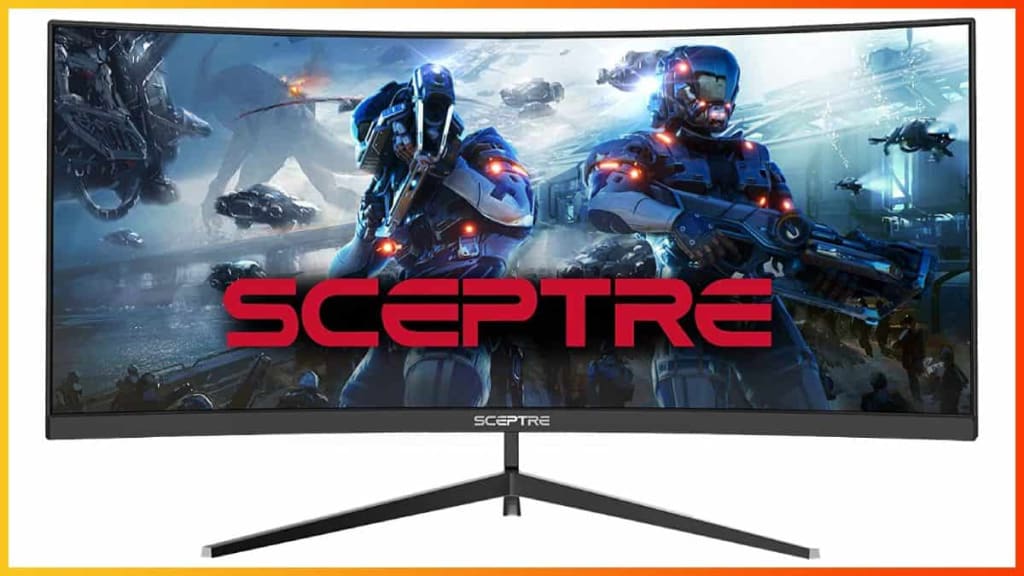 Key Features
In the ever-evolving world of gaming monitors, finding the perfect balance between performance, immersion, and affordability can be a daunting task. However, the Sceptre C255B-FWT240, a 24.5-inch curved gaming monitor released in 2023, aims to address these challenges. With its impressive specifications and gamer-centric features, it promises to deliver an immersive and responsive gaming experience that won't break the bank.
Design and Build Quality
The Sceptre C255B-FWT240 boasts a sleek and modern design with a machine black finish. While aesthetics may be subjective, the curved screen adds an extra layer of style, making it visually appealing for gamers. The monitor's 1500R curvature is subtle yet effective, immersing you into the gaming world by wrapping the display around your field of vision. This curvature feels just right, offering an optimal balance between immersion and comfort.
The build quality is sturdy, and the monitor feels robust enough to withstand the rigors of intense gaming sessions. The stand is stable, allowing for tilt adjustments to find the perfect viewing angle. While height adjustment would have been a nice addition, it's a minor trade-off given the overall value this monitor offers.
Display Quality
One of the standout features of the Sceptre C255B-FWT240 is its 24.5-inch Full HD (1080p) display. This size strikes a sweet spot for gamers who desire both a compact setup and immersive visuals. The Full HD resolution provides sharp and detailed graphics, which is essential for modern gaming.
However, it's the high refresh rate and rapid 1ms response time that truly set this monitor apart. With an impressive 240Hz refresh rate, you'll experience gaming like never before. Whether you're into fast-paced shooters, racing games, or eSports titles, the 240Hz refresh rate ensures buttery-smooth gameplay and minimal input lag. The 1ms response time eliminates ghosting and motion blur, allowing you to track fast-moving objects with pinpoint precision. Gaming on this monitor is a delight, and it's evident that Sceptre has prioritized performance for gamers.
The monitor's VA panel technology provides excellent contrast and vibrant colors, enhancing your gaming and media consumption experience. The viewing angles are also decent, although this isn't a primary concern for gamers, as they typically sit directly in front of the screen.
Connectivity and Features
When it comes to connectivity, the Sceptre C255B-FWT240 offers flexibility. It includes two DisplayPort and two HDMI ports, allowing you to connect multiple devices simultaneously, such as a gaming PC, gaming console, and even streaming devices. This versatility is a significant advantage, as it minimizes the need for constantly swapping cables.
Another noteworthy feature is the Blue Light Shift technology. This feature reduces the amount of blue light emitted by the screen, which is known to cause eye strain during prolonged use. Gamers often spend hours in front of their monitors, so this thoughtful addition can help keep your eyes comfortable during extended gaming sessions.
The built-in speakers, while convenient, are relatively basic and lack the audio quality of dedicated external speakers or gaming headsets. They get the job done for casual gaming or when you need audio in a pinch, but serious gamers will likely opt for better sound solutions.
Immersion and Gaming Experience
The curved display of the Sceptre C255B-FWT240 plays a significant role in enhancing immersion. Whether you're exploring vast open worlds or engaged in intense battles, the curvature wraps the game around you, pulling you deeper into the action. It's a subtle but effective feature that makes a noticeable difference, especially in fast-paced games.
The 240Hz refresh rate and 1ms response time are the real stars here. They transform your gaming experience, making it incredibly responsive and fluid.
Reader insights
Be the first to share your insights about this piece.
Add your insights