Sandbox game 'Minecraft' isn't what you think it is.
Different modes are different universes.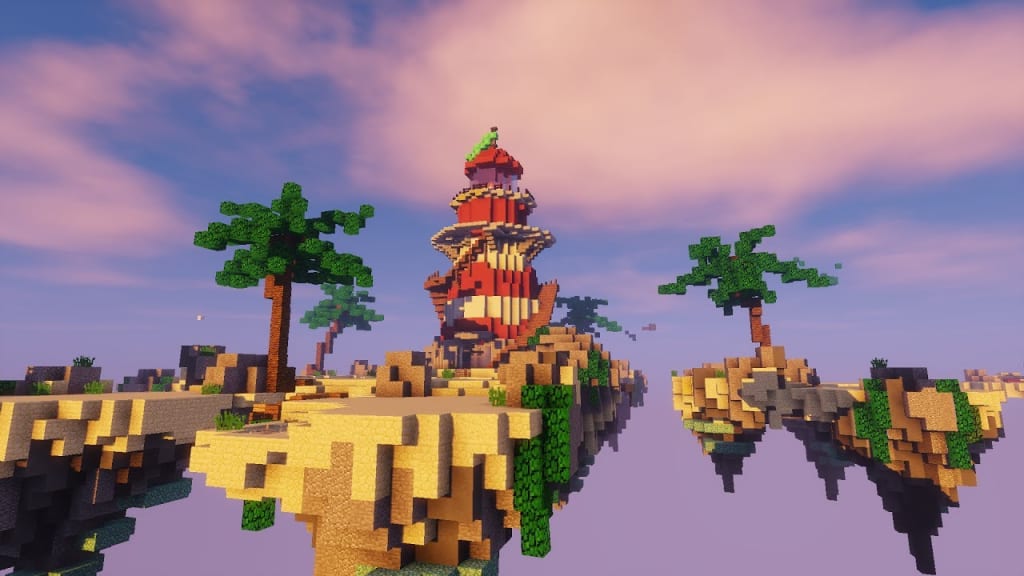 A map from one of the biggest multiplayer servers ever, Hypixel.
Minecraft was the hit game of the decade. With 176 million sales, it is a huge game, with "infinite possibilities", as they say. When you think of Minecraft, you most likely think of building houses, castles, breaking trees, and killing cows. Well, that's the most popular and classic mode, survival single player. This means that the player is alone in a journey where they have to fight for their resources, and they have limited resources. But there are a few more modes. One of them is creative single player. Creative single player lets the player have infinite resources, build as much as they want, get anything they want, but most importantly, fly. The player can fly to build, and normally hostile animals who would attack the player in survival don't. But those are just the two most popular modes. In single player. This is just one universe of the two universes of Minecraft. Single player, and Multiplayer. Multiplayer is the mode where there are tons and tons of servers, and I mean TONS because there are literally thousands of them. So you might ask: What is a server, really? Well, a server is a community-run, community-hosted, world of Minecraft, that anyone can join using a specific IP address that the server has. Each server has it's own IP, and these IPs are public information. For example, if you were to join the biggest server in all of Minecraft, you would join The Hypixel Network, who's IP address is mc.hypixel.net. So, what's the advantage of a server? The advantage of a server is that you can play with other people, and you can play new and original games that are built using Minecraft like you would build a game using a game engine. These games, called mini-games, are fueled with add-ons to servers called plug-ins. Plug-ins change the game a lot, or a little. They can add commands, which are lines of code that a player runs to do something, like play a game. Plug-ins can also change how players move, and interact with things. For example, games that involve right clicking items to open a menu use plugins to fulfill that action. You might come across YouTube videos people are playing Minecraft, and they are playing a completely foreign game to what you thought was Minecraft, but you know that the game is still Minecraft. Those games are probably games on The Hypixel Network, who offers over 50 different games like Bedwars, or Skywars, which are both fun. Bedwars consists of breaking someone's bed so that they cannot be revived, and then killing them so that they are eliminated. Skywars consists of killing everyone in the game, eliminating them right away. Skywars and Bedwars are the two most popular modes, since they have upwards of 10,000 players playing each game all the time. But there is one more popular game. This game is rather new, only six months old. This is skyblock. Hypixel skyblock. The basic idea of skyblock is that you are on an island, with or without someone else (your choice) and then you have a tree to mine, and you build survival from there. But Hypixel completly remade this. They made more armor, upgrades, locations, and they added many new things. This game has over 30,000 players all the time. And with quarantine making new players join and play, that makes the count almost 40,000 people. So, there are many people on The Hypixel Network, but how many in total? There are around 90,000 players always on hypixel (In quarantine). This makes the server very laggy, as it is designed to have only 70,000 players online daily. But the player count is going up, and the record of players online at once stands at 92,400.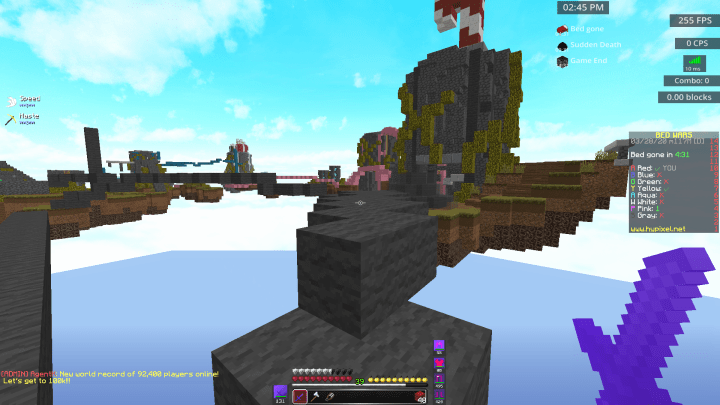 So, the Hypixel Network is the most popular network in all of Minecraft. That's cool. But how does this affect Minecraft? It affects what people do on Minecraft. More and more people are playing Minecraft Multi player without playing Single player because they want to play what YouTubers are playing. The whole game is changing. The whole game is being revolutionized.