Potential Players CSK Might Release After IPL 2023
Roster Reshuffle: Analyzing Potential Player Releases by CSK After IPL 2023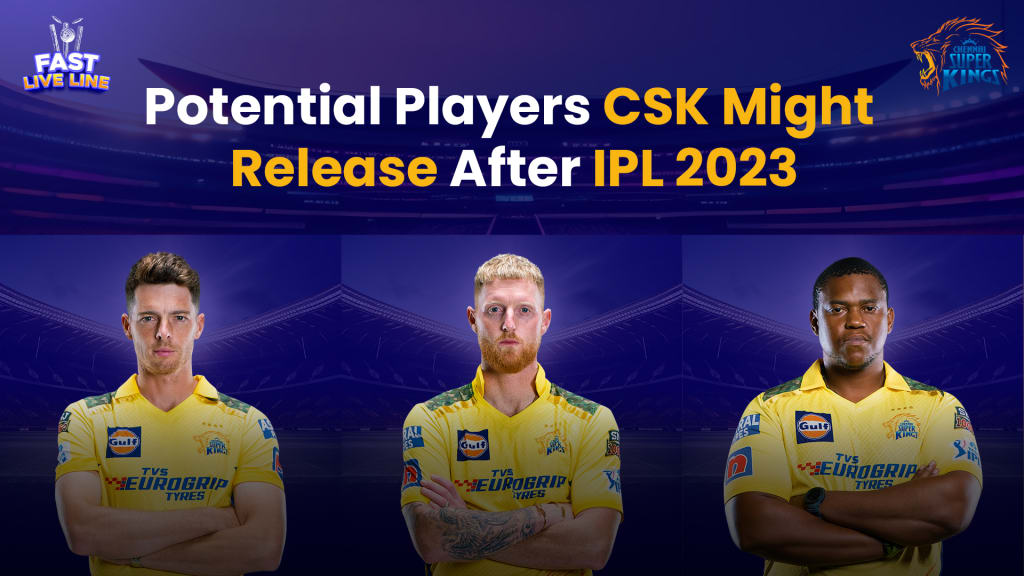 Despite a tough season in 2022 where they ended up second to last, the Chennai Super Kings showed their exceptional prowess by emerging as the champions of IPL 2023, reaffirming their position as the most remarkable team in the league's history.
During the tournament, various players stepped up and made significant contributions to the team's success. Ruturaj Gaikwad and Devon Conway were absolutely outstanding as the opening batsmen. Additionally, Shivam Dube emerged as a game-changer who could quickly turn the tide in favor of the team with his explosive batting skills.
Next up, we had Matheesha Pathirana, who showed remarkable progress as the season progressed. MS Dhoni, our captain, had a solid season, especially in his leadership role. Ravindra Jadeja had a quietly impressive season too, and he wrapped up the final match with a couple of boundary shots, earning him the title of the star player of the moment.
CSK's fans had an unforgettable season and they eagerly anticipate the team's continued impressive performance next year.
When the CSK management prepares for IPL 2024, they won't have a huge workload because they already have a well-established team that can perform successfully once again. They will primarily focus on resolving any small problems that affected them during their victorious campaign this season.
The team will definitely try to find a few experienced and reliable bowlers because that was the only area where they were weak in an otherwise well-rounded team. They will also need to decide which players they want to let go before the IPL 2024.
By the way, let's take a look at three players that CSK might consider letting go before the next season.
1. Mitchell Santner
Mitchell Santner played his first IPL match in 2019, but he has only been able to participate in 15 games until now. This is mainly because of the team's preference for overseas players rather than Santner's abilities.
He has played 15 games and taken 13 wickets, allowing less than 7 runs per over. However, despite performing excellently this year as well, he was unexpectedly removed from the team after only three games.
In T20 matches, the New Zealand player has achieved incredible success. He has taken a total of 158 wickets in 157 games, which is truly impressive. His economy rate of exactly 7 is outstanding too, showing his ability to restrict runs. Additionally, he has a batting average of more than 23 and a strike-rate of 130.98 in T20s, proving his proficiency with the bat in the shortest format of the game.
Therefore, it would be in Santner's best interest to be released by the 5-time champions before the upcoming season. It would be preferable for him to join another team where he will have more chances to play. Considering Santner is already 31 years old, it would be detrimental for him to spend more years sitting on the sidelines at CSK.
2. Ben Stokes
In December's mini-auction, the Chennai Super Kings acquired Ben Stokes by spending a whopping ₹16.25 crores. It was evident that his significant price tag meant he would have a crucial role in IPL 2023. Sadly, Stokes could only participate in two matches this season due to a lingering injury that has been bothering him for some time now.
Despite his availability, the Chennai Super Kings (CSK) made the decision not to include him in the playing eleven, and it turned out to be a beneficial move as they ultimately won the championship. The Super Kings already have a strong batting lineup, so the absence of Stokes is unlikely to significantly affect their performance.
Additionally, his performance in the league known for its big money deals hasn't been particularly impressive. It's possible that CSK might consider letting him go before the next season begins, in order to have more funds available for recruiting talented bowlers. This is something they lacked in the current season.
3. Sisanda Magala
Sisanda Magala joined the CSK team to replace the injured Kyle Jamieson. He earned his spot after performing well in the SAT20 tournament that took place before the IPL. During the IPL 2023, he played two matches and managed to take one wicket, maintaining an economy rate of 8.50.
He was very unpredictable and inconsistent in his bowling, which led to him being benched by MS Dhoni. CSK might consider letting go of the South African player, which would allow them to have an open overseas slot. They can then explore new options during the upcoming auction before the next season begins.
Read More: CSK's Unstoppable Journey to 10th IPL Final
Conclusion -
Experience the thrill of live cricket action with the incredible Fast Live Line app and website! Stay connected to the game you love with real-time updates and scores through the convenience of your device. Whether you're a passionate cricket fan or simply curious about the latest match, Fast Live Line keeps you in the loop with its accurate and speedy cricket live line and live cricket score features. Don't miss a moment of the game - download the Fast Live Line app or visit the website now!
About the Creator
Our live cricket score updates provide real-time information on matches from around the world. With our comprehensive coverage and user-friendly interface, you'll have all the information you need at your fingertips.
Reader insights
Be the first to share your insights about this piece.
Add your insights