Play Some of the Best and Most Popular Games in India: A How-To Guide on How to Play Andar Bahar
Andar Bahar is one of the most popular games in India. Although the game seems serious and elegant, it is one of the most accessible games to master.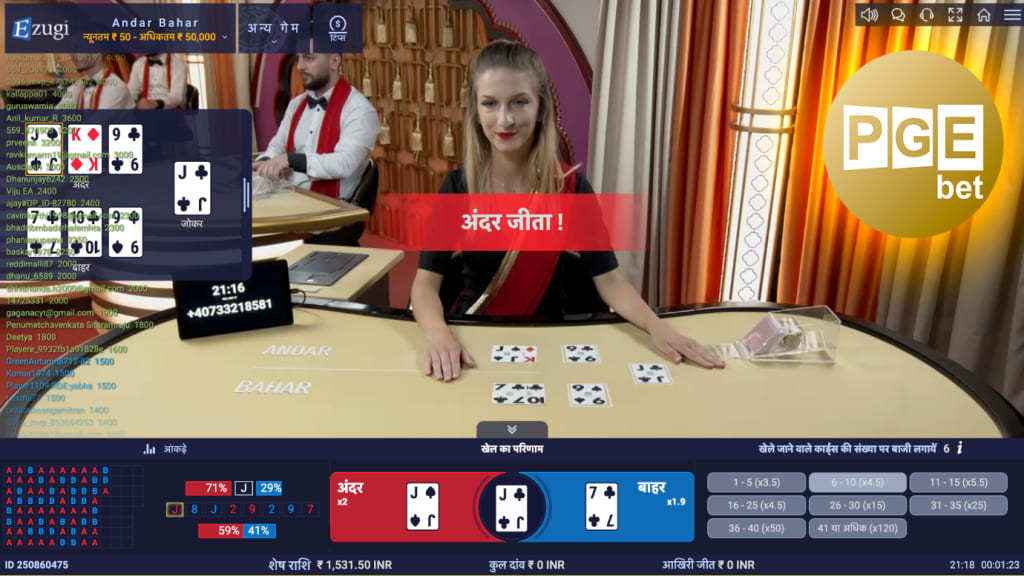 Andar Bahar game offers the excitement and joys of this Casino game to players. Try your luck either for free fun or real money thrills. It's fast, furious, totally immersive, and will keep you on the edge of your seat.
The good thing about this traditional popular game is that it's totally portable. You only normally need a deck of cards with no added complications of gaming tables, wheels or chips.
How to Play Andar Bahar? 
Andar Bahar is a famous Indian card game that is believed to have originated in Bangalore. Andar Bahar, also known as Katti or Mangatha, is a betting game usually played without using real money. It is a newer game compared to Online Blackjack or Online Baccarat, but it has a devoted following of players who enjoy playing and winning. It's simple to pick up and play, and there's no limit to how many people can participate.
Basic Rules
When playing online Andar Bahar, the outcome is primarily determined by luck, with a bit of intelligent guesswork thrown in for good measure. The rapid-fire gameplay is played with a single deck of 52 cards. To keep things simple, the game's odds of winning are 50/50.
Players then choose one of two table sides: Andar (the left side) or Bahar (the right side). The goal is to anticipate which side an identically numbered card to the chosen card will emerge when the cards are sliced and dealt. It's just that simple!
How to Play Andar Bahar Card Game Online
Even though online Andar Bahar is a simple card game, you should be aware of a few general rules and gameplay elements before getting started. These differ slightly between online casinos, newer alternatives with additional features, and live casinos. The conventional Andar Bahar rules, on the other hand, are as follows:
• The pack of cards is cut open to expose a card that all participants can see.
• Players then wager on whether a card with the same face value will appear in Andar (to the left) or Bahar (to the right).
• The Andar and Bahar betting areas are then handed cards. Dealing will begin with Andar if the opening card is a black suit (clubs or spades). If the card is red (hearts or diamonds), the game will begin with Bahar.
• If there is any more betting, two cards will be dealt with each betting area, and players will place their final bets.
• The cards are then alternately dealt with at each betting place as you wait for a match to begin.
• The round will terminate when any betting places receive a card with the same value as the chosen one.
• If you bet on the correct location, Andar or Bahar, you have won and will receive your winnings.
• The dealer wins all of the other bets.
The dealer cut, for example, shows a card value of 5. You put a wager on Andar. After that, cards are handed to both betting positions, with the Andar position receiving a card with the same value of 5. This means you'll win your original wager. If the card appears in Bahar, you chose incorrectly and will forfeit your Andar Bahar wager.
Game Terms
One of the advantages of playing online Andar Bahar is that there is no need to learn or memorize intricate vocabulary. It's a very simple gam. There are only two things that players must keep in mind:
• Andar – refers to the table's left betting location. In Hindi, it signifies "within."
• Bahar: The right betting area on the table is referred to as Bahar. In Hindi, it means "outside."
Placing Bets
When playing online Andar Bahar, there is usually a minimum stake required to join, which can be as low as ten dollars. There will also be a cap, which may be as high as $10,000. You will be able to select a game or a live casino table with betting limits that are appropriate for your budget and personal preferences.
Again, many types of Andar Bahar may be accessible, particularly in live casinos or video games. However, once the lead card has been shown, you will usually be told to "Place your bets, please." After that, you'll have a few seconds to choose between Andar and Bahar as your forecast and put your bet.
Winning Tricks
Andar Bahar is a fast-paced card game that is incredibly entertaining to play. However, there aren't many strategies that players can employ to improve their odds of winning. Unlike Teen Patti, the outcome of Andar Bahar is dependent mainly on luck. Unfortunately, there are no strategy manuals that can offer to boost the odds or guarantee a payoff, as there are with most games of chance.
However, if you truly want to improve your odds of winning, there are a few broad guidelines to follow. Before you begin playing, you must first learn the game and grasp how the dealing and betting functions work. You can even practise whenever you like. Before you start playing for real money, remember to set a budget for yourself.
Where to Play Andar Bahar Online? 
Online Andar Bahar has captivated players worldwide and especially in India, and it is a game that you can find at many of the best online casinos.
If you're looking for a place to play Andar Bahar for real money, look no further than PGEbet! With PGEbet, you can rest assured that:
• You're at a secure and regulated online casino.
• You can also look at the welcome bonuses and ongoing promotions that are available.
• Extend your playing time and increase your total winning possibilities.
CONCLUSION
Although the rules for online Teen Patti, Andar Bahar, and Rummy are similar, players may notice significant variances depending on the game they are playing. This is because many gambling sites provide unique variations of the game played with the dealer rather than against other players.
To learn more, visit https://www.pgebet.com/ or use the app at app.pgebet.com