Pitch Ya Game Round 2
My Picks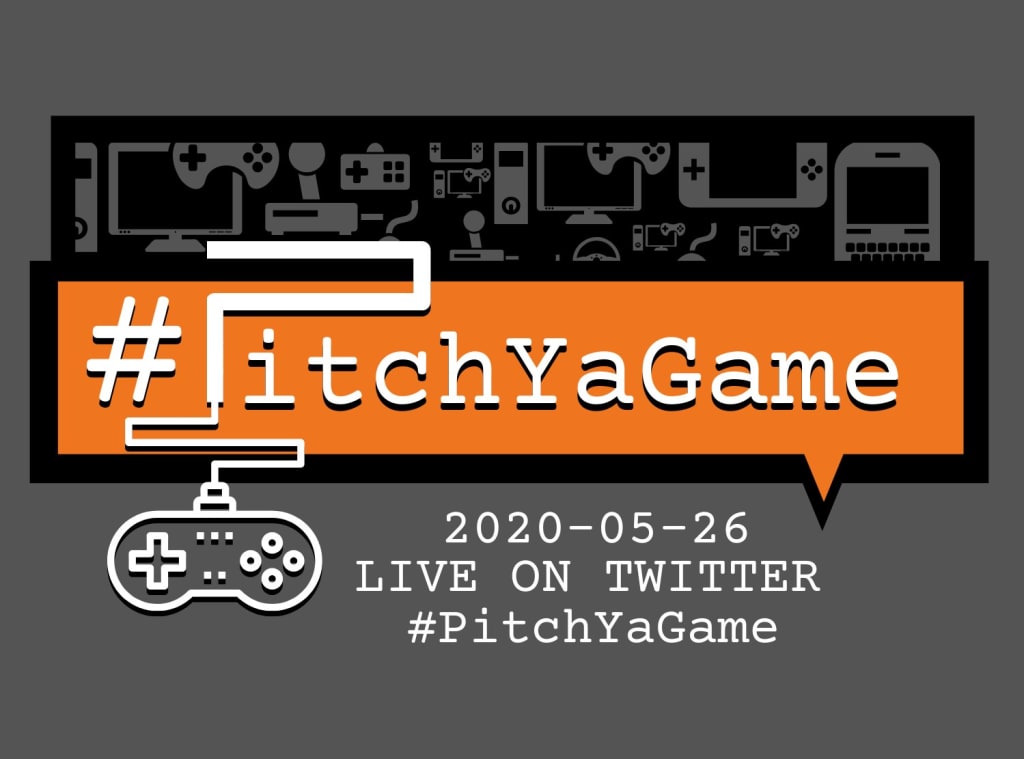 First pic for Round 1 of PYG
"PitchYaGame is an exciting new platform (live on Twitter) for indie developers and game developers to tweet about their game/s and be heard.
Our aim is to get as many eyes on the video games pitched, Essentially turning Tweet and Pray into Tweet and Have Faith!" - PitchYaGame.com
Pitch Ya Game was created by Liam Twose who has 30+ years in the video game industry. After the amazing turn out for Round 1, Pitch Ya Game became a hit and a decision was made to turn it into a monthly contest with awards and prizes. Besides just that there are not only the watchers and judges of the contest, but publishers, sponsors, and companies such as Unity who had their eyes on the event.
In this article i will be covering my top 10 favorites that i saw along the way. My hope is to inspire video game enthusiasts and fellow video game developers support the devs that are pushing to try and live their dream of making videos games. Not everyone can afford to back every devs kickstarter pages, but we can all share a Retweet for someone expressing their craft. It takes very little time and costs nothing, but can mean the world to someone.
There are winners who were awarded for Round 2 that you can check out but since this will be long with my picks I may save that for another article.
I also do a podcast about indie games and I will try to do interviews with devs, artists and any person who works any aspect of game development called Indie-Cent Exposure, I also cover these games as well as the winners in an episode of that podcast!
Without further adieu, here are MY top 10 picks for Pitch Ya Game round 2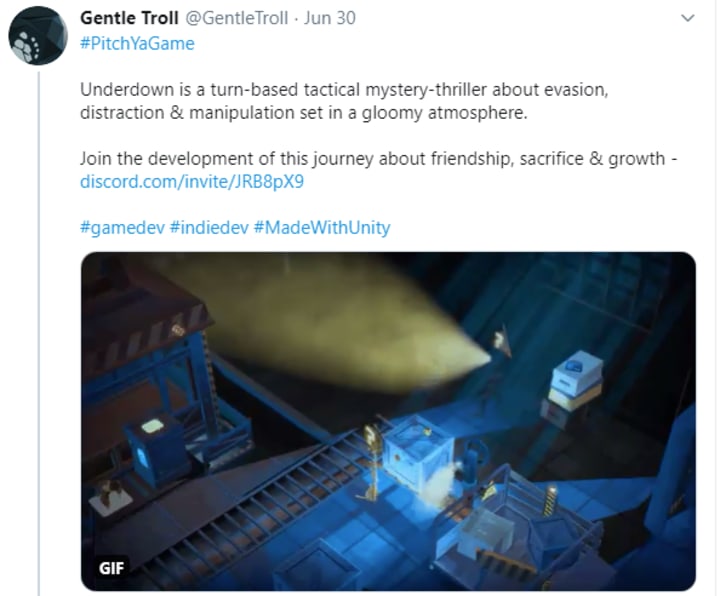 #1 UnderDown by @GentleTroll (Twitter) - This game for me was one of the first I saw and set the bar for me. "Tactical Mystery-Thriller about Evasion, distraction & manipulation set in a gloomy atmosphere". There's no doubt here that the pitch for this game leaves you wanting more. It goes on to express it's relation to friendship, sacrifice and growth, which, let's be real, is personal to anyone. Very excited to see the finished product as well as what they've done since in their next pitch!
#2 Domino House by @lilou_cormic (Twitter) - So a few of these games had playable demos and this was one of the 5 demos I opted to play and try out. I have to say that I am not big on point and click games but this will be one I will be playing the finished product for. The black and white art style with minor color is a great approach to this and nothing gets lost in the color or muddied up with their choices of shading. When I started playing i didn't realize that there were clues to puzzles unlocked through other puzzles and was clicking like a maniac to get things to open. Once i finally realized some things actually told me what to do, I was sure I was off and going to complete it in a matter of minutes. After all, its just a demo. But I did not. The puzzles were still very clever challenging puzzles and I could not be more happy with the experience. Also worth pointing out is the eerie soundtrack that perfectly fits a pig's head on a dish in your kitchen!
#3 SteamDolls by @Sedokuun (Twitter) - I love Metroidvanias, I love brutality, and I love Steampunk. Though this could look like a malnourished Deathstroke or General grievous (Not really), the art style and gameplay definitely have their own signature. This will be a game I will definitely pick up and if I'm not mistaken they may still have a Kickstarter going. And if not, dropping a like or a share never hurt anyone, so show your support!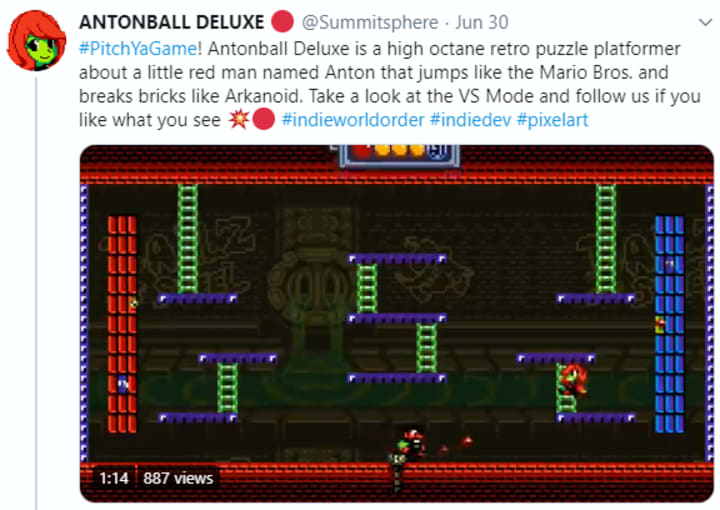 #4 Antonball Delux by @Summitsphere (Twitter) - This game looks incredible! I am a huge fan of Brick-Breaker like games as well as a huge Pong fan. And the versus mode here looks INSANE!!! It combines the 2 and turns it into something I never knew i needed in life! I haven't seen much of the puzzle side of the game or single player (if there is) but it doesn't matter because I am SOLD! This could be a game all by itself for me and I would buy it. And if there is more to it, the devs have my complete trust and support that whatever it is will be just as good as this looks!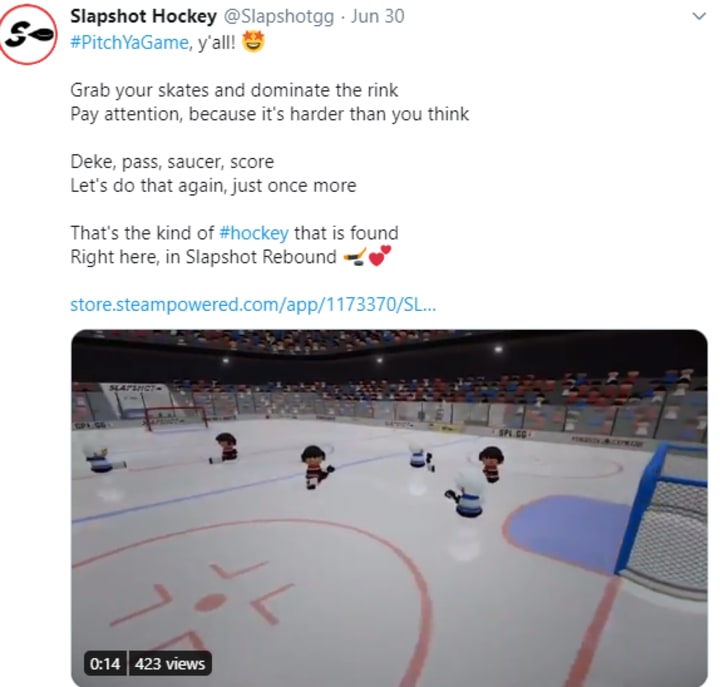 #5 Slapshot Hockey by @Slapshotgg (Twitter) - I've always liked sports games included hockey. No doubt that sports games continue to impress with their gameplay function and realism as we progress generations. But sometimes you need something fun and cartooney! You need a Mario Kart to your Gran Turismo, a Backyard Baseball to your MLB, and this right here is want I've NEEDED from a hockey game. You have the little cute "Mii" style characters, it isn't taking itself too seriously and looks like the emphasis in this game is put into its FUN factor. This was my top pick for a sports game in PYG round 2 by far! waiting impatiently for this title's release!
#6 Box Kid by @trexinteractive (Twitter) - I am a fan of puzzle games to an extent. They really need to keep my interest and this one definitely has! The fast pace along with elements of danger and enemies full of explosions instead of a simple "move these things around to unlock something else". its action meets puzzle and this is my top puzzle pick for PYG round 2!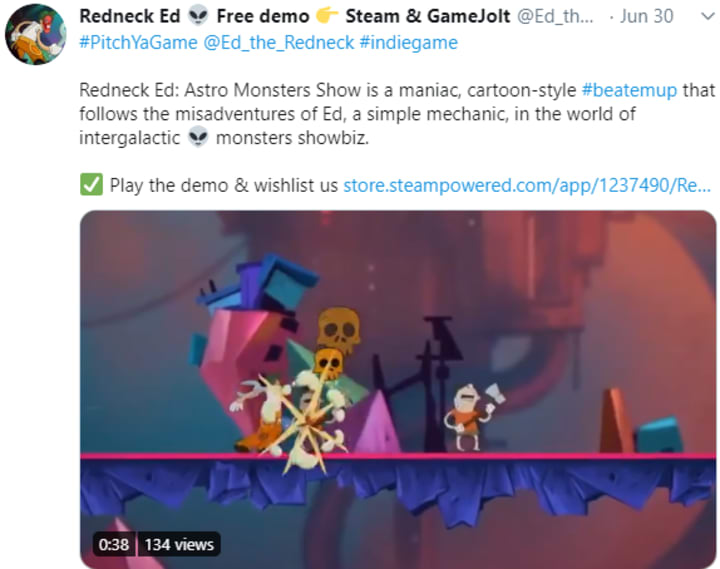 #7 Redneck Ed by @Ed_The_Redneck (Twitter) - To me BY FAR this is my #1 pick for artwork! This looks GREAT! I feel about this game the way I felt about Cuphead when I first seen it. You can tell how much effort went into every frame with these hand drawn animations and every second was absolutely worth it! I felt like i was watching a cartoon when I was watching the gameplay for this masterpiece. Congrats to the dev/artist here because I think this has amazing potential and hope to see great things come from this team.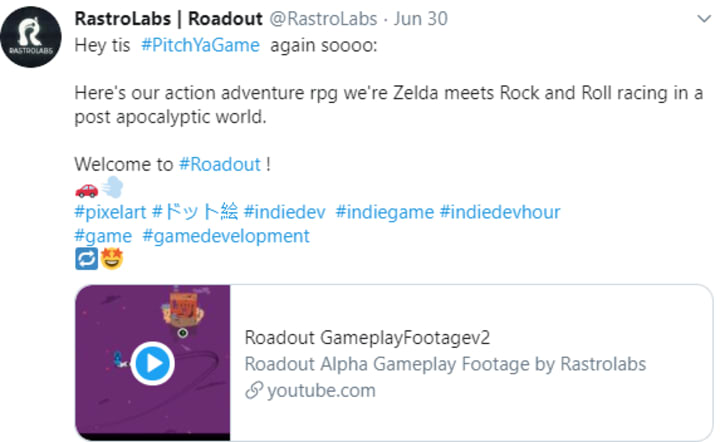 #8 Roadout by @RastroLabs (Twitter) - "Zelda meets Rock and Roll Racing" ... are... you.. KIDDING ME!?!?! If this delivers anywhere NEAR that I am SOLD! This will be my new favorite game! Who doesn't love Zelda? and Rock n' Roll Racing? That was one of my favorite childhood games. You put those together and its OVER, you will never hear from me again. Looking at the gameplay, the driving looks smooth, out of the car gameplay looks good as well. Doesn't look like they skimped on either feature and has the makings of a indie game of the year in my eyes. I cannot WAIT for this game!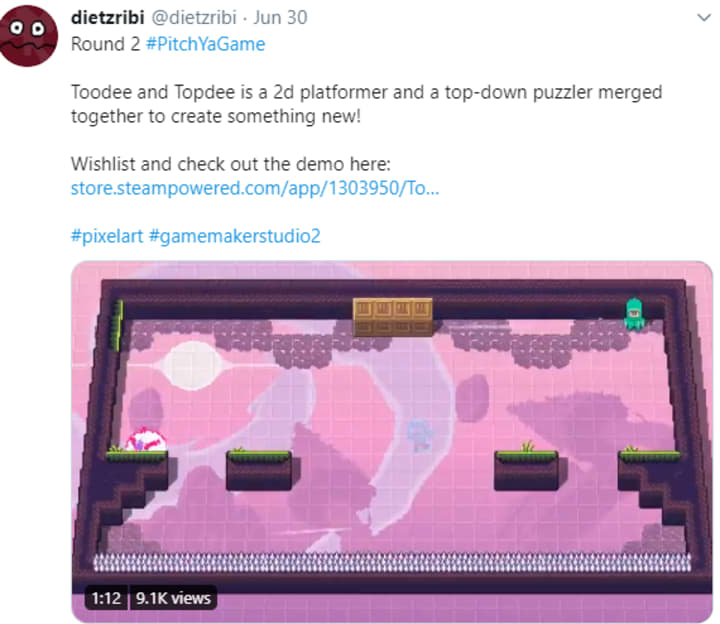 Toodee and Topdee by @dietzribi (Twitter) - First of all, OMG!! I was watching this pitch like "Ok, another 2d side scroller, looks cool.. and BAM!!! The screen flipped and reveals a 3d function where you have to control a second character, it becomes a whole new game! I was blown away by this. This was more than amazing! Haven't gotten to look too much more into this game but I am going to right after finishing this article. Another out of the box game that I can't wait to play. Its like Fez but a step further. Good work to the devs on this one!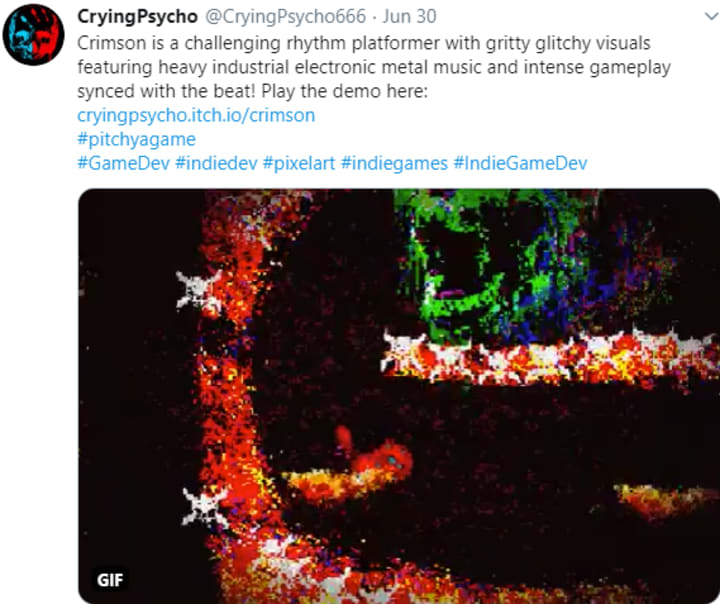 #10 Crimson by @CryingPsycho666 (Twitter) - This was another game that had a demo available for me to download and try out. This game is HEAVY METAL!! This is heavy metal turned into a video game, literally. The distorted graphics and filter, the skulls, fire, pentagrams and music turn this into an experience that may just open a portal to hell. You play as a ball of cancer (or something like that) and have to navigate your way through madness. When you unlock new areas and even backtrack to continue from a side area after opening something new, it can completely change the gameplay and obstacles. The platforms and obstacles are all connected to the music, and myself being a huge music person, enjoyed every second of it. Going to continue playing the demo until the full release!
If you have made it this far, i thank you and congratulate you! I will be posting more of these articles about game developers as well as covering Pitch Ya Game Round 3 and every round after that. If you are an indie dev and working on a game YOU can also compete in the competition the last Tuesday of EVERY month. And if you aren't a dev yourself but you know someone who is, let them know and help get their content out to a wider audience. You can also contact me for a spot on my podcast to talk about your project! Until next time!