More Gothic Punk cc pt 4
actually 5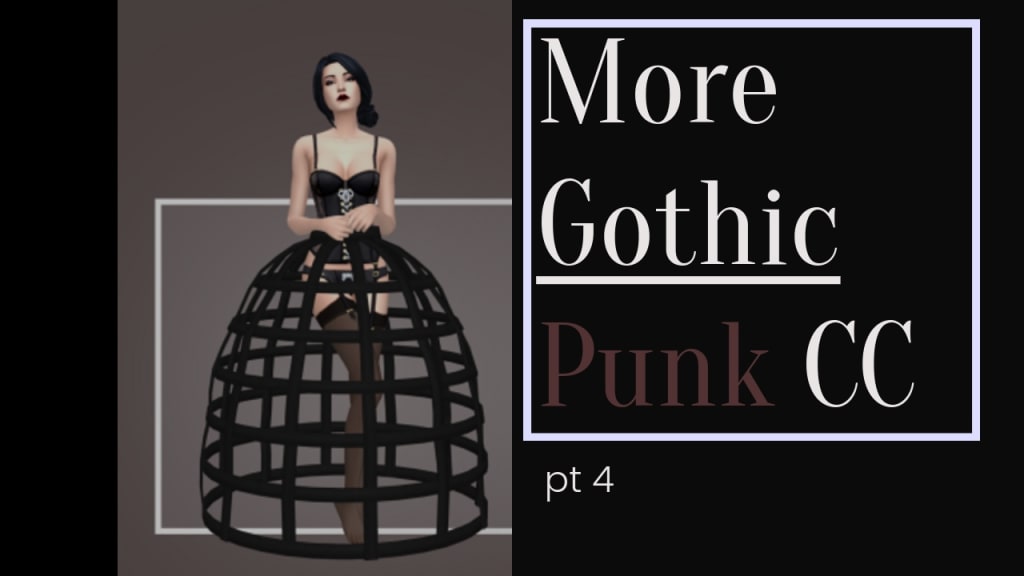 Hello-hallo!
I'm back again with more gothic maxis match cc content links! I haven't tried these out myself, but you can be sure that I'll be trying them out myself and updating later!
(I currently and am out of state and away from my beloved PC)
Now for this list... some of these aren't obviously goth, but I think they can still be used...
Jny-sims
Not sure how this hair will look in-game but it has character. Hopefully it'll look good even with other reshades.
A fluffy maxis match sim hair... I haven't tried this yet, but I'm looking forward to this and will have to come back to say something later.
Pink Patchy
They make maxis match content for alien sims and quirky gothic sims. If you're interested in having skeleton or robot arms, or adopting imaginary friends... check them out.
Look at these cute asymmetical ponytails!
The inspiration of many goth chic cc. Wednesday... just as popular as the power puff girls.
with different bang options.
They have more hair but you can check them out on their tumblr! Simply google pinkpatchy and tumblr! Or click on the underline.
RottenMothBoy
A person that dedicates themself to... I want to call it scene?. Forgive me if I'm wrong. They mostly do alpha hair but they recently released some maxis match wild hair that's very full of character, getting possible goth, punk, visual kei, anime and scene vibes.
Adorable.
Nolstagic
Strong alcoholic older nee-san.
CHARMY
They made a hair resembling will from W.I.T.C.H the cartoon.
marigolde
Discovered them today. They are quite skilled at making eyes. And I've discovered a few natural styled hairs that I've become fond of.
As a sag this speaks to me.
The real vip here is the downturned eyes and darkness around the eyes- do you know how much I wanted these when making some of my male gothic sims? If they have downturned eyes preset and a skinblend overlay I'd be immensely grateful! Sadly I don't see a link to that though. I sort of hate it when creators do this, when it comes to eye contacts, some can only be pulled off to achieve the same aura with eye presets.
Not sure what this skinblend does, does it downturn the eyes slightly? Either way it's useful for mob sims. Gothic mob sims specifically, we want them to look dead inside and done with the world... I hope no one takes that personally.
I think these eyes- the lens itself could pull off a beautiful goth/ punk sim that has a really intense stare that pulls you in, you know? Just gorgeous!
Another pair of eyes that could pull off a similar affect, marigolde is absolutely awesome!
lamatisse
They specialize in maxis match skin blends that look very sleek, dreamy and elegant.
I know it's the eyes but this screams resting B- face. Save time making your goth sim! If making sims doesn't come intuitively to you and you don't enjoy creating sims, I imagine this would make the process less painful.
TwistedCat
They specialize on making genetics presets (ex: eyebrows) and makeup.
Eye preset though please!
crypticsim
A simmer who specializes in makeup cc. They don't stick to any style so feel free to shop here and look for eyeshadow to suit your sims.
Now, here's a cc that is deeply imprinted on my soul. I actually wanted to keep this a secret so it would drive other simmers insane when they see my sims ahem. But I'm trying to lay down the stones in my heart.
The first time I saw this, I was screaming. There's actually a few other cc creators who made this kind of lip but I can't remember them at the moment.
This should speak for itself. This makeup collection doesn't just scream goth though so...
Adorable. Quirky. We don't see asymmetrical makeup every now and then now that I think about it?
asan333
You can find them on sims resources. A Chinese CC creator, you can find most of their content as cute makeup for Asian sims. They also do hair and eyes that are more on the alpha side than maxis.
I just saw this today and fell in love. Definitely going to download once I get back home! This is an adorable eyeliner! And from the looks of it they thankfully make eyeliner that completely appeals to me.
Reevaly
I know nothing about them other than that they make gothic cc on sims resources.
I'm glad I found this eyeliner because it looks like something I'd actually use.
This definitely looks like an eyeshadow I'd use- apologies that I'm not leaning more for the over-dramatic goth eyeshadow. It's not that it doesn't exist.
I just don't reach for it.
EvilQuinzel
Dark lipgloss.
I thought this lip could be used by goths.
I thought this eyeliner could be used for asian goths as well...
Kismetsims
Their eyebags seem useful.
And their skin detail looks like they could be used to make some miserable sims or elder sims. Although that's just my opinion.
oydis
A cc creator who specializes in maxis match clothing, hairs, accessories... basically anything they feel like doing. I don't know much about them, I've simply seen their hairs and gorgeous sims floating around pinterest. It seems like they're new on patreon. Although I could be wrong. I'm surprised I didn't try any of their cc sooner.
This isn't necessaryily gothic, however I think a goth sims could still wear these.
Poor male gothic sims who have no such content...
I wish more cc creators made more male clothing! I'm feeling so guilty!
For historical sims... They have the birdcage accessory separately if you keep looking. I'm wondering whether or not to use it for an occult sim to make them look ghoulish...
I'm getting flashbacks... this could be used for a ghost backstory maybe. Or if you're into having your sims living in olden times that too.
The earrings, finger rings and some of the clothing- if not all could be used to make gothic/punk sims I think.
Lastly how about some cc to decorate your homes?
networksims
I know nothing about them but when I saw their cc I wanted to download.
Such a vibe.
I'm not sure I could call this a maxis match wallpaper as I haven't seen the actual texture in game but it's usable for gothic sims house/ a vampire crypt or secret chamber...
With floors to match.
For now that's all I could find today, thanks for reading if you got this far!
Reader insights
Be the first to share your insights about this piece.
Add your insights