Masterful Strokes: MS Dhoni's Spectacular Innings in IPL 2023
Unleashing the Captain's Brilliance, Dhoni's Batting Heroics Shine in IPL 2023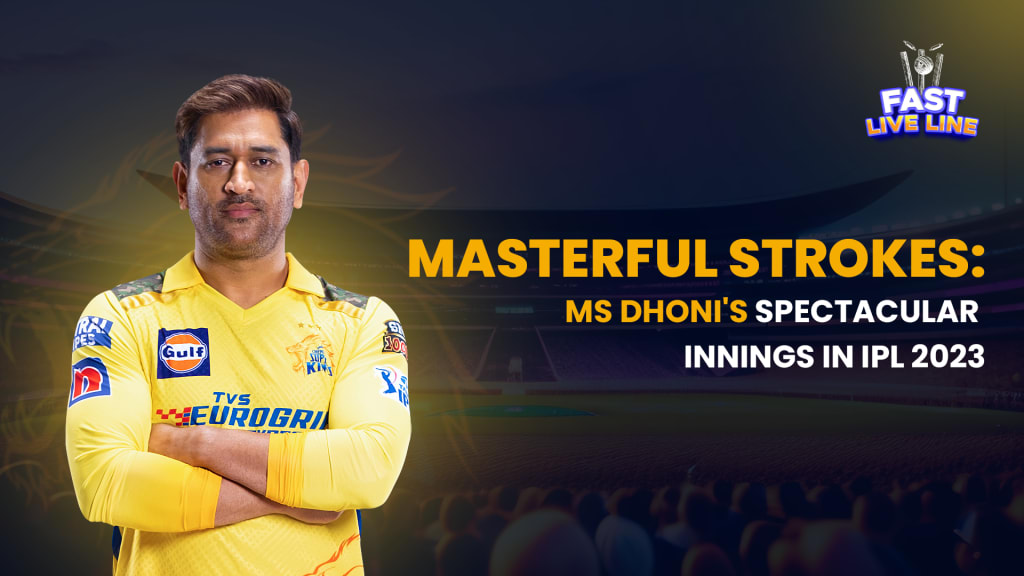 MS Dhoni, the batsman, experienced a dynamic shift during IPL 2023. Instead of his usual prominent role, he started appearing at the crease towards the end of the innings, sometimes facing just four or five deliveries. This alteration can be attributed to various factors, such as the strong batting lineup of the CSK team and Dhoni's fitness concerns, particularly his problematic knee. This adjustment was accompanied by considerable fan excitement and celebration.
Over the past few seasons, MS Dhoni's batting prowess has noticeably declined. Although he showed brief moments of brilliance in a few games, his ability to deliver powerful hits diminished significantly. Prior to the season, an image of MS Dhoni training at Chepauk circulated widely, featuring him in a sleeveless training outfit that highlighted his impressive biceps. This image sparked curiosity among fans about what Dhoni had in store for them in terms of batting performance during the upcoming season.
Dhoni had a successful year as a batsman, demonstrating impressive power and accuracy. He faced 57 deliveries with a strike rate of 185, showcasing his ability to strike the ball cleanly. Considering all the factors mentioned above, Dhoni's performance with the bat was commendable.
Let's examine the top three innings played by MS Dhoni in the IPL 2023:
#3 12 off 3 vs Lucknow Super Giants
During the initial phase of the game, CSK began strongly with an impressive display from the stylish Ruturaj Gaikwad and the talented New Zealand batsman, Devon Conway, setting a solid base for a significant score.
Gaikwad exhibited exceptional control over the LSG bowlers, effortlessly displaying his batting prowess. Despite his departure, the team's momentum decreased. Still, Rayudu and Dhoni's valuable contributions in the later stages propelled CSK to an impressive total of 217 runs for the loss of 7 wickets within 20 overs.
Amidst an enthusiastic crowd, MS Dhoni strode onto the field, effortlessly hitting two sixes consecutively before exiting. With their bowlers diligently executing their strategies, the Chennai Super Kings emerged victorious, clinching a 12-run victory in the match.
#2 32 off 17, vs Rajasthan Royals
In a thrilling IPL encounter, MS Dhoni showcased his classic batting skills, reminiscent of his earlier years, during the crucial final overs. Nevertheless, Sandeep Sharma of the Rajasthan Royals emerged as the hero by skillfully delivering two impeccably executed block-hole yorkers. These brilliant deliveries secured a narrow three-run triumph for his team against the Chennai Super Kings.
In the final over, Chennai Super Kings (CSK) required 21 runs to win, placing Sandeep, the bowler, under immense pressure. Initially, Sandeep struggled and bowled a few wides, allowing CSK's captain, Dhoni, to strike two sixes and reduce the required run rate.
However, at this critical moment, Sandeep maintained his composure and executed two perfect yorkers, preventing Dhoni from achieving victory and securing the win for his team. Dhoni concluded his innings with an unbeaten 32 runs off 17 balls.
Read More: CSK CEO Believes in Dhoni's Potential for Another Spectacular IPL Season
#1 20 off 9, vs Delhi Capitals
CSK found themselves in a difficult situation when they lost four wickets within the initial 12 overs against Delhi Capitals. Nevertheless, Dhoni confidently entered the crease and quickly found his rhythm. He scored an impressive 20 runs from only nine deliveries, comprising two sixes and one four.
Dhoni demonstrated his skills as a closer, achieving an impressive strike rate of 222.22. This outstanding display consisted of two sixes and a boundary. He effectively accelerated the scoring in the later part of the innings, allowing CSK to reach a competitive total of 167 runs against DC. Ultimately, this proved sufficient as Chennai emerged victorious, winning the match by a margin of 27 runs.
Final Words -
Experience real-time cricket updates with Fast Live Line, the ultimate app and website for all your cricket-related news. Stay ahead of the game as Fast Live Line delivers live cricket scores before they appear on television. With Fast Live Line, you'll never miss a beat when it comes to the latest cricket action. Whether searching for a comprehensive cricket live line or immediate access to live cricket score, Fast Live Line has got you covered. Embrace the power of real-time information and elevate your cricket-watching experience with Fast Live Line.
About the Creator
Our live cricket score updates provide real-time information on matches from around the world. With our comprehensive coverage and user-friendly interface, you'll have all the information you need at your fingertips.
Reader insights
Be the first to share your insights about this piece.
Add your insights