Kickstarter Gems: Record And Live Stream Your Nintendo Switch And Other Consoles Gameplay On Your PC For An Unbelievably Affordable Price With Genki: ShadowCast
Would This Be Useful To You?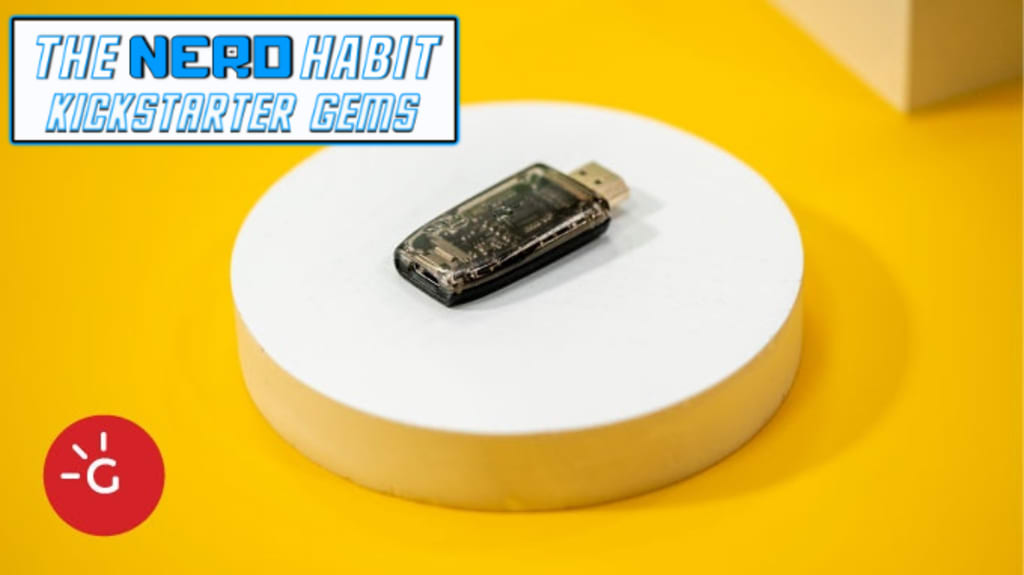 Written By Christopher D. Horton
Content creators rejoice; there is now an affordable way to record or stream your video game console footage on your PC. Genki: ShadowCast, a Kickstarter Projects We Love selection, is bolstered as "the simplest way to play console games on your computer." At a mere $39 price point, this device by Human Things is a very affordable way to link a video game console, like the Nintendo Switch, to a pc so that gameplay can be recorded or streamed to your favorite streaming service.
Making the ShadowCast so affordable is a big deal because live streaming video games is a major business. According to Statista.com, in 2017, around six hundred sixty-six million people in the world tuned in to watch their favorite streamer play their favorite video game. According to that same site, that number was expected to increase by eighty million more people in 2019. After the pandemic dominated year of 2020, live stream watch time went from 3.89 billion hours in Q3 2019 to 7.46 billion hours in Q3 2020, an almost 50% increase according to restream.io.
With the ShadowCast device's invention, the market for new streamers could open up significantly for those who cannot afford similar video capturing devices, like Elgato brand devices that range from $179 to $249. Elgato devices are some of the most respected video capture cards in the business.
While not quite as powerful as an Elgato device, if the ShadowCast performs as advertised, it will save streamers a considerable amount of money. The ShadowCast will also allow smaller streamers a lower-cost entry-way into streaming their favorite console, especially if they own a Nintendo Switch, which has no streaming functionality built-in.
This Kickstarter was started by the company Human Things, creators of the most crowdfunded gaming hardware projects on Kickstarter in 2018 and 2019. The Genki: Shadowcast has already raised $995,351 against a goal of $30,000, having them well on their way to achieving that title again in 2021.
The Genki: ShadowCast idea came to the Human Things team back in 2019. They collaborated with top video capture manufactures to produce a Super Dock for the Nintendo Switch. Still, the parts needed for the original prototype was too expensive to take to market. Taking a step back, the team refined their idea over the past two years to fit all HDMI-capable consoles and created what is now called the Genki: ShadowCast.
So how exactly does the Genki: ShadowCast work?
The Genki: ShadowCast works by routing the visual connection from the console to the pc using an HDMI dongle device and USB-C connection cable.
There are three simple steps to get your favorite modern console connected to your PC. Connect the ShadowCast to your computer via a USB-C cable, insert the ShadowCast into the game console, and then launching the Genki Arcade app on your computer.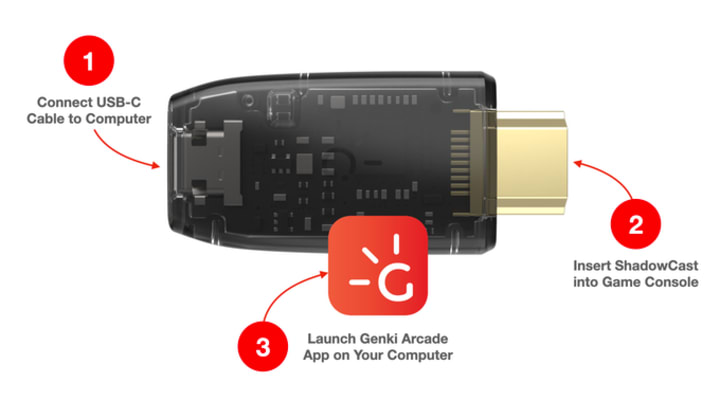 Now for the most crucial question, what pricing tiers are available on this Kickstarter, and what do you get?
Like any Kickstarter, different pledge tiers increase in price but include more rewards.
To get a Genki: ShadowCast, a crowdfunding backer only needs to fork over $39 to get their hands on this neat device. Not only does the $39 get the backer a sweet ShadowCast, but it also comes with a USB-C 2.0 cable, and the backer gets their name credited in the Genki Arcade app.
Another enticing pledge offer is the ShadowCast + Covert Kit for $99. Pledging to back this tier will get the backer everything in the $39 tier, plus a Genki Covert Dock along with a flexible HDMI 2.0 cable. The Covert Dock is a neat device created by the Human Things team that is a replacement dock for the Nintendo Switch. The Covert Dock is ten times smaller than the standard Switch dock and doubles as a charger.
Human Things' Genki: ShadowCast Kickstarter lasts until January 28, 2021. You can become a backer by using the source link below.
Follow us here on The Nerd Habit to learn about more Kickstarter Gems in the future.
(Disclaimer: The author of this article is not associated with the Human Things company and will not profit from this writing. The author just thinks this device is really cool.)
Source(s):
gear
About the author
The Nerd Habit is a collaborative group of writers who love all things nerd. We write about the latest happenings in nerd/geek culture as well as short fiction.
Our 2022 Team:
Christopher D. Horton, Hani Masry, Jerah Rose, Whitney Thompson
Reader insights
Be the first to share your insights about this piece.
Add your insights