Is There a Website Where You Can Sell Your Steam Account Safe and Secure?
Listed websites that are safe and secure to sell your steam account.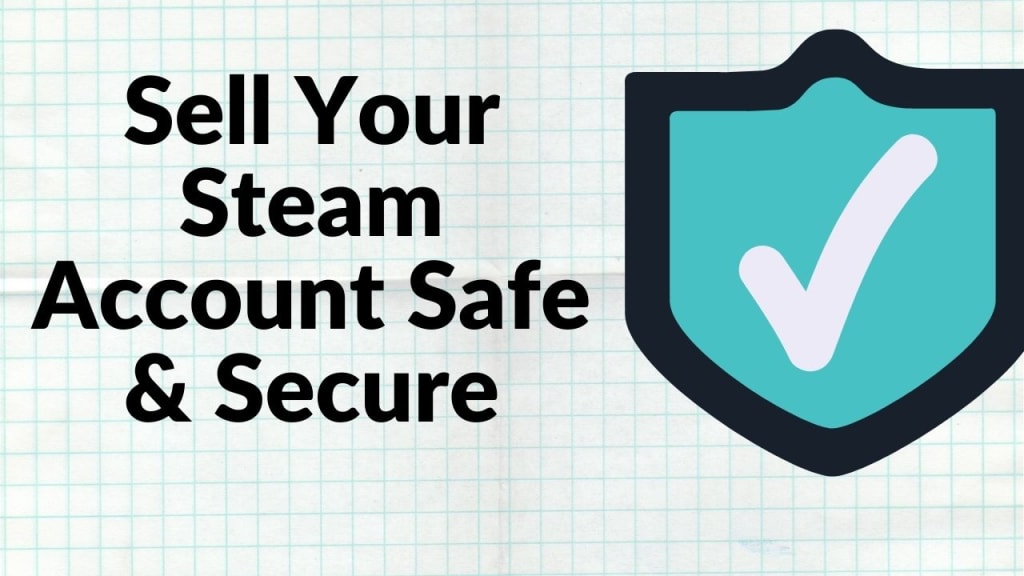 Is There a Website Where You Can Sell Your Steam Account Safe and Secure? / Picture created by the author
Is there a website where I can sell my steam account safe and secure?
From playing physical video games to doing so online, the era has created several professional online gamers. Gamers have a world of their own. They have their own language and their own code of actions amongst themselves.
Steam is heaven for such people. It is a gaming community, an online portal where a gamer can enjoy access to several free games. They can either play individually or as a team.
A steam account is not a regular kind of an account. It harbors a library where the gamer can store their downloaded or purchased games. It automatically updates newer versions of games without bothering its customers. Gamers can socialize here with their like minds.
Besides being an online space, a Steam account is also an asset. Each game in the library could be worth thousands of bucks. Each asset in a game could be worth a fortune. Hence, it is highly necessary for gamers to have their steam account guarded.
The Steam account could yield money. It can act as an investment that can help you provide instant money. But where can you sell your steam account without having to worry about scammers? Who can you trust for your beloved asset?
Well, selling anything online carries more risks than benefits. With hackers and scammers waiting to sneak through the tiniest of a loophole, one has to be very careful when dealing with money online.
There are few trusted websites where you can enjoy safe and quick selling. However, the risks of a scam are only minimized here and not completely gone.
iGVault service:
Want to maximize the audience so that you are paid the right price for your account or your gaming asset? With iGVault, your offer can reach up to ten million gamers all around the globe. To ensure more traffic towards your ad, the website has partnered with Bing and Google.
When searching about iGVault, one may come across varying reviews. About 1 in every 6 or 7 reviews is a negative one, claiming that they got scammed when purchasing an account or a gaming service. However, the positive reviews seem really promising.
Player auction:
The website seems more authentic with its tutorials and customer support services. Setting up your steam account for sale on player auction is easy.
Free registration: it is a quick process that requires some basic information.
Payment option: next, you got to choose how would you like to be paid for your service. Paypal, Payoneer, and Skrill are the three options offered to you by this website to build a payment method
Create your offer: The third step is to set out your product for sale. Add details to your offer and price them. Posting offers is for free
Build an audience: want to inform your friends over different social media platforms? Don't worry. The Player auction allows you to share your offer over various platforms where you can ensure greater exposure to your offer
Wait patiently: anytime a buyer pops up for your offer, you will be notified by the website. But be patient meanwhile and continue publicizing your offer
Deliver your service: once a mutual agreement happens between the seller and the buyer, delivery of the product takes place, the method of which varies according to the product being sold. You can track the process on the website
Get paid: once the buyer confirms the delivery, the money is sent to the seller
Still scared of scams selling your steam account?
Being worried about frauds and scams over the internet is legit. However, if you are careful enough, your chances of coming across one minimizes. You have to be smart enough to overcome the cunningness of scammers.
Here is how you can identify a fraud in game trading:
Offsite offers: anyone asking you to deal offsite is likely to be a scammer. By doing so, they can easily bypass the security check measures of the website. Once away from this, a scammer can trick the seller or a buyer. They are hard to catch later as they are careful enough to not to leave out trails of their personal information.
Lottery and gambling accounts: if you wish you use your hard-earned money wisely, stay as far as possible away from offers labelled as gambling or lottery. They garnish their ads with figures of six or seven zeros, whereas they intent to give away nothing after the purchase has been made. These offers are a waste of money as well as time.
Unreasonably low prices: you are scrolling through a website when you come across a rare gaming asset you have been yearning for since ever. Moreover, the asset is set up for an extremely low cost. Stop right here and think a couple of times before proceeding to purchase the item. In most cases, low costs are added to offers to attract an audience and earn money without the intent of delivering the item. Do your own research regarding the actual price of an asset. Scroll through other offers offering the same thing at a reasonable rate.
Asking for account information: never must you let out your email ID associated with your payment account. It is a soft ground for hackers to break into your financial account. Such details must remain confidential.
This article is inspired by this Quora thread.
I hope this helps.

Aamir Kamal
Hello guys. I am a blogger who writes about Blogging, YouTube, Quora, Medium, Substack, and Vocal. We also publish content about everything. You can check out my profile on Medium: https:/aamirokamal.medium.com
Writing on Vocal Media.
See all posts by Aamir Kamal →