Is gaming a viable career? One E-sports teams $1-million tournament win shows it can be.
Professional gaming isn't for everyone, but for those who make it a career, it can be very lucrative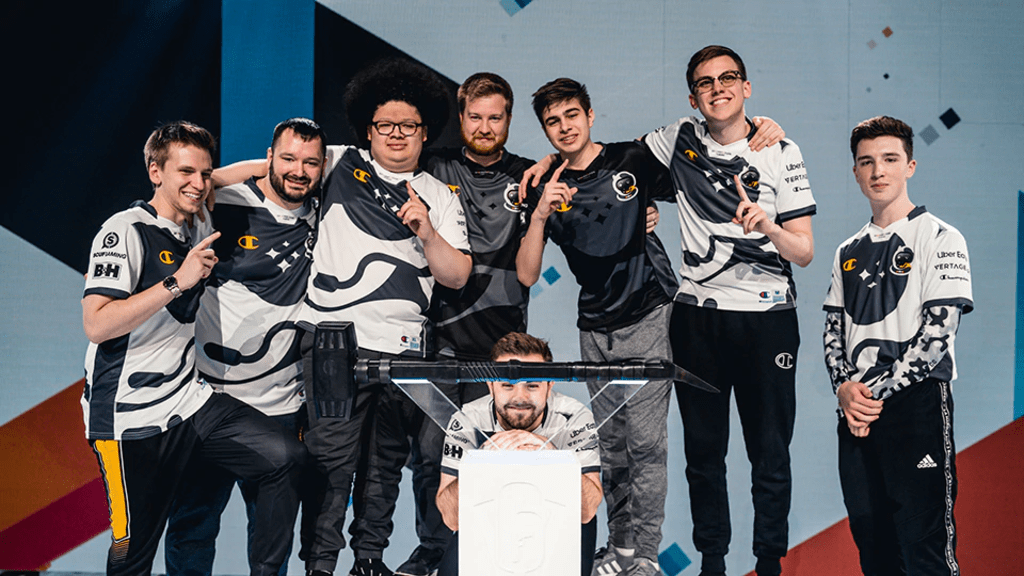 Spacestation Gaming
We have all heard it before, "all my kid does is play video games!", but what if those same parents understood just how much money professional gamers make and that gaming is quickly becoming a viable career? Would they look at it differently?
That all depends. But one Utah professional Esports organization definitely showed the world that commitment, skill, and hard work can pay off after winning $1 million at a global gaming competition in Canada.
The group of "Rainbow Six Siege" players who represented Spacestation Gaming out of Layton, Utah, at the Ubisoft annual Six Invitational proved they had what it took to become world champions.
Coming off a U.S. Nationals win in December, the team went undefeated as they climbed to the top of the winner's bracket, defeating NiP's Brazilian players and taking home the grand prize of $1,000,000.
The total purse for the competition was $3,000,000 and was divided among the teams based on where they ranked when it was all over.
There are big opportunities for the right individuals in gaming. You just have to know what you are doing and how to get there.
Alex Christiansen, Chief Operating Officer of Spacestation Gaming, said they have multiple teams across the county who compete in several different games like Rainbow Six, Rocket League, Smite, Super Smash Bros Ultimate, PUBG (PlayerUnknown's Battlegrounds) and Brawl Stars.
Christiansen said gaming has evolved tremendously over the years, and they are trying to change the stigma behind what the outside world understands about professional gaming.
"It's a full-time job for most of them," said Christiansen. "Players are paid a salary, just like any other professional athlete, to be a part of the team."
Christiansen said Esports is a growing industry and while it is still new, it is no longer just a "hobby or side play" like some assume and can lead to a very lucrative and rewarding career.
"This is our players 100 % focus, they can spend 10 or more hours a day working on their skills," said Christiansen. "The team that won the tournament lives together in a house in Atlanta and will soon be moving to Vegas. Every couple of months they also attend a camp where they spend a week working on strategies, other teams' strategies, skills, and the structure of the game."
Organizations are coming up to support high school students in leagues and teams that represent their schools and Christiansen believes 10 years from now there could be a complete flop of traditional sports in high schools and colleges around the country.
The Esports industry has grown so massively over the last few years. Rainbow Six Siege registered around 10 million players in 2016 and now has more than 55 million worldwide.
The amount of money professional Esports professionals can make varies on the amount of time the game has been around.
According to Jkcp.com, (Julian Krinsky Camps and Programs) regular Esports salaries range from $1,000 to $5,000 a month but for some, like top players for League of Legends, can be upwards of $15,000 a month in addition to tournament winnings.
Gamer incomes often come from sponsors, such as manufacturers of gaming equipment or energy drink suppliers or even non-gaming sponsors such as car manufacturers and clothing companies.
According to Nerdwallet, an American personal finance company, another way gamers make money is by live streaming on Twitch through subscriptions, sponsorships, and receiving a percentage of ad revenue.
Shaun McBride, 31, also known as Shonduras, is from Clearfield, Utah, and is the owner of Spacestation Gaming. McBride's fast-growing fame started by using his Snapchat account to share his daily adventures with the world then grew through the use of Vine and YouTube.
Currently, his YouTube channel "Shonduras" has 2.54 million subscribers and his videos, on average, receive 4.9 million views per day.
Christiansen said he fully understands it can be difficult for parents to get behind their kids wanting to make careers out of gaming because of a lack of full knowledge, saying as this continues to grow so will the faith in parents as well as the knowledge of the industry.
As their child gets older, parents have to learn to gauge if their child has the talent required to make it professionally. Just like with any physical sport, it takes dedication, skill, and the right talent, according to Christiansen.
Nearing 495 million people involved in Esports worldwide, the industry is expected to top over $1 billion in revenue in 2020.