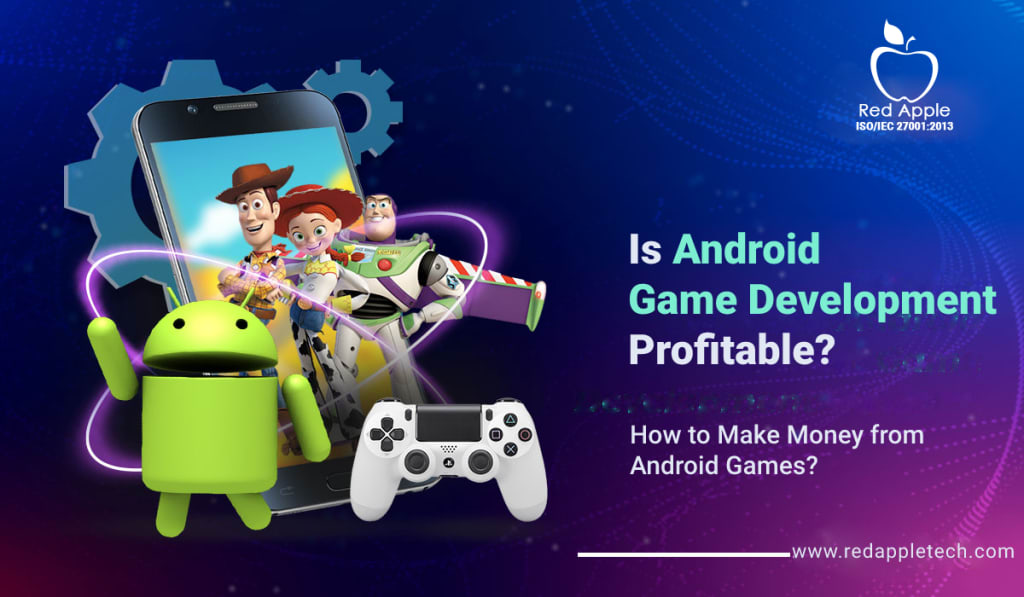 The arrival of smartphones, tablets, and other mobile devices has remarkably influenced gaming standards. These devices are letting users tremendously involve with the game world every now and then.
At the moment, the gaming population has crossed the projected figure of 3 billion (Source: Influence Marketing Hub).
Similarly, there is also a notable growth in the publication of Android gaming apps in the Play Store of Google. According to Statista, this figure is projected to cross the figure of 490,000 million by the end of 2023.
This emerges as a golden chance for every mobile game development company. It will help them to boost profitability and meet other objectives very smoothly.
It is time to discuss:
How to Make Money from Android Games?
When making money from Android games, using result-oriented business models will be very profitable. Let us explore now:
In-game Advertisement
The concept of this monetization option is very simple. Allow other industries to use your game apps to publicize their products and services by running various types of advertisements. In the entire process, you will also have the opportunity to claim your income share.
But the quality of your game has to be impressive. It must engage gamers very strongly that they will never consider leaving your game app despite frequent advertisements.
In-app Purchase
It is a spectacular profit maximization tool that every Android game development company frequently utilizes.
According to the Tech Jury report, you will be surprised to know that the global user spending on in-app purchases is about $380 billion.
This model involves tempting the end-user to buy assets like weapons, skins, virtual coins, and other collectibles that will help them to overcome challenges at every level. You must serve them with these options when they are deeply involved with the world of gaming.
Premium
It is a traditional business model where players have to make the entire payment in advance to access the game.
But to get the best out of this model, you must make sure that users are already impressed with your previous gaming applications. Only then they will agree to spend the entire money to purchase your game.
Subscriptions
It is also a revenue-driven business model. Just allow your end-users to derive limited accessibility to experience your game thoroughly.
When they are satisfied, you must serve them with a yearly, quarterly, or monthly subscription fee notification to access the locked levels or assets of the game platform.
Here also, you have to make sure that users can attain surplus amusements from the limited edition of your game. Subsequently, they will consider spending money to access the premium levels.
To earn from this model smoothly, consulting a mobile game development company will be quite fruitful.
Freemium
It is also quite similar to the model of in-app purchases. But the only difference is that the in-app purchase model is also available in premium games that you have purchased by spending the entire money.
The freemium model allows users to install game apps for free. When they are strongly engrossed to handle challenges and obstacles, you have to serve them with the option to buy items like costumes, health kits, gold coins, and other assets.
This model will also help you to earn money when users are satisfied with your free gaming content.
How to Start Developing Android Games?
Determine your Target Audience
Spotting the ideal target audience is very essential when creating a game. It will allow you to spend money on the right game genres. If you need assistance in spotting the ideal audience segment, seeking assistance from a reputed Android game development company will be quite fruitful.
Research on an Engaging Storyline
The best way to hook your audience is by serving them with an interesting story in the game. It works quite impressively. Users will be very curious to explore your game to know the full story. Moreover, you must also work on adding surprises at every level and enable users to deeply interact with gaming characters, environments, etc. quite naturally.
Technology Stack
It is time to begin the actual work. Consulting a professional mobile game development company in India will let you utilize the ideal development tools like Unity, Unreal, HTML5, etc. to achieve a satisfactory outcome within a fixed deadline.
Testing
Users will skip your game apps if the performance is not satisfactory. This usually happens due to errors in coding which is known as a bug. Hence, when you have developed a game application, you must check its performance to detect and fix bugs within a short time.
Launch and Market
The Play Store of Google and the App Store of iOS are flooded with millions of gaming apps every year. It is a very challenging task to earn the attention of a vast user base.
To accomplish this objective, it is not enough to upload your game apps to reputed publishing platforms. You also have to work on tactics like app store optimization (ASO) to improve the position or ranking of your game apps quite smoothly.
Final Thoughts
The online game world offers vast possibilities to make money. It is the reason that every startup, Fortune 500 company, etc. is targeting the game industry to earn surplus profits. To make your presence felt in this profitable industry, you must closely observe the latest technology trends and other opportunities to achieve an impressive ROI (Return on Investment).
Author Bio
Red Apple Technologies is a reputed organization in mobile game development and other 360-degree solutions. The founder and CEO of this company is Mr. Arup Roy. His vast experience and solid industry knowledge have helped many establishments to achieve satisfactory outcomes.
Reader insights
Be the first to share your insights about this piece.
Add your insights