Introducing the best Next-Gen Gaming Console ; The Playstation 5
The best Next-Generation experience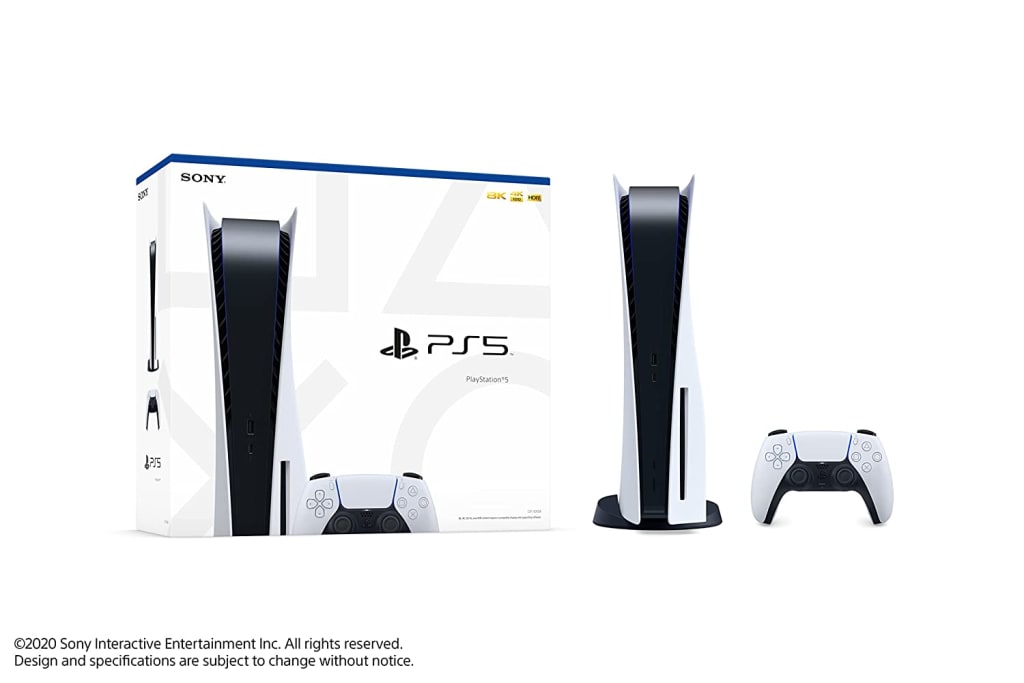 The Playstation 5 is the latest gaming console developed by Sony. It offers high-performance gaming, immersive graphics, and a variety of exclusive games. The PS5 features an ultra-fast SSD, ray tracing technology, haptic feedback with the DualSense controller, and supports backward compatibility with some PlayStation 4 games. It is available in two versions: one with a disc drive and one as a digital edition without a disc drive.
The PlayStation 5 (PS5) is a gaming console developed by Sony Interactive Entertainment. It was released on November 12, 2020, in several regions worldwide. The PS5 comes in two variants: a standard edition with an Ultra HD Blu-ray disc drive and a Digital Edition without the disc drive.
Key Features:
1. Powerful Hardware: The PS5 is powered by a custom AMD Zen 2 CPU and RDNA 2 GPU, delivering impressive graphics and performance for next-gen gaming.
2. Ultra-High-Speed SSD: The console features an integrated solid-state drive (SSD) that significantly reduces load times and enables fast game installations.
3. Ray Tracing and 3D Audio: The PS5 supports ray tracing technology for realistic lighting and reflections, along with immersive 3D audio for enhanced soundscapes.
4. DualSense Controller: The new DualSense controller offers haptic feedback and adaptive triggers, providing more immersive gameplay experiences.
5. Backward Compatibility: With backward compatibility support, the PS5 can play most PlayStation 4 games, allowing players to access a vast library of titles.
6. Game Library: The PS5 offers a diverse range of games, including exclusive titles like "Spider-Man: Miles Morales," "Demon's Souls," "Ratchet & Clank: Rift Apart," and "Returnal."
7. PlayStation Plus Collection: Subscribers to PlayStation Plus receive access to a curated library of popular PS4 games at no additional cost.
Specifications:
- CPU: Custom AMD Zen 2 CPU with eight cores clocked at 3.5 GHz
- GPU: Custom AMD RDNA 2 GPU with 36 compute units clocked at 2.23 GHz
- Memory: 16 GB GDDR6 RAM
- Storage: Custom 825 GB SSD (expandable via NVMe SSD slot)
- Optical Drive (Standard Edition): Ultra HD Blu-ray disc drive
- Resolution Support: Up to 8K output
- Ray Tracing Support: Yes
- Audio Support: Tempest 3D AudioTech
Price and Availability:
The standard edition of the PS5 launched at $499 USD/£449 GBP/€499 EUR, while the Digital Edition was priced at $399 USD/£359 GBP/€399 EUR. Availability may vary depending on region and demand.
Unique Selling Points:
Next-Gen Performance: The powerful hardware enables stunning visuals, fast loading times, and smooth gameplay experiences.
The PlayStation 5 (PS5) controller, officially known as the DualSense controller, features a unique design and several notable improvements compared to its predecessors. It is designed to enhance immersion and provide a more immersive gaming experience.
Design:
The Dual Sense controller has an ergonomic design with a comfortable grip that accommodates various hand sizes. It features a sleek two-tone color scheme with a predominantly white body and black accents. The controller has a slightly larger form factor compared to the PlayStation 4 (PS4) controller, offering improved ergonomics.
Buttons and Triggers:
The Dual Sense controller retains the familiar button layout found on previous PlayStation controllers. It includes the iconic face buttons (triangle, circle, cross, square), directional pad, options button, Share button for capturing and sharing gameplay moments, and the PlayStation button for system navigation.
The triggers on the amazing Dual Sense controller have adaptive functionality called "adaptive triggers." These triggers can offer varying resistance levels depending on in-game actions or situations. For example, pulling back on the trigger to draw a bowstring in-game will provide tension feedback simulating the action.
Touchpad:
Similar to the PS4's DualShock 4 controller, the DualSense features a touchpad located in the center of the controller. The touchpad allows for precise touch-based inputs and gestures, providing additional control options for games that support it.
Haptic Feedback:
One of the standout features of the Dual Sense controller is its advanced haptic feedback technology. It replaces traditional rumble motors with more precise haptic motors capable of delivering more nuanced vibrations. This allows players to feel a wider range of sensations like different textures or environmental effects within games.
Built-in Microphone and Speaker:
The Dual Sense incorporates a built-in microphone array that enables players to chat without needing an external headset. Additionally, it includes an integrated speaker that can produce in-game audio or sound effects directly from the controller itself.
Battery Life:
Compared to previous controllers, such as the DualShock 4 for PS4, there have been improvements in battery life for the Dual Sense controller. While specific battery life can vary depending on usage patterns and settings, it generally offers longer playtime before requiring recharging.
Compatibility:
The Dual Sense is designed specifically for use with PS5 consoles but is also backward compatible with PS4 consoles. However, certain features like adaptive triggers and haptic feedback may not be fully utilized when using it with older console generations.
Overall, the PlayStation 5's Dual Sense controller offers an enhanced gaming experience.
Reader insights
Be the first to share your insights about this piece.
Add your insights