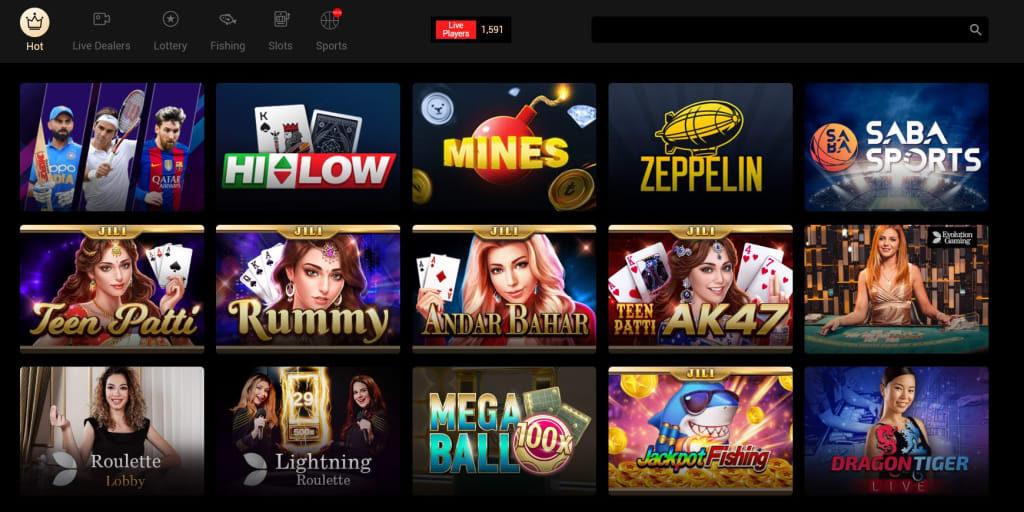 Have you heard about the hottest new casino games to arrive in India? If not, where have you been? Everyone's talking about them!
Thanks to PGEbet, you can now enjoy both Zeppelin and Hi-Low. The latter is a simple guessing game involving a deck of cards, where you can choose your own level of risk. While Zeppelin is a test of bravery that rewards nerves of steel with payouts of up to 900x your bet!
They're so simple to learn, exciting to play and they offer huge potential payouts. We'll be delighted to tell you more about these thrilling new releases.
Zeppelin
This simple but enthralling title is what's known as a crash game. Each time you play, a zeppelin is launched - hence the name of the game. The airship will pick up multipliers as it goes along, increasing the potential payout amount for winning players.
However, there's a problem. The zeppelin is doomed to crash. All you need to do is get out before disaster strikes and you'll collect the multiplier. Better still, if you're able to survive beyond 500x, you'll win a share of a progressive jackpot prize!
Rules of Zeppelin
The simplicity of this hot new PGEbet casino game is undoubtedly one of its best features. Here's how it works:
Once launched, the zeppelin will journey to a randomly chosen point. As it covers ground, the multiplier value will steadily increase.
To win money, all you have to do is cashout before the airship crashes. If you don't get out before the explosion, you lose your entire bet.
You are free to cashout whenever you like. If you do, the value of your bet will be multiplied by whatever the value was at the time.
If the multiplier rises to 500x or more, the "O2" Jackpot will be shared among all players who successfully cashed out at values of 2.00x or more.
Should it rise to more than 900x, the bigger "He" Jackpot will be shared out according to the same rules.
Zeppelin Gameplay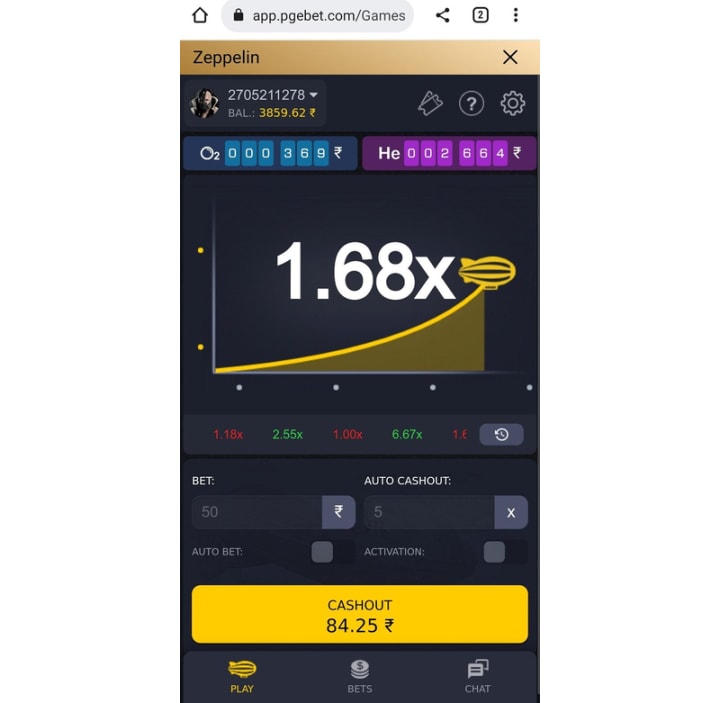 This is a high-tempo game where the action comes thick and fast. Between the zeppelin exploding and the launch of the next round, you'll have approximately eight seconds in which to bet. That's where the helpful "Auto bet" feature comes in handy.
Here's how the action unfolds:
When the game loads, you'll see the zeppelin rising from the previous game round. Use this time to decide on your bet size.
If you wish to repeat the same bet automatically after the round is complete, click the "Auto Bet" button.
Similarly, you can activate the "Auto Cashout" feature. Here you can specify a multiplier value where the game will immediately pay out, should the airship successfully reach it.
Once you're happy with your stake and settings, click the big green button marked "Place Your Bet".
If you change your mind, you can click the red "Cancel" button and amend things.
Once you've tried Zeppelin, you're sure to keep returning for more. The nail biting tension has to be experienced to be believed!
High Low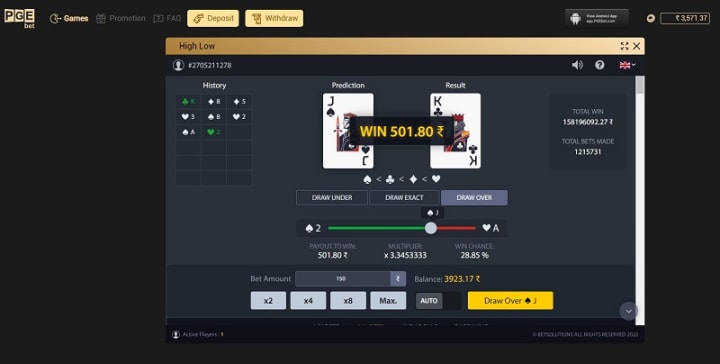 The premise of High Low couldn't really be simpler. Pick a card from the deck and try to guess whether the next card will be higher or lower. But with this popular new game, the initial card is not randomly selected by the casino. You can choose where to begin, putting you in total control of the risk level.
If you feel like a relatively safe bet, you can choose a low value card and bet on "Over". For instance, the likelihood of a card appearing that's higher than the 4 of Spades is 82.69%. A successful bet here would pay a multiplier of 1.1669767x your bet.
Feeling brave? Then why not make that same "Over" bet with a picture card? There's just a 15.38% chance of seeing something higher than the Queen of Hearts, for example. Guess that one correctly and the game will reward you with a multiplier of 6.2725x your bet!
Rules of High Low
The game's rules are extremely easy to pick up:
High Low uses a standard deck of 52 playing cards.
An Ace is the highest ranked card, with 2 being the lowest.
Where two cards are the same, suits break the tie; Hearts are the highest, followed by Diamonds, Clubs and finally, Spades.
Guess correctly and your bet will be multiplied by the value shown on screen.
High Low Gameplay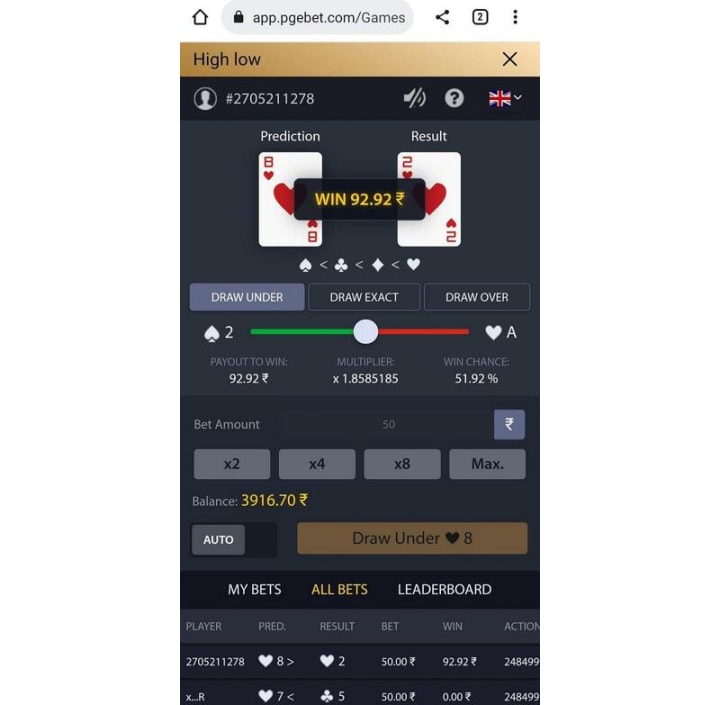 Perhaps the best thing about this new casino game is that you can play at your own pace.
Unlike the hundreds of other live casino games found at PGEbet, you control everything. There's no need to wait for other players or a dealer, and there's no rush to decide. Take as long as you need to think about your bet and whenever you're ready, off you go!
Select one of the three bet types: Draw Under, Draw Over or Draw Exact.
Use the slider to choose your starting card. This will cause the multiplier to change, along with the "Win Chance" value.
Once you're happy with your selections and the level of risk, type in your desired bet amount.
When you're ready to play, hit the yellow "Draw" button and await the result.
If you win, the real money prize will immediately reflect in your PGEbet balance.
High Low offers you the chance to build your own perfect gambling game. Play at the pace you want, with a level of risk and reward that you control. If you're extremely lucky, you can bag yourself a maximum payout of up to 50.18x!
India's Newest Casino Games - Final Word
These latest additions to the PGEbet library are built using open source blockchain technology. Known as "provably fair" games, since all activity takes place transparently, you can look up the details every single time you play. So not only are you in for a whole lot of excitement, but you can rest assured that the games are completely honest.
You can play Zeppelin and High Low on any desktop (www.PGEbet.com), mobile and tablet devices at app.PGEbet.com. Fund your account via several easy-to-use payment options, including UPI and PayTM and enjoy these thrilling new releases.
Register today and collect a 150% deposit match bonus.
Reader insights
Be the first to share your insights about this piece.
Add your insights