History That KTM Thrives On
"READY TO RACE" – for KTM, these three words are far more than a simple slogan.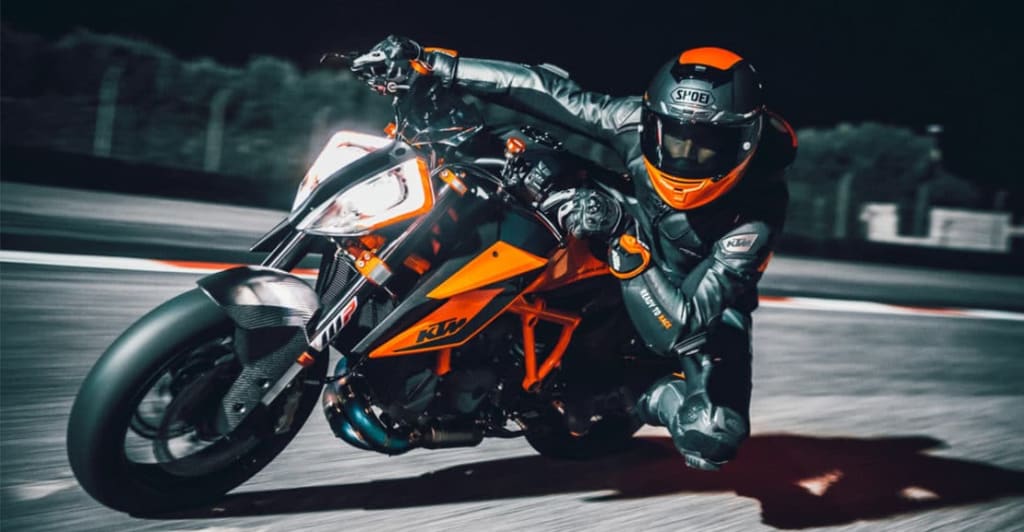 They stand for the entire company philosophy of developing vehicles that can without any modifications comprehensively assert themselves in any race. Direct from the dealer onto the track and into the battle for victory. Designers, engineers, and riders are bound by a clear common denominator: an unconditional passion for motorcycles. The whole KTM family is a living example of this worldwide. Countless offroad World and European championship titles plus brilliant victories in the world's toughest races (International Six Days Enduro, Dakar Rally, Erzbergrodeo, and many more) all speak for themselves. And KTM Supermotos, Naked Bikes, Superbikes, and the X-Bow all demonstrate what an "orange" lead means on asphalt.
KTM's pure racing focus is reflected in the Purity of design and uncompromising function – as each KTM is built for the single purpose of performance, so it is reduced to the limit and free of unnecessary weight, gadgets, or gimmicks. Performance is the cornerstone of KTM's READY TO RACE brand positioning – without exceptional PERFORMANCE, victory is not an option. Every new ride on your KTM is an Adventure waiting to be experienced – a dream that is yours to go and realize.
KTM's commitment to living life to the EXTREME and building motorcycles with extreme performance guarantees that every KTM ignites emotions and delivers thrills. "READY TO RACE" will continue to be the philosophy of KTM in the future too – in the development and production as well as the use of its vehicles. Powered by a distinct READY TO RACE mentality, KTM is Europe's leading high-performance street and offroad sport motorcycle manufacturer based in Mattighofen, Austria.
Over the years KTM has built a reputation as a fierce competitor on racetracks around the world. Remarkable success on the world stage is reflected in every product it creates and every move it makes. With an established presence in the offroad segments, KTM has progressed to become one of the world's most innovative manufacturers of street motorcycles and now aims to be the world's biggest manufacturer of sport motorcycles.
The passion KTM has for building high-performance motorcycles extends to enhancing the overall experience for the rider. KTM has developed a range of exciting branded products, services, events, accessories, garments, and protection items that complete the KTM riding experience. Success on the world stage with KTM's factory racing teams is the ultimate proof of KTM's READY TO RACE attitude. Incorporating race-proven technology into KTM's products allows KTM riders to experience the thrilling performance that defines the KTM brand, for themselves.
The story of "Ready to race" genes began in the era where the tendency of powerful racing bikes and cars was not even conceptualized by the general public. In the year 1934, an Austrian engineer Hans Trunkenpolz had opened a car repair shop in Mattighofen.In a short span of 3 years; he added motors from DKW motorcycles and Opel automobile to its venture. This was the evolution of KTM as a brand as the venture began to know as Kraftfahrzeug Trunkenpolz Mattighofen: Kraftfahrzeug, meaning a motor vehicle in German language Trunkenpolz, named after its founder Hans Trunkenpolz; and Mattighofen, the location of the shop.
After its early success during the '70s and '80s the venture was split into four separate entities in 1992; where bicycles were manufactured by KTM Fahrrad GmbH automotive radiators were built by KTM Kühler GmbH, tooling manufacturing was assigned to KTM Werkzeugbau GmbH and the most predominant division i.e motorcycle division was then under KTM sport motorcycle GmbH. Since the early days, KTM has always portrayed the purity of the design and uncompromising function that defines the READY TO RACE mentality on its motor be it be on the early KTM R 100 or be it be modern predator Duke 390. KTM as a brand has always prioritized the power and performance of its motors since its early era. The year 1957 can be termed as a milestone year for the KTM as the venture was successful to manufacture its first sports motor of the venture "Trophy 125" and its first scooter "Mirabell" to its Ready to Race line.
Not only the KTM has established itself as a most preferable brand when it comes to commercial wide-scale manufacturing but also it has created a name for itself by dominating the Toughest Race on The Face Of This Planet Dakar Rally by winning the event for 18 consecutive years from 2001-2019 and recent podiums in Moto GP has extended KTM's Championship count to 316.