GTX 1050Ti
GTX 1050Ti Review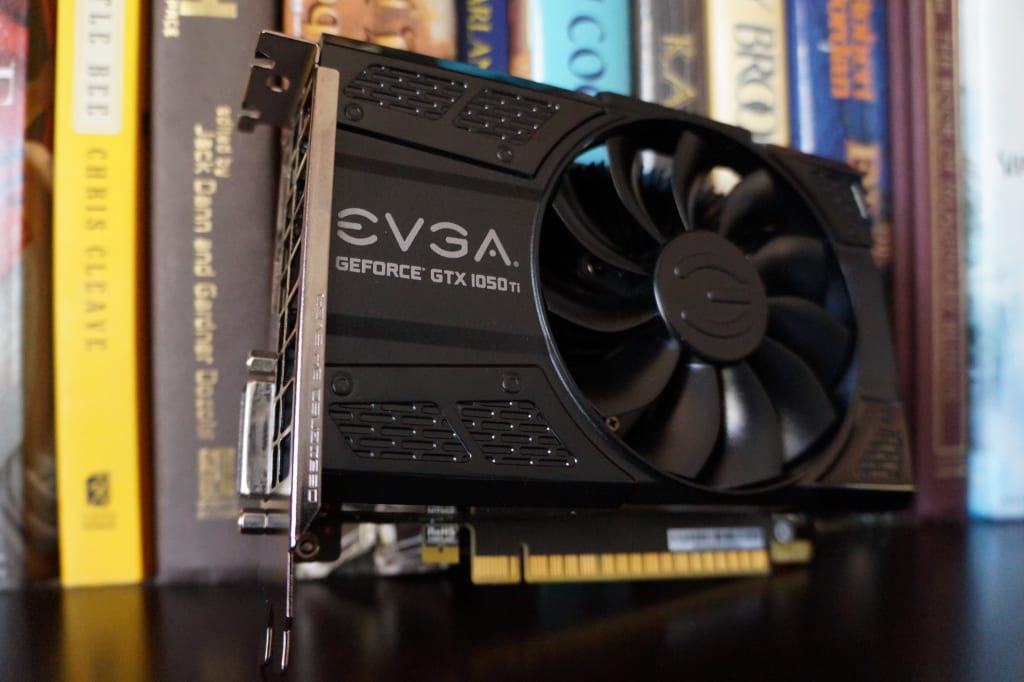 I've been a gamer for years, but I didn't really have a choice as to what I wanted to play a game on. Earlier I just used to play every game on my slow PC on the least possible settings, and they were sometimes playable. Then I bought a console, and things seemed normal for some time. Then I just got into games like DotA or Counter-Strike Global Offensive which didn't require a lot of hardware and could run on nearly any potato.
A year ago I installed a bit of RAM and a better CPU just to realize that I still couldn't game, but I got a better experience using my computer doing everyday tasks. The only thing that kept me from playing the latest games in 1080p resolution was my cheap graphics card. And with me living in a developing country, it wasn't really an easy purchase as they're always very overpriced than the rest of the world. After a lot of research and calculating my maximum budget, I planned to go for the EVGA 1050Ti.
So the unboxing experience was pretty cool for me as I had bought a graphics card after a long, long time. My expectations were high, but I also had a feeling that I was on the budget side when I was installing my card into my CPU, seeing that it had only one fan while mostly the GPUs (Graphics Processing Unit) being advertised have two fans and they are longer. But I just wanted to get this upgrade. The installation was pretty straight forward just like any other card. It doesn't need a lot of power, so you don't even have to connect the card to the power supply (ideal for budget builds like mine). It runs on 75W max, so it doesn't really need you to connect it to the power supply. Yes, this doesn't only mean a cheaper power supply can run it, but it will also consume less energy. So your electricity bill wouldn't really rocket after installing this. And on this card, you get a single DisplayPort, HDMI, and DVI connector.
At first, I saw no changes in my computer experience until I installed the drivers (please download them from the website) and cranked some details to the maximum possible settings in the few games I already had.
Was it smooth? Oh yes, it was eye candy. I loved every bit of what I was experiencing. The game I had opened up was Dying Light, and it was like everything was jaw-dropping all of a sudden. I was in heaven, a heaven that my console could never take me too. I broadened my shoulders, realizing the fact that I was now a part of the PC Master Race! I might not have the best computer but, boy, the graphics are worth bragging.
So for me, this was a really awesome upgrade, and I'm so happy with it. I'm writing this review after around two weeks of use, and I've played literally every demanding game I had. I don't only enjoy the storyline now, sometimes I just stop to admire the textures that my computer is giving out.
So the question comes, should you buy it? Here are the things you should consider when you're buying a graphics card. First, the resolution you want to play games on and the money you can dish out. For me, the cash was the major bottleneck, who wouldn't want to game on 4k? But this card is just made for 1080p, and that's where you should stay with it. If I had a little more to spend I would've gone for the 1060p! That gives more performance for the price, but again you gotta spend quite some more for that.
I'll let you know one more thing before signing off and that is, please don't think about the Cores or the Clock Speed or Memory Bus of a Graphics Card. They'll just confuse you to the point of no return. When new cards are released sometimes the entire architecture is improved, so comparing the clock gives you no benefit. Yet if you still wanna know, the GTX 1050 Ti gives you 768 CUDA cores alongside a base clock speed of 1,290MHz and a maximum boost clock of 1,392MHz. There's a full 4GB of GDDR5 memory running at 7,000MHz and a 128-bit memory bus. Again, apart from the memory, you don't have to think about anything. And the memory on this is sufficient to game on 1080p resolution with everything maxed out in most of the games!