Fortnite Chapter 4
New Chapter, Who dis?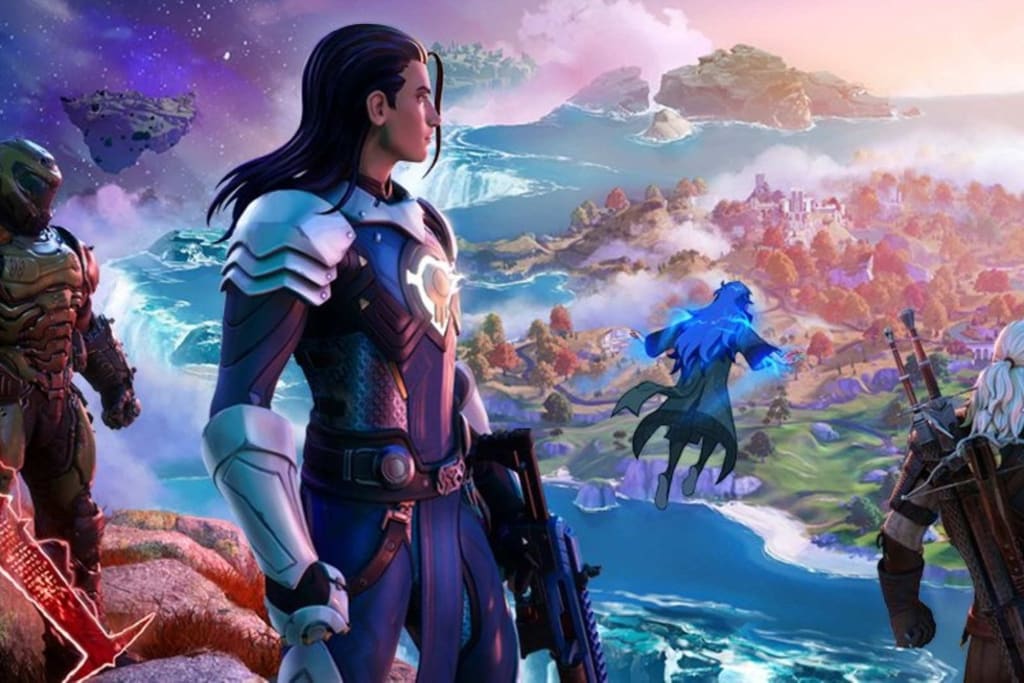 A BRAND NEW CHAPTER OF FORTNITE IS HERE!!! On the 3rd of December, we said "Goodbye" to Chapter 3 and the old map, and we welcomed Chapter 4 with open arms. As usual, lets get stuck in.
Battlepass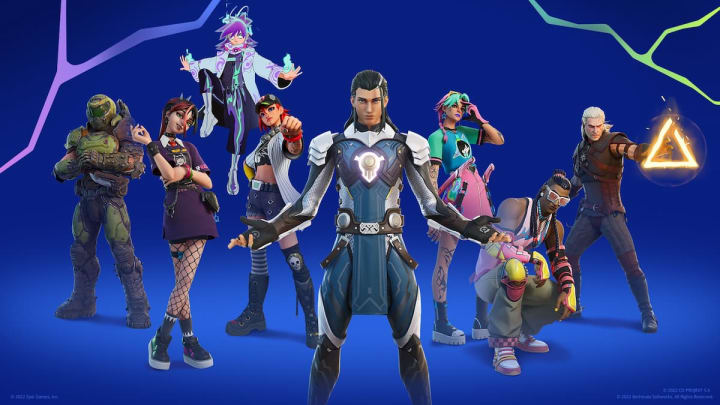 As always, new season = new Battlepass. I have finally got one that makes me happy because we finally have brand new original emotes, something i have been after for over a year. In previous seasons the emotes we have had, have either been icon emotes, plain or only available if wearing a certain skin. The skins are new and unique and each one comes with an alternative outfit. Here is a list of the unlockable skins:
Selene
Massai
Doomslayer
Dusty
Nezumi
Helsie
The Ageless/ Geno
As you may have seen from the above list and picture, you will have noticed some collaborations that are something to get excited about. Doomslayer from the game series "Doom" is here. Geralt of Rivia from "The Witcher" is also here and will be available to play in 2 months time.
This is the best Battlepass we have had in a long time, even though the emotes are a little basic they are original which is amazing to see.
Overall 8.5/10
Map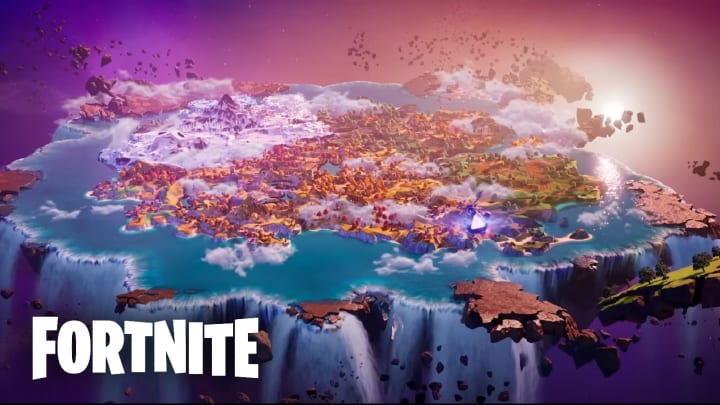 A brand new map has been forged from the Zero Point and it is beautiful! Made with the help of Unreal Engine 5, this new map is bright and colourful. All brand new POIs and three different biomes to explore.
The three different biomes are: Tundra, Forest and Autumn Forest. Each one is aesthetically pleasing and there are so many open spaces which will be perfect for the players that love to build.
Here is the list of the POIs:
The Citadel
Anvil Square
Shattered Slaps
Frenzy Fields
Breakwater Bay
Slappy Shores
Faulty Splits
Lonely Labs
Brutal Bastion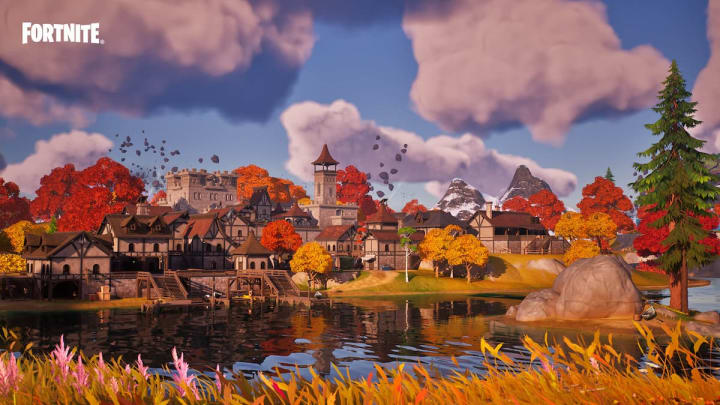 Judging by the look of the buildings and the layout of the map, we can guess that the theme is Medieval. Although the theme has not been declared, this is the theme that players are choosing.
I am obsessed with this map, it feels like a completely different game. It's fresh, clean and exciting. I honestly didn't want to fight, I just wanted to explore everything.
Overall: 10/10
Weapons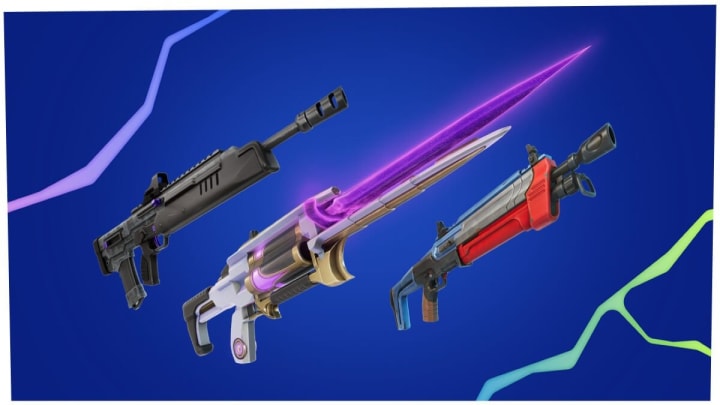 Even the weapon pool has had a major revamp. A lot of the old weapons have disappeared, leaving only a select few. A lot of new weapons have been introduced including one major addition that has made it's first appearance in over a year!
THE SCAR IS BACK!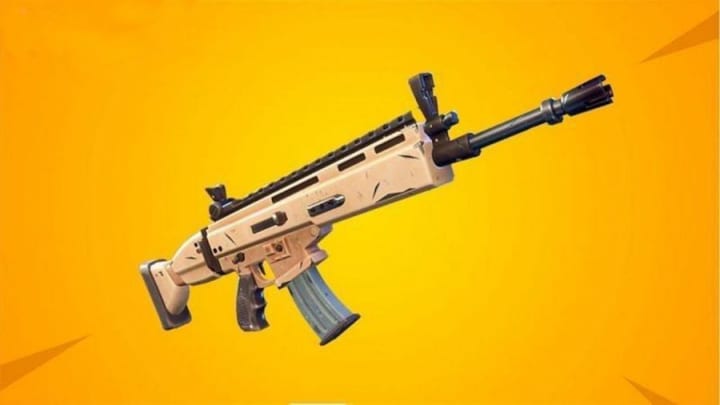 Yes, the fan favourite has returned after sitting in the vault for more than a year. It has changed a lot, to the point where it comes in all rarities; not just Epic or Legendary. The accuracy has decreased where it can be frustrating, but once you get used to it, it can be very rewarding.
List of weapons:
Red-eye Assault Rifle
Scar
Maven Auto Shotgun
Thunder Shotgun
Machine SMG
Twin Mag SMG
Heavy Shotgun
Combat Shotgun
Bows
Tactical Pistol
DMR
This is just a few weapons that are in the current weapon pool. As said before, Epic Games have decreased accuracy on all weapons. It will now require pin point accuracy to get maximum damage, but there are ways to work around it.
There are new exotic weapons as well, which can be found in Oathbound Chests. These chests can be found in certain locations and are similar to IO chests from previous seasons. They contain the Excalibur Rifle and the Shockwave Hammer.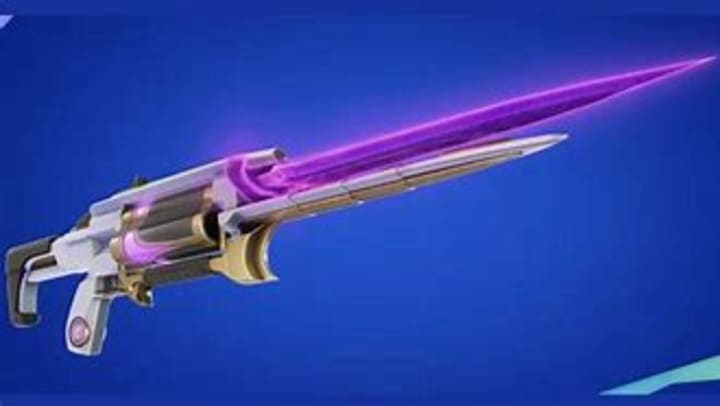 The Excalibur Rifle, is a weapon that fires swords at players which explode after a certain amount of time. The Ageless; a foe you can fight, holds the mythic version of this weapon. It can do considerable amount of damage but it is hard to get used to.
The Shockwave Hammer is the only melee weapon in the game. This weapon can be used to travel via bouncing and also slam down onto players. So far it is the most overpowered weapon, so hopefully Epic Games will nerf this in the future.
Overall 6/10
Miscellaneous
Apart from the major changes, Fortnite has also introduced smaller ones as well, which change the way we play.
Energy Drinks: This new contraption contains a new medical liquid called Slap Juice. It is similar to Slurp Juice, but instead of health it provides unlimited stamina for 20 seconds.
Motorcycles: This long awaited addition is finally here and they are fun! Easy to use and fast, the motorcycle is a new form of transportation that has players getting excited. They are found pretty much everywhere all over the map.
Reality Augments: This additions i think is a really good one. This can come in forms of abilities or perks. A player can have up to five in a game and they gradually generate as the game goes on. They can range from: Knowing where the next storm circle will be, gaining health in bushes, having infinite ammo for a short amount of time and getting a free weapon.
Starter Island: The starter island is now in space instead of in the ocean. This is very cool and different. I was amazed at the level of detail and changes they had made to this small piece of Fortnite.
New Battlebus Design: Not only has the map and starter island had a facelift, but the Battlebus has also received a make over. It still has the balloon but instead it now flies with the help of rockets.
Overall season rating
There are only a few bad things about this new season, but they are very minor. The pros definitely outweigh the cons. So, I am going to give this season a rating of...9/10.
Until next time...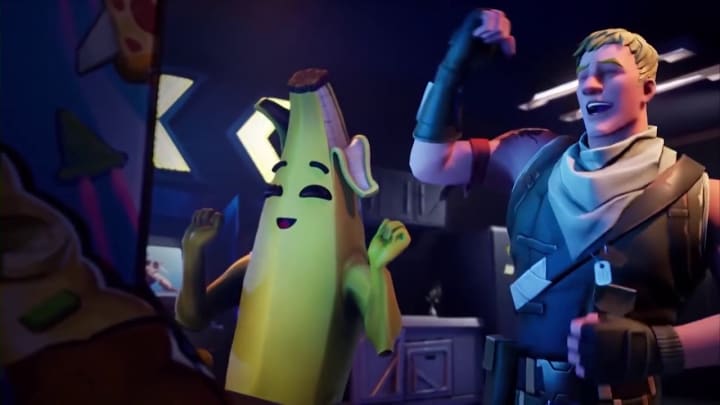 About the Creator
Hello! Im DogPaw Games.
I write video game reviews. I love all genre of games!
Been a gamer since my father handed me a controller and have been avoiding responsibility ever since!
Twitch: https://www.twitch.tv/hammieplay_z/about
Reader insights
Be the first to share your insights about this piece.
Add your insights