Fantasy Sports - A word of mouth or a serious opportunity.
Online Fantasy Sports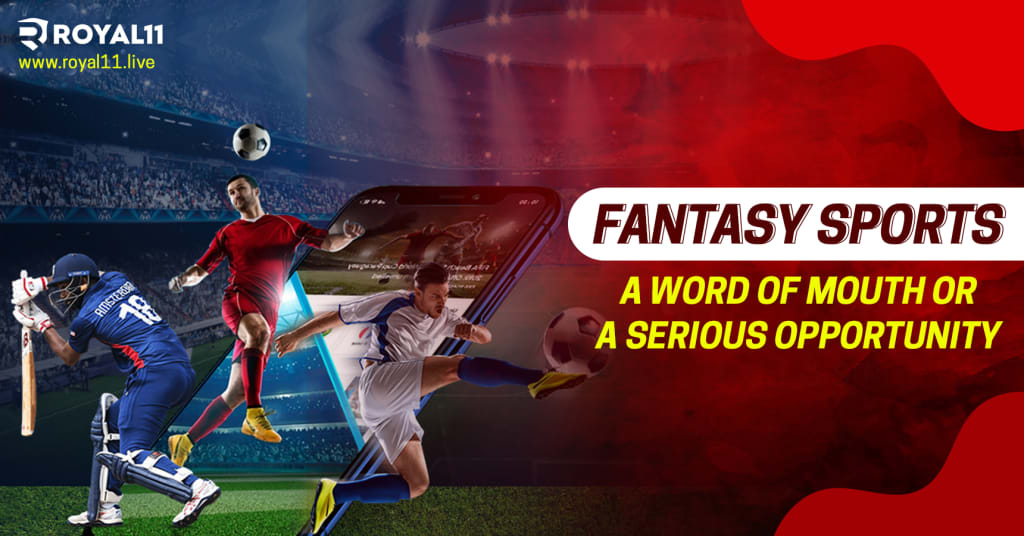 In the past century, the perspective about sports has completely changed. Earlier, people discussed the cricket matches on the tea stalls or roads and said, "I would have done this if I was on the ground." Well, at that time there was no way to fulfill this urge of being on the ground and making different choices. But, now things are different; fantasy sports are here to fulfill your wish of managing the sports game the way you want.
What is Fantasy Sports?
Fantasy sports is an online mode of playing multiple sports. Users can play fantasy sports like fantasy cricket, football, basketball, etc. on the best fantasy sports platforms. Here users get a chance to make a team of their favorite players. The fantasy sports app user gets an opportunity to manage her team without any involvement of others. You are solely responsible for the results of the matches.
Fantasy sports is a golden opportunity for all the people who want to hold different perspectives about the game and want to use their sports knowledge on the right platform. The fantasy sports platform offers a chance to all sports fans to turn their knowledge into money. Earning cash from fantasy sports is not a mere fantasy, use Royal 11 to make money.
Fantasy Sports is based on live matches. Here the user chooses real-life players to make a team. Online fantasy sports allow you to demonstrate your knowledge to win league titles. Fantasy sports is like a dream come true.
According to research, Indians have high potential and a vast understanding of sports.
Online Fantasy Sports in India
Online Fantasy Sports has become an integral part of the sports industry. It has offered a big platform to sports enthusiasts to use their knowledge and understanding of sports to make money out of it. Online Fantasy Sports has built a strong relationship among sports fans and technology.
Revenue Generation and OFS valuation
Apart from building a whole new community of sports fans, fantasy sports has contributed to the economy of the country. From generating high revenue to offering multiple work opportunities, OFS is playing a vital role in the growth of the Sports Industry. OFS has increased the usage of digital methods (payment, watching matches, and playing sports) and, by the year 2025, the core digital economy of India will be Rs. 70 lakh crore. In Financial Year 21-25, the fantasy sports industry will grow at a CAGR of 21% and online fantasy sports will be valued at approximately Rs 29,000 crore.
The revenue generated by the OFS in the year 2019 was Rs.920 crore, which was increased, in 2020 by Rs. 2400 crore. According to the statistics and calculation, by 2024 the valuation of the fantasy sports industry will be 3.7 billion.
The industry brings huge FDI and generates taxes. In the year 2019, the FDI inflow from Online Fantasy Sports was Rs.1500 crore.
The GST on the online sports industry payment has increased to Rs445 crore in FY 2020 from Rs 166 crore in FY 2019.
The TDS on the winning sports fantasy tournament has increased from Rs93 Core, 2019 to Rs 250 crore in FY 2020. The direct employee of the OFS industry paid income tax of almost Rs 81 crore in Financial Year 2020.
In FY2019, the user base of fantasy sports was 72.2 million.
Employment Generation
The direct employment opportunities were 2800 in FY 2019 and, then it was increased up to Rs.3400 in FY2020. The indirect employment offered in the ancillary industry was increased up to 5100 in 2020 from 4200 in the Financial Year 2019.
Why is Fantasy Sports not a successful business in India yet?
Even after huge benefits and support to the economy, Fantasy Sports are not growing in India. Fantasy sports have millions of users, but half of them only use this platform to watch matches. Some people have misunderstood the fantasy sports business model concept and consider it as equals to betting. However, we all know victory in gambling is more about luck/chance. Where else, fantasy sports demands knowledge, skills, and a vast understanding of sports. Anyone can play fantasy sports, but not everyone can win the game and make money.
Moreover, due to misunderstandings about online sports, some fantasy platform operators have faced criminal cases and end up in jail. At least, the government should provide legal recognition to fantasy platforms so that fantasy operators can fight a legal case.
This case resulted in the formation of laws for the protection of online users. NITI Aayog decided to make an exceptional law for fantasy sports under the law of gambling. In the US, "the Unlawful Internet Gambling Enforcement Act 2006" covers fantasy sports, makes it legal to play without offending any legalities.
Final Thoughts
Hence, fantasy sports is not a big mouth only it is a big opportunity, indeed. In India, the fantasy sports industry is blossoming. Now, fantasy sports platforms are covering all popular - unpopular, and small-big sports to offer multiple opportunities to sports fans. Fantasy Sports is a mere name; it is the actual reality - that players can make real money out of their sports knowledge.