Ember Sword The Upcoming Play-To-Earn MMO
Grind crypto in this Albion Online-styled MMO!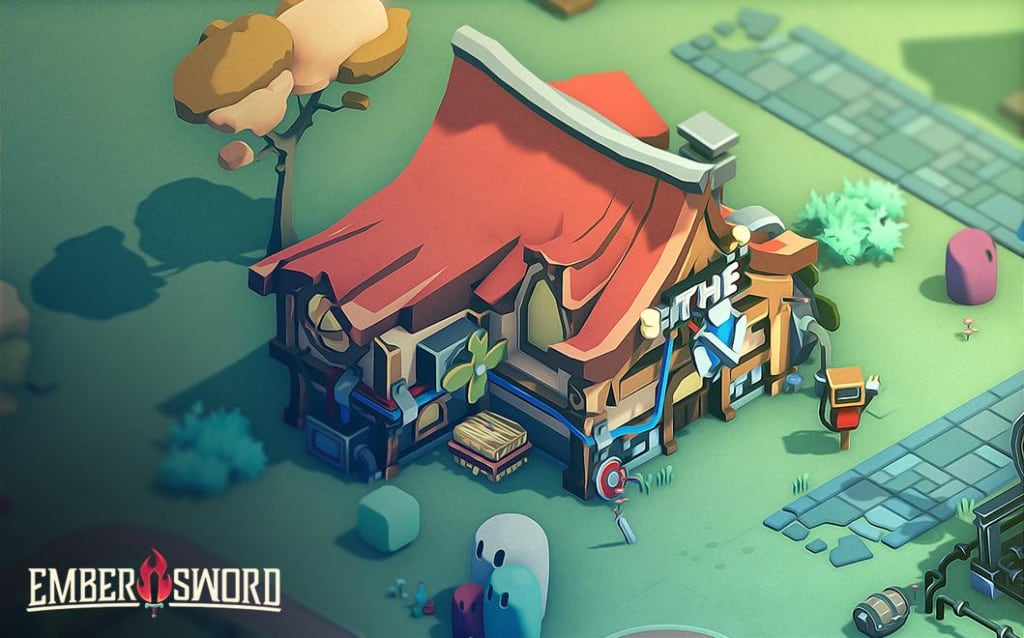 The MMO genre has always had somewhat of a bearish run ever since the release of World Of Warcraft. The majority of MMORPGs that come out are lackluster and stale. However, Ember Sword might be the game to break the curse with its unique housing system that could earn you real money.
What Is Ember Sword?
Ember Sword is an upcoming free-to-play, isometric, MMORPG. Set to release in 2022, the game enables players to select and customize their characters and home regions.
Throughout these regions, you will encounter specific creatures, scenery, and quests that reward non-fungible tokens (NFTs) that are exchangeable for crypto.
Why Is Ember Sword Different?
Unlike every other MMO, Ember Sword utilizes the revolutionary blockchain technology in it's economy. Allowing players to finally monetize their grinding efforts. Much like how decentralized casinos changed the gambling industry, Ember Swords aims to do that same.
The blockchain allows Ember Sword to adapt the play-to-earn model, which lets players earn cryptocurrency while gaming. MMOs are known as one of the most grindiest genras out there often consuming so much time as a regular job.
Gameplay Of Ember Sword
The gameplay in Ember Sword is very similar to that of Albion Online, thanks to its cartoonish style and overhead view. The developers' philosophy focuses on gameplay first with a lively economy, smooth PVP, and excellent PVE content.
A total of four playable factions can be selected from the world: Solarwood, Duskeron, Edisau, and Sevrend. As you play through these nations, you'll discover three diverse territory biomes that each offer something unique.
Kingship Territory - Community area for PVE, quests, gathering resources, etc.
Wilderness Territory - Advanced area with PVP and PVX enabled. You can find valuable items and players from hostile factions.
Outlaw Territory - End-game and a free-for-all battleground. Located in between 2 factions where the best items are located.
In addition to these territories, powerful world bosses are found throughout the game, who require players to work together to defeat. It is these powerful beasts that drop rare items and cosmetics which can be traded and sold as NFTs, which later on can be liquidated into money.
Premium Currency Of Ember Sword
The game also presents a form of premium currency, which is the PIXEL token. Payments for in-game shops will be made with this unique currency. This token will be generated by in-game sources of revenue like land ownership. In addition to being scarce and highly valuable, the tokens will be EC-20 compliant.
The ERC20 token is a blockchain asset that enables users to use the Ethereum platform, providing a similar type of functionality to bitcoin, ether, and bitcoin cash, that is, they represent a way to both send and receive value. In this way, players can exchange this token for ETH and eventually turn it into real money.
Land Ownership
Certainly, the best thing about Ember Sword is its housing system, which is practically a form of passive income. Within Ember Sword, owning land is a social experience where players share 50% of all earnings with their fellow landowners.
Lands can be used for a variety of purposes by players, and the most active owners get the best rewards. Landowners receive a share of the real-life income generated by the area around their plot. Land plots can be classified into four main types. These are:
City
Town
Settlement
Regular
Cities and towns will be more expensive and probably owned by larger parties and guilds. In these bigger and busier metropolises, the owners will get excellent rewards for their efforts. There will be a total of 160,000 land plots in Ember Sword, of which 400 are located in the largest area.
Naturally, players don't have to own land in order to enjoy the game, but investments have tremendous benefits in and out of the game.
Is Ember Sword Pay To Win?
The addition of real money transactions (RMT) always raises questions about the integrity of any MMO. However, the developers seem to be passionate gamers themselves and openly discuss this issue with the community.
You can even find the answer to this question on their website:
"No. We hate Pay to Win, and we'll keep Ember Sword skill-based and competitive by never implementing any Pay-to-Win mechanics." - Ember Sword Team
Instead of having shady loot boxes with hidden and unrealistic odds, Ember Sword has chosen to turn them into more of a decentralized casino, where everything is transparent.
While you are able to earn real money on Ember Sword through cosmetics, these purely visual items won't add any additional game-breaking mechanics. The actual monetization is said to come from an optional premium subscription that will give players convenience at the most.