Elevate Your Game with the Ultimate Ping Pong Tables for Epic Matches
Unleash the Thrill
A table tennis match can range greatly depending on the type of surface used, from a leisurely game to an exciting match. The choosing of a ping pong table is crucial, regardless of whether you're an experienced player hoping to improve your abilities or a recreational enthusiast looking to add some excitement to your area. The JOOLA Inside - Professional MDF Indoor Table Tennis Table is one excellent competitor in the field of indoor table tennis. This top-quality table has features that will appeal to both serious gamers and families looking to have fun. With its novel Single Player Playback Mode and easy construction, the JOOLA Inside guarantees an unmatched table tennis experience that you can enjoy in the comfort of your own home.
The JOOLA Inside ping pong table, which is well-known for its high-quality build and clever design, is more than just a surface for play—it's a doorway to countless hours of enjoyment and skill improvement. Come along as we examine the main characteristics and factors that set the JOOLA Inside apart in the cutthroat world of indoor table tennis. Regardless of your level of experience, this table will make your ping pong game experience unmatched.
In the realm of indoor table tennis, the JOOLA Inside - Professional MDF Indoor Table Tennis Table is the height of excellence and innovation. This precisely crafted table is made for both leisure and professional players, combining state-of-the-art features for an amazing gaming experience.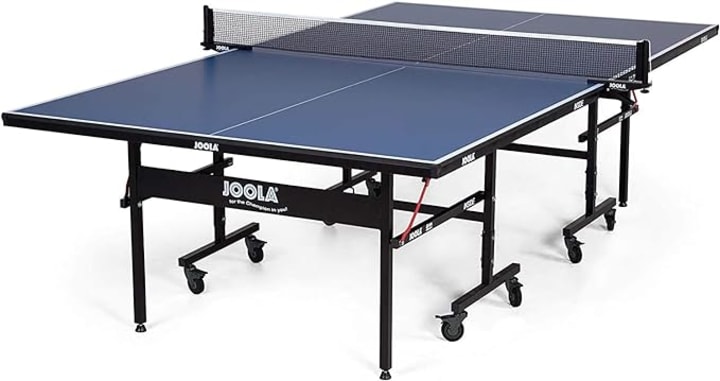 1. Premium Construction:
Made of premium MDF (Medium Density Fiberboard), which guarantees a steady and dependable playing surface that encourages ball bounce and spin for competitive play.
The table is durable enough for rough play and extended use thanks to its strong frame and undercarriage.
2. Quick Clamp Ping Pong Net and Post Set:
Your gaming sessions will become more efficient and convenient with the addition of a Quick Clamp Ping Pong Net and Post Set. Simple clamp mechanism makes it easy to connect and remove the net, facilitating quick setup and breakdown.
3. 10-Minute Easy Assembly:
The incredible 10-minute easy installation of the JOOLA is one of its best characteristics. With its hassle-free setup design, you can play more and spend less time building the table.
4. Single Player Playback Mode:
The JOOLA has a Single Player Playback Mode that enhances the gaming experience. This mode, which is ideal for solitary practice sessions, enables a single player to fold up half of the table and play continuously against the self-playback wall.
5. Versatility and Portability:
The JOOLA is simple to move and store when not in use because to its foldable design and strong wheels, whether you're hosting a tournament or just having a casual game with family and friends.
6. Pro-Level Performance:
The JOOLA is made to professional standards and is intended for players that take their game seriously. It is a great option for both home and club settings because of its regulation size and features, which allow it to be used competitively.
To sum up, the JOOLA - Professional MDF Indoor Table Tennis Table is an excellent purchase for both casual players and competitive players. Professional-level performance and easy use are combined in this table's quality build, fast installation, and unique features like the Quick Clamp Ping Pong Net and Post Set and Single Player Playback Mode.
Selecting a table for JOOLA entails selecting one that not only satisfies the demanding requirements of conscientious players but also accommodates the varied requirements of loved ones. You can spend more time enjoying exciting matches and less time setting up thanks to the quick 10-minute assembly. Solo practice sessions gain new depth with the Single Player Playback Mode, which makes it an adaptable option for players of all skill levels.
The JOOLA excels in many areas, whether your goal is to improve your abilities, organize exciting competitions, or just make cherished memories with your loved ones. It's more than just a ping pong table; it's a doorway to countless hours of enjoyment, skill improvement, and happy times spent with friends. Take table tennis to new heights by making the JOOLA the focal point of your gaming area.
Reader insights
Be the first to share your insights about this piece.
Add your insights