Creativerse Game Review
An underrated gem in the sandbox community.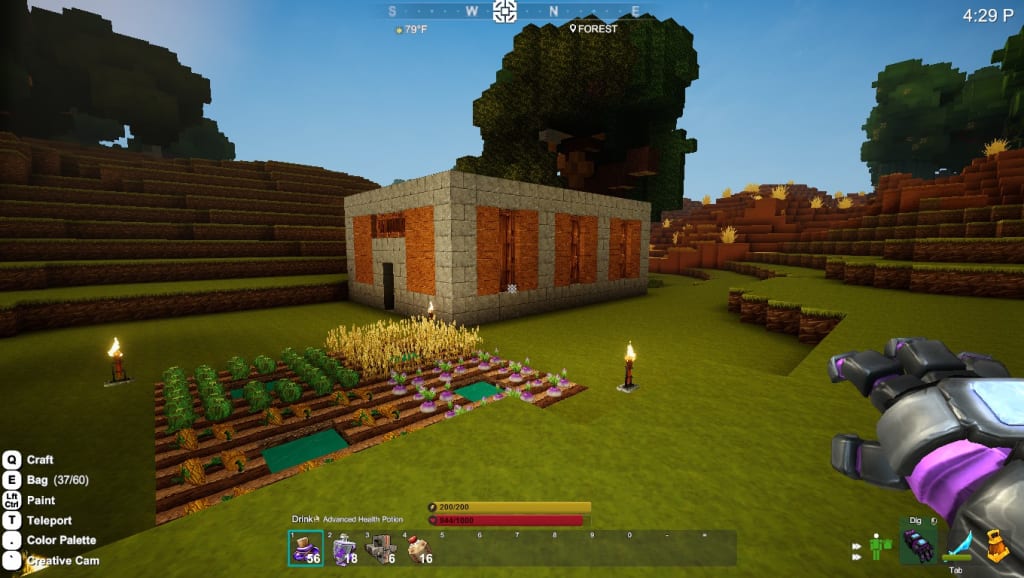 A screenshot of my most recent world in Creativerse. Dated June 1, 2020.
Creativerse is a game that makes you think, "This is just a Minecraft clone." But after nearly spending almost 200 hours in this game, there's is a lot that's wrong with that statement.
For one thing, this games design is not based on pixel-graphics. Minecrafts graphics were fitting, however it kept the game restrained to cubes, and it limited the players in creativity.
Creativerses graphics are based on vector images, allowing the game to include building blocks that are sloped and curved. This made it so the games overlook, and feel well balanced. The mobs, or creatures, also have 3D modeling and very well made animations.
Unlike Minecraft, this game isn't based on survival. There is a combat system in place, but it's not the main focus. Its mainly focused on the players creativity and their journey exploring the surface, and underground, looking for resources to craft diverse building blocks and tools. As of the recent "Creativity Evolved" update, the game now contains the ability to re-color almost, if not all building blocks, increasing the possibilities the game could hold. That's not the only addition, as they also implemented a Creative Mode, allowing the players to skip over the resource grind if they so choose.
Creativerse officially released on Steam as of May 8, 2017. Updates have been slow up until the Creativity Evolved update was made. Ever since, the developers have made themselves more transparent. They consistently make hot-fixes and have made small updates, but are moving in the right direction.
Creativerse is a free to play game, but there is a Pro Version of the game that unlocks very specific and smaller features, but can make a bigger impact on the game. Features include discounted prices in the in-game store, ability to have multiple worlds, ability to change world settings, a glider to fly all around the map, making traveling a lot easier, and more.
Another great thing I've observed is the in-events they've done. They've done two participation events and I've partaked in both. When participating, when the event is over, players have received in-game currency and items to aid the player in game. This is a great way to bring the the creative community together, and a great business practice as it shows that they aren't like the other game developers that usually like to abuse in-app purchases and DLC.
Overall, Creativerse has very smooth gameplay, the community is very nice, and the developers seem very passionate about what they've created. Seeing how the main gameplay is readily available for everyone and are able to witness the game for what is without having to pay for it until they're ready for the extra features is a great way to gain traction in a community. I played this game for a good while and I ended up purchasing the Pro Version. And I did not regret this purchase.
pc
About the author
Reader insights
Be the first to share your insights about this piece.
Add your insights