Best Laptop Accessories for Gamers to Buy Right Now
Just having a strong gaming laptop isn't enough. The best laptop accessories for gamers are must-haves if you want to be a star player.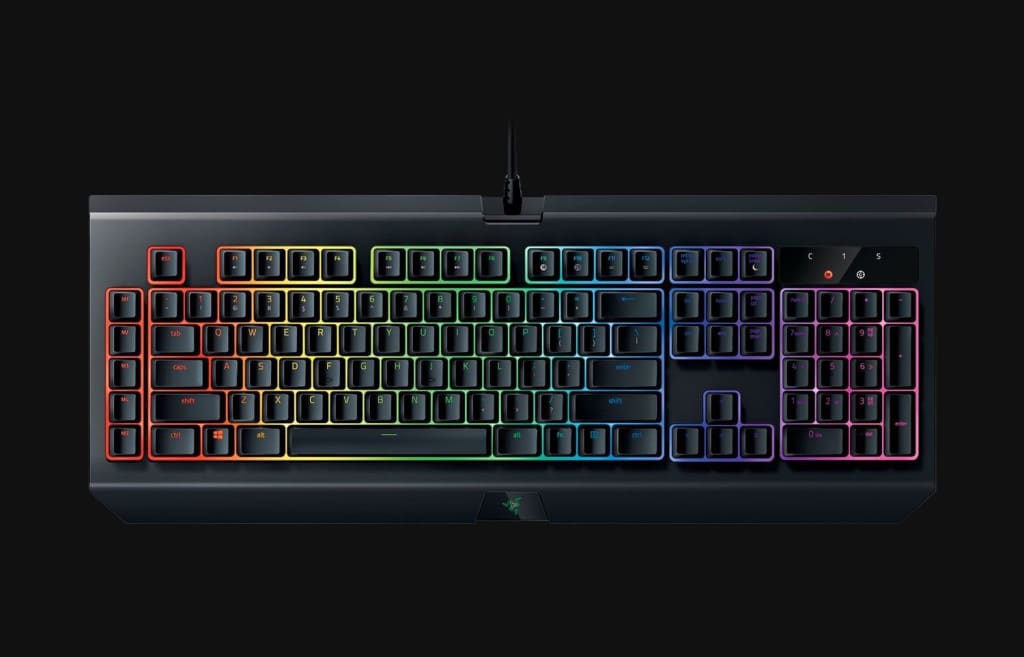 You just got a new gaming laptop for the holidays and you can't wait to start playing all of your favorite PC games. After playing a couple of rounds and it is not going well, you realize you can't just play on your laptop. You need to have the right accessories to enhance your gaming experience. From having the right gaming mouse to improving your experience by using a gaming controller, these are the best laptop accessories for gamers.
Most gamers don't like using the laptop keyboard to get the most out of their gaming experience. If you fall into that category, the BlackWidow Chroma gaming keyboard by Razer is one of the best laptop accessories for gamers. This is the highest selling gaming keyboard on the market and is the primary choice for esports athletes. You can map up to 16.8 million color schemes to the keys and Razer mechanical switches make this the ideal gaming keyboard. The on-the-fly macro recording also make this keyboard great for massive multiplayer online games.
The Xbox is consistently known for having the best controller in gaming, and the Xbox One controller is no exception. This gaming controller is the preferred option when it comes to laptop gaming for its grippy analog sticks, quick button feedback, and ergonomically friendly design. Using a gaming controller is highly recommended when playing shooting or driving games. Xbox controllers are also known for having better compatibility with computers compared to their PlayStation counterparts.
One of the most important laptop accessories for gamers you can buy is an external hard drive. Using an external hard drive gives you a place to save all your files without saving them directly to your laptop. The Seagate Backup Plus Slim is one of the best external hard drives available thanks to its quick read and write times, and compatibility with both Mac and PC computers. This hard drive is also very small, 0.6 inches thick, making it easy to store and transport in your computer bag. Using a hard drive also makes it easy to share games with friends.
One of the biggest problems that plague computer gamers is their computer overheating. To avoid this issue, buy yourself a cooling pad. The cooling pad lowers the temperature of the computer, increases airflow and heat dissipation inside the case. Most importantly, the cooling pad prevents the processor of your laptop from locking down or slowing down because of its temperature, making it one of the best laptop accessories for gamers.
A lap desk is one of the best laptop accessories for gamers available. They're perfect for when you want to sit on the floor or couch while gaming. You've probably been told not to sit your laptop directly on your lap and that's why you should get a lap desk, so you can sit comfortably in bed, on the floor, or couch, and safely keep your laptop on your lap. This lap desk provides plenty of space for your laptop, mouse, and even your phone and provides the stability that won't be there if you're placing the computer directly on your legs.
A gaming mouse pad is a must-have for computer gamers. Nothing can ruin your game faster than losing tracking accuracy and speed from not using a mouse pad. You can't just use any mouse pad though. Having a poor one won't do much to improve your gaming experience, you need to have the best on the market. The SteelSeries mouse pad is one of the largest on the market so you'll never have to worry about running out of space and it works perfectly with the Razer DeathAdder Chroma.
A laptop trackpad just won't cut it for a serious gamer. Real gamers need a strong mouse and the DeathAdder Chroma is the top gaming mouse on the market, and one of the best laptop accessories for gamers. This gaming mouse provides movement of up to 200 inches per second, even on the fastest games, and is designed to fit perfectly in your hand for the most comfortable gaming experience imaginable.
While gaming laptops tend to have great monitors, they sometimes just don't cut it for the most serious gamers. You're going to want something bigger and better, and the ASUS PB278Q is the best gaming monitor on the market. This monitor provides 27 inches of widescreen space, with a 2560x1440 for some of the best color-rich graphics out there. If you like playing in front of an audience this monitor gives great viewing angles for spectators, making it one of the best laptop accessories you can buy.
One of the biggest aspects of online gaming is communicating with other players. In order to this, you'll need the best PC gaming headset on the market and that's the PC 373D by Sennheiser. While Sennheiser has long been one of the top headphone providers, compatibility with PCs was often a struggle. That's no longer the case now that Sennheiser has a line dedicated to gaming headsets. This headset has an easy to use interface and provides the clearest sound of any USB compatible headphone on the market.
What's computer gaming if you can't have the best sound quality to go along with it? The Z906 Logitech speaker provides 500 watts of audio power. The sound quality of this speaker will make it feel like you're in the middle of World War I when you play Battlefield 1. This is one of the most powerful speaker systems available, with a powerful bass that may make your whole house shake, making it one of the best laptop accessories for gamers.
product review
About the author
Craft beer connoisseur. Bud lite? What's that? If it costs less than $5 per individual bottle I don't want to look at it. You'll never find me drinking from a can, it's draft or bust, bud.
Reader insights
Be the first to share your insights about this piece.
Add your insights