Assassin's Creed Valhalla
A Review of the Good, Bad and very Ugly!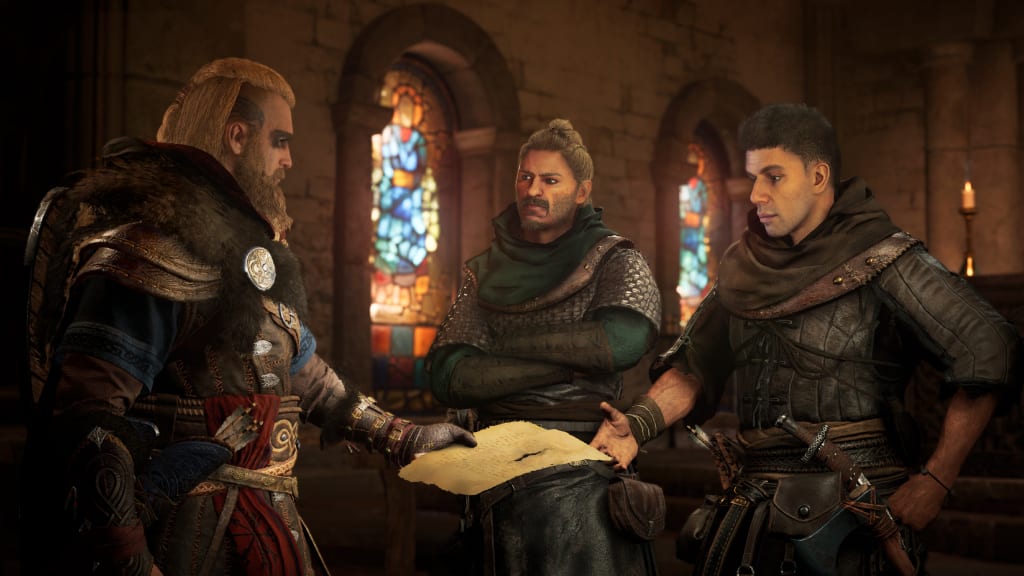 Assassin's Creed Valhalla was a great game that really pulled you into the action, it was one of the things I loved about it. There are many aspects of Assassin's Creed Valhalla that made it a slam dunk and there were some things that I felt could've been done better but more on that later.
When I sat through and played Assassin's Creed Odyssey, I was like "man, what a game, the Greek World is so vast and awesome". Even now as I look at playthroughs on the IGN gaming network, I say the same thing.
I loved Assassin's Creed Odyssey, it played awesomely. On top of this fact, I am and always have been a lover of Greek Mythology. That's not to say that Assassin's Creed Valhalla did anything wrong but it was good and not good in some cases.
I do plan to go back to Assassin's Creed Odyssey to replay it again because I loved it that much. But back to the game at hand, There'll be several things I'll be covering in this review so if you haven't had a chance to play the game yet then ignore this. Otherwise, get ready because I'm about to blow the lid off.
Regions 8/10
Norway was your starting point then Eivor and Sigurd decided that it was time to build a colony of their own in England and while in England, you had to explore 16 regions which was very time consuming. I had no problem with this because I loved being able to see all of England, but I couldn't help but to grow bored at certain points throughout.
Exploring the regions was good but I felt like they were starting to run together, the objectives the same and in some cases exactly the same. I've never been one to throw the baby out with the bathwater, I felt that running around to all of the different regions just to establish an alliance was a little over the top.
Weapons 7/10
The weapons were awesome, but many of them paled in comparison to the one or two good ones that exist in the game. For example, until you got the mythical weapons, you were bound to the Sepulcher's Axe which has a special ability that causes it to ignite upon getting a critical hit.
The sad thing is that many of the greatswords, spears, axes even the shields were of poor quality that is until you mythicalize it via Tungsten Ingot i.e. Gold. This was my favorite part of the game because I mythicalized the Sepulcher's Axe and a few other good pieces.
When you first get the mythical weapons, their attack power is laughable to say the least which is something you wouldn't expect from the weapons that were once held by the Norse Gods themselves. Even sadder still, you need a combination of both Runes and Attack raising armor to help you deal decent damage not to mention the skill list.
I was happy to get my hands on the mythical weapons but I didn't like that their attack power was so low and their damage laughable. I felt like I spent a quarter of the game trying to enhance the power and damage of my weapons so it did not take me almost 20 minutes to take down a Zealot which I can do in under 3 quarters of that time.
I hope in the next Assassin's Creed game the weapons' attack power won't be distractingly weak because most of the weapons in this game just were and there was nothing really great about them outside of their core differences.
Treasures, Wealth, World Events and Artifacts 1/10
Okay, I fuckin' hated these especially collecting them within whatever region I was in. I mean I had to go all over the place just to find them. So let me offer you a friendly word of advice, don't go all over the map trying to get all of the treasures, wealth, world events and artifacts. Collect them as you go along. For example, if you are going to Lacestone and there's some collectibles on your route there, get them then.
It takes too long to venture across the entire region to get the collectibles because some of them are tied to the story and some of them are just difficult to get unless you're a problem solving pro like myself.
Overall, I grew so frustrated with trying to find the collectibles then moving the story forward. I logged in over 300 hours on this game and half of that was due to finding the collectibles within the region. Another something I hope they fix in the next Assassin's Creed.
DLC 5/10
The DLC was good but not great, the one in particular I loved was Ireland's Wrath of the Druids. This was something I took my time doing because I loved how Ireland wasn't a big place and how it was easier to find and cut down the cultists in the land. The Ireland DLC reminded me of Assassin's Creed Odyssey in the regard that the cultists were not hard to find and it was such a joy finding and killing them.
However, the Siege of Paris DLC was fuckin' horrible. I couldn't get out of France fast enough which I got to do after I ended Charles the Fat, it didn't help that France was a rundown shithole, but to have rat swarms harass and deal you damage was over the top annoying. I used Gungnir to get them little long tailed annoyances down a drain so I didn't have to deal with them.
I fuckin' hated France, I did that first so I could get it out of my way and I'm happy I did because it was just a bad place to be and personally shouldn't have been in the game at all. The Siege of Paris DLC could've cleaned up nicely like the Wrath of the Druids but it was not happening.
I caught myself saying as I sailed away from France, "I'm happy to be out of that shithole and I hope it sinks to the bottom of somebody's ocean! France sucks!"
action adventure
I've enjoyed writing as long as I could remember, I always loved putting my thoughts on paper. A love that I hoped one day would make me a paid writer not including someone with a lot of clientele. I figured my best shot is giving my all.
Receive stories by Rodney McGill in

your feed