An In-Depth Look at the DXRacer Drifting Series Gaming Chair
Exploring Comfort and Functionality in Gaming Excellence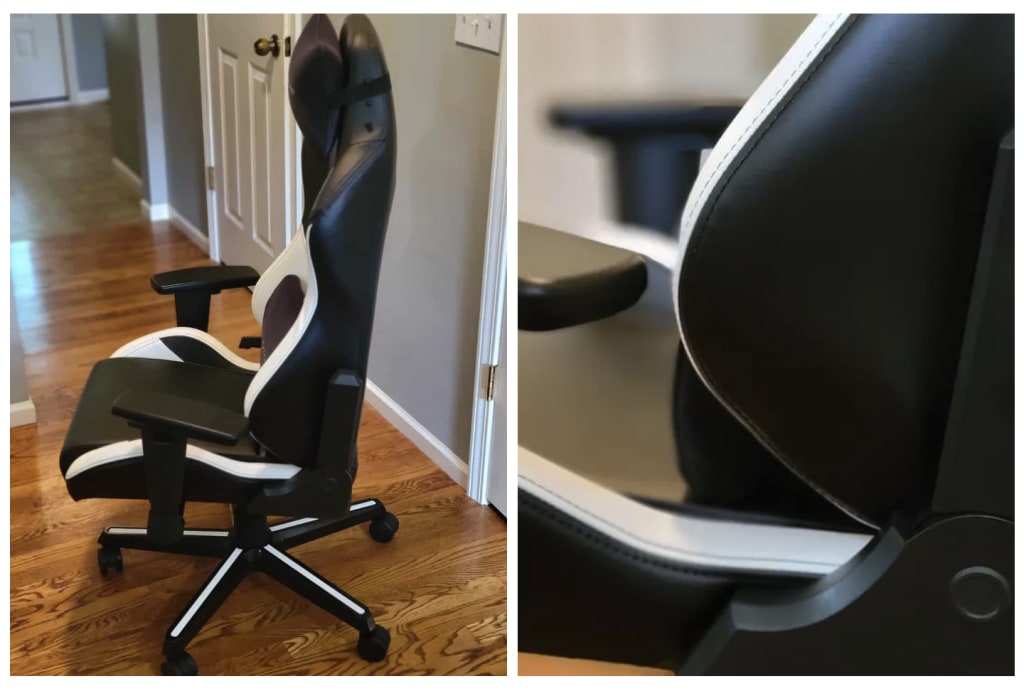 Source: TopGamingChair.com
Expanding on my review of the DXRacer Drifting Series gaming chair from TopGamingChair.com, I want to delve deeper into the specifics that define this chair's place in the competitive gaming chair market.
Delivery and Assembly
The chair's delivery was prompt, and the packaging was meticulously designed to protect its components. This attention to detail in packaging is often overlooked but is crucial for such an investment. The assembly process was surprisingly simple. The instructions were clear and concise, and the parts fit together seamlessly. The redundant hex wrench was a minor hiccup, but it didn't detract from the overall ease of assembly.
Design and Specifications
Aesthetically, the DXRacer Drifting Series chair has a sleek, modern look. Its design is not overly aggressive, which is a common trend in gaming chairs, making it suitable for both gaming setups and professional environments. The chair's ability to support up to 255 pounds and its adjustable seat height cater to a wide range of body types. The reclining feature, ranging from 90° to 135°, adds a layer of customization, although it may not be enough for those who prefer a more reclined position.
Despite its ergonomic shortcomings, the DXRacer Drifting Series stands out with its superior build quality and comfort, offering a testament to DXRacer's commitment to balancing style and functionality in the realm of gaming chairs.
Material and Comfort
The chair is upholstered in EPU Leatherette, which strikes a good balance between durability and comfort. The material feels premium to the touch and is easy to clean, a necessary feature for a product used extensively. The included head cushion and lumbar support pillow are both useful and enhance the chair's comfort. The cold-cure foam used in the seat is firm yet supportive, providing a comfortable seating experience even during prolonged gaming sessions.
Armrests and Ergonomics
The 3D armrests, while adjustable in height and angle, lack the side-to-side movement and locking mechanism found in higher-end chairs. This limitation may lead to discomfort for users who rely heavily on armrests for support. The lumbar support pillow, although comfortable, missed an opportunity for a better design as it tends to move around, requiring frequent adjustments.
Build Quality
The chair's aluminum wheel base is a standout feature, offering both stability and durability. The stitching throughout the chair is precise, indicating a high level of craftsmanship. However, the small hydraulic mechanism raises questions about long-term durability and the armrests' plastic feel contrasts with the otherwise premium build of the chair.
User Experience and Ergonomics
From an ergonomic standpoint, the chair offers a solid experience but falls short of being exceptional. The seat's firmness is ideal for long gaming sessions, and the quality upholstery adds to the overall comfort. However, the limitations in armrest adjustments and the non-fixed lumbar support detract from the chair's potential to offer a fully ergonomic experience.
Value for Money
Priced at $349, the DXRacer Drifting Series chair positions itself as a mid-range option in the gaming chair market. It strikes a commendable balance between high-end features and affordability. The aluminum base and quality faux leather stand out as premium elements, but the chair's ergonomic limitations, particularly in the armrests and lumbar support, might lead some users to consider other options.
Conclusion
In conclusion, the DXRacer Drifting Series gaming chair is a strong contender in its price range, offering a blend of style, comfort, and quality. It's well-suited for gamers and professionals who seek a chair that can support extended use without sacrificing aesthetics. While it has its drawbacks in terms of adjustability and ergonomic perfection, its strengths in build quality and comfort make it a worthwhile consideration for those in the market for a reliable gaming chair.
As with any gaming chair, personal preference plays a significant role in determining the right fit. I recommend potential buyers to consider their specific needs and preferences in terms of ergonomics, design, and budget. For those intrigued by the DXRacer Drifting Series, exploring other models in DXRacer's range or comparing with other brands could provide additional perspective.
For an even more comprehensive review and details, I encourage you to read the original article on TopGamingChair.com.
About the Creator
I'm Noah, a gamer and expert at TopGamingChair.com, passionate about RPGs and platformers. I create content and review gaming chairs, combining my gaming love and writing to enhance your gaming experience. Join me in elevating your setup!
Reader insights
Be the first to share your insights about this piece.
Add your insights