7 Video Games that Took on Heavy Issues
Mindless Entertainment, or Mindful Entertainment?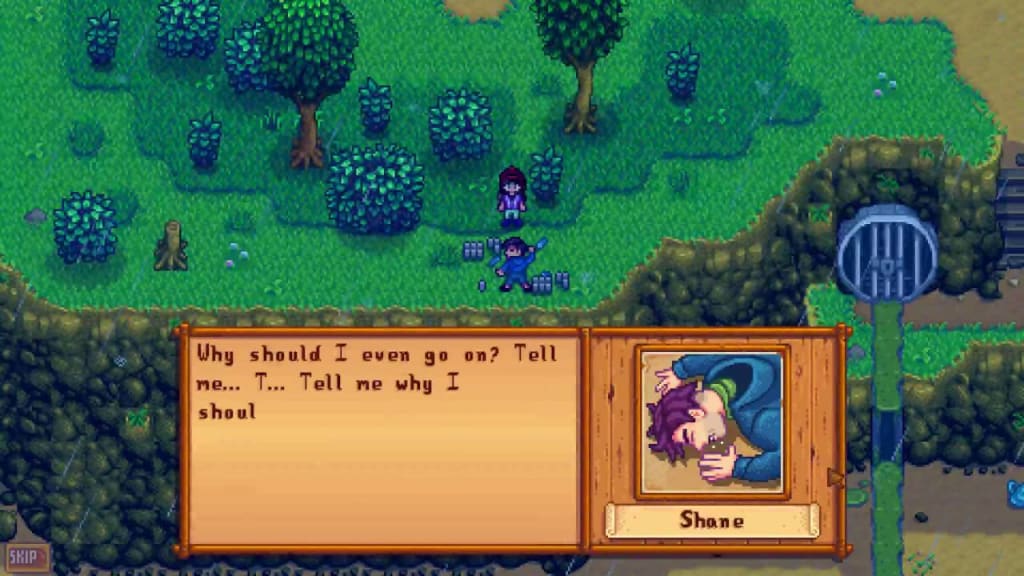 Sometimes video games are delightful colors that bop around the screen and amuse. Sometimes video games hit us with incredibly difficult topics that punch us in the gut so hard we have to pause and think about what just happened. While a good video game can be light and fluffy, the thinkers are the one that tend to stay with us day-to-day and influence our thought processes down the road. It can be something as private as a personal struggle or as large as governmental corruption, but at the end of the day, it's part of what makes gaming so good.
'Bioshock' - Drugs as an Epidemic
The war on drugs might be a metaphor for combined efforts of the government and legal system, but in the world of Bioshock it's a literal battle. As the main protagonist, you unravel the mystery of Rapture, all the while going toe-to-toe with a society full of people so drug-addled they've become monsters who will literally murder children for their next fix. It's a powerful look at the ensuing crisis when a whole people become addicted.
The difference, of course, is that in the world of Bioshock, drugs are openly marketed and advertised, snowballing into total societal collapse. In reality, we dedicate significant resources into expanding drug treatment and reducing the impact it has on society. With research, dedication, and the shift of drug addiction from a law enforcement issue into a healthcare issue, real progress has been, and continues to be, made.
'Fallout' - Nuclear War
According to the world of Fallout,war never changes. When the scientists behind the Manhattan Project made (and the military subsequently deployed) the first atomic weapon, it was inevitable that the idea of a nuclear wasteland would burrow into our cultural consciousness. Fallout takes us through the aftereffects of a world nearly destroyed by nuclear power. Mutants, radioactive zones, and the mass casualties all feature here, as well as the complete breakdown of governments. It's the kind of consequences that led many of the scientists of the Manhattan project to limit the uses of atomic weaponry.
'God of War' - Grief
2018's God of War opens with Kratos's wife's funeral. Throughout the game, Kratos and his son Atreus try to fulfil her final wish—to scatter her ashes on the mountain of her choosing. The body of the game is filled with violence befitting a God of Wartitle, but it's also the very tender story of a father and son dealing with their grief after the lynchpin of their family has passed away. Sadness, anger, bargaining, and all the other stages of grief are on display in at times a very naked and emotional way.
'Stardew Valley' - Alcoholism
Stardew Valley is a delightfully retro game where you tend to a farm and spend your days making money, upgrading, making more money, and upgrading again. It's a pleasant way to lose hours of your life. In Stardew Valley, your biggest troubles are crows and lightning strikes.
Unless you're an NPC named Shane. Shane is a raging alcoholic with an unusually depressing storyline in a game that is otherwise a dollop of happiness. When you first encounter Shane, he does his best to push you away with his surly and rude demeanor. If you persist, you quickly find out that he believes his life to be meaningless and drinks to deal with his raging depression. Throughout his story, he repeatedly gets blackout drunk, eventually ending up on the side of a cliff, ready to jump to his death. You help him get to a hospital, a stomach pump, and a therapist. Depression and self-medication are two of the major reasons why people abuse alcohol and drugs. Shane's journey through addiction is remarkably true-to-life, especially in his gentle recovery after the episode on the cliff.
'Hellblade: Senua's Sacrifice' - Mental Illness
2017's Game of the Year awards were dominated by Hellblade, and with good reason: the game delves into the workings of a mind with psychosis, against the backdrop of Pict and Viking culture in the 8th century. Hellblade took the task of representing psychosis very seriously; they consulted neuroscientists and mental health specialists to accurately portray trauma and grief in a person struggling with mental illness.
'Metal Gear' - Government Corruption
Metal Gear might be the poster child for complicated storytelling, thanks to creator Hideo Kojima. In that complicated narrative, they've touched on a multitude of important topics, like child soldiers, rape, and the dangers of AI. One of the themes it's most well-known for is corrupt government. Throughout the games, you see government agencies or entities use the media to manipulate the truth and control the populace, as well as governments interfering with other government's processes (like election rigging to install puppets as world leaders for their own gain).
'Dragon Age' - Racism
Dragon Age deals with racism by using fantasy's favorite punching bags — elves. In all fairness, the world of Dragon Age is filled with people treated like subhumans (Dragon Age 2 covers mages who are effectively imprisoned for the greater good). But in all the games, elves are casually enslaved, impoverished, forced to live in slums, or murdered. Their fate is readily accepted as fact that some characters will offhandedly talk about as being not right, but no one really does anything about. Elves are not allowed in some businesses and are generally perceived as criminals and lowlifes. You can choose to be kind to them, but it's just a drop in a bucket.