55 Days Until PS5 Release - 55 PS4 Games To Play Until Then.
Find a new game to play each day until PS5 release.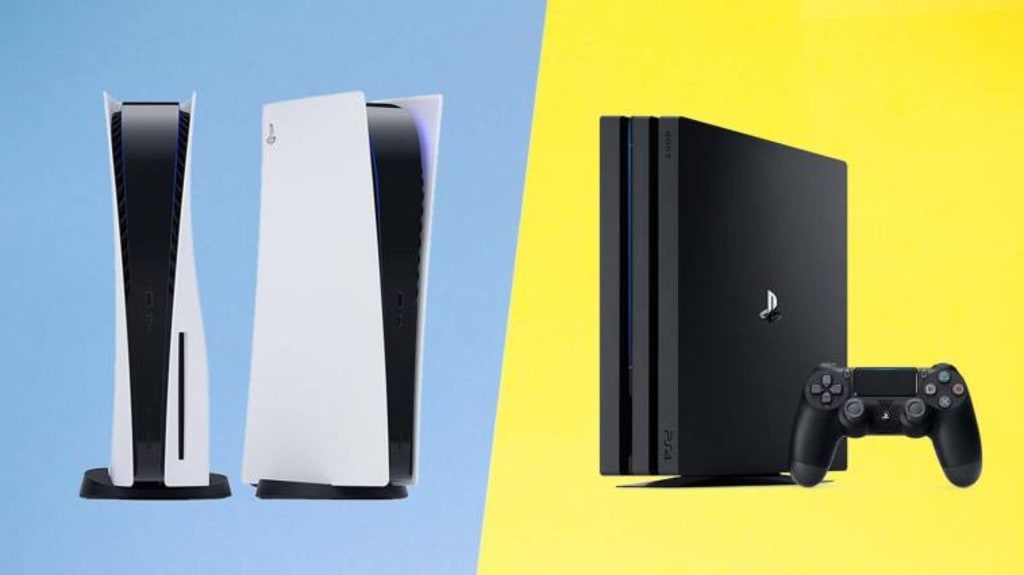 There's Still A Lot Of Great Games To Play On Your Playstation 4. Here are my favorite PS4 games.
There's Still A Lot Of Great Games To Play On Your Playstation 4. Here are my favorite PS4 games.
Disclaimer: I have not played every PS4 game - there's over 2,000 of them after all. And most of the games on my list are JRPGs, Otome Games, or Visual Novels, because that is my preference.
If you don't like those types of games, this list may not have much to offer you. For that matter, PS4 and PS5 might not have much to offer you. Sure there are action and sports and shoot em up games, but you'll fair far better with the PC or Xbox to meet those gaming needs.
Also this is 2020, most of the games on this list, and most games in general these days are cross platform. So even if you don't have a PS4 you might be able to find these games on your Nintendo Switch or PC or Xbox or whatever.
But if you are anything like me, you value games with story and character development above all else; and it's here where PS4 (and hopefully PS5 in the future) shine.
I'll start with the best of the best. So you don't need to read too far to find some great game recommendations.
One final disclaimer, most of these games take over 80 hours to complete, so would take over "a day" to play lol. But it was an interesting "angle" for my article so I ran with it.
And without further ado, here are 55 PS4 games to play while we wait 55 days for our PS5's to arrive.
1. Persona 5
I think this is THE game that defined this console in my opinion. In my opinion, if you can only play one PS4 game, this is it. Especially the remake version with upgraded graphics and story elements. My only complaint is no female protagonist in the remake. If you've lived under a rock and have no idea what Persona is, it's a series of games in which you crawl through randomly generated dungeons by night and go to school, work part time jobs, and date cuties by day all forging bonds and strengthing your team for the dungeon crawling that waits ahead.
2. The Caligula Effect Overdose
A game very similar to Persona 5. This game is extremely under-rated I think. And as a nice bonus, this deluxe remake version has a female protagonist.
3. Catherine Full Body
Catherine was one of my favorite games on the last generations of consoles, so it's no surprise I love the new Catherine remake. It has fun and sometimes challenging puzzles mixed with amazing anime visual cutscenes that reveal a dark story. It has dozens of multiple endings and your choices really impact the story and endings.
4. Stein's Gate Elite
A remake of the original Stein's Gate game with much improved visuals. It's like playing/watching an anime and influencing the story. It's a trippy time travel science fiction tale, and some of the things in the story are based on real science and you can research these things and learn a lot in real life too, which lends itself an air of eerieness pseudoscience and a story that although far fetched, could theoretically happen in a not too distant future.
5. Stein's Gate 0
A sequel to the original Stein's Gate game with returning and new characters and an all new story
6. Final Fantasy XV
The best part of this game was Prompto's photography skill lol. I spent more time doing that, or cooking and fishing... but eventually did beat the main storyline. It's relatively short. I won't spoil it. It was decent. Not great though. Some characters are introduced and all forgotten midway.
7. Final Fantasy VII Remake
FF7 is a favorite for many fans - not me - my favorite is FF6. But FF7 is such a "cult classic" how can you not play the remake right?
8. Detroit Become Human
Personally, this is one of my favorite games of all time. It made my top 10 list of best games for girls on my blog at www.GeekySweetie.com I love androids and stories like this, reminiscent of bicentenial man, set in detroit like Robocop, and borrowing from anime hits such as Chobits, Plastic Memories, and HAL. This game is not to be missed.
9. Kingdom Hearts III
Kingdom Hearts 3 has to be one of the most anticipated sequels in the past decade. And it does not disappoint. A great 3rd chapter in the Kingdom Hearts story.
10. Kinrgdom Hearts 1.5 + 2.5 Remix
If Kingdom Hearts 3 was your first Kingdom Hearts game, make sure you go back and play the games that started it all.
11. Date A Live Rio Reincarnation
This is a slow moving visual novel but with an interesting concept. I enjoyed the artwork, characters, and unique story.
12. Clannad
This is a heartfelt classic visual novel that all fans of this genre must play. It's sad and sweet and very very long. It does have a lot of filler and comedy and is slow too. Like most games in this genre.
13. Root Letter: Last Answer
An interesting visual novel whodunit. This edition has some special features.
14. Danganronpa V3
The Danganronpa trilogy is reminiscent of Phoenix Wright Ace Attorney. Very similar gameplay.
15. Danganronpa 1 + 2 Reload
In case you missed the first 2 Danganronpa games, here's your chance to go back and play them
16. Dark Rose Valkyrie
I like that the traitor in this game changes every time you play.
17. Utawarerumono: Mask of Deception
I was a fan of the anime, and played one of the old visual novels on the PC a long time ago. So of course I recommend these 2 games on PS4 too.
18. Utawarerumono: Mask of Truth
Play Deception first, because Truth has a lot of spoilers.
19. Tales of Berseria
I've played every "Tales Of" game since Tales of Phantasia on the SNES - yes I imported the Japanese cartridge lol.
20. Tales of Vesperia
Though neither "Tales of" game on PS4 is as great as many of the older games, I'd rank the two PS4 games like this, with Berseria being better than Vesperia in my opinion.
21. Atelier Arland series: Deluxe Pack
This "Deluxe Pack" Includes 3 games consisting of Atelier Rorona, Totori, and Meruru, and much of the DLC that was available for those games.
22. Atelier Dusk Trilogy Deluxe Pack
This "Deluxe Pack" Includes 3 games consisting of Atelier Ayesha, Atelier Escha & Logy, and Atelier Shallie
23. Atelier Ryza: Ever Darkness & the Secret Hideout
24. Atelier Lydie & Suelle: The Alchemists and the Mysterious Paintings
25. Atelier Lulua: The Scion of Arland
26. Atelier Sophie: The Alchemist of the Mysterious Book
The above few Atelier Games are all really fun, each similar with a few key differences. I really couldn't rank them, so just listed them as they came to mind, they're all about equally great really.
27. Nelke & the Legendary Alchemists: Ateliers of the New World
A lot of people hated on this game, which is why I placed it last in the Atelier games listed here - however; I liked it. It is different gameplay, more focused on city building instead of crafting. I still found it to be fun.
28. Sakura Wars
I also played Sakura Wars So Long My Love - but I forgot all about it until I started playing this game. Apparently this is a remake of the very first Sakura Wars game. It is beautiful. I really think it's just a gorgeous and fun game. Gotta love cute girls and giant robots right?
29. Parappa The Rapper Remastered
So Classic
30. The Last of Us Remastered
I really liked the story. It definitely is more action-adventurery, but still has a great story.
31. The Last of Us Part 2
A wonderful sequel to the first part of the story.
32. Death Stranding
Silent Hill lives on in the original creator's dark new game, Death Stranding.
33. Yakuza 0
This was the first Yakuza game I ever played which is probably why it's first on my list.
34. Yakuza Remastered Collection
Contains Yakuza 3, 4, and 5
35. Yakuza 6
The newest Yakuza game.
36. Yakuza Kiwami
A Remake of the original Yakuza game
37. Yakuza Kiwami 2
A Remake of Yakuza 2.
38. Shenmue I and II
Dreamcast classic RPGs based on the Yakuza series
39. Shenmue III
An all new RPG and conclusion to the Shenmue series that was long overdue and highly anticipated.
40. Conception PLUS: Maidens of the Twelve Stars
I like the breeding aspects of this game.
41. Code Realize: Wintertide Miracles
Otome game.
42. Code Realize: Bouquet of Rainbows
More Otome games in the same universe.
43. Disgaea 5 Complete
Great strategy RPG.
44. Chaos Child
An awesome scifi visual novel, sequel to Chaos Head.
45. Zero Escape the Nonary Games
I'm a huge fan of Ever17 The Out of Infinity - and still waiting to see it remade some day - but until then we have the Nonary Games. I still prefer Ever17.
46. A Way Out
A fun narrative co-op game trying to break out of jail. It's like a multiplayer visual novel lol.
47. Life is Strange
One of the best games of all time. Another great narrative game.
48. Beyond 2 Souls
From the creators of Detroit Become Human. I thought it was good, but Detroit Become Human is much better.
49. Heavy Rain
Another game by the creators of Detroit Become Human. I thought this one was good too but it introduces some plot elements and abandons them like why was he having black outs and what really was happening? so many questions.
50. Life Is Strange 2
The sequel is still good - but not nearly as good as the first in this series. Both games are completely unrelated and standalone. I think I would have liked to have seen the story in 1 continue with the same characters and settings based on our choices in the first game. Maybe that's why I was a little disappointed in the sequel.
51. Wolf Among Us
My favorite Tell Tale game. I heard awhile back that the sequel was canceled but then I read something a few months ago that they're working on a sequel now. Guess we'll see what happens. I love the setting. Very "Once Upon a Time" vibes.
52. The Missing
I wanted to put D4 Dark Dreams Don't Die on this list but it was an Xbox and PC exclusive lol. I played the PC version and love it. I know Swery wants people to stop asking him for a sequel - but I want a sequel SO HARD. Uhh anyways, instead of a sequel of D4, he wants to focus on other projects, so he gave us this - It's good. But it's not D4. Also later this year he will be releasing Life is Good which also looks good, but still sad/salty that it's not D4.
53. Ni No Kuni II
I love this game, but it just popped into my head at the end of my list lol. It's a sequel to the smash Studio Ghibli hit.
54. Digimon Story Cyber Sleuth
A definitive edition that includes hacker's story. This is an amazing RPG. I forgot also about these 2 Digimon games who therefore are getting thrown into the end of my list.
55. Digimon New World Order
Both Digimon games are good. New World Order gets hated - but it's actually closer to the classic old school Digimon games, more focused on training and battling and stat simulation. I enjoyed it.
So what did you think of my list? Have you played most of these? What's your favorite PS4 game? Let me know in the comments below.