3 Patti SAGA - Indian Teen Patti Online Game App for iPhone
Teen Patti Game - 3 Patti SAGA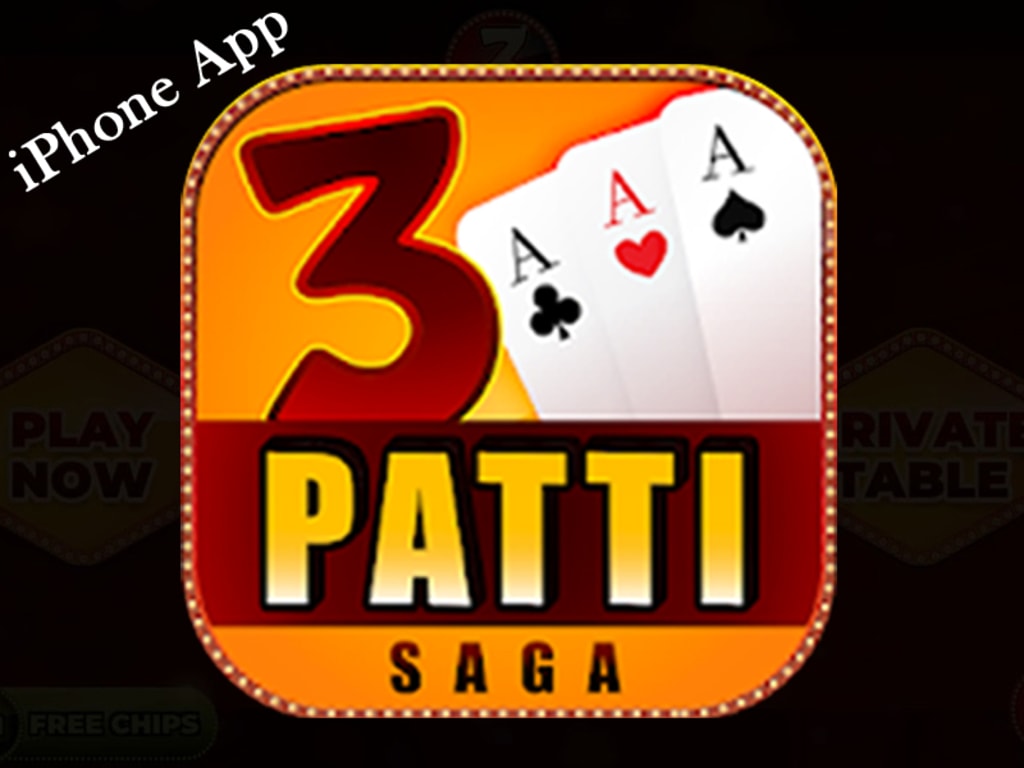 3 Patti SAGA - Indian Teen Patti Online Game App for iPhone
Let's play Indian 3 Patti Online….
Teen Patti is a most popular game in Indian culture. Earlier people play in desi style at home. But now with this modern world people can play game in mobile online with friends easily from anywhere in the World. Other name of it is Three Card game or Flash Game.
Maximum five players can play on one table. 3 Patti SAGA iPhone Application has three different modes to select from. They are Play Now, No Limit & Private Table. It is a multiplayer game. There are various features to earn free chips for users.
For players on first time login free chips are given to start the initial game. One can get 5000 free chips as daily rewards. User can invite their friends and get free chips. Below given are Indian Teen Patti Online Game hands ranking to win the round.
3 Patti Hand Ranking are:
Trail or Set (three of the same rank)
Pure Sequence
Sequence (run)
Color
Pair (two cards of the same rank)
High Card
Play Indian 3 Patti card game online with your childhood friends. Create your own private table by inviting your Facebook friends to play the game. Multiplayer New Teen Patti 2020 game is to play online with FB friends. Select the boot amount from 100, 200 & 500 and start the game.
In private table mode user can play with invited users. One can play Tin Pati game from any corner of the World with this iPhone App. While in Play Now & No Limit table mode player is connected with random live users on the table.
Signup and Invite your friends to earn free chips. Best Indian 3 Patti Online Game for playing on iPhone device users. Indian 3 Patti Online game and win the chips. Entire game is based on three cards from set of 52 cards. Play to win 3 Patti card app live with besties at any time and place.
The player having the best hand ranking will win the round and all the chips used in bet also. One can play Blind Chaal, Seen or Pack the cards as per the choice. User can raise the chaal amount before every chaal as per there hand ranking. Players can use chips to play highest chaal.
This 3 Patti iPhone game can be played by both parents & kids together. User can download free and this app also offer in-app purchase. Maximum 4 Blind are played in each round by the player. Highest ranking hand will win the game and also all the chips which are used by other players as bet.
One can see the cards ranking to raise the chaal amount or if the cards are not good than can pack. Download & start playing Teen Patti Indian game online with friends and family. Each player on the table has three cards to win the game individually.
Player can increase the amount by seeing their cards if the hand ranking are goods and at the end can will all the chips. User can select the minimum boot amount before starting the game. The minimum boot amount is fixed so the user can only increase the amount.
In Hindi it is called Tash Patta game and people play at any time to enjoy it. In Tin Patti Game a player can play Blind Bet or Show Bet as per requirement. Challenge your friends & relative to play and win the Indian 3 Patti SAGA Online 2020 Game.