Created with Humble Bundle
3 Hacks That Will Save You Hundreds of Dollars on Gaming This Year
Be smart and make the right choice for you.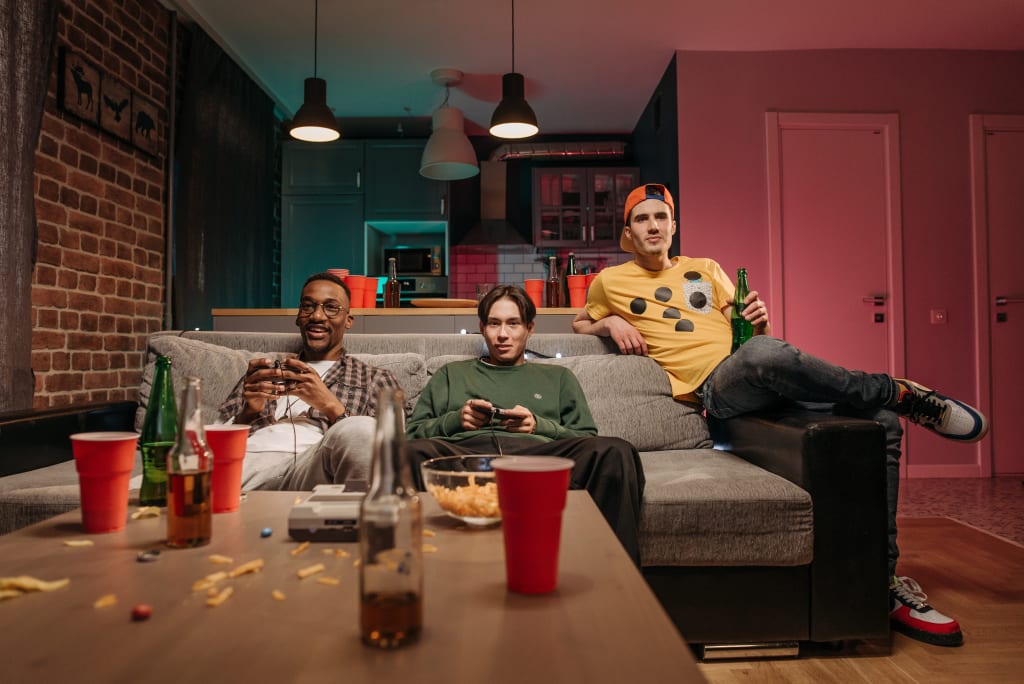 We have all been there. A new game is released, looks amazing, graphics are out of this world and the hype is real. Especially those games released on Next Gen consoles such as the Xbox Series X or the Playstation 5. But, having to spend $60 on the base game alone, sometimes upwards of $100 for the extra content or DLC's can be a real drawback. Not everyone can afford to spend that much on games – especially when you have a family and bills to pay such as myself. But being a Twitch Partner I need to keep my content fresh and up-to-date. So I need to find regular solutions to get those awesome games but at cheaper prices.
Here are my 3 hacks that helped me achieve this.
Pick Your Platform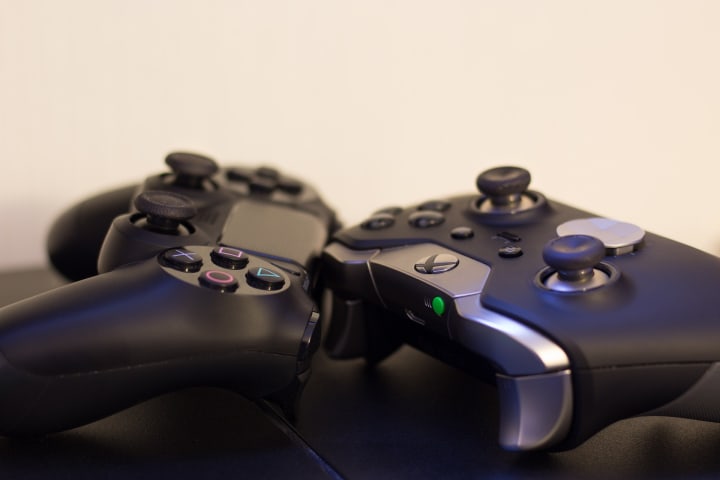 Growing up I was always a console gamer. I had the games I wanted, such as Gears of War, HALO & Fable, so sticking with one console was easy. As I got older I discovered PC gaming and my whole perspective on gaming changed. But not only did that change, so did my spending. I was buying console games and PC games (long before they were cross platform or accessible through the Microsoft Store). My friends were console gamers so I bought console games to play with them. But in my own time I played Call of Duty or Age of Empires on PC online.
Because of buying double the amount of games I was spending a fortune on, this resulted in not being able to get new games on the first day release too. It sucked. But as time went on my friends made the move over to PC which meant I concentrated on buying new games for PC. Around this time I discovered Humble Bundle. The amount of games you get for low prices was out of this world. Of course I wouldn't have the time to play all the games on offer but it would mean my game library was healthy and fresh in case I wanted a fresh new game to play.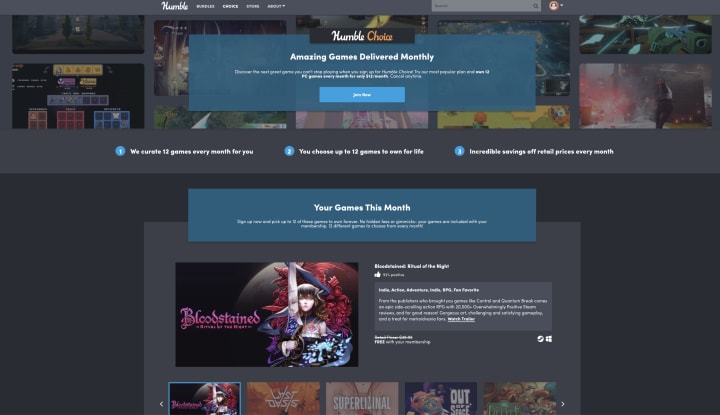 This is extremely worth it as a Twitch streamer where your content has to be new, fresh and entertaining. If I finish one game, then I already have another game ready to stream. Having to pay only $12 for 12 games a month feels like a steal!
It can be tough wanting to get games for all the platforms – especially with all the exclusives such as Xbox & HALO or PlayStation & God of War. But sticking to the one platform will save you so much more in the long run.
Sell or Trade your unwanted games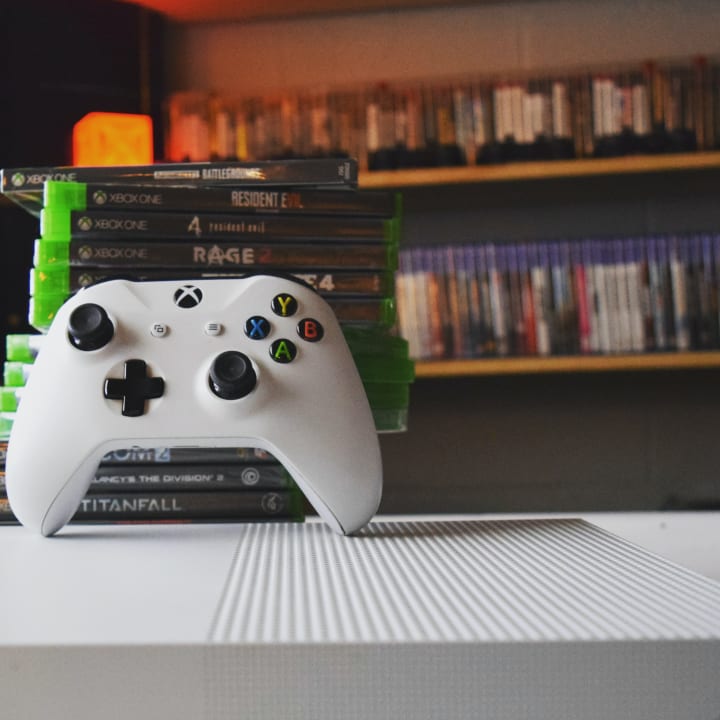 Games are sometimes worth coming back to. The nostalgic awe in story driven games such as The Last of Us or The Witcher 3 can draw us back to play it once more. But generally most games just gather dust on the shelves. We all have those collector editions we will never part with (for me it's the HALO: Reach Statue) and that is understandable. They were expensive and worth every penny. But there are others we have played before, completed, thought it was "okay" or "meh", and left it to one side. This is when you should sell it or trade into your local shop for another game you'd like.
I myself have a huge habit of not selling my completed games. I have old games going back to the original PlayStation. Now those might be worth some money, but they also hold a special place in my heart. But console games which I either completed or just never went back to should have been sold for cash to put towards something else such as the new Far Cry 6 or Battlefield 2042.
The value of games doesn't hold. You might buy the new Far Cry 6 in a few months but once you walk out that door with the game in your hand the value drops right away and will keep dropping over the next few weeks. So it is better to get rid of your completed or unwanted games and use that cash to go towards a game you have been eyeing up for a while or waiting for a new release.
If you don't have the will to part with those games on a permanent basis but want to play the newest games you can't afford yet, then look to your friends and trade or ask to borrow the game. I think we can all remember trading games growing up… Wow I just realized my age!
Humble Bundle Services & Subscriptions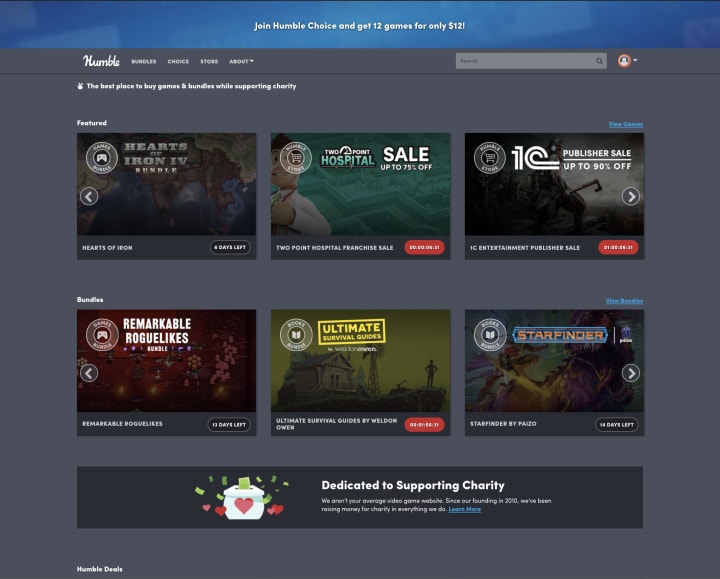 My third and last hack are the deals that Humble Bundle has to offer.
Humble Bundle is a digital store for games and more that not only offers frequent deals, but also donates to charity with every purchase. With sales always on offer by maybe 40, 60 or even 80 percent, there is no reason to check the deals on a daily basis. The website is straightforward and very user friendly. You can easily navigate different sections for bundles, sales and new releases, or just browse by different genres.
A great subscription service Humble Bundle offers right now is Humble Bundle Choice where you can choose the plan that suits you the most. Right now, you can subscribe to their plan for just $12 and get 12 brand new games – yes 12! I get to own each game forever rather than just a one time service subscription and I can cancel anytime. This way my games library is always updated and fresh with new content but better yet, it doesn't feel like I am spending the amount of money I would expect to be spending for what I receive in return.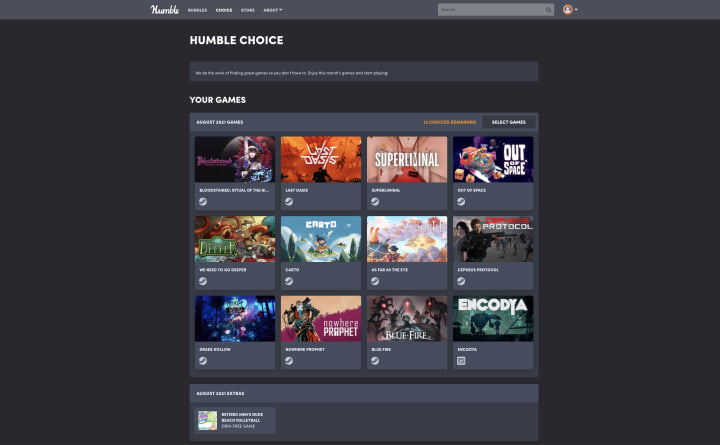 If you don't feel comfortable paying that much per month and you're looking for something cheaper but would like to still be a part of the Humble Bundle family, you can gain access to Humble Bundle Trove. It is a treasure trove (get it!) of DRM-free games, and new games are added every month.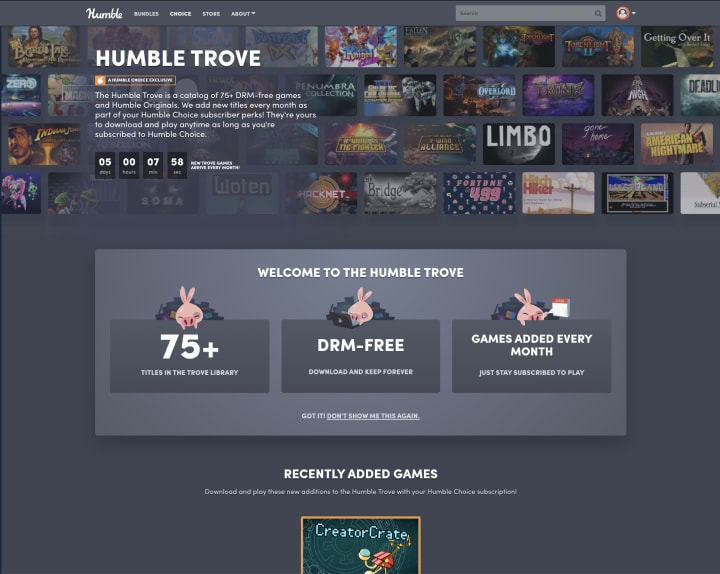 There are so many options out there for games of either PC or console, you just have to look around and find the best deals for you. Yes it's great to get the new AAA games on first release but in no time that price will drop. Don't spread yourself thin. Be clever, look for upcoming games which you would like to play. Pick your console or PC and invest in what you choose rather than buying every game on the planet and not having the time to give that game your attention.
Be smart and make the right choice for you.
product review
Hi folks! My name is Richie and I'm a Twitch Partner streamer & Instagram content creator. I stream FPS & RPG games, while posting shots on my Instagram of my setup or the latest tech.
Twitch - IrishAchilles
Instagram - IrishAchilles93
Receive stories by Richie McNamara in

your feed