Why do above-ground pools work best?
Creating a new standard in pool service.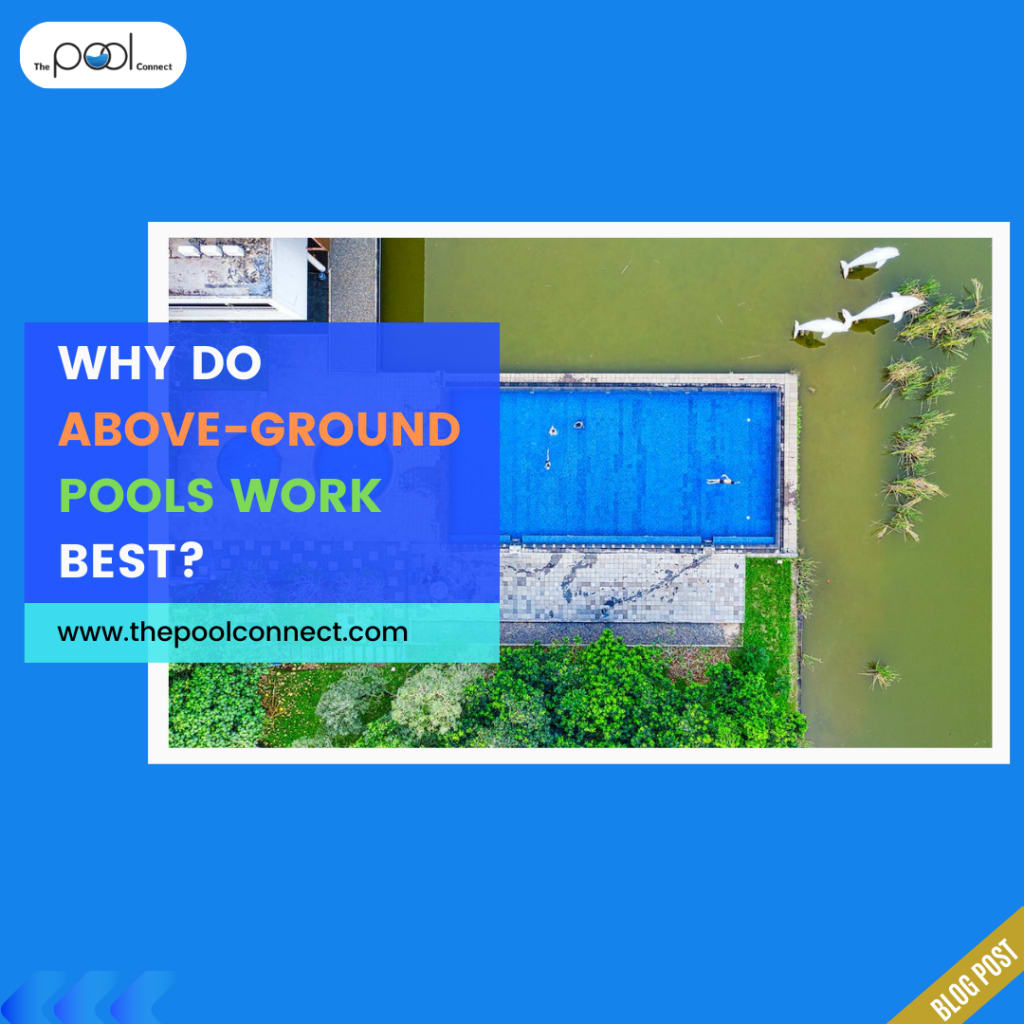 Swimming pools are not just an aesthetic backyard addition but incredibly fun to be around.
Installed in over 10.7 million U.S. homes, pools are great for late-night swims on balmy summer nights, refreshing pool parties on hot days, and of course for a relaxing solitary swim when you just want to clear your mind.
If you are sold on the idea and want to get a backyard swimming pool but don't want to go through the hassle of getting your backyard dug up, an above-ground pool is a great option for your family.
Not only are they safe and affordable but have several other advantages. In this blog, we will talk about the benefits of above-ground swimming pools and how to choose the best one for your family.
What is an above-ground pool?
Before we talk about the advantages of an above-ground pool, let's take a quick look at what it is.
As the name suggests, this is a pool that sits above the ground level. You are provided with a pool frame and the required equipment. All you need to do is erect the frame, install the liner and the water pump, and fill the pool with water.
There are different types of above-ground pool frames available including:
Steel pools
Made with zinc and galvanized steel, they are sturdy and yet lightweight.
Resin pools
This is a type of hard plastic that is rust and dent resistant. It handles the effects of direct sunlight better and doesn't get heated like steel.
Hybrid pools
This type of above-ground pool combines the benefits of resin and steel and is extremely durable and resistant to chipping and discoloration.
Optimum pools
These pools are ideal for houses built on uneven surfaces such as slopes and hills. They are compact, versatile, and quick to install.
Why should you consider getting an above-ground pool?
Above-ground pools come with significant advantages for homeowners that mainly center around convenience, safety, maintenance, etc.
Here are some reasons why an above-ground pool is the best option for you:
Great for small backyards
If you have limited space in your backyard but still want to get a pool, then an above-ground pool is your best bet.
They come in several size and layout options that can fit even the tiniest of spaces while leaving more room in the rest of the backyard for your family to use.
Easier and quicker to install
Installing an above-ground pool is seriously quick. And we mean it. Some of these pools can be installed in a day!
To install an above-ground pool, you won't need to dig up your entire backyard. Since they sit on the top of the ground, they help you do away with the time spent on construction and waiting for the weather to clear up.
All you need to do is to pick a spot in your backyard, prepare the ground, get the equipment together, and install your new pool.
More safety
While swimming pools offer unending fun and joy, parents often worry about the safety of their children when they are near one of them.
One of the top benefits of above-ground pools is that they are significantly safer than in-ground pools. This is mainly because they have a higher entry point including a ladder to climb with that does away with the risk of a child accidentally slipping and falling in the water.
Affordable option
Unlike in-ground pools that require considerable earthworks including ground preparation and construction that can only be done by hiring professionals, above-ground pools come in a kit.
You don't need to stress about hiring labor or spending tons of money on installation and maintenance.
Easier maintenance
The sheer amount of water that an in-ground pool holds makes it intimidating just to think about its maintenance aspect.
One of the top reasons why people consider getting an above-ground pool is that they are super easy to maintain. This is mainly because they are smaller and hold much less water. Since they sit above ground level, there is a lesser chance of dirt, debris, and insects creeping into the water.
More customizable
One of the best benefits of an above-ground pool is that it is pretty versatile and can be customized to your liking. For instance, you can be creative and build a deck, tanning ledge, or do landscaping around it to make it resemble an in-ground pool with all the frills. You can even add LED lighting and flower planters to add to its beauty.
Since it is movable, you can always move it around your backyard. Keep it in the sun to enjoy a swim spa or in the shade for a cool dip.
Things to keep in mind while considering an above-ground pool
Before you finally say yes to an above-ground pool, here are some essentials to consider:
Whether you are a homeowner or have rented the place. Above-ground pools don't come with a commitment of decades and can be easily removed and replaced.
If budget is a consideration, then the above-ground pool is the best option for you. The installation is also considerably cheaper and doesn't add to your energy bills.
An above-ground pool will not add to the resale value of your home.
Takeaway
Choosing a pool for your home requires some thought. The decision usually boils down to what you can afford and maintain easily including the kind of space you have. Once you have decided on these, you can leave the rest to The Pool Connect, which is a one-stop solution for all your pool equipment, repair, and maintenance needs. Download the app today to enjoy the highest quality tailor-made on-site swimming pool services.
Reader insights
Be the first to share your insights about this piece.
Add your insights