The Queen's Sister
The Princess Margaret Rose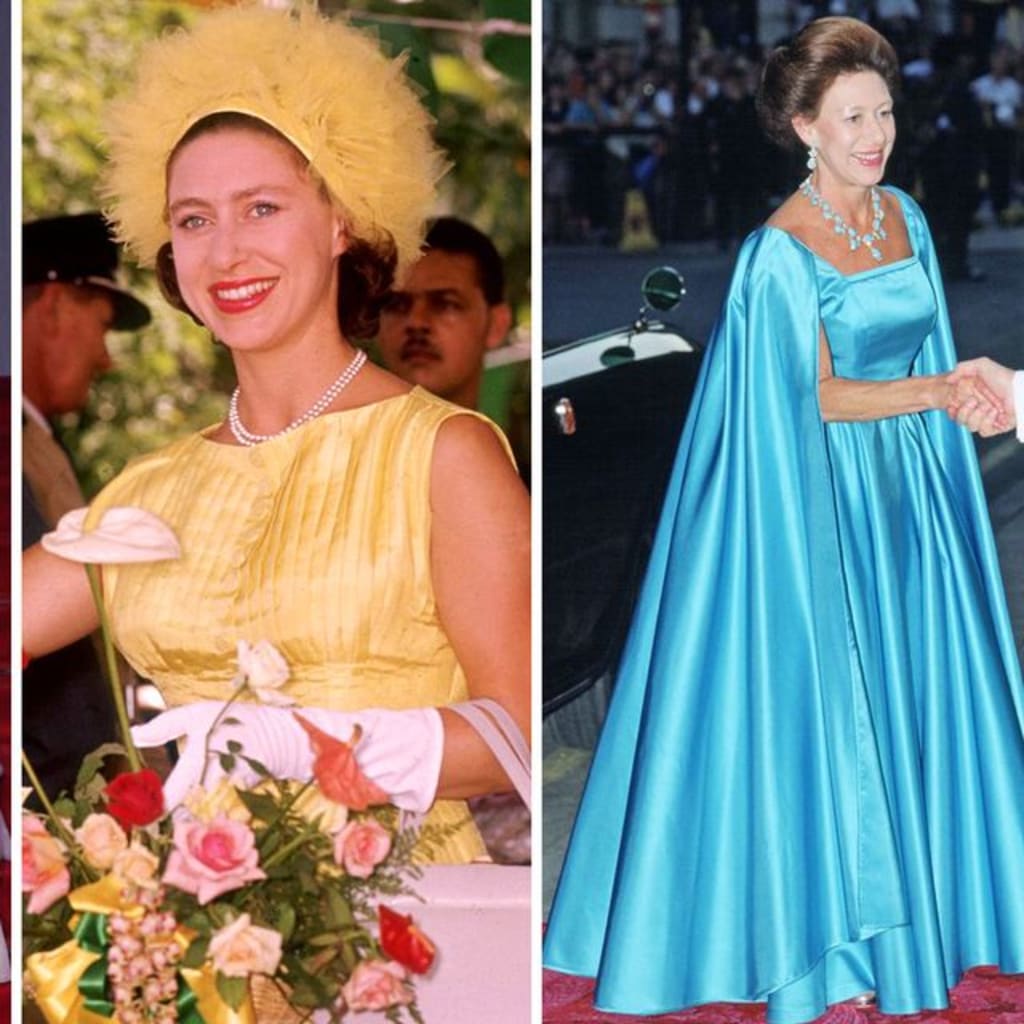 The Princess Margaret Rose
For those of us who remember, she was one of the most beautiful women in England. She was born into a privileged life which came at a price, and yet she was one of the original 'celebrity Royals'. She was not allowed to marry the man she loved, so she married someone more 'suitable' only to divorce in 1978. A rare beauty who knew how to dress, she was the Princess Margaret Rose.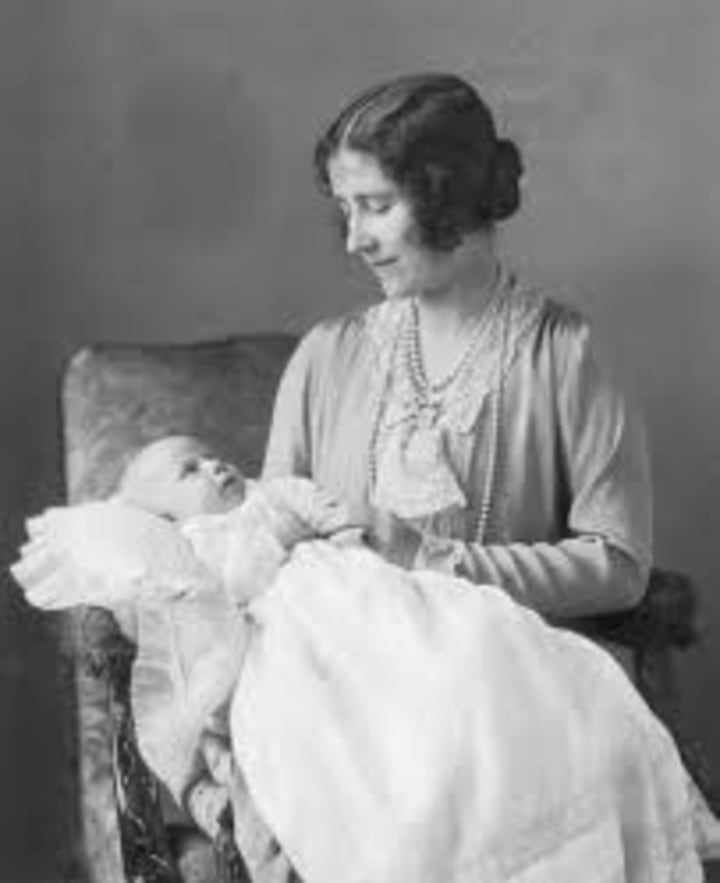 On 21st August, 1930, at Glamis castle, a little Princess was born. She was fourth in line to the British throne, her father being the Duke of York. Margaret Rose was baptized in the private chapel of Buckingham Palace on 30th October, 1930. Margaret's early childhood seemed quite a happy one. The family lived at 145, Piccadilly and Royal Lodge (in Windsor) and to the public they were the perfect family, with mother and father and two daughters. Margaret was educated with her older sister, Elizabeth, and they had a Scottish governess Marion Crawford. Their mother (the late Queen Mother) supervised their schooling who "never aimed at bringing her daughters up to be more than nicely behaved young ladies". In later life, Margaret often wished she had been able to have more education, maybe even going to school, but (it is said) that their grandfather, King George V, insisted the two girls were schooled at home by a governess.
Margaret's grandfather, George V, died and her uncle, Edward VIII, came to the throne, only to abdicate less than a year later, when this little Princess was just six years old. The lives of this family now changed forever. Her father was now King George VI, Elizabeth was first in line to the throne and Margaret was now second in line. The family moved into Buckingham Palace. The sisters' schooling was now separated and Margaret continued under her mother's supervision, with the little Princess showing an interest in music and learning to play the piano.
Margaret became a Brownie in the "1st Buckingham Palace Brownie Pack" which was formed in 1937. She was also a Girl Guide and a Sea Ranger. Margaret served as President of Girlguiding UK from 1965 until her death (in 2002). Elizabeth and Margaret were at Birkhall (on the Balmoral Castle Estate) when World War Two started, and the family moved to Windsor Castle, where the girls stayed for most of the war years. Her father often indulged his youngest daughter (Margaret) often letting her 'stay up' for dinner at thirteen years of age. Margaret loved being the centre of attention, which actually didn't bother Elizabeth, her older sister, who said: "it's so much easier when Margaret's there --- everybody laughs at what Margaret says." Their father described Elizabeth as his pride and Margaret as his joy.
When the war finished in 1945, Margaret, along with her mother, father and Elizabeth appeared on the balcony at Buckingham Palace (they were joined by Winston Churchill, the then Prime Minister). They were greeted with cheers from the people. Later on in the evening, Elizabeth and Margaret joined the crowds who were outside the Palace. They were 'incognito' and joined in with the crowds chants: "We want the King. We want the Queen."
In February, 1947, the Royal family went on a state tour of Southern Africa. It was Margaret's first visit abroad and it lasted three months. The Princess remembered "every minute of it". Peter Townsend (the King's equerry) was Margaret's chaperone and he apparently thought that she was an indulged child and he was very firm with Princess Margaret. Elizabeth married Philip Mountbatten on 20th November that same year and Margaret was one of the bridesmaids. In an "Unauthorised Biography" published in 1950 by Marion Crawford, their former governess, Margaret was described as "light-hearted fun and frolics" and her "amusing and outrageous antics".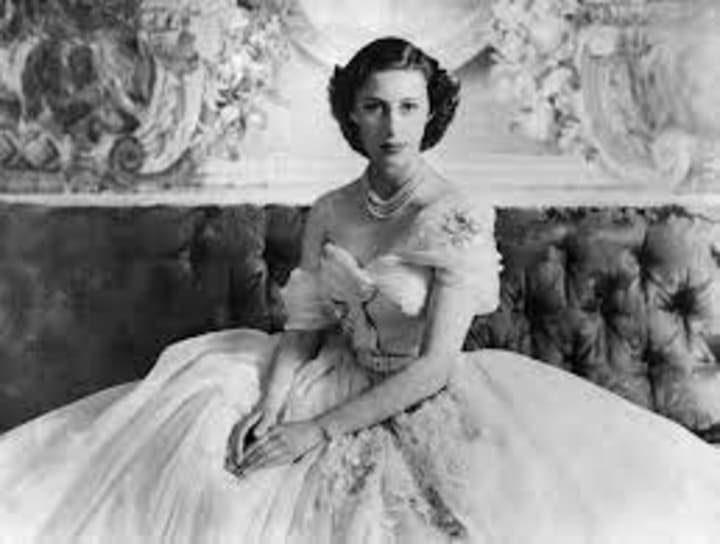 Margaret was a beautiful young woman, with an 18-inch waist and "vivid blue eyes". The Princess enjoyed socializing with high society and she was often in the newspapers having attended a ball, party or even a nightclub. Her official engagements now increased which included tours of Italy, Switzerland and France and Margaret joined quite a few charities as President or Patron.
Margaret was the world's most eligible bachelor-girl. Naturally, her mother and father wanted their Princess to marry well. The press was always taking photographs of Margaret with Townsend, who was always in the background, at most Royal appearances. On 6th February, 1952, the King died of lung cancer and Elizabeth became Queen. Now having a young nephew and niece, Margaret was further 'down the line'.
The young Princess was heartbroken over her father's death and had to be prescribed sedatives in order to sleep. Margaret wrote of her father: "He was such a wonderful person, the very heart and centre of our happy family". She and her mother moved into Clarence House and Elizabeth, the new Queen, Philip and their two children moved into Buckingham Palace.
Margaret fell in love with Peter Townsend, who was always 'in the picture'. Townsend fell in love with the Princess. Townsend divorced his wife and soon rumours spread. Townsend proposed to the Princess in April, 1953, and Margaret accepted. She 'informed' the Queen, her sister, whose consent was needed in order for Margaret to marry. The Church of England refused to countenance the remarriage of the divorced and this was a 'constitutional crisis'. The Archbishop of Canterbury did not approve of the Princess marrying a divorced man and Prime Minister Winston Churchill's Cabinet refused to approve the marriage. The press was split! The Church of England Newspaper said of the young Princess Margaret that she: "is a dutiful church woman who knows what strong views leaders of the church hold in this matter", while the Sunday Express simply asked: "If they want to marry, why shouldn't they?"
For Margaret to marry Peter Townsend, she would have to renounce her right to the throne. Whilst Elizabeth and their mother wanted Margaret to be happy, they could not approve of the marriage. The couple were 'split' with the Princess going on a tour and Townsend appointed to a 'new job'. For two years, the press speculated and on Margaret's 25th birthday an announcement was expected. She could now marry Townsend with or without the Queen's approval but would lose her own right to the throne plus the money that goes with being born into Royalty. "Now the nation waits" was a headline from The Guardian (1955).
"I would like it to be known that I have decided not to marry Captain Peter Townsend. I have been aware that, subject to my renouncing my rights of succession, it might have been possible for me to contract a civil marriage. But mindful of the church's teachings that Christian marriage is indissolvable, and conscious of my duty to the Commonwealth, I have resolved to put these considerations before others. I have reached this decision entirely alone, and in doing so I have been strengthened by the unfailing support and devotion of Group Captain Townsend". (31st October, 1955, the Princess Margaret Rose)
Townsend later recalled: "We had reached the end of the road, our feelings for one another were unchanged, but they had incurred for us a burden so great that we decided together to lay it down".
In 1958, at a supper party, the Princess met Antony Armstrong-Jones, a photographer. The couple got engaged in October, 1959. The engagement ring was a ruby surrounded by diamonds in the shape of a rosebud. Margaret married Armstrong-Jones at Westminster Abbey on 6th May, 1960. It was the first Royal wedding to be broadcast on television. The Princess's wedding dress was designed by Norman Hartnell and she wore the Poltimore tiara. There were eight bridesmaids and the Duke of Edinburgh gave the bride away. There was nothing to 'block' this marriage! The couple honeymooned on a six-week Caribbean cruise aboard the Royal yacht Britannia and then they moved into rooms in Kensington Palace.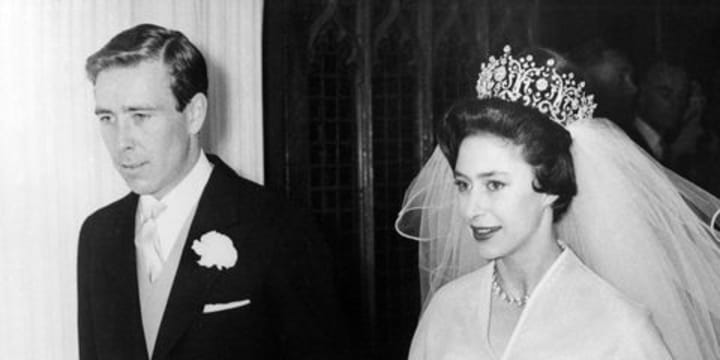 The groom was created the Earl of Snowdon and the couple had two children, David and Sarah. The couple 'experimented' with the styles and fashions of the 1960's. Margaret's main interests were welfare charities, music and ballet. She became president of the NSPCC and "I CAN" (the Invalid Children's Aid Nationwide), as well as many other worthy causes. However, her private life became 'colourful', as she started to indulge in extramarital affairs in 1966. By the early 1970's, the couple had drifted apart.
In 1973, the Princess was introduced to Roddy Llewellyn who was 17 years younger than Margaret. The relationship was "a loving friendship" and she invited him to stay at Les Jolies Eaux, the holiday home she had built on Mustique. The News of the World printed photographs of the 'affair', calling Llewellyn her "toyboy lover". The Snowdon's marriage had broken down and their divorce was granted in 1978. That same year, Margaret was diagnosed as suffering from gastroenteritis and alcoholic hepatitis. In December of the same year, Snowdon married Lucy Lindsay-Hogg. In 1981, Llewellyn married Tatiana Soskin and the Princess remained friends with the couple.
Margaret suffered illness and disability in the later years of her life. She was a heavy smoker and suffered a nervous breakdown and depression in the 1970's. In 1985, part of her left lung was removed, reminding everyone of why her late father died. Margaret gave up smoking but continued to drink heavily. In 1993, she had a mild stroke. She had an accident which limited her mobility and she often had to use a wheelchair. The Princess was hospitalized in 2001 after yet another stroke. The strokes had left Margaret with partial sight and paralysis on her left side.
Princess Margaret saw her mother's 101st birthday before dying at 71 years of age on 9th February, 2002. The funeral was held on 15th February, (2002) at a private service at St.George's chapel, Windsor Castle.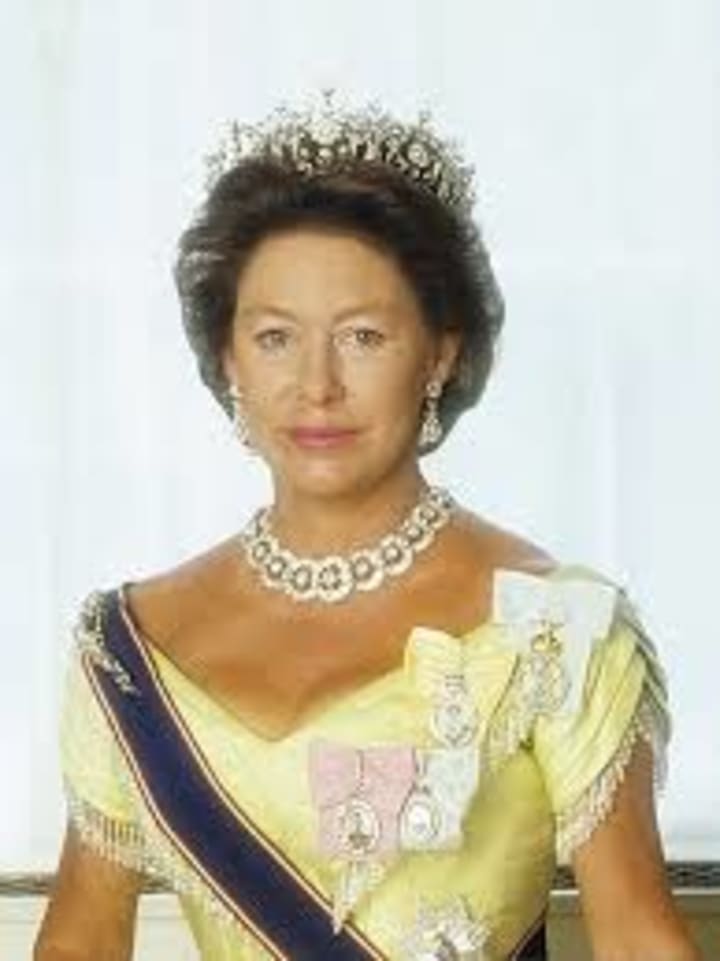 Although I was fairly young when Princess Margaret was alive, I remember the many beautiful photographs of this Princess in such exquisite ball gowns and dresses. She was a fashion icon in her own right, one of the original "Royal Celebrities". Yet, perhaps, she just wanted to be like everyone else, as she was quoted as saying: "My children are not royal; they just happen to have the Queen as their aunt".
( If you enjoyed reading this article, please feel free to like / subscribe / leave a tip / or visit my website, where there are other articles about the Royal family: https://sarah-s-story-book.webnode.co.uk/ )
About the Creator
I love all things Earthy and Self-Help
History is one of my favourite subjects and I love to write short fiction
Research is so interesting for me too
Reader insights
Be the first to share your insights about this piece.
Add your insights