The Perennial Appeal of Rag Dolls
Around the globe and across the years, rag dolls carve their own niche.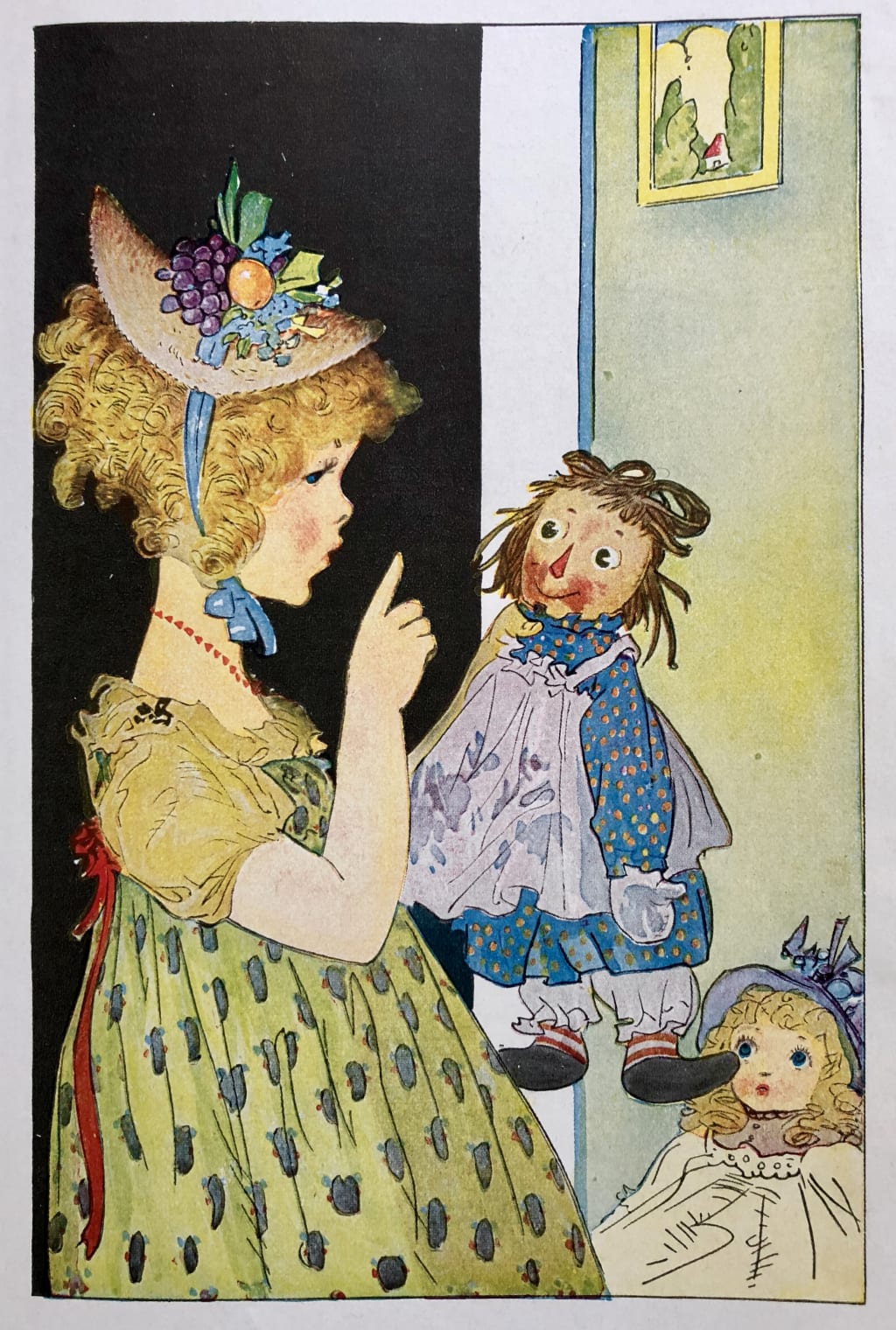 Illustration by Johnny Gruelle in 1918 book The Original Raggedy Ann Stories
There's magic in humble scraps of cloth, deer hide, fur, and cornhusks. With a bead or two, a hank of yarn, and a few embroidered stitches, a rag doll can be birthed. The first parent to cobble together bits and bobs into a human shape and hand it to their child will never be known. The British Museum has a Roman rag doll from 1st-5th century A.D. The linen dolly still retains dabs of paint and even one blue bead, felt to have been a hair ornament. Rag dolls have been around for thousands of years and played with by children around the globe.
Eight-year-old Katie Roubideaux gently cradles her doll in a series of photographs from 1898. John Anderson took the pictures at Katie's birthplace, the Rosebud Reservation in South Dakota. Her father Louis was captain of the Indian Police and the official reservation interpreter. Her mother was Adelia Blunt Knife Roubideaux.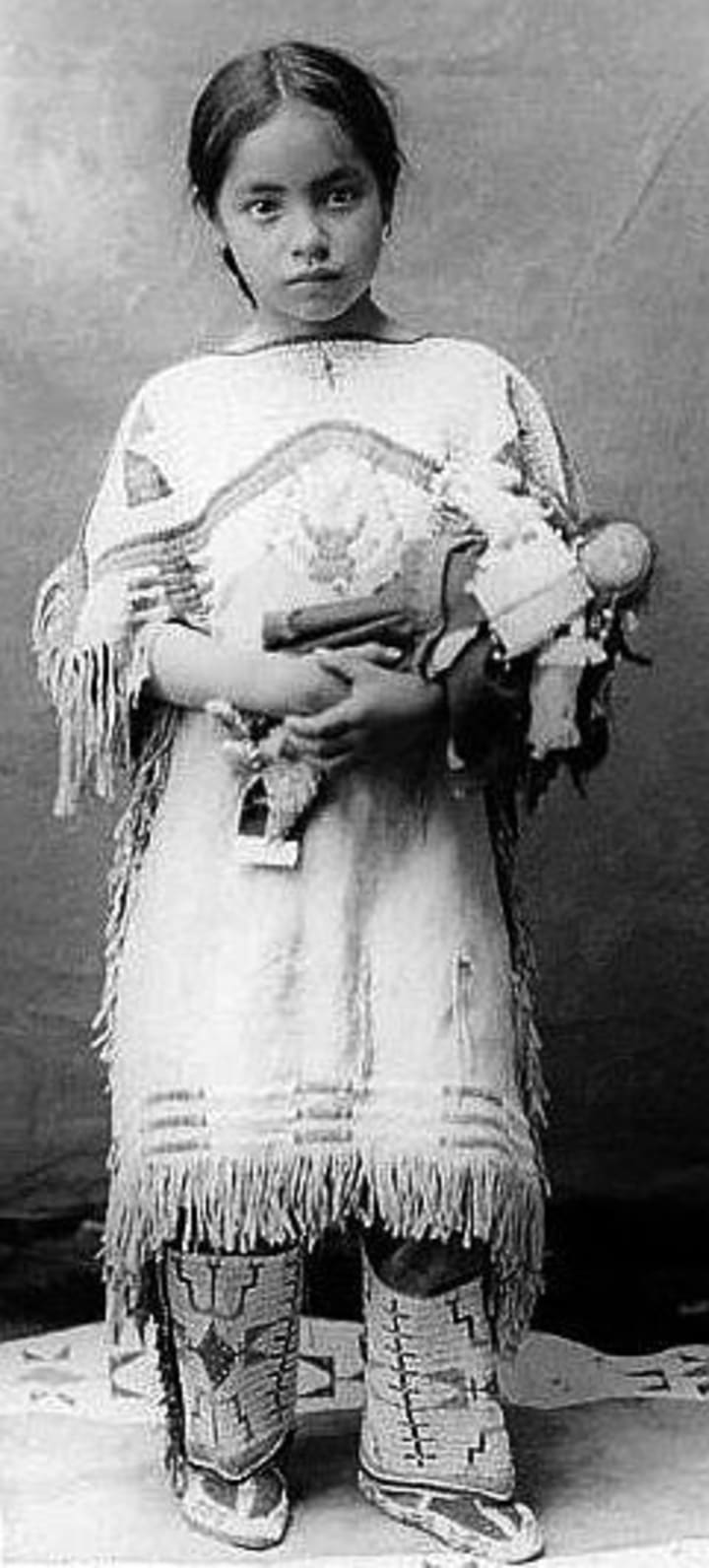 She stands on a saddle blanket atop a buffalo hide. Katie's family took care with her appearance. Her hair is pulled back into a single braid. Her great-aunt Oyate Waste Win Roubideaux made her leather outfit. She wears moccasins, beaded leggings, and a beaded dress emblazoned on the chest with the potent symbol of a bison arched over by a rainbow.
The same attention to detail went into creating her doll. The male doll, also leather, wears trousers and moccasins. A warrior, on his chest is a miniature bone hair pipe breast plate. Even though such traditional breast plates could not protect against bullets, they were highly prized. The Sioux believed them to be imbued with an intangible protective power. Such a fine doll must have fired Katie's imagination as she played with it.
Katie grew up, married, and raised a large family. Daughter Rhoda, interviewed at age 96, fondly recalled her. Other relatives relate Katie's advice to "pray and be good to others." It is likely some of her earliest lessons in nurturing came from playing with her doll. Katie lived to be 101.
Dolls are one example of what psychologists call transitional objects – things used to comfort one's self. They help infants weather being away from their mothers, alone – in their crib, for instance. Soft-to-the-touch treasures, like a rag doll and Linus's security blanket, are typically favored. Even frightened baby chimpanzees, in one experiment, raced for solace to a fuzzy doll-like creature more than to a hard-surface one. Adults also relax and allay anxiety with transitional objects. In one study, 35% of Britons still slept with a teddy bear. Running your hand over your pet dog or cat's fur famously lowers blood pressure.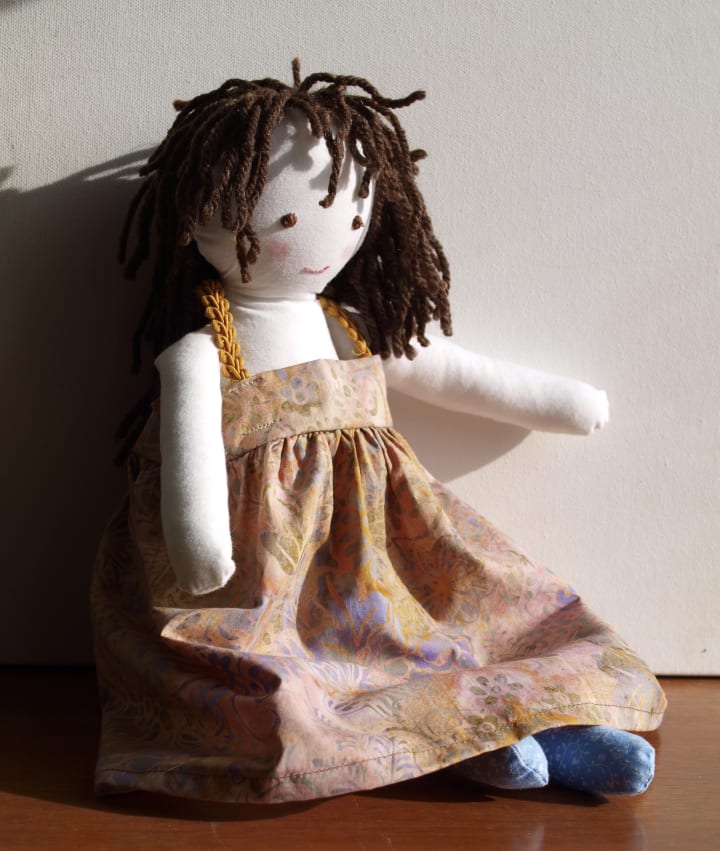 Scientists are beginning to confirm longstanding theories about the positive effects of playing with dolls. Researchers at Cardiff University in Wales published a study in 2020. Boys and girls, ages four to eight, had brain imaging studies done while they played with dolls. Doll play increased activity in the part of the brain associated with processing social activity. Even playing alone with their dolls, the activation occurred.
Spokesperson Dr. Sarah Gerson explained: "We use this area of the brain when we think about other people, especially when we think about another person's thoughts or feelings. Dolls encourage them to create their own little imaginary worlds, as opposed to say, problem-solving or building games. They encourage children to think about other people and how they might interact with each other… our study shows that playing with dolls is helping them rehearse some of the social skills they will need in later life."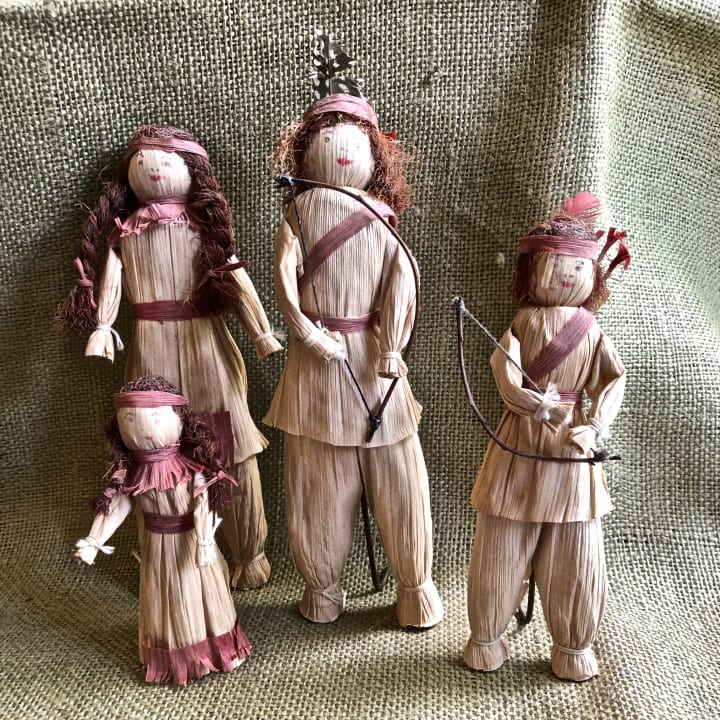 Rag dolls reflect their geographic origin. Our hemisphere's indigenous people first made corn husk dolls. They now pop up where ever corn is grown. I'm from Ohio, where corn is king. An elderly local woman made my set of four cornhusk dolls. Whether the maker was Native American or not is unknown, but her dolls clearly are. Tiny bows in the man and boy's hands, a feather in a headband, and fringed clothing make these dolls' ethnicity crystal clear.
Dolls reinforce cultural and religious norms. Amish rag dolls are dressed typically in the solid blues, blacks, and whites of traditional Amish clothing. Most lack facial features. By doing this, the dolls underline the tenet that "All are alike in the eyes of God." It is consistent and a corollary of the Amish people's discomfort with — and frequent refusal — to have their own faces photographed. This is often explained as a desire to avoid accenting individuality.
Rag dolls, with heavy everyday use by their young owners, become grimy. While parents have been known to create duplicate sets of their child's favorite take-along doll, this can be problematic. Children often refuse a duplicate if they become aware of the swap. They want their doll, not that doll. Psychologists have postulated that the smell of the heavily used doll can become part of the toy's comfort.
The Amish have a solution to this. New faces can be sewn over the original ones. Like an onion, some of the beloved old Amish dolls have layers of faces.
The grim side of a time or culture can also show up as a rag doll. Creepy rag doll versions of the Chucky doll in the slasher film Child's Play and the Cabbage Patch dolls come to mind. Topsy turvy dolls also have a beleaguered origin story.
Topsy turvy dolls are reversible, two-headed dolls. They have no legs. The upper body of each is joined at the waist and a lined skirt attaches at this seam. The two dolls almost always represent a dichotomy. A flip of the skirt and a sleeping doll is replaced by an awake one or a sad doll, by a happy doll.
My childhood topsy turvy doll illustrated the Little Red Riding Hood story. A blue-skirted, blonde, and red-cloaked girl could magically morph into a grey-headed Grandma. Other Red Riding Hood topsy turvy dolls went so far as to give Granny two faces — one a sweet Grandma and the other a snarling wolf.
The earliest documented topsy turvy dolls date to 1852, the year Uncle Tom's Cabin was published. These Topsy and Eva dolls were based on the book's Black child Topsy and White child Eva. There is robust, ongoing discussion about the origins and use of these race-based dolls.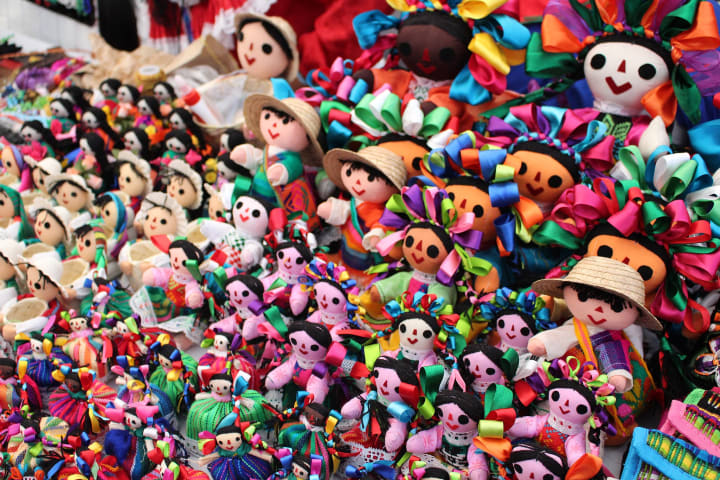 Rag dolls are popular tourist souvenirs. While not every tourist to the US will see an Amish or Navajo doll, almost every traveler to Mexico will come across a Maria doll. In the 1970s, Guadalupe Rivera, daughter of muralist Diego Rivera, began a program to improve one town's economy. She taught the women to make dolls outfitted in the style of the local indigenous people. Fueled by the coincident release of the movie La India Maria with a similarly dressed star, the dolls took off. In Amealco today, seventy percent of the indigenous population (around three thousand people) make these dolls. Amealco has a museum and a yearly festival dedicated to handcrafted dolls. Maria dolls come in all shapes and sizes — key rings, tiny dolls, big dolls, pinatas, and even floats.
At least one American family survived the Depression by making rag dolls. After Portia Sperry's husband lost his job with RCA in New Jersey, the Sperrys made a hard decision. With their four children, they moved to a place they had previously driven through on a vacation — Indiana. They moved into a shack without electricity and no running water. Portia landed a part-time job in a hotel's gift shop which sold locally-made handcrafted items. She decided to mobilize her female friends and neighbors to produce rag dolls to sell. Portia talked Quaker Oats into donating boxes to ship the dolls, arranged sales through Marshall Field's department store in Chicago, and was in business. Their Abigail doll brought the Indiana women $2000 in the 1932 Christmas season. The next year, they created a Nancy Hanks doll named after President Lincoln's mother. The Sperrys pulled through the Depression.
Cloth doll cut-out sheets are a quick and easy way to make a rag doll. Fabric is printed with the parts needed to make the doll. As few as two pieces will do. These swatches are still in production, though they were often used in the past to promote products. One turn-of-the century grain mill produced a full-color cut-out doll of a boy in a miller's cap wearing a shirt with the mill's logo. As late as the 1950s, Aunt Jemima pancake flour sent customers, in exchange for a box top and a quarter, a printed cloth sheet to make an Aunt Jemima doll.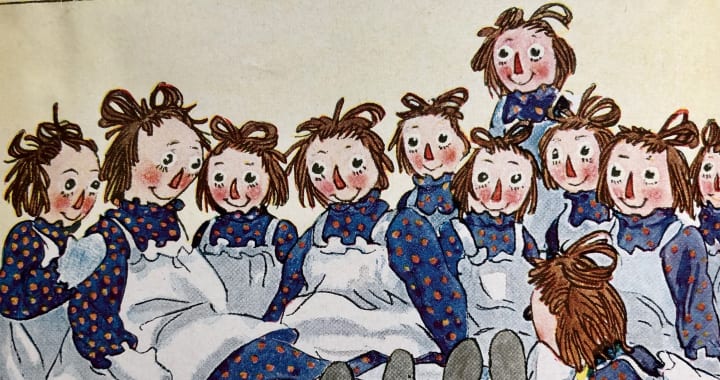 Certainly the most successful rag doll commercialization in America was achieved by illustrator and cartoonist Johnny Gruelle. The story is that Gruelle went to the attic and dug out an old rag doll. This doll became his muse and moneymaker. Gruelle patented his version of the doll. He named it "Raggedy Ann," in an homage to family friend James Whitcomb Riley's poem "Little Orphant Annie." In 1918, Gruelle published "The Original Raggedy Ann Stories" while selling his Raggedy Ann dolls. A few years later, he added — named after another Riley poem "The Raggedy Man" – a boy doll and character, Raggedy Andy. Gruelle eventually wrote dozens of books starring Raggedy Ann and Raggedy Andy. The triangular-nosed red-headed dolls went on to star in everything from musicals to McCall's sewing patterns.
When looking for a meaningful gift for a child, remember rag dolls. They offer more than just plain fun. They can comfort and promote empathy. Consider giving children dolls from a variety of ethnicities and with a range of abilities. Today, there are fabric dolls with g-tubes (gastrostomy or feeding tubes) and ones with Down syndrome. As nice as this might be for a little boy or girl with a g-tube or Down syndrome, such a doll can also help any child develop an inclusive view of the world.
Humble, but powerful, rag dolls live at the boundary of imagination and reality. Enjoy them!
About the Creator
Diane Helentjaris uncovers the overlooked. Her latest book Diaspora is a poetry chapbook of the aftermath of immigration. www.dianehelentjaris.com
Reader insights
Be the first to share your insights about this piece.
Add your insights