The Girl Power Behind Antique Embroidered Samplers
Never underestimate the potential of a child to touch the world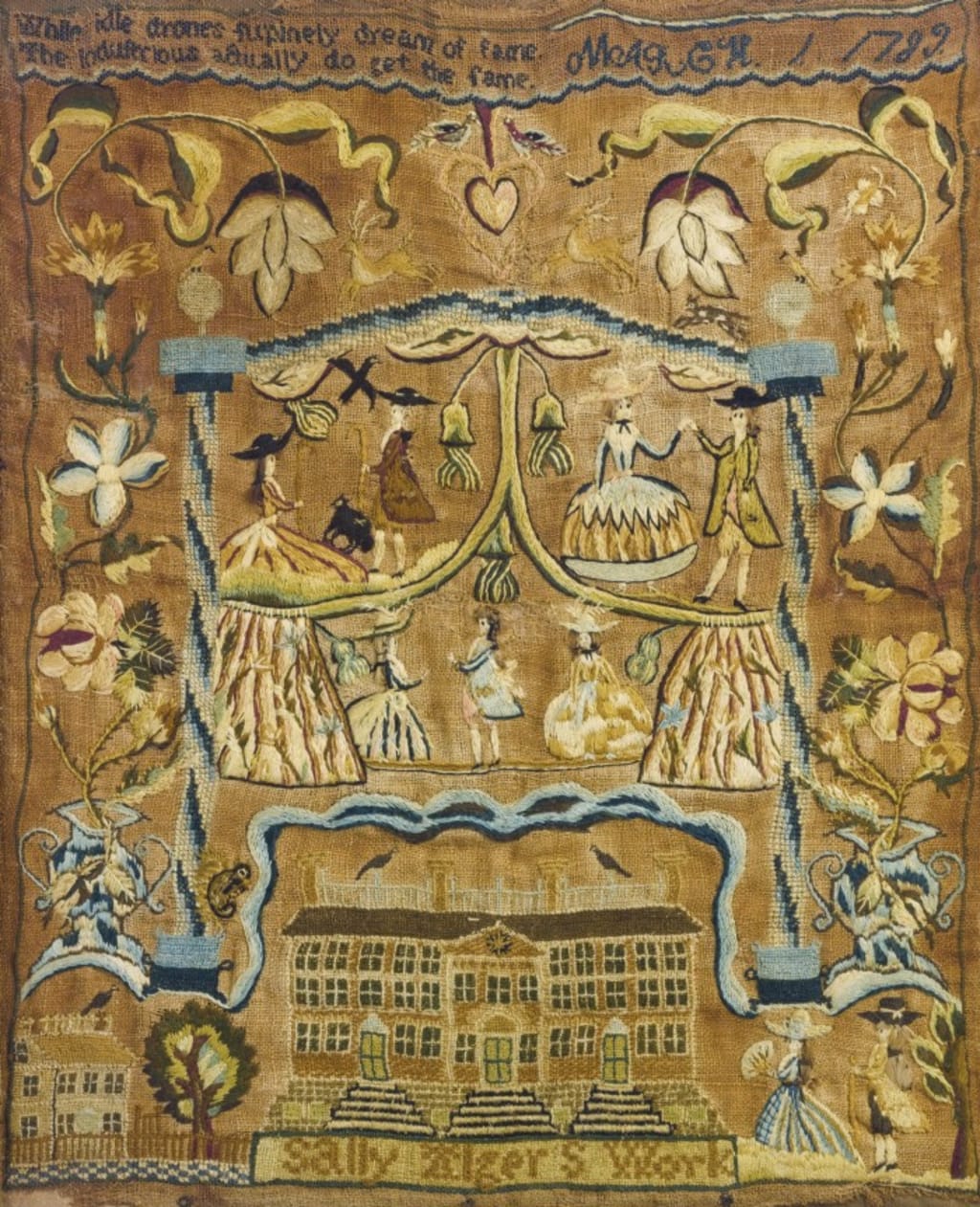 By Sally Alger, Mary Balch's School, Providence Rhode Island, 1782. Wikimedia Commons.
Girl power! What can giggle-box girls do? Turns out, a lot.
Growing up in Ohio, at four, I embroidered. My mother taught me. I outline stitched orange poppies with black French-knot anthers atop stamens. At around the same age, up north in Detroit, Carol Huber also learned to embroider. A favorite treat for Carol was a trip to Kresge's topped off with the reward of an embroidery kit. Once home, she'd embroider the blue lines of the pattern stamped on the heavy fabric. I grew up to use my needle skills as a physician. Carol grew up to own, with her husband Stephen Huber, The Huber Gallery in Old Saybrook, Connecticut. The preeminent antique shop is dedicated to samplers and other school girl embroideries. The Hubers are sought-after by museums, collectors, auction houses, and historical associations for their expertise. I recently enjoyed speaking with Carol.
Samplers originated, in the time before printing presses, as references for embroidery stitches. Around 1650 they morphed into a tool for girls to learn, practice, and show off their needlework skills, skills necessary for running a home as a wife and mother. This practice blossomed until about 1850 when girls' lives transformed by industrialization. Public schools, with a curriculum shared by both boys and girls, became more available. Sewing machines partially replaced hand sewing. Women began to enter the work force. The world moved on and in its wake, shed thousands of bits of embroidered cloth. The Sampler Archive Project has estimated tens of thousands of samplers still survive in the United States. They are stowed away in cedar chests, hung on walls, stored in museums, sold by dealers, and lovingly passed down thru the makers' descendants. These embellished squares and rectangles survive as a window into cultures, religion, artistic esthetics, and the growing-up lives of women. Often, they are all that remains of a girl who is otherwise lost to history.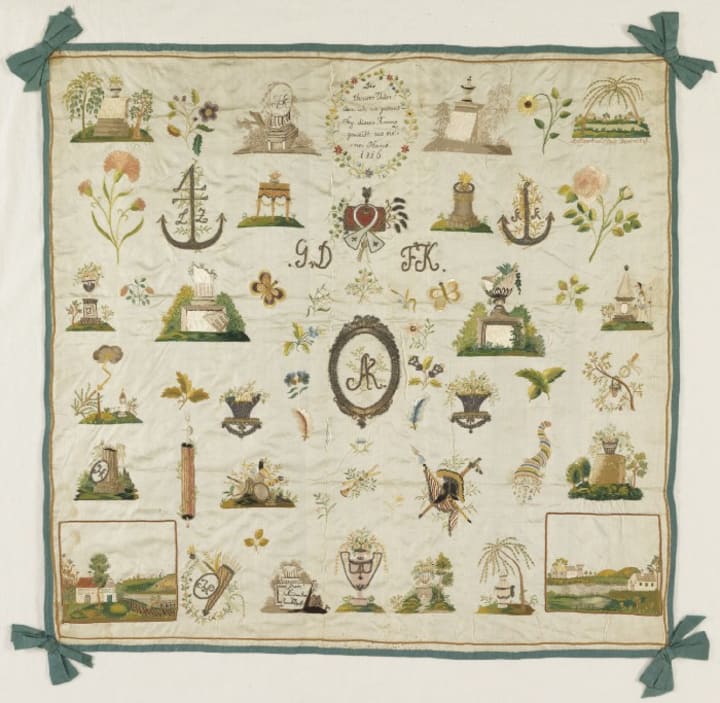 For two hundred years, the soft, chubby fingers of girls as young as four and the nimble, slender fingers of adolescents threaded needles and made samplers. Girls around the globe, from rainy Welsh villages to raw American colonies to the Dutch lowlands, embroidered them. Styles and motifs varied with geographic location and culture. English girls used sampler cloth, a tight, fine wool and arranged their motifs symmetrically. American girls usually chose a linen background and a more free-form motif placement. Crown motifs understandably became less common in America after the Revolution. Quaker girls used blocky letters. German art influenced Pennsylvania samplers. Moravian schools in South Carolina and Pennsylvania created distinctive styles among their students. Samplers by African American and Native American school girls reflected their lives.
The girls honed their stitching prowess for a decade or more before fledging to their adult futures. Mothers, grandmothers, and other family members taught them.
For those whose families could afford to educate them, needlework training continued in day schools, boarding schools, and academies.
According to Carol Huber, girls typically began by creating a marking sampler. Linens were a valuable household commodity. Each piece was traditionally embroidered with a letter (the first letter of the family's surname) and a number. For instance, a table cloth in my family might be "H1" and another tablecloth "H2." This helped ensure linen sent out for laundering could be properly tracked and returned. The marking samplers featured the letters and numbers which the girls would later embroider on their own family's linen.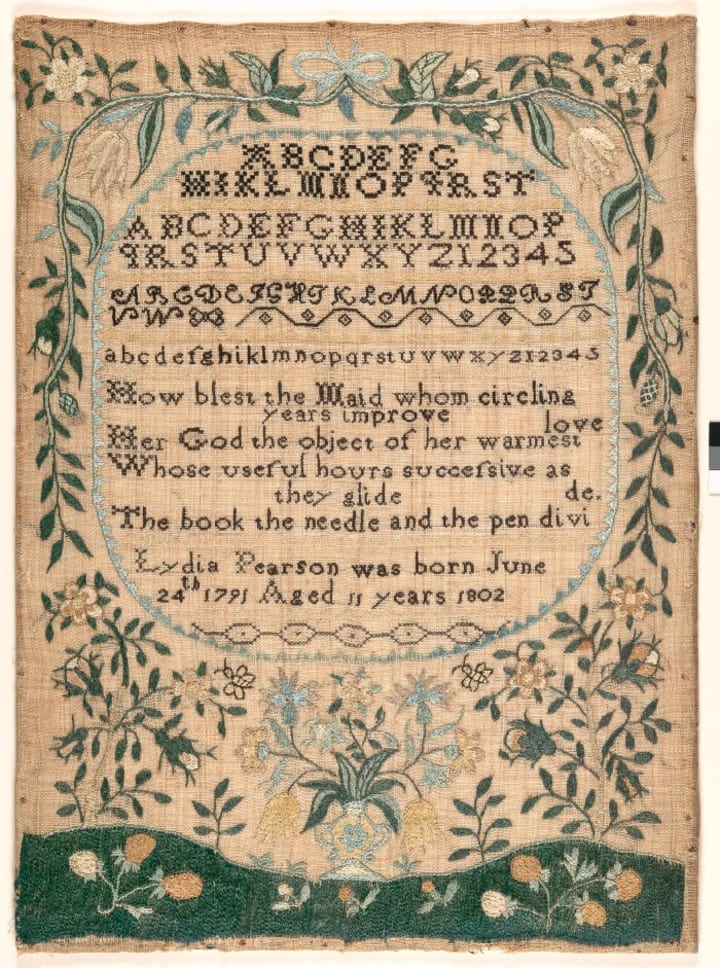 Girls usually made at least two samplers — a marking sampler and later, a pictorial one. Pictorial samplers usually include motifs, descriptors such as the maker's age, and the name of the maker. About half of American samplers include a poem which are often religious. Once completed, they were proudly displayed. Framed and hung in the parlor, they served as not-too-subtle advertisements of the girls' suitability as future wives. Potential suitors could examine their needle skills but also be reminded of the young woman's religiousness, patience, and — some claim — obedience. The samplers also gave an indication of the family's affluence.
There are several types of pictorial samplers. Death was up close and personal at the time. In 1800, nearly half of children died before age five. The dead were prepared for burial by their families, often laid out at home. In the late 1700s and early 1800s, accomplished girls were expected to include memorial samplers in their repertoire. These are recognized by such motifs as weeping willows, mourning figures, and a block-like tomb or mausoleum labeled with the departed's name. Girls without a person to memorialize might inscribe the tomb as "sacred to friendship," reminiscent of today's BFFs.
Family record or family register samplers resemble the classic family Bible entries with names and dates of birth, marriage, and death of family members. Carol Huber has on display a family record sampler embroidered in 1831 by a Massachusetts fisherman's daughter, Lydia Heath. The lavishly embroidered register was updated with her parents' and siblings' deaths. Finally, forty-four years after Lydia made it, another woman completed the sampler by adding Lydia's death at age fifty-eight. Family register samplers serve as treasure troves for genealogists. In the past, they also served as documentation for military pension applications.
School girls created geographic samplers as a hands-on learning tool. Double-hemisphere maps of the world and maps of solar systems were common subjects. In 1790 an unknown English girl carefully mapped "The Farm Called Arnolds" in Essex. Now in London's Victoria and Albert Museum, the map shows the "upper oate field," "gravel pitt field," neighboring properties, and more. With charming birds, spaniels, a cat, baskets of flowers, and a twining border the embroiderer elevated the parameters of her everyday world to true artistry.
A particularly poignant sampler, also held in the Victoria and Albert collection, resonates with the struggles of adolescence. Around 1830, Elizabeth Parker created a red-on-white, text-only sampler. In stitching as neat and clear as a Courier font Word document done today on a laptop, Elizabeth pours out her heart. Reading it is like reading the diary kept locked under a high school girl's pillow in the 1960s. One of eleven children, Elizabeth was put out to work as a nursemaid at age 13. She rebelled against her parents' recommendations. ("…had I taken my fathers and mothers advice I might have remained in peace until this day…") She left her post for another. There, she was mistreated and spiraled down into suicidal despair. She writes of her urges to harm herself, the successful intervention of a doctor's counsel, her worries about God, and her feelings of shame. Elizabeth survived her teen years, dying in 1889 at age 76.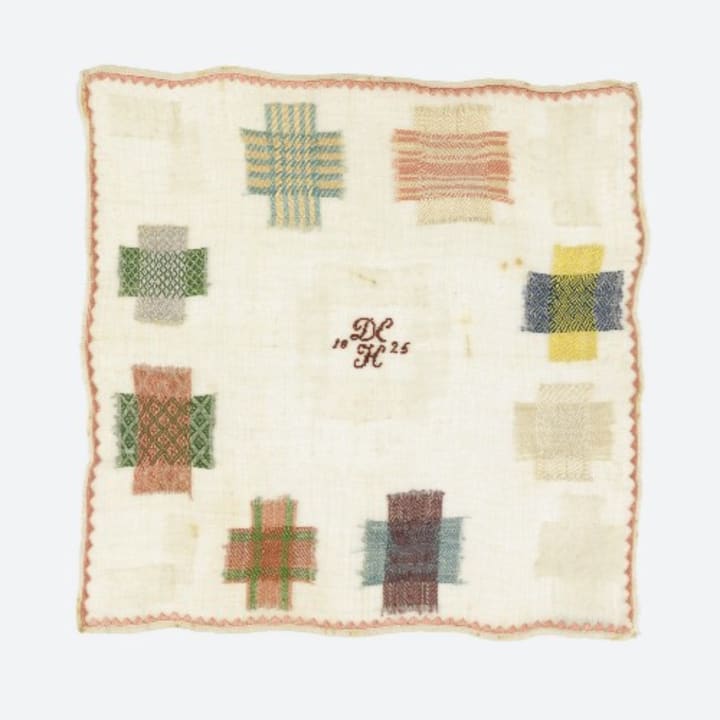 Other samplers were dedicated to sewing techniques such as buttonholes and darning. Anyone who has ever considered fashioning a hand-made buttonhole has to admire these. (Even making a buttonhole with a sewing machine can be a challenge!) Border samplers, like modern counted cross stitch pattern books, are filled with row after row of border work.
Girls from wealthy families who went on to study at boarding schools or academies might complete elegant silk embroidered pictures. These, often featuring scenes from the Bible, Shakespeare, or the classic tales of Greece or Rome, combined watercolor and silk embroidery. Certain portions — the sky, water, faces — were painted in by professional painters, instructors, or, at times, the girl herself.
Today antique samplers can be studied and enjoyed virtually or in-person. Samplers are held in over 140 collections in the United States. The Smithsonian, the Abby Aldrich Museum of Folk Art in Williamsburg, Virginia, and the Metropolitan Museum of Art are among them.
Most museums' collections rotate those on display as the textiles are fragile. Special exhibits can be an opportunity to see a number of samplers. Many can be seen online.
England's Fitzwilliam Museum in Cambridge of offers a virtual video tour of English samplers. The Fitzwilliam Museum has around four hundred samplers including those created by poor girls educated at special schools.
The Sampler Archive is one effort to promote availability of images of samplers. The database has a browsable collection. It is a federally funded collaborative effort led by the University of Delaware and the University of Oregon. The National Society of the Daughters of the American Revolution (DAR) has joined this effort as one of the first three pilot sites to share images from their collection.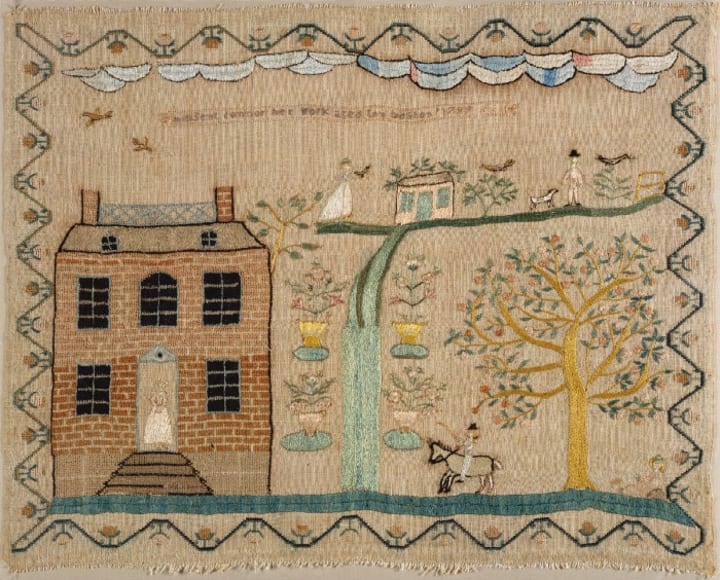 Samplers also can be found in antique and vintage shops, estate sales, and auctions.
The Sampler Consortium is an international organization dedicated to girlhood embroideries and offers information about them.
Inspired to embroider a sampler? Kits are available as well as online and printed instructions.
They range from reproduction of historic samplers to simple printed cross stitch samplers.
Embroidering a sampler remains one of the best ways to introduce sewing to a child. Children enjoy using colors. They develop their fine motor skill as they thread the needle, tie knots, and learn where to poke the needle. Cross stitch can be particularly easy. The design can be from a kit or you or your child can draw a simple design. With a needle, floss, hoop, and single piece of cloth, the child is on their way.
You can see Carol Huber's collection of girlhood embroideries, including a piece embroidered by William Penn's sister for their father, on her shop's website. Call ahead and stop in if you get to Old Saybrook. You can even arrive by boat as mooring is available!
Browsing the samplers created by these girls from long ago, however you do it, cannot fail but inspire you with the potential girls have to create, to influence, and to make a difference.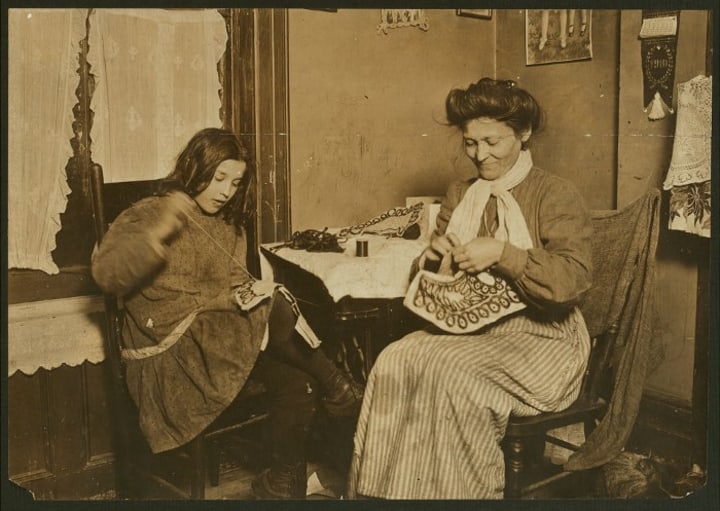 About the Creator
Diane Helentjaris uncovers the overlooked. Her latest book Diaspora is a poetry chapbook of the aftermath of immigration. www.dianehelentjaris.com
Reader insights
Be the first to share your insights about this piece.
Add your insights