The Courageous Woman Who Gave Everything to Win the Right for Women to Vote
Emily Davison was a prominent member of the British Suffragettes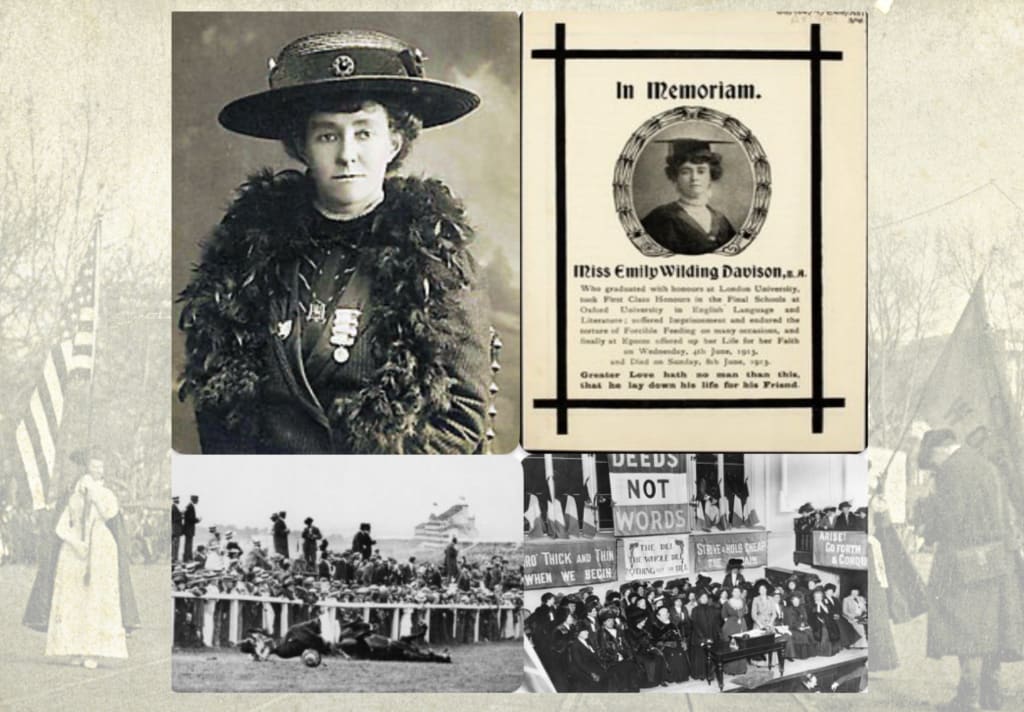 Emily Davison was a member of the British Suffragette movement who fought for the right of women to vote. Intelligent and determined, she spent much time in and out of prison for her activism.
Throughout her time as a suffragette, she was arrested nine times, went on hunger strike seven times and was force-fed forty-nine times.
Her last act was the ultimate sacrifice for the cause; however, this backfired, causing more harm than good. Despite this, Emily remains one of the most famous suffragettes.
Who was Emily Davison
Emily was born in the Blackheath, London, on 11th October 1872. She was a bright woman who was a clear high achiever. This led to her being granted a scholarship to study literature at Royal Holloway College.
Despite starting college, she did not remain there long as her father died and her mother could no longer pay the tuition fees.
Emily became a teacher, and whilst working full time, she saved money to finish her studies at London University, where she graduated with a Bachelor of Arts.
After this, she attended St Hugh's College in Oxford for only one term, which was a male-dominated world. It was here that she started to develop strong opinions about the limited opportunities for women in society.
The Women's Social and Political Unit
Known as the WSPU, Emmeline Pankhurst founded this female society. It was also a more militant offshoot of the original Suffrage Societies. The WSPU stated that by disallowing women the vote, they were classing them as second-rate citizens.
In November 1906, it caught the eye of young Emily; she was soon considered a radical member. She rapidly advanced through the ranks and became the head steward of the unit.
With this added responsibility, Emily gave up work to dedicate more effort to their cause. Through her time with the WSPU, she was a recognised activist.
She was instrumental in many of the movement's activities throughout her time with the unit. For example, she was found three times hiding in the air ducts of the House of Commons listening to parliament.
She threw metal balls labelled 'bomb' through the windows of parliament. This act saw her sent to prison. She also tried to enter the room of the Chancellor when he was giving a speech and hurled rocks at his car.
Prison Life
In four years, she spent another five times in prison. She went on a hunger strike during one of these stays in 1909. The authorities decided rather than releasing her, they would force-feed her.
In response, Emily barricaded herself in her room, which led the prison officers to try to remove her by flooding her room with freezing water. She was saved just in time before she drowned.
When she made her treatment public, there was an outcry. Finally, she took the case to court and was awarded compensation for her treatment.
She returned to prison in 1912 for setting light to post boxes. Once again, she went on a hunger strike and was force-fed. This time she threw herself from a balcony, causing herself injuries that would cause her discomfort for the rest of her life.
I did it deliberately, and with all my power, because I felt that by nothing but the sacrifice of human life would the nation be brought to realise the horrible torture our women face. If I had succeeded I am sure that forcible feeding could not in all conscience have been resorted to again. - Emily Davison
Dying for the Cause
These acts prompted the authorities to realise that the women were prepared to become martyrs for their cause. The response was to bring in the Prisoners' Temporary Discharge for Health Act.
The act stated that prisoners could be released if they threatened a hunger strike but were to be arrested again when they regained their strength.
Emily suspected that she would die in prison, and the authorities would claim it was an accident. However, if she were to become a martyr, it would have to be an incident she controlled in the public eye.
The Epsom Derby
On 4th June 1913, many rich and famous met to watch the Epsom Derby horse race. King George V and Queen Mary were the most prominent people there.
One of the King's horses, Anmer, was to be one of the runners in the race. It was this horse that became the target of Emily. The horse was easy to spot as the rider wore the King's colours. A bonus was that the whole event was recorded for television.
As the horse came thundering around a part of the course known as Tattenham Corner, Anmer was third from last. Emily had pushed herself through the crowd and underneath the protecting rail.
As the horse came around the final corner, he could not avoid crashing into Emily as she stood in his path. She was holding a suffragette flag. The jockey on the horse was thrown, receiving minor injuries, and Anmer finished the race alone.
Emily was rushed to the hospital with severe internal injuries. She died four days later, a martyr to the cause aged forty. Her funeral was held in London, where thousands lined the streets to pay their respects.
The Suffragette Movement
It is uncertain whether Emily intended to kill herself with this act. A return ticket and a flyer about a meeting that evening were in her bag. Some state that they thought she was trying to tie a flag to the horse's bridle.
Regardless, Emily was a woman who was prepared to kill herself for the cause. She had always thought a sacrificial act would raise the cause's profile. However, this was not to be as she was portrayed as a mentally ill fanatic.
Many movement members were so appalled that they ceased associating with the cause. The media, for its part, helped with this narrative by only ever speaking about the poor horse and jockey. Although, both raced two weeks later at Ascot.
The First World War broke out the same year, which pulled society back together, and much political activism was forgotten. Finally, in 1928, the Equal Franchise Act was passed through parliament, which gave women over the age of twenty-one the right to vote.
About the Creator
Productivity hacks, writing tips and other stories about your writing hustle. My life as a full-time parent, teacher and part-time writer.
For more of my crime article then join my True Crime magazine at https://www.murdermayhem.uk
Reader insights
Be the first to share your insights about this piece.
Add your insights