Port Security
Protecting the Nations Ports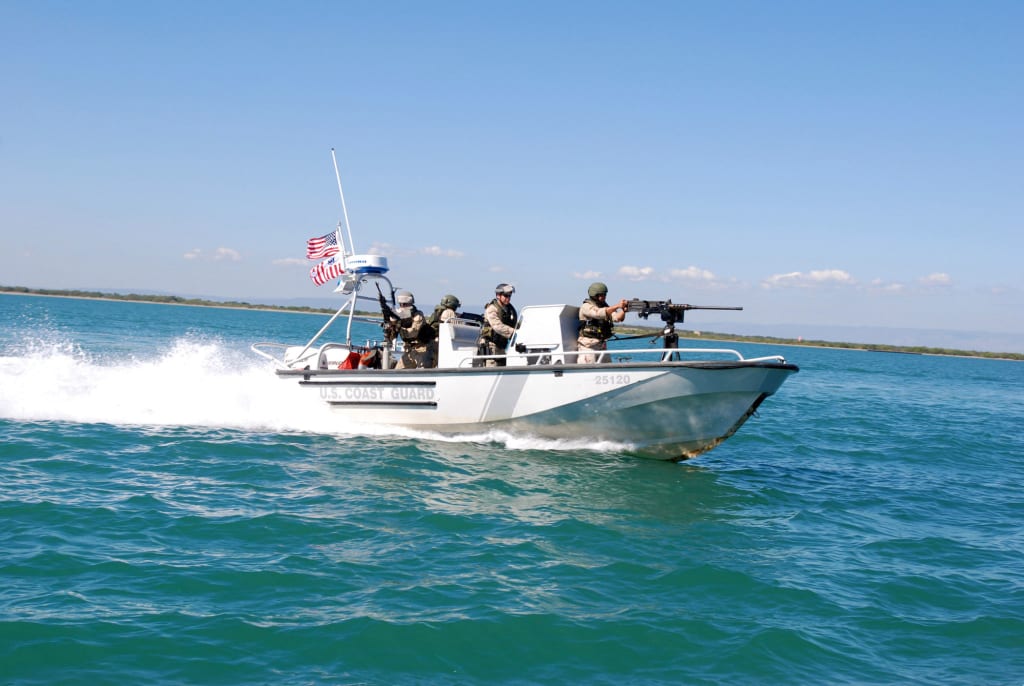 Patrolling the waterways
The flow of imports and exports coming into and out of the United States is a massive part of the United States economy and critical infrastructure to the global economy. Before 9/11, the focus on these ports would be general criminal activity, physical and cargo security of the premises, access control, and military mobilization security. It was estimated that only about two percent of cargo containers were checked (Pate, Taylor, & Kubu, 2008).
Before 9/11, no national plan was in place for port authorities, no two ports were the same, and each had different rules for handling cargo. No federal agencies regulated seaports, and private businesses managed over the ports. The Coast Guard also patrolled the coasts and harbors; however, it stayed out in the open sea instead of coming into the waterways closer to land. (Kilborn, 2001)
In 2000 a government crime commission reported on twelve major seaports to find that only three tightly controlled access and nine were unprotected. The report concluded that no one was truly in charge and had no guidance. Congress had attempted to create an all-in-one security system managed by the Coast Guard; however, the American Association of Port Authorities argued that it would not work for all seaports (Kilborn, 2001).
After 9/11, the Coast Guard became a transition into a new federal agency; they began to focus on the unity of effort and responsiveness (Thiesen, 2017). The Maritime Transportation Security Act of 2002 (MTSA) was enacted after 9/11 to prevent terrorist attacks by adding an array of security measures; it added conducting vulnerability assessments in ports and vessels and developing security plans for risks within the maritime system ports and vessels. Implemented the biometric cards to restrict access to only authorized personnel (I feel like this should have already been in place) and established a process to assess foreign ports for vessels coming to the United States (Homeland Security, 2014).
The Safe Port Act was enacted in 2006 to be passed. It created a multifaceted, layered approach towards risk and disruption (Homeland Security, 2014). The Safe Port Act added port security by requiring national and regional security plans and mandating Coast Guard-approved incident plans for all vessels and ports." (US Government Printing Office, 2010). This act also prohibitions transportation security cards to individuals with certain felonies, anyone who may have been found guilty or not guilty due to treason, espionage, sedition, or a crime listed in chapter 113B of title 18. The Safe Act created "Interagency operational centers for port security" this allowed intelligence sharing among ports and a Port Security Training Program to provide awareness and address security issues.
The Safe Port Act allows the Custom-trade partnership against terrorism by a voluntary government-private sector program (C-TPAT). This program is reviewed once a year and updated requirements when needed. (109th Congress, 2006).
The Small Vessel Security Strategy focuses on providing a framework to improve maritime security and safety. With over 13 million registered recreational vessels in the United States, terrorists could use them for various activities. This strategy takes the other strategies used in maritime service and adds onto it to create a multi-layered approach (DHS, 2008). The goal is to increase partnerships with small vessel communities and private sectors to enhance maritime domain awareness.
When these acts are compared to a pre-9/11 port authority, it is incredible to see how the United States was not prone to a terrorist attack sooner. The idea that only two percent of the cargo was checked and that most ports were running unchecked by private businesses begs one to wonder what type of possible human traffickers or drug trades were happening. Due to the MTSA, Safe Port Act, and Small Vessel Security Strategy increased port security, and a uniform, secure approach was created. These acts allowed for national and regional security planning and mandated security protocol. Before 9/11, the Coast Guard also remained in open waterways; with the Small Vessel Security Strategy, a framework was provided to add a multi-layer approach, now the Coast Guard are in local waterways, in the bay, and not just out in the ocean.
Before 9/11, seaports were run like the wild west, it was every port for themselves, and each ran by its own business. None of the ports was uniform, and no guidelines were in place that stated what a port should do or not do. Even when Congress attempted to have the Coast Guard make the ports more secure, businesses pushed back. Americans before 9/11 believed it was untouchable and never thought a terrorist attack would occur in the homeland. After 9/11, the government took a sterner approach and created laws and policies to regulate security and inspections for cargo coming in and out of the United States. Over time new Acts were created to fill in the security gaps, and the ports became more secured.
References
109th Congress. (2006). Security and Accountability For Every Port Act of 2006 "SAFE Port Act". Washington DC: 109th Congress.
DHS. (2008). Small Vessel Security Strategy. Homeland Security.
Homeland Security. (2014, June 4). Written testimony of PLCY, USCG, CBP, TSA, FEMA for a Senate Committee on Homeland Security and Governmenal Affairs hearing titled "Evaluating Port Security: Progress Made and Challenges Ahead". Retrieved from Homeland Security: https://www.dhs.gov/news/2014/06/04/written-testimony-plcy-uscg-cbp-tsa-fema-senate-committee-homeland-security-and
Kilborn, P. (2001, November 7). A Nation Challenged: The Seaports; On the Dock, Holes in the Security Net are Gaping. Retrieved from The New York Times: https://www.nytimes.com/2001/11/07/us/nation-challenged-seaports-dock-holes-security-net-are-gaping.html
Pate, A., Taylor, B., & Kubu, B. (2008). Protecting America's Ports: Promising Practices. National Instiute of Justice.
Thiesen, W. (2017, September 11). 9/11 and the U.S. Coast Guard. Retrieved from The Maritime Executive: https://www.maritime-executive.com/features/remembering-the-coast-guard-response-to-911
U.S. Government Printing Office. (2010). Safe Port Act Reauthorization: Securing our Nation's Critical Infrastructure. Committee on Commerce, Science, and Transportation United States Senate (pp. 67-271). Washington DC: U.S. Government Printing Office.
Historical
About the author
My mind has stories forming all the time; they tend to get wrapped up in life and never on paper. My works are scattered within real life.
Find me:
Kindle Stories: https://www.amazon.com/author/hunteralex
Reader insights
Outstanding
Excellent work. Looking forward to reading more!
Top insights
Easy to read and follow

Well-structured & engaging content

Excellent storytelling

Original narrative & well developed characters

Expert insights and opinions

Arguments were carefully researched and presented
Eye opening

Niche topic & fresh perspectives

On-point and relevant

Writing reflected the title & theme
Add your insights