Jean-Henri Riesener, cabinet-maker to French kings
His career, but not his head, fell victim to the French Revolution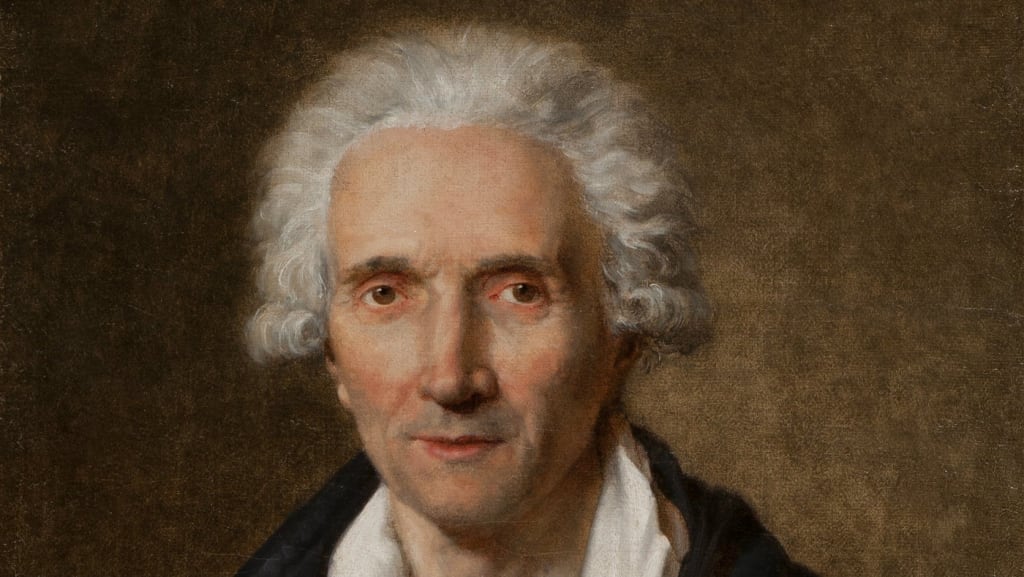 Jean-Henri Riesener was one of the finest cabinet-makers of his age, which, unfortunately for him, coincided with the French Revolution. The opulence that he played a major role in creating was fine for the court of King Louis XVI and Marie Antoinette, but when his aristocratic customers lost their heads, or at least their fortunes, his own fortune went downhill with theirs and he eventually died in poverty.
Jean-Henri Riesener was a German (with the names Johann Heinrich), born near Essen on 4th July 1734. He moved to Paris as a young man and joined the workshop of Jean-Francois Oeben, who was cabinet-maker to King Louis XV. When Oeben died, Riesener, at the age of 29, took over not only the workshops but Oeben's widow, whom he married.
Riesener's first tasks were to oversee the completion of several projects that Oeben had left unfinished, including a magnificent desk, the "bureau du roi", that Louis had ordered for his palace at Versailles. Riesener paid particular attention to the marquetry panels (designs using inlaid veneers of different coloured woods, etc) on the desk, which he signed.
On Louis XV's death in 1774, Riesener was appointed cabinet-maker to the new King, Louis' grandson who now ruled as Louis XVI. An early order was for a commode (a broad low chest, usually for bedroom use) to be decorated with marquetry and ormolu (gilding), and a second commode was ordered the following year, this one being even grander and more highly decorated.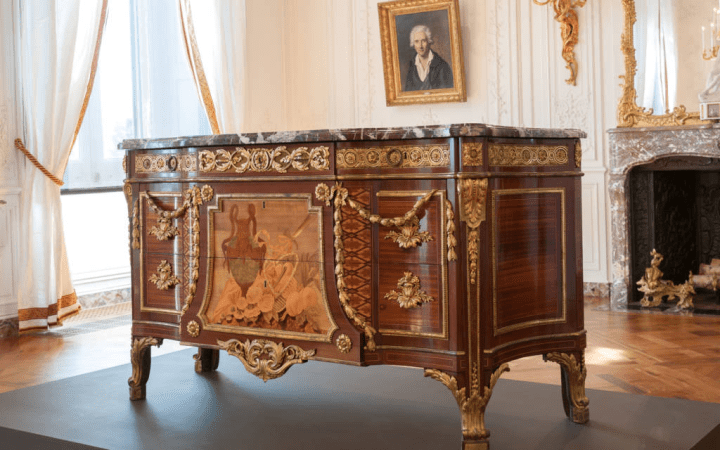 made a number of writing-desks and tables for the royal apartments, some of them being cleverly designed to adapt to other functions at the push of a button. During the decade to 1784, Riesener's workshop turned out a whole series of magnificent pieces, on which no expense was spared. Riesener himself became both prosperous and famous as a result, not only in France but throughout Europe.
However, things started to go wrong in 1784, when the royal household was forced to cut back on its expenses, a consequence of the financial crisis caused by France's support of the Americans during their War of Independence. Royal orders for furniture were placed with cheaper cabinet-makers and Riesener was forced to make drastic price cuts for pieces already under construction.
He therefore decided to give up his official position and concentrate on taking private orders for members of the aristocracy, although he also did important work for the Queen, Marie Antoinette. The latter included a commode and writing-desk that incorporated lacquer panels rather than the more expensive marquetry that he would have produced previously.
However, the Revolution that started in 1789 marked the beginning of the end for Riesener. The new rulers had no interest in destroying the luxurious items that had been commissioned by royalty and aristocracy, but they had no use for them either. In 1795 Riesener was called upon to remove all royal emblems from his furniture, as these were deemed the "trade marks of the feudal system".
Many pieces were sold off, and Riesener even tried to buy some of them himself, with a view to selling them on at a profit, but this scheme came to nothing.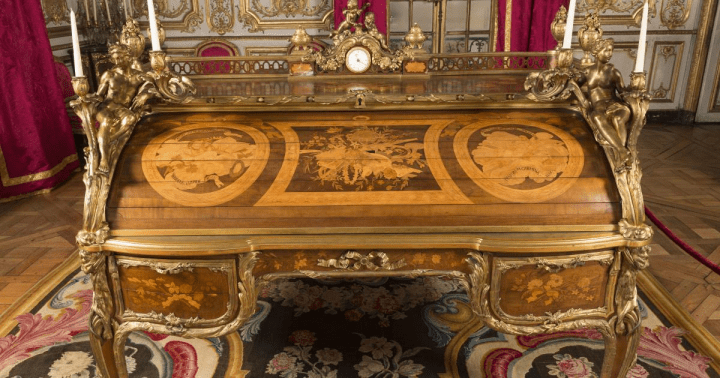 Tastes were changing, with neo-classical becoming the style of choice in preference to the lavish opulence of the Louis XVI style that had marked the work of Riesener and his colleagues. Eventually he had no choice but to close his workshop. He died on 8 January 1806 at the age of 71.
Riesener's pieces were typified by their exquisite marquetry, their generous use of ormolu, and their graceful lines. Riesener's work was very varied and often experimental. Many of the pieces made for the royal apartments feature ormolu mouldings and figures in high relief on the corners, the decoration almost overpowering the woodwork. However, his furniture always displayed a sense of harmony, balance and proportion, even at its most ostentatious. He employed only the very best craftsmen and clearly allowed nothing to leave his workshop unless it was perfect in every detail.
A number of pieces by Riesener survive and can be seen at former French palaces such as Chantilly and Versailles, the Louvre, and several overseas museums including the Wallace Collection in London and New York's Metropolitan Museum of Art.

John Welford
I am a retired librarian, having spent most of my career in academic and industrial libraries.
I write on a number of subjects and also write stories as a member of the "Hinckley Scribblers".
See all posts by John Welford →