Inside the Supreme Court Case that Included Centerfolds, a Pre-Trial Arrest, and an Exploding Wheelchair
Keeton v. Hustler Magazine (1984) was one of the most outrageous Supreme Court cases, and set a legal precedent still studied in law school today.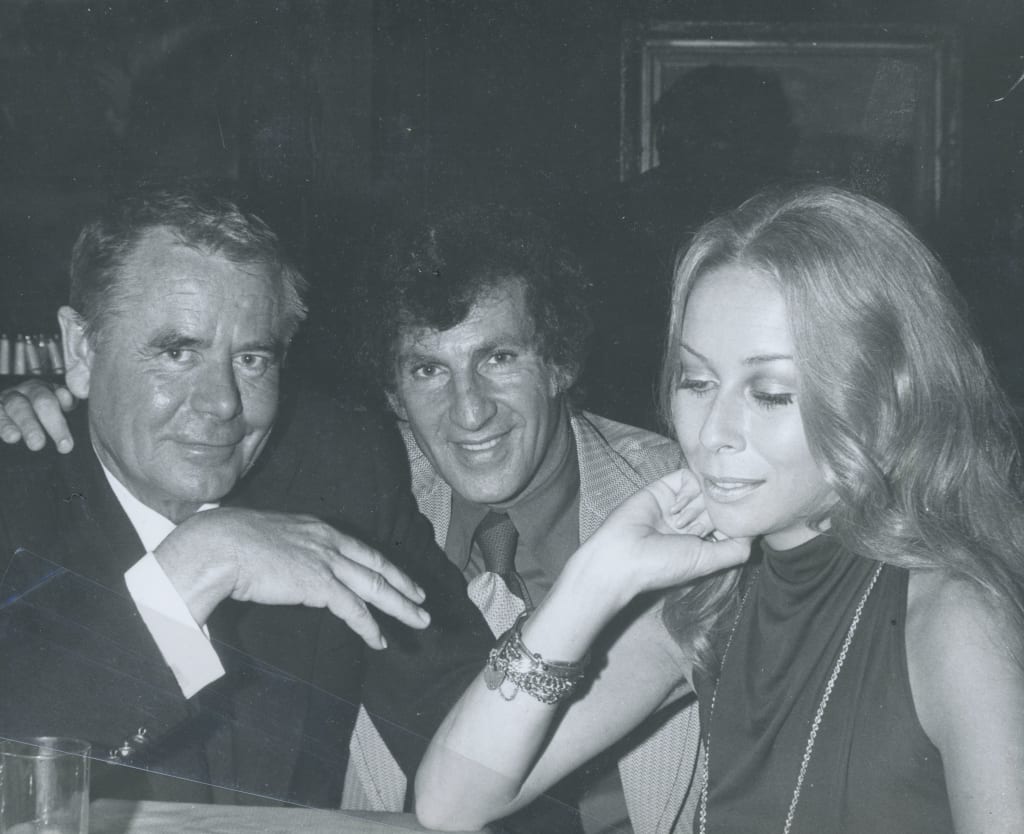 Actor Glenn Ford (left), Actor Nicky Blair (center), and Publisher Kathy Keeton (right), undated. The OG Collection.
With each Supreme Court term comes landmark decisions, headlines about Justices' remarks, and politicians' reactions. Every once in a while there is a case that creates a significant legal precedent and has enough tawdry details to land in both the tabloids and in an FBI file. Keeton v. Hustler Magazine, Inc. argued in 1983 and decided in 1984 has this bombshell combination.
Hustler Magazine was much more bold and brash than Penthouse, taking Bob Guccione's eye-catching headlines and pictorials many steps further. Founder Larry Flynt pushed the envelope from the first issue in 1974, featuring intensely explicit photos, offensive cartoons, and very little written reporting. Flynt also escalated the competitive nature of Penthouse's U.S. launch, personally attacking the publisher in his magazine rather than drawing up symbolic ads like Guccione's famous "We're going rabbit hunting" advertisement positioning Penthouse against Playboy. Hustler also attacked Guccione's partner in life and business Kathy Keeton. These features included a centerfold pictorial of a nude woman who was not Keeton labeled "Kathy Keeton — who says you're over the hill at 50" and published in 1975 when Keeton was 36, and a 1976 cartoon alleging that Keeton had contracted a sexually transmitted disease from Guccione.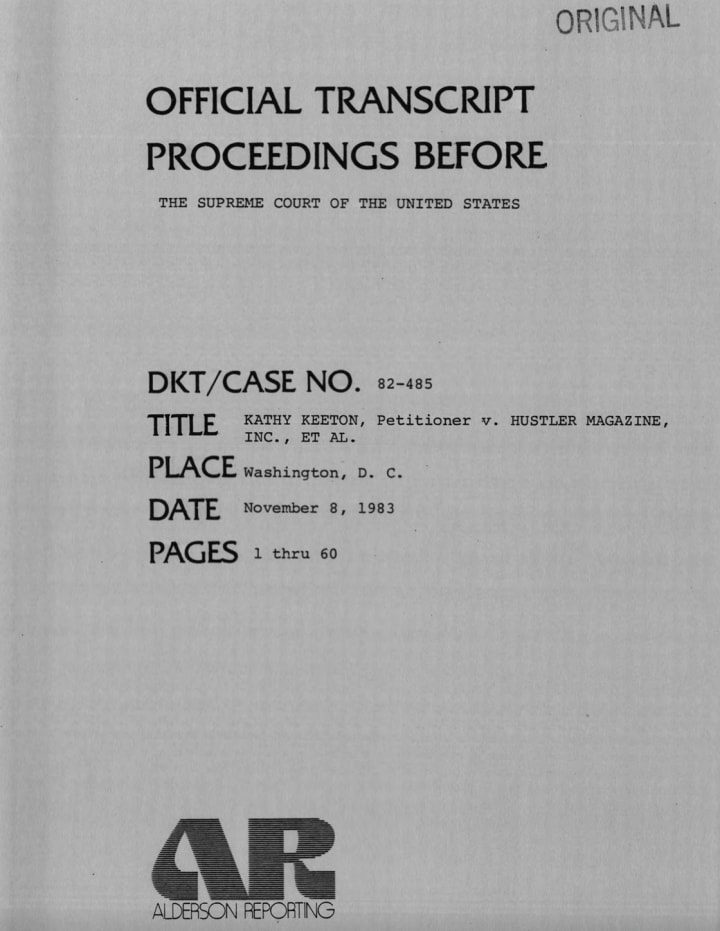 After nine years of Hustler content addressing Keeton she decided to sue for $1.6 million in damages from the libel. The case made it all the way to the Supreme Court, where Flynt protested that threats of libel undermined his freedom of speech. Always one to take it a step further, Flynt requested that he represent himself in the case. When he was denied this request by the Justices, he responded "Fuck this court!" along with other expletives directed at the Justices.
This outburst led to his arrest in Washington, D.C. courts for the disruption. As severe as his language was, it is better than what could have happened if Flynt detonated himself in court through explosives in his wheelchair, as one report in his FBI file alleged he wanted to do. Instead he was driven in a limo to district court, as no other vehicle could accommodate his wheelchair, and made the following declaration:
Free expression is absolute. The First Amendment is the most important amendment of the Constitution. It cannot be compromised. You do not have the right to compromise it. Neither does the Supreme Court have a right to compromise it, and when I am the next president, anybody that is responsible for perverting the constitution of this great land will be put in a glass cage and I will sell tickets so people can come to Washington and see what evil perverts really look like.
Freedom of speech was an issue Flynt continued to fight for throughout his life, with both successes and failures. His often offensive methods frequently undermined these attempts, and he continued to disrespect the court as an impact of this confrontation. For years after Flynt kept Justice Sandra Day O'Connor subscribed to Hustler, telling clerks who asked him to remove the address that he would do so only when Justice O'Connor resigned from the court.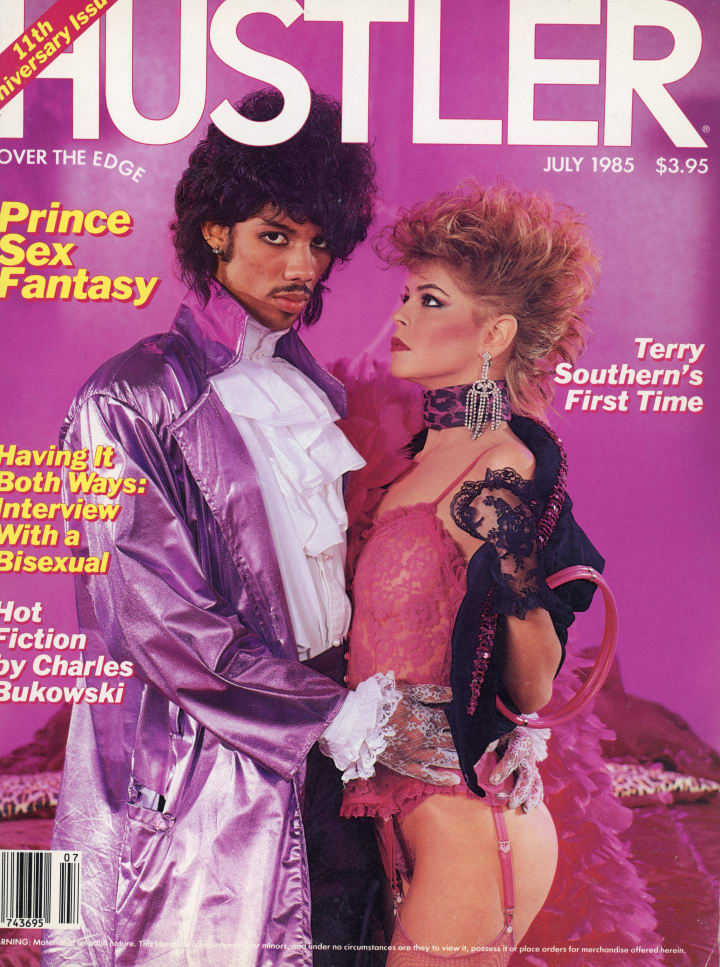 On March 20, 1984 the Supreme Court ruled in Keeton's favor, awarding her $2 million in damages. Beyond delivering a win to Keeton and a blow to Flynt, this decision created a new legal precedent. Keeton sued in New Hampshire because statutes of limitations in other states prevented her from seeking retribution for the 1975 cartoon in particular. The decision made in Keeton's favor set the precedent that circulation of a publication in a certain state is enough to support suing in this jurisdiction, even if the plaintiff and the publication are not based in that state.
About the Creator
Exploring the most significant and hidden stories of the 20th century through iconic magazines and the titan of publishing behind them.
Reader insights
Nice work
Very well written. Keep up the good work!
Top insights
Easy to read and follow

Well-structured & engaging content

Excellent storytelling

Original narrative & well developed characters

Eye opening

Niche topic & fresh perspectives
Add your insights