Get a Whiff of This
A curious aspect of Victorian sanitary engineering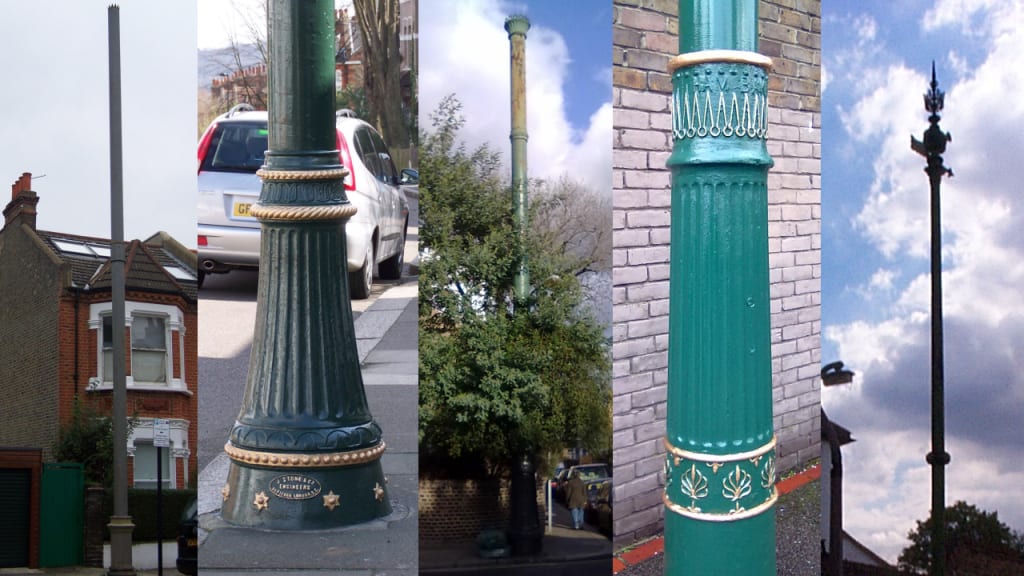 Since childhood I've tended to have minority interests, eschewing football, pop music and suchlike in favour of more esoteric pursuits like bell ringing and church music. But about 15 years ago I became interested in a subject which few people know anything about, much less take an active interest in. I developed a fascination with Victorian stench pipes.
So, what is a stench pipe? Well, basically it's a sewer vent. Some people call them stink pipes.
Stench pipes come in different guises, including the ubiquitous domestic variety. Practically every house has at least one, usually manifest as an upward continuation of the waste pipe from the toilet. Then there is the communal type, often seen as a rectangular pipe anchored to the end of a row of houses. But the ones that interest me are the free-standing stench pipes which form part of our street furniture, particularly the earlier examples.
We can trace their origins back to the Summer of 1858, when the Great Stink of London finally forced Parliament to do something about the growing problem of human waste disposal in the metropolis. They appointed the engineer Joseph Bazalgette to design a new sewer system for London. Other towns and cities followed suit and by the end of the century many thousands of miles of effluent-carrying pipework ran beneath England's streets - with stench pipes at regular intervals to discharge noxious and potentially flammable gases into the atmosphere.
The visible aspect of a stench pipe normally consists of three parts: a cylindrical or conical base, the pipe, which may be continuous or cast in two or more sections, and the crown, an often-ornate structure at the top containing a filter to prevent the ingress of birds or airborne debris. Then there is the hidden part which connects the pipe to the sewer below.
The Victorian ones are made of cast iron and often feature decorative moulding around the base and the joints in the pipework. Later examples tend to be plainer and sometimes use other materials – for example concrete, which I've only seen in Great Yarmouth, or glass fibre. At first glance they may be hard to distinguish from a lamp post.
Stench pipes can vary considerably in size. The diameter is generally proportional to the size of the sewer, while the height is determined by the need to discharge the gases well above any neighbouring buildings. Thus, a local stench pipe standing close to a row of four-storey houses may be tall and thin, while one venting a main sewer beneath an uninhabited stretch of road may be (comparatively) short and fat.
During the golden age of sewer construction, demand for stench pipes must have been considerable and various metal foundries rose to the challenge. I have identified 23 of them, including A C Woodrow, Adams Hydraulic, Frederick Bird, Henry Edie, William Farrer, Pryke & Palmer and Wellington Tube Works, but there were undoubtedly others.
One of the most prolific manufacturers was the Ham Baker company of Westminster. Most of their pipes are easily recognised by the tapering, fluted base with a distinctive "scissor" pattern around the top. The business still exists, having relocated to Stoke on Trent, and still makes various types of tubing and pipework (but not stench pipes).
Another distinctive style is that of Joseph Stone and Co. of Deptford, which features a fluted base in a sort of elongated bell shape with little stars around the bottom. Some of their largest pipes can be seen on the banks of the Thames near Battersea Bridge. (The construction of the Embankment was part of Bazalgette's plan and it carries one of the main sewers running towards the pumping stations further downstream.) The Stone foundry also cast the bronze propellers for the ocean liner RMS Queen Mary.
Perhaps the most distinctive stench pipes of all are those by W Macfarlane of Glasgow. The top is a most elaborate affair, being spherical with four vents projecting from it and surmounted by a coronet and a long spike. Under this is what appears to be a weathervane, although it's actually a fixed arrow indicating the direction of flow of the sewer. There are some of these in South London and also in Bideford, Devon.
You may wonder whether these wonderful pieces of Victorian sanitary engineering are still in use. Sadly, the vast majority are not. A few years ago, I had a conversation in a pub with a sewage engineer and he told me that stench pipes tend not to feature in their planning nowadays (presumably they have other ways of venting the sewers). Consequently, responsibility for the now redundant pipes has shifted from the water boards to local authorities.
Some councils have clearly pursued a policy of removing stench pipes, for there are none to be seen on their streets. Most have simply ignored them, leaving them to rust and deteriorate until they become a danger to passers-by. But a few enlightened councils have been persuaded by local historians to renovate the best and oldest of their remaining stench pipes and there are some beautiful examples to be seen, freshly painted in dark green or blue with the details picked out in gold or silver. Some are even protected by "listed" status.
If you're in Britain, next time you're walking around the town, have a closer look at the street furniture which we all take for granted – you might just notice a stench pipe. It's also fun (and perhaps to be recommended in current circumstances) to try and spot them on Google Street View.
[Do stench pipes exist in other countries? I don't know. I'd be interested to find out.]
Historical
Tony is the author of "The Great Bass Cookery Book" and "The Chronicles of Stiltshire" (available from Amazon in paperback or e-book), an amateur singer, cook, bell ringer and beer drinker.
See his food & drink blog QR's Little Morsels.