Flour Sacks: a Message for Today
In a win-win, the colorful fabric bags made life better during dark times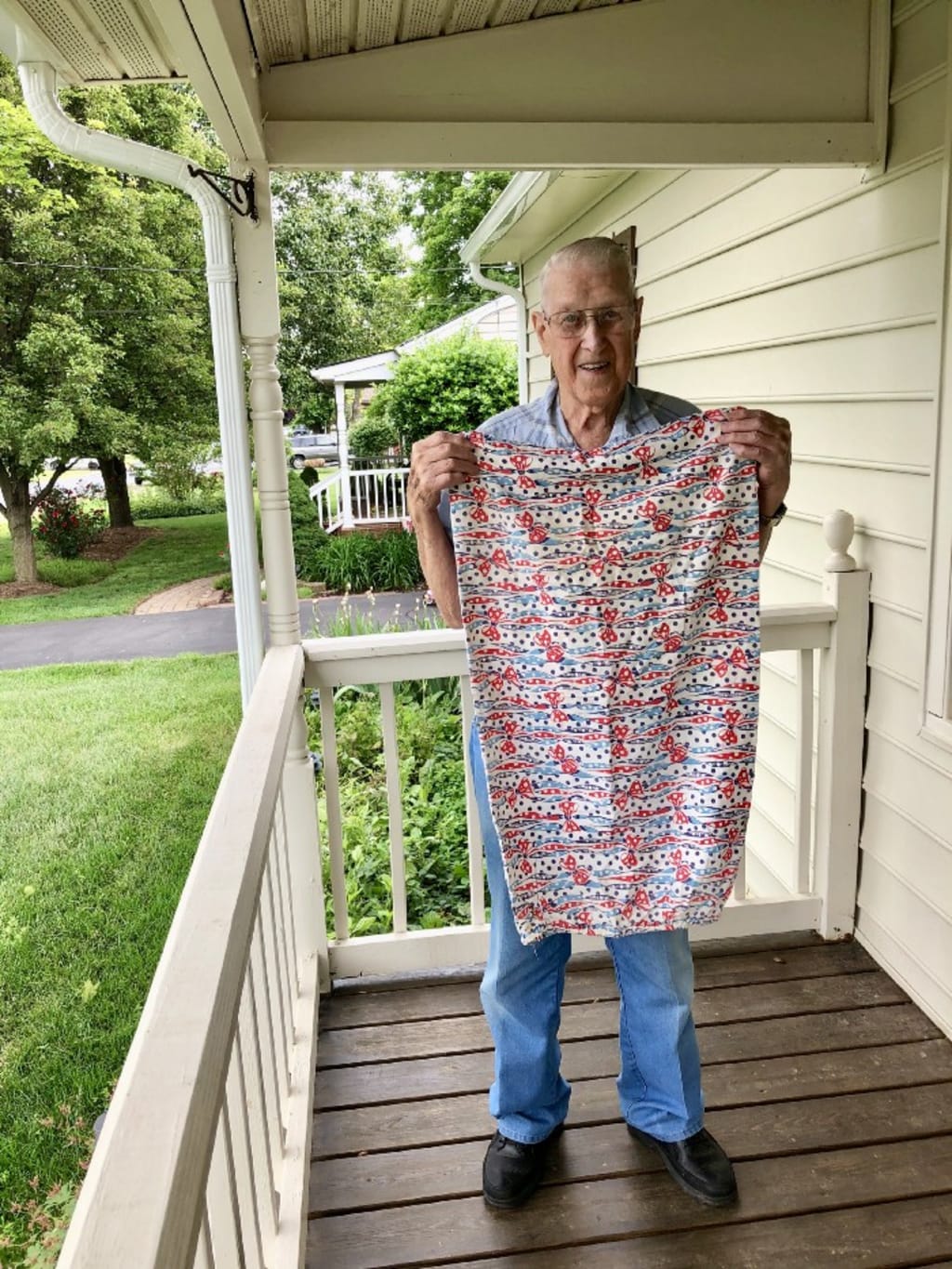 George Reier. Photo by author.
Ninety-year-old George Reier is ready. Always. His car is gassed up, his frig full, and his garden weeds pulled. As a farm boy in Cranberry Prairie, Ohio, he learned to take care of things. Later, in the Marines, George was in charge of supplies. I was not surprised this week that when I mentioned flour sacks to George, he ferreted out one from the bottom of his cedar chest in five minutes flat. Pristine and clean as the day it was made, the red, white, and blue ribbon pattern reflect Depression aesthetics. The bright cotton bag also reflects Depression ingenuity and a partnership between industry and a suffering people.
My friend Gina Blake laughs over the phone, her throaty voice redolent of her southern roots. I've called to learn more about her grandmother's quilts. Gina moved back to northern Alabama, the same area where she grew up. A few years ago she showed me glorious quilts her grandmother Lorene Minor Brannon sewed from flour sacks. For batting, Lorene stuffed them with cotton grown on her farm. The Tennessee Valley Authority was founded not too far away. Nearby, the Appalachian Mountains begin their rise and sweep. Both give the area solid credentials as, in the words of Gina's mother Glenda, "a hotbed of poverty."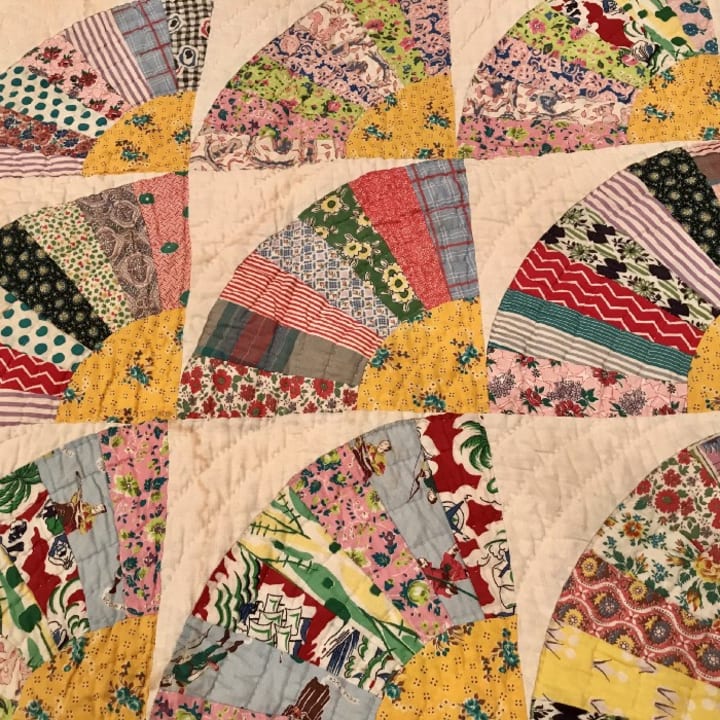 "Mom always joked she was so poor her underwear said 'flour' across the seat." Her mother may not have been kidding. During the Great Depression and on into the war years, many Americans sported homemade underwear fashioned from flour sacks.
Elias Howe rang the death knell for wooden barrels when he patented the lockstitch sewing machine in 1846. Millers switched to cloth bags to transport flour and feed, emblazoning them with their names and advertisements. These bags, recognized by customers as free and usable fabric, lived on as quilt backs, dish cloths, and more. By the late 1800s, women competed for county fair ribbons with their recycled flour and feed sack creations.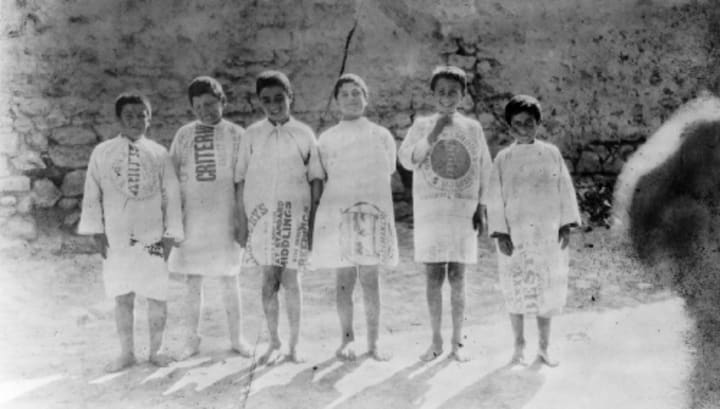 Goods shipped overseas in relief efforts were recycled into clothing. In China, as early as 1904, "hunger pants" were sewn from flour sacks. Recipients embellished and embroidered empty bags and returned them to the original donors. They were then auctioned off as fund raisers.
With the onslaught of widespread need in the Great Depression, followed by cloth rationing in World War II, cloth bag recycling became commonplace. The bags were deconstructed, the labels removed, and then sewn to meet household needs. Even the heavy lockstitch cording could be saved and reused as string.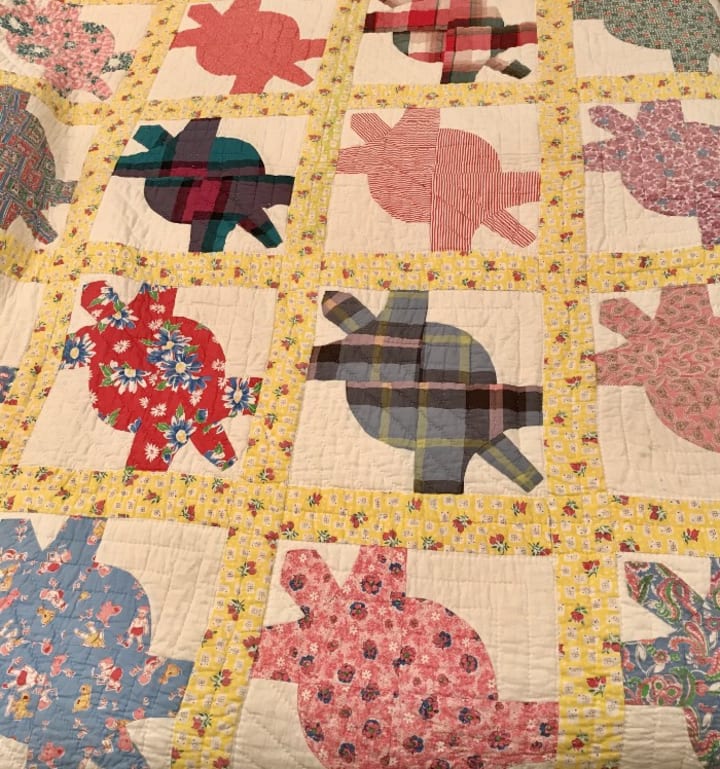 Clothing — especially for children and women — became a frequent destiny for the bags. The U.S. Department of Agriculture surveyed over 2,200 American mothers in 1948. Eighty-five percent of the women knew about feed sack clothes. Of these, sixty percent of the rural mothers and thirty percent of the urban mothers dressed their children in them. Rural families had access to more fabric than city families. In addition to their salt, flour, sugar, and meal, farmers bought their animal feed and other supplies in cloth bags. At times, bags went through two reincarnations — first as clothing, then, when those were outgrown or worn out, as quilt pieces. Other bags went directly into quilting.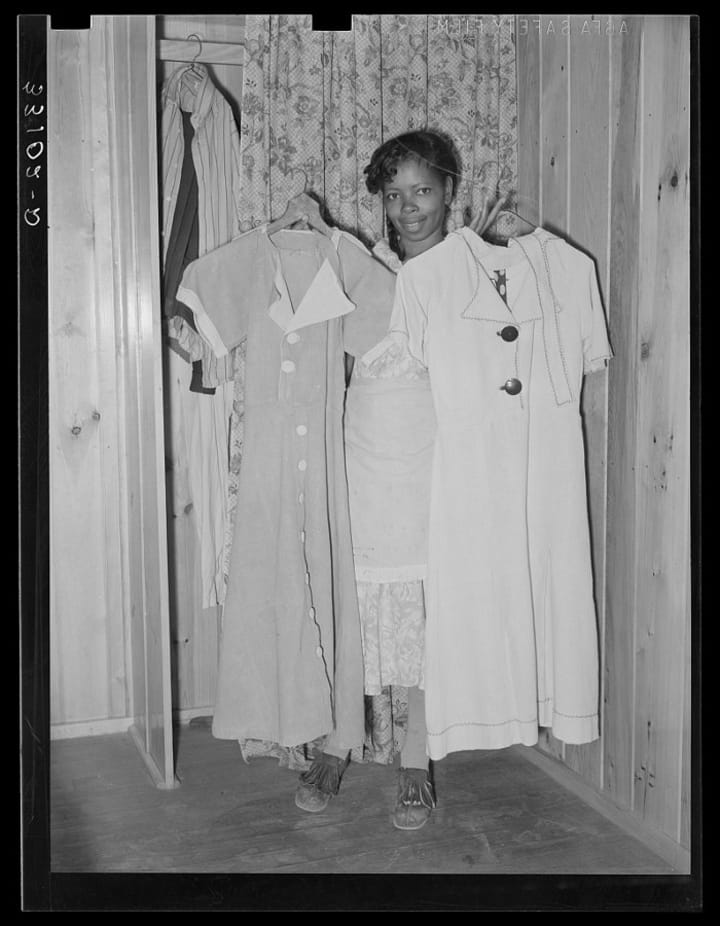 Savvy cloth bag manufacturers smelled opportunity in the crisis of the Depression. Women had struggled to successfully bleach and soak off the labels. The manufacturers changed their process. They switched to vegetable dyes and included directions on how to remove the logos. Then (and there is a bit of a fight over who "thunk" it first), the manufacturers began to print fashionable colored patterns on their bags. The race was on. Flour, sugar, salt, and feed came in gingham, florals, and prints. Fabric designers vied to create the most appealing designs possible. Lorene Minor Brannon would ask whoever went to buy feed and supplies in town to try to get flour sacks in specific colors or patterns. Women got together to swap bags to optimize their stash. Organizations taught women how to craft with them. Booklets were published by the government and other interested parties, like the "Textile Bag Manufacturers Association," to promote the reuse of cloth bags. The cotton bags brought fun and entertainment to what could have been the onerous chore of "making do."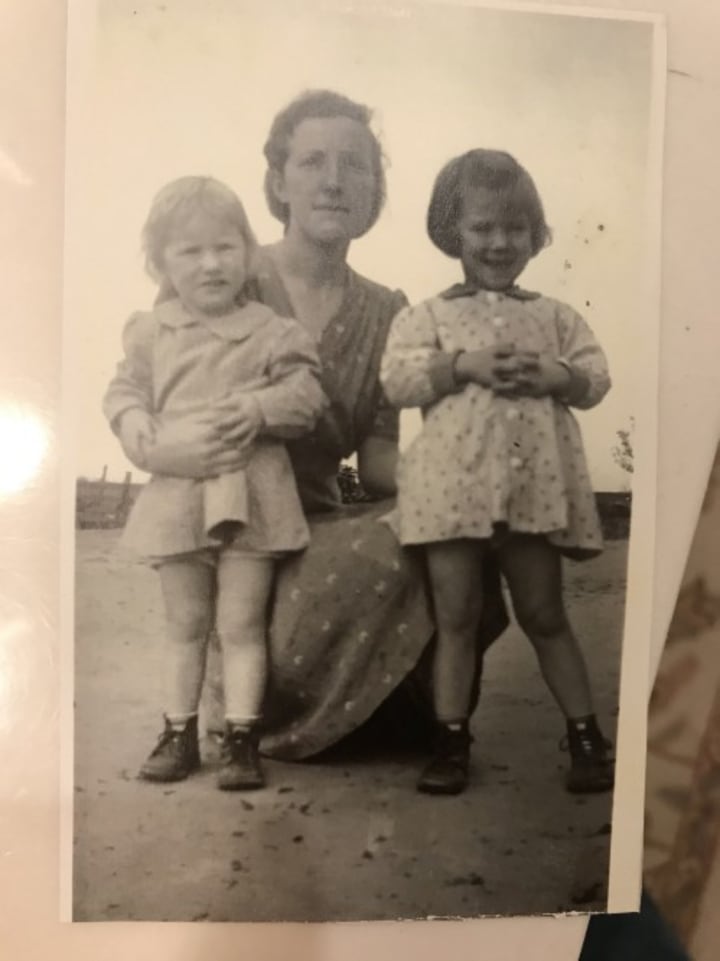 Gina's grandmother Lorene was "a prolific quilter," "real intelligent, " and — Gina laughs — "mean as a snake." She turned out a number of flour sack quilts. At one time, Gina owned over a dozen of them and Gina's brother had some, too. Lorene kept a quilt frame suspended overhead against her ceiling. She would lower it when it came time to put a quilt together. The Bannons raised cotton as one their crops. They took it to a cotton gin to be prepared for sale. Lorene stuffed her quilts with the bits and dabs of cotton leftover from the processing.
As wartime rationing ended, inexpensive paper bags became popular. The printed cotton bag industry wound down slowly and finally died out in the 1960s. Gina recalls the final bags in her hometown. They were white with an attached square of patterned fabric, "the size of maybe a dishcloth…as if they were trying to use it up."
Flour sack remnants and bags can be bought through vintage outlets, online and in person. They show up as completed quilts, quilt squares which never graduated to quiltdom, fabric remnants, entire bags, or completed household items. Decades after their creation, crafters and needleworkers transform them once again.
Flour sacks offer a colorful peek into a tough era. Florals and geometrics are common, but atomic age, patriotic, and Disney characters can also be found. Some bags were printed with the pieces and instructions to make soft stuffed toys. Others had border designs so they could be used to make pillow cases or curtains. One of Gina's favorites includes characters from the tales of Robin Hood with each character's name printed below it.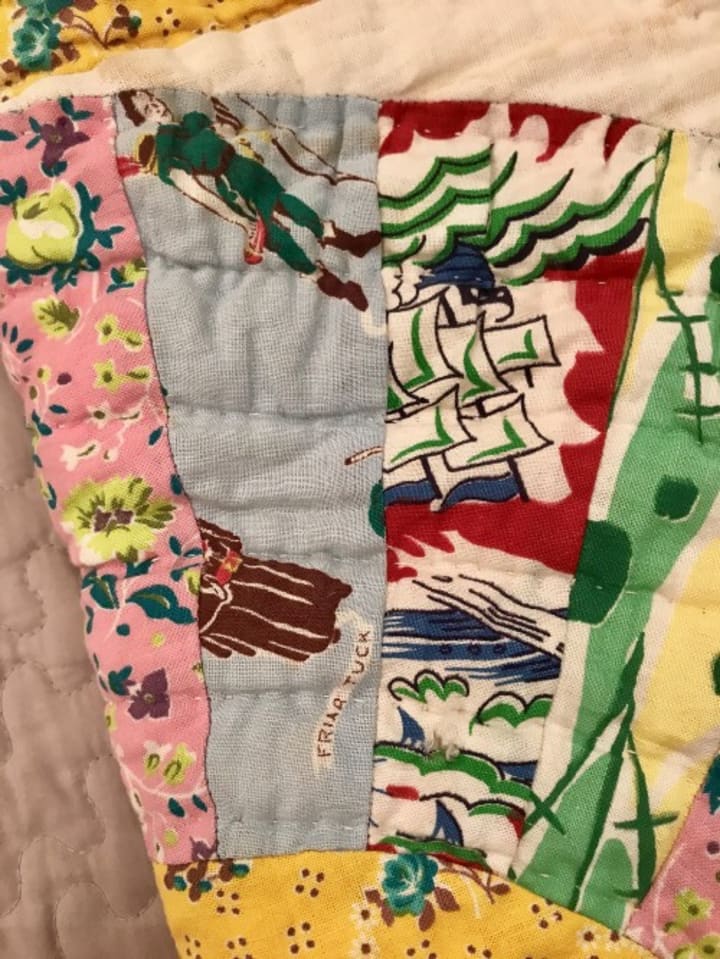 Flour and feed sacks (or "commodity bags" as the scholars say) struck a chord which continues to ring. Printed fabric bags are still used for specialty and imported foods. Bomba rice, a Spanish grain popular for paella, comes in a cheerful red on white cotton bag. Basmati rice from India can be found at big box stores in 25-pound burlap bags printed with an elephant logo.
Mühlenchemie, a German ingredient company, in 2008 began exhibiting "the world's largest collection of flour sacks." As recently as 2020, over 3,600 flour sacks from around the globe were displayed in their Flour World Museum in Wittenberg, Germany. You can see a sample of these sacks online. If you have a flour sack to donate, they'd like to hear from you.
Today "flour sack towels" are manufactured and sold without ever having held a grain of salt or a cup of flour. Known as "FSTs" among fans, they are valued for their soft absorbency. FSTs are used for everything from baby diapers to kitchen towels to embroidery projects.
Even imaginary flour sacks have a place. They are a frequently used tool for cartoonists to hone their skills. A quick trip to the world of posted videos uncovers examples. The videographers show artists how to expand their imagination by adding emotion and movement to a blank flour sack. A Disney animator demonstrates basic character animation using a flour sack in this video.
Flour sacks continue to be the tabula rasa for the inventive mind. Humble, fun, and inspiring.
Historical
About the author
Diane Helentjaris uncovers the overlooked. Her latest book Diaspora is a poetry chapbook of the aftermath of immigration. www.dianehelentjaris.com
Reader insights
Be the first to share your insights about this piece.
Add your insights