Fantastic Trains
The Far Tottering and Oyster Creek Railway lifted everyone's spirits when times were tough. We could do with another pick-me-up about now.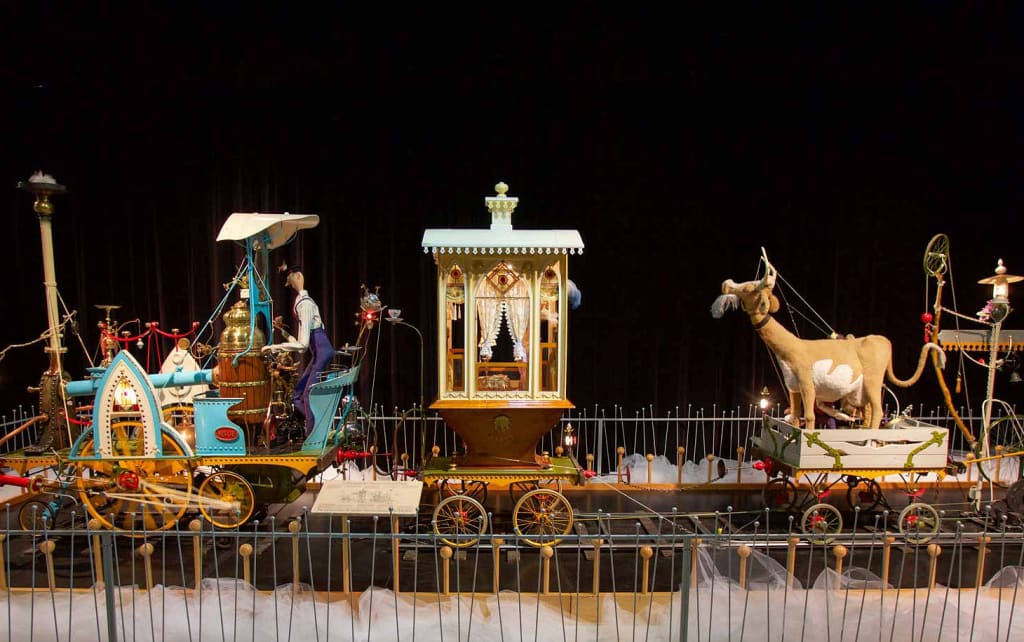 Photo:Ontario Science Center
Sure, it's bizarre but would you believe the mind that concocted this weird-looking contraption created a real life narrow-gauge railroad? And it was popular too.
The year was 1951 and although Britain and the Allies had "won" WWII six years earlier, much of London still lay in ruins. The UK was coping with food shortages - rationing was still in effect – and the country was desperately trying to rebuild its economy. People were anxious, uneasy and depressed. What a better time to have a party.
It was called the Festival of Britain, and its purpose was to lift spirits and make the Brits feel better about themselves. A collection of temporary structures showcasing British accomplishments in the arts, science, and industry quickly took shape on the South Bank of the Thames. In addition to the many exhibits promoting tractors, furniture design, and town planning, the Festival established a Fun Fair and Pleasure Garden at nearby Battersea Park. The Far Tottering and Oyster Creek Railway, a whimsical creation from the mind of inventor and illustrator Rowland Emett, was one of the amusement center's attractions.
Emett was a cartoonist with Punch, a satirical magazine that liked to poke fun at British pomp and circumstance. During the War, he drew one-panel cartoons of soldiers and tanks on manouevres in the English countryside. His drawing of an armored column sipping tea at a quaint tea shop in the woods is a classic.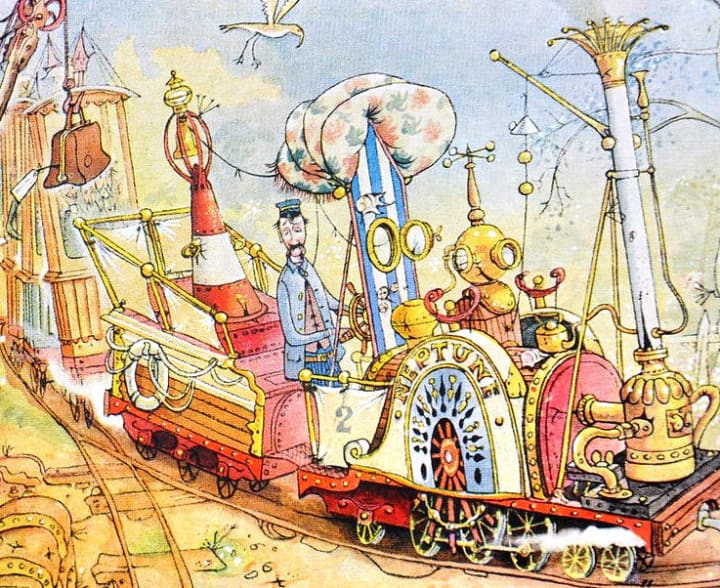 Now on civvy street, Emett turned his attention to the genteel lifestyle of the landed gentry exaggerating their customs and manners and often with a railroad train somewhere in the background. Gradually, his train motif evolved into a running gag and his railway cartoons became very popular. When Festival planners suggested turning his creations into a real-life narrow-gauge railway, Emett initially declined – "too impractical,"- he said, but changed his mind when Festival designer James Gardner insisted the project was technically feasible. Emett went to work designing three working locomotives, Nellie, Neptune, Wild Goose, based upon his previous cartoons.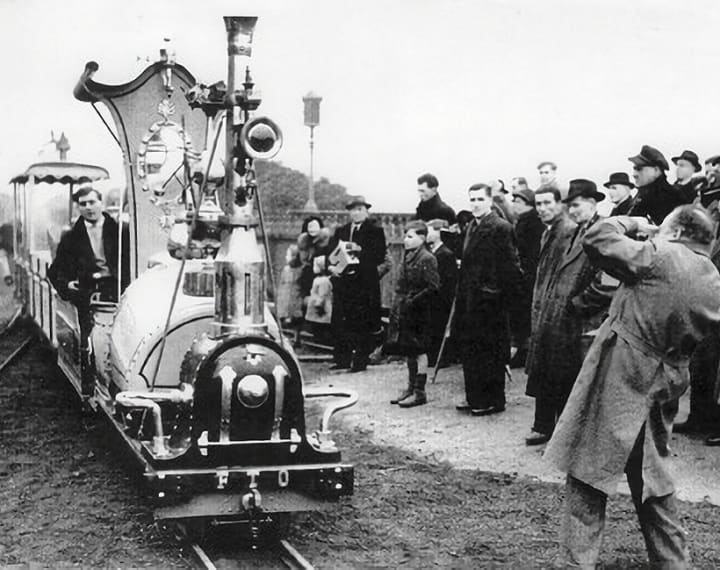 Impractical? Yes, the cartoonish locomotives, all brass and sheet metal, didn't have the heft to pull six coaches and their passengers. Power was provided by a diesel engine hidden in the tender behind the locomotive. It was a short run, barely one third of a mile, anchored at either end by stations dressed up in the same comic Emett style. Far Tottering was a brick and clapperboard affair with a small clock tower cupola while Oyster Creek looked like a fisher's hut with nets, floats and limpets stuck on its sides. The tracks went through the Pleasure Garden's work yard, passing sheds and wire fences, hardly scenic but no matter, an estimated two million passengers jumped on board during the Festival's five months run.
When you think about it, Emett's railway was a primitive affair but it did have its charms. Being pulled by an overgrown tea kettle must have brought a smile to everyone's lips. It would have to mine. What's with trains and fairs anyway?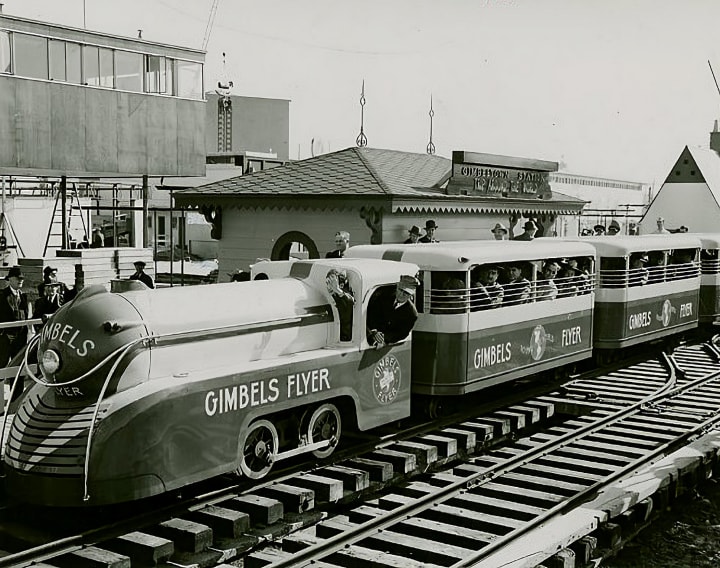 Twelve years earlier, the New York department store, Gimbels, rolled out its own narrow-gauge train, the Gimbels Flyer, at the1939 World's Fair. That fair, like the Festival of Britain, was meant to bring folks out of depression, in this case the Great Depression. No funny looking locomotives at this fair though. The Gimbels Flyer was a scaled down version of a modern streamliner, consistent with the Fair's theme of The World of Tomorrow - a happy and prosperous future thanks to technology and automation.
In any case, 1951's Festival of Britain was a big success drawing 8.5 million visitors from around the UK and elsewhere. The Festival closed at the end of 1951 but Emett's Railway proved to be so popular that it continued at Battersea for another year.
It seems The Far Tottering and Oyster Creek Railway did the job. It made people happy. According to author Ian Cox, a fan at the time, the 1951 Festival of Britain "helped refresh British arts, crafts, designs and sports for a generation," suggesting it doesn't hurt the national psyche to get a little silly from time to time.
Historical
About the author
Former television news and current affairs producer now turned writer. Thanks Spell Check.
Reader insights
Be the first to share your insights about this piece.
Add your insights