Difference Between Mahatma Gandhi & Dr Ambedakar
Let's Know The Different Between Gandhi & Ambedkar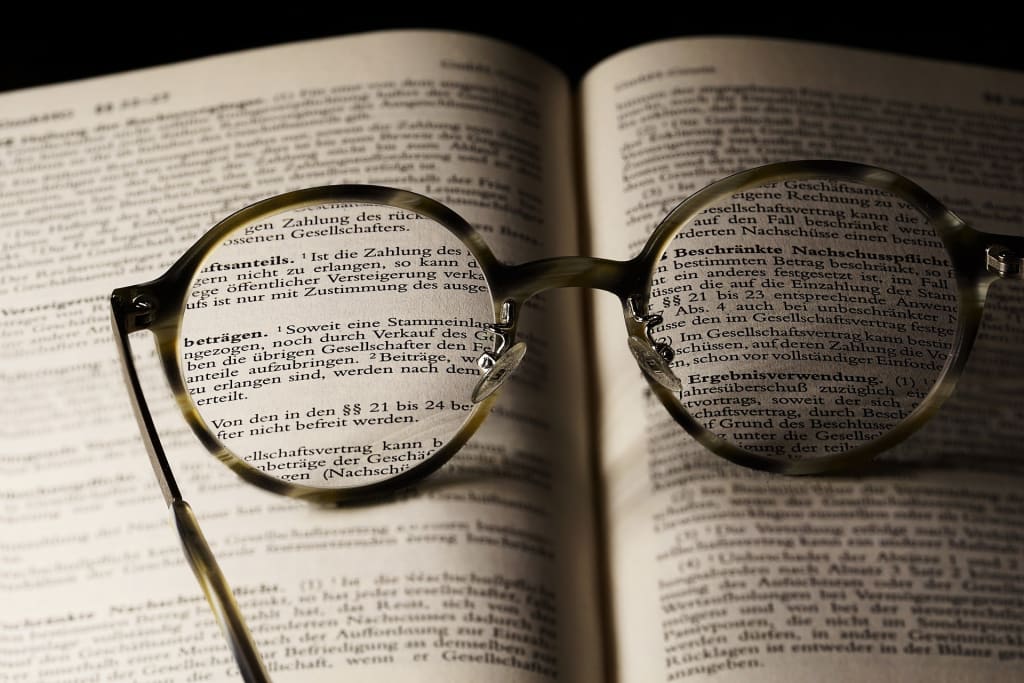 The Books For Constitutions and Glasses of Mahatma Gandhi
Introduction
Mahatma Gandhi, the father of the Indian Constitution, B. R. Ambedkar, had conflicting views over Ramsay MacDonald's communal award that was introduced on 16 August 1932 for holding separate electorates based on Classes and minorities. Even though both Gandhi and Ambedkar had conflicting thoughts, they had to befriend each other to abolish the caste system. To gain colonial control of India, the British manipulated Indians using this same system of diverse forms of social identity, i.e., the caste system.
Both the critical national leaders fought for the freedom of the oppressed. The critical element to be noted is that the minds of the young generation were poisoned with false information. Thus, to eradicate untouchability from the Indian society and tackle the broader caste issue, the two leaders with contrasting approaches and views had to fight against a common enemy to reach the common goal.
For maintaining political supremacy, the British used to divide and rule policy. So, the ideology of Gandhi was wholly based on the unity of India. On the other hand, to solve the Dalit problem, Ambedkar in the Second Round Table Conference asked for a separate electorate to be added in the would-be-Constitution of India. Gandhi believed that there must not be separate electorates, so he suggested several alternative proposals as he was not against the Dalit representation in the Indian legislature.
According to Ambedkar, untouchables should be named non-caste Hindus as they were a different community from Hindus. However, Gandhi thought that the untouchables were an integral part of Hindu society. Caste oppression is a deteriorating action in Hinduism where a person is identified as a mark of degradation. During the debates and discussions regarding the separate electorate, Gandhi was frequently imprisoned, and Ambedkar's grievance was used by the British for their divide and rule policy.
Gandhi believed that social justice to Dalits is possible only if they were elected through a joint electorate than a separate electorate as he considered the formation of a separate electorate equal to killing them. According to Gandhi's views, separate reservations or electorates create a division of Hinduism than removing bar sinister. As Ambedkar described, Gandhi, put on a political stunt declaring 'fast unto death.' This resulted in the Poona pact agreement of 25 September 1932 nullifying the communal award.
Background
In 1906 Muslim league was formed. The founders of all Indian Muslim leagues were Khawaja Salim Ulla, Syed Amir Ali, Khan Bahadur Ghulam, and Sir Sultan Muhammed Shah, also known as Aga Khan III. All the prominent leaders of the Muslim league went to the British government with a problem. The problem was Muslim central legislative council and provincial representative council Muslims were underrepresented. This means that in the Muslim central legislative council and provincial representative council, their number is relatively less than Hindus. So that is the reason Muslim league members were demanding a separate electorate in Muslim majority areas.
Separate Electorate
For example, if we say the place where you reside there the total population is about 10 in the 5, or then five are Muslims, so here the majority is of Muslims. In Muslim majority areas only, Muslim candidates are eligible for elections, and voting rights are also only for those in that area. Moreover, apart from the Muslim community, other religious people can neither be eligible to vote nor have voting rights in those Muslim majority areas. This type of arrangement is called a separate electorate.
The British government has accepted the Muslim League's demand for a separate electorate in the government of India act 1909. Government of India act 1909 is also called as Minto and Morley reforms. For the first time, a separate electorate was introduced in this act. This separate electorate is given to the Muslim community because of Muslim demand. For Muslim league government of India act 1909 brought in good days. After this all-other communities also started asking and demanding a separate electorate. The British government has also accepted their demand, and like this, in the government of India, the act 1919 to Sikhs, Indian Christians, Anglo-Indians, and Europeans has given separate electorate. This government of India act 1919 is also called as Montagu Chelmsford Reform. In this act of 1919, there was another provision that was after ten years from the commencement of this act that is in 1929 there will be one commission that will be appointed which will study the impact and progress of the Montagu Chelmsford reform. Furthermore, propose what should be further constitutional provisions. However, in 1927, Lord Break-in-Head, who was at that time was the secretary of state in his supervision, this commission was set up. In this commission, there were seven members from the British government, and Sir John Simon was made the chairman. So in his name, this commission is called as Simon Commission. Dr. BR. Ambedkar met Simon Commission and demanded a separate electorate for the depressed class in front of them. Dr. Ambedkar has to face a lot of opposition and illusion from the Indian leaders and Indian masses. Because everyone from the Indian national congress to the Muslim league was protesting against Simon Commission. In Simon's commission, all members belong to the British, and among them, there is no Indian present. Nevertheless, Dr. Ambedkar did not care about that and went to Simon's commission because, in Infront of him, there was a mission that is to improve the status of depressed classes. Furthermore, in 1930 Simon commission has published its report. To discuss this report and better understand the Indian representatives' demand much better in between 1930 to 1932, the British government has done three round table conferences. 1st round table conference was done from November 1930 to January 1931, and the second round table conference was done from September 1931 to December 1931. In this 2nd round table conference, Dr. Ambedkar said different community leaders ask for a separate electorate. Moreover, here, Gandhiji, the sole representative of the Indian National Congress, demanded a responsible government. At the end of this conference, Ramsay McDonald is the British Prime Minister and chairman of the 2nd round table conference. He made two major announcements in that 1st one in British India two main Muslim majority provinces will be made: the northwest frontier province and Sind. Also, the second one is mc Donald asked Indian leaders to resolve the issue of minorities among themselves, or else the British government, through the form of the communal award, will solve this problem. Gandhiji was very upset by the demand of Indian leaders at the 2nd round table conference. Gandhiji came back to India in 1931 as he came Gandhiji, and congress has decided to restart the 2nd movement of civil disobedience movement. Lord Willingdon, even before the commencement of the movement on 4 January 1932, Gandhiji and other important leaders were sent to jail. Moreover, because there was no big leader in civil disobedience, 2nd phase was quiet. Moreover, on 16 August 1932, Ramsay Mc Donald in British Parliament has announced something about the representation of Indian minorities in the provincial legislature. This announcement is called the communal award or Mc Donald award. In this communal award, there are two main proposals. The 1st proposal was seating will be doubled in the provincial legislature, and the second proposal was along with Muslims, Sikhs, Anglo-Indians, Europeans, now depressed classes will also be given a separate electorate. It was a major success for Dr. Ambedkar for getting a separate electorate for depressed classes. However, on the other side, Gandhiji showed great concern about giving a separate electorate for depressed classes. He said the British government is trying to create a social divide using this communal award. During that period, Gandhiji was in Poona, Yerawada jail. from jail itself on 20 September 1942, he started a fast for an indefinite period. He said if the separate electorate is not taken from depressed classes, then his fast will turn into a fast unto death. The British government, on this statement, said that we awarded separate electorate to all communities demanding it and if you want any changes, then speak directly with leaders of the community. Due to the fast, Gandhiji's health started to deteriorate very fast. And because of this, Pt. Madan Mohan Malviya, Sir Tej Bahadur Sapur, and C Rajagopalachari met Dr. Ambedkar to convince him to take back his separate electorate demand. However, Dr. Ambedkar did not accept it. Gandhiji's health was deteriorating, but Ambedkar was not ready to take back. Then coming under pressure, ultimately, Ambedkar started negotiation with Gandhiji. Moreover, on this negotiation based in 1932 Poona Pact was signed.
Communal award
The first thing that communal award did is that Muslims, Sikhs, Indian Christians, Anglo-Indians, Europeans, and communal awards recognized depressed classes as a minority community in India. Before communal award, depressed classes were part of the Hindu community. So, here this will separate between depressed classes and Hindus. In the communal award, about 71 seats were reserved for depressed classes in the provincial assembly. Moreover, on these seats, depressed class seat candidates were selected based on a separate electorate. Apart from that, depressed class candidates were also allowed to contest in the election from general constituencies. Moreover, it is also mentioned that whatever privilege given to the depressed class is only applicable for 25 years.
Poona Pact
The first thing that the Poona pact did was 148 seats were reserved for the depressed class in the provincial assembly, and these candidates were to be selected based on a joint electorate. Moreover, apart from that, 19% of the seats were reserved for depressed class candidates in the central assembly, and these candidates were also allowed to contest in elections from general constituencies.
This was considered a significant step of befriending Ambedkar as Gandhi accepted statutory reservation for Dalits. The joint proposal was accepted.
The Caste
Ambedkar believed that untouchability was based on the caste system, and to remove untouchability, the Indians need to remove caste. Gandhi pointed out the presumptions of Ambedkar's belief in the weekly journal Harijan through an article titled "A Vindication of Caste." As Ambedkar released a reply to Gandhi's comments in the article Annihilation of Caste, The idea of caste and both the great leaders' thoughts helped readers interpret and analyze the caste situation in India origin, mechanisms, and many more.
The conflict between both the leaders was based on understanding caste, which led to caste being a political question for the first time. In the eyes of Ambedkar, to achieve an entire potential democratic society, the depressed class must be able to elect their representatives. On the other side of the coin, Gandhi was more into changing the mindset of the upper castes.
Conclusion
The differences between Gandhi and Ambedkar were purely based on the way they perceived their problems. Gandhi represented the Indians as a whole, whereas Ambedkar considered himself a Dalit leader and thought about their benefit. Both the Ambedkarites and Gandhian groups fought for the same goal in different ways. Gandhi found untouchability as a social issue, whereas for Ambedkar, it was a pollical issue. The Dalit political representation was shaped through the Poona pact. Poona pact portrayed a clash of two different ideas, i.e., of caste and citizenship. Even the present era continues to affect the Poona pact in the parliamentary elections. 84 of the 543 seats of Lok Sabha are reserved for SC community members. Over the years, the system is changing broadly, like Ambedkar's words, "revolutionary at the time." Untouchability is a terrible reality.
Historical
Digital Marketers | Blogger | SEO | SMO | SEM | Content Creator | ASO
Receive stories by Maulik Borsaniya in

your feed