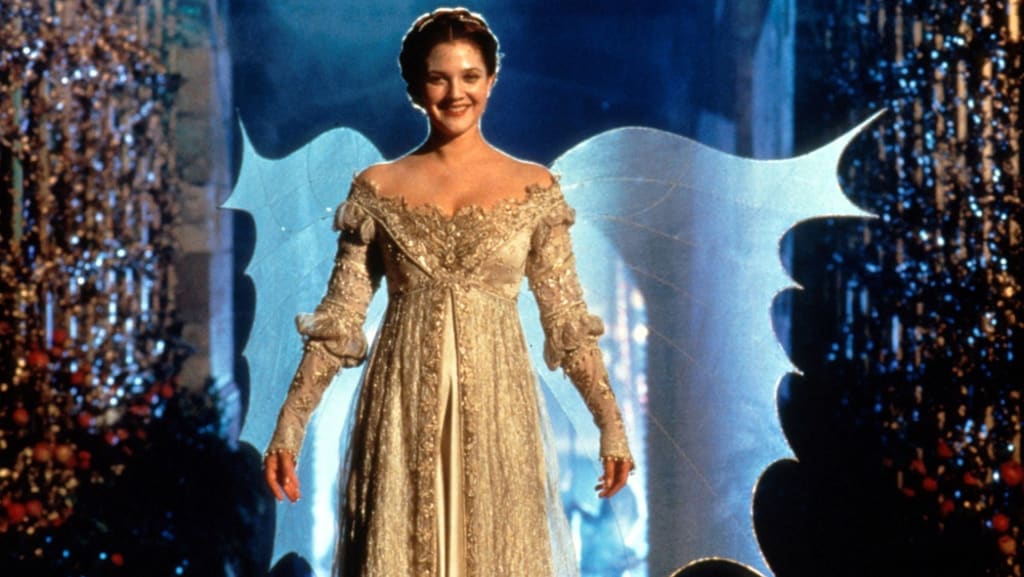 Ah, Cinderella, the timeless tale of a young woman who, with the help of her fairy godmother, transforms from a downtrodden maid into a dazzling princess It is a story that has been told and retold countless times, but few versions have captured our hearts quite like Drew Barrymore's "Cinderella" remake. First, let us consider the cast. Drew Barrymore is the perfect choice to play Cinderella. She is charming, relatable, and has just the right amount of spunk to make this version of the character feel fresh and modern. Plus, her chemistry with co-star Dougray Scott (who plays the dashing Prince Henry) is off the charts.
Speaking of Prince Henry, can we discuss how dreamy he is? In a sea of forgettable princes, Dougray Scott stands out as a truly swoon-worthy leading man. His scenes with Drew Barrymore are so romantic, you will reach for the tissues before you know it. Of course, you can not discuss this "Cinderella" without discussing the great supporting performances. Anjelica Huston, in particular, is a revelation as the wicked stepmother. Her portrayal is equal parts menacing and hilarious, and she steals every scene she is in. Megan Dodds and Melanie Lynskey also deserve praise for their comedic performances as the stepsisters. They can make their characters sympathetic even as they act cruelly toward Cinderella. Of course, a great cast can only take you so far. What sets this "Cinderella" apart is its clever script. Writer/director Andy Tennant has done a masterful job of updating the story for a modern audience, losing none of its magic. The humor is sharp, the dialogue is snappy, and the romance is as swoon-worthy as ever.
They set this version of the story in the 16th century, giving it a distinctly old-world feel. But despite the historical setting, the script is full of modern sensibilities. They portrayed Cinderella as a strong, independent woman who is not afraid to stand up for herself and fight for what she wants. This is a refreshing change from the more passive versions of the character we have seen in the past.
Besides its strong female lead, this "Cinderella" also features a romantic storyline that feels genuinely earned. The chemistry between Drew Barrymore and Dougray Scott is palpable, and their courtship feels natural and authentic. There are no contrived obstacles or overly dramatic twists—just two people falling in love in a way that feels real and meaningful.Perhaps the standout aspect of this remake is its humor. The script is full of witty one-liners and clever jokes that will have you laughing out loud. Anjelica Huston's stepmother character is a particular highlight, delivering cutting remarks with a biting wit that's impossible not to love. And the comedic performances of Megan Dodds and Melanie Lynskey as the stepsisters are a masterclass in physical comedy.
It would not be a proper "Cinderella" without some magic, and this remake delivers on that front as well. The special effects team created a masterpiece, transforming Cinderella's torn dress into a beautiful ballgown. Jeanne Moreau's portrayal of the fairy godmother is enchanting in every way. One thing that set this version apart from other retellings is the attention to detail that was put into the production design. The production team carefully made the costumes, sets, and props to take the audience back in time. The ballroom scene, in particular, is a feast for the eyes. Gowns decorated with intricate details, sparkling chandeliers, and graceful dance moves create a magical setting.
Another aspect that makes this film so special is the way it plays with the traditional gender roles of the fairy tale. In this version, Cinderella is a capable and resourceful young woman who is more than capable of taking care of herself. She does not need a prince to come along and rescue her; she can rescue herself. This subtle shift in perspective is refreshing and empowering, and it adds a layer of depth to the story that is often lacking in other retellings. But even though this version of Cinderella is strong and independent, that does not mean she's devoid of vulnerability or emotions. The thing that makes Drew Barrymore's performance so effective is the way she's able to convey the character's emotions with such honesty and authenticity. When Cinderella is sad, we feel her sadness. When she's happy, we share in her joy. This emotional resonance makes the film so compelling and relatable.
Another standout aspect of this "Cinderella" is the way it tackles issues of class and social inequality. Cinderella is clearly from a lower social stratum than the prince, and the film does not shy away from the inherent unfairness of that situation. The movie does not depict Cinderella as a weak victim of fate, but as an individual who employs her intelligence, resourcefulness, and inner strength to overcome difficulties. This gives the film a message of hope and empowerment that is both timeless and relevant. Also, this version of "Cinderella" is refreshingly devoid of cynicism and irony. Unlike some modern retellings of classic stories, this film is played straight, with a genuine sincerity that's impossible not to appreciate. It is a movie that wears its heart on its sleeve, and its unabashed optimism and romanticism are part of what makes it so endearing.
These elements come together to create a truly unforgettable retelling of a beloved fairy tale. Drew Barrymore's "Cinderella" is a film that is as charming and heartwarming as it is hilarious and modern. It is a movie that will make you laugh, cry, and believe in the power of true love. So if you have not yet experienced this magical gem, what are you waiting for? Watch it and prepare to be enchanted.
About the Creator
Welcome—enjoy the sights and sounds! Nikki here, an avid reader, writer, and lover of all things creative and historical.I love discovering new worlds and characters through books, whether they're classics, bestsellers, or indie gems.
Reader insights
Outstanding
Excellent work. Looking forward to reading more!
Top insights
Easy to read and follow

Well-structured & engaging content

Expert insights and opinions

Arguments were carefully researched and presented

Eye opening

Niche topic & fresh perspectives
Add your insights