Caravaggio and Art Beyond The Mannerism
Imagine you are in the 17th century looking at a Caravaggio painting for the first time…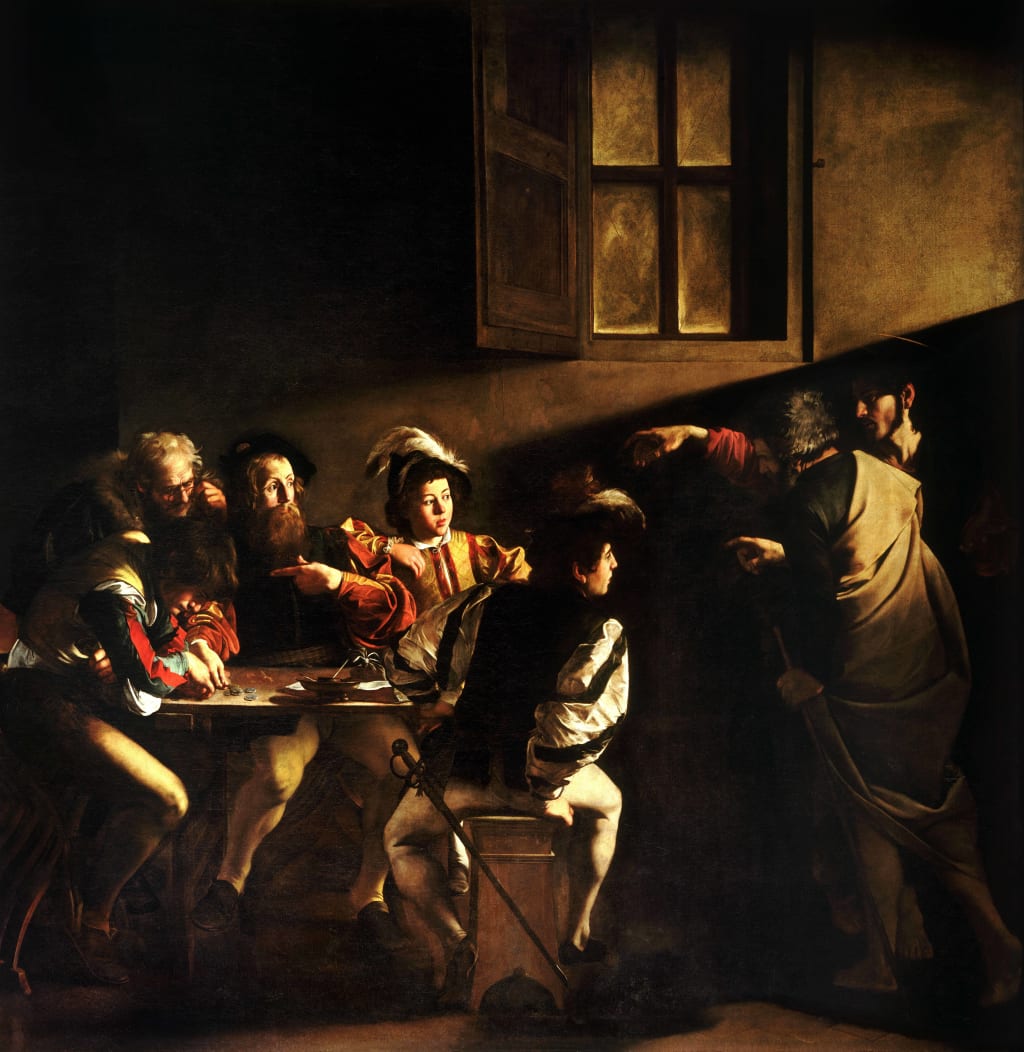 Imagine you are in the 17th century in a time where few paintings had lighting and depth, looking at a Caravaggio painting for the first time, it's probably impossible for us to have that same mentality, in a time before TV, film, photography and screens, when the only visual arts describing human forms were paintings and sculptures.
A few time before, the world of art, in Italy, and elsewhere, had known "the Renaissance" with paintings aimed at "ideal beauty", linear perspective and balanced compositions led to "mannerism" and its exaggerated forms and strange stylizations, complex and, at times, overly sophisticated paintings which emphasize the artist's talents and his impulse.
Then you walk into a church in Rome and see this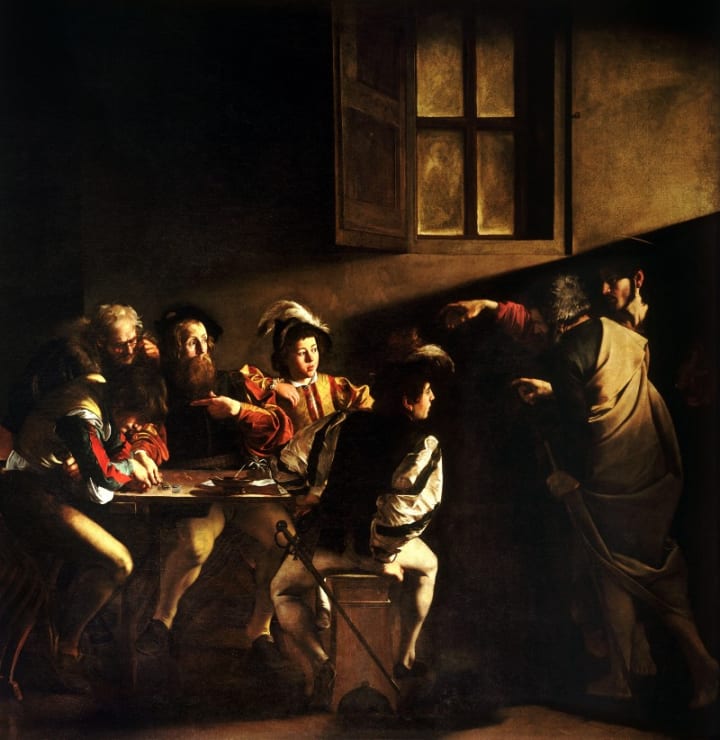 It must have been shocking, perhaps even too much for some.
It is dramatic, very clear, so visceral that you feel exposed, vulnerable, involved. It is Caravaggio's "The Calling of Saint Matthew".
Here we see the moment when Jesus called Matthew, the tax collector, to become his disciple. As it says in Matthew 9:9 - Jesus saw a man named Matthew sitting at the table in the tax collector's booth.
"Follow me," he said. And Matthew got up and followed him.
In the scriptures it's an instant reaction, but, Caravaggio, inserts a moment here, a moment of hesitation. Jesus enters what looks like a tavern obscured by San Pietro and almost all in darkness except for his hand, his arm one side of his face and a very small part of the halo on his head.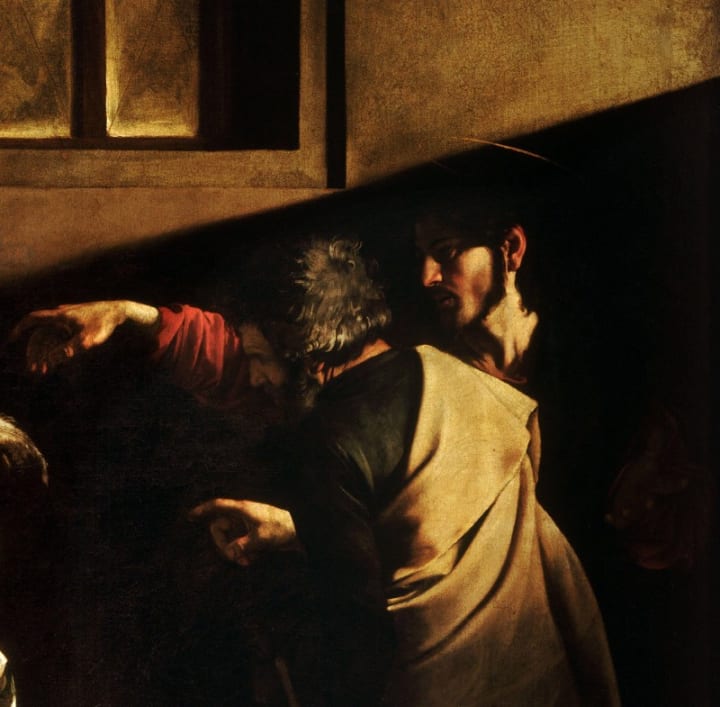 He points out Matthew, who instead of getting up immediately, as in the scriptures, it indicates itself as if to say: "who, me?"
To his left, two of his men they do not even notice the divine presence, consumed by their earthly pleasures.
To his right, two men are surprised and in different directions,one inclined towards Jesus and the other turning away from Jesus, amplifying Matthew's moment of indecision.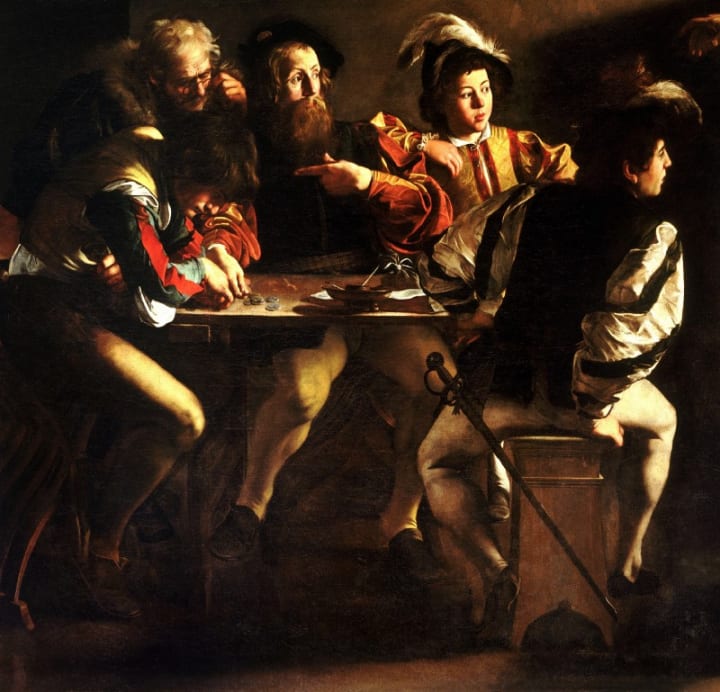 The scene makes sense right away. But Caravaggio goes much further than that, of the mere intelligibility of the work.
What is truly extraordinary in this painting it is obviously the light.
The intense dramatic play of light and shadow called "chiaroscuro"or tenebrism.
Chiaroscuro is the contrast between light and shadow in the representation of an object, but with a smaller number of tonal nuances, in the transitions.
The strong light that illuminates the right side of the canvas like a "divine light" points to Matthew with more force than Jesus does. But it is not unrealistic, quite the opposite. It's the kind of light we already know.
That color, that corner it tickles our memory with a weary twilight when we remember how much reality is truly dramatic.
And that light also allows you to remove the need for a background to simulate the three dimensions. The way it wraps around the characters already does that job so that Caravaggio can put a flat wall or a dark space behind his paint.
And his figures thus stand out as if they were on a stage or in an "empty" dream as in a hyper reality.
See how it achieves the same effect in this painting: "the crucifixion of Saint Peter",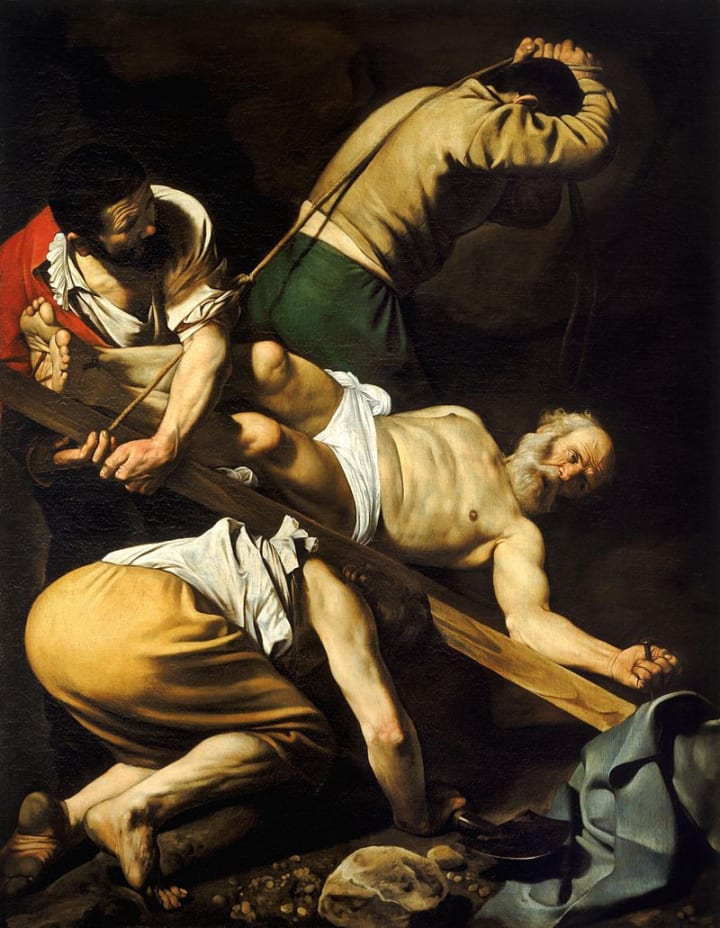 or "David with the Head of Goliath",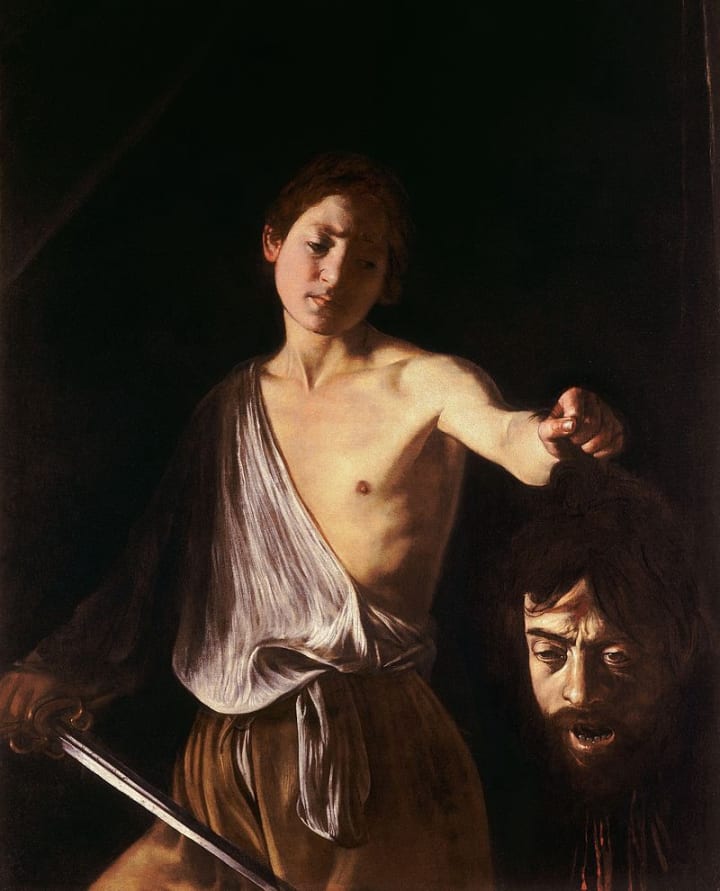 or "Judith and Holofernes",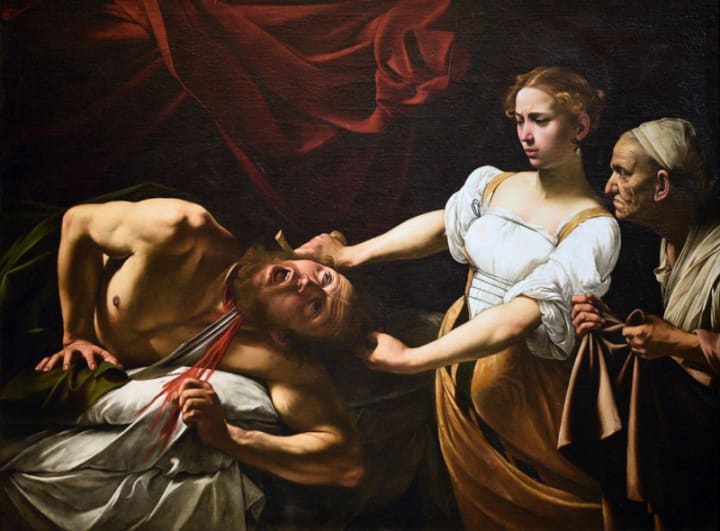 or "the Taking of Christ" which was only discovered in 1990.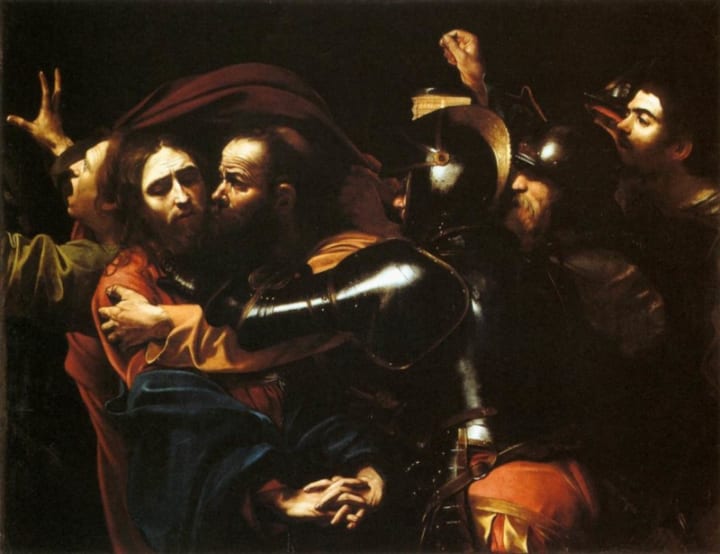 It's like you are there, among the soldiers you can "feel" the metal of the knight's armor the scream of St. John running away, you can "feel" the hand of Judas on the arm of Jesus the kiss, while betraying his friend.
You are in it.
It is important to see that this is exactly the type of paintings that the Catholic Church desired during the reform while fighting with the Protestants.
In one of the Trent councils it is said that art should try to help Christians understand the scriptures and to reconnect with their faith. With so many illiterate the paintings were crucial in conveying the stories and the doctrines of the scriptures. And the works of Caravaggio not only are they easily understood, but they also cause emotions in their immediacy.
He puts passion into "the passion of Christ".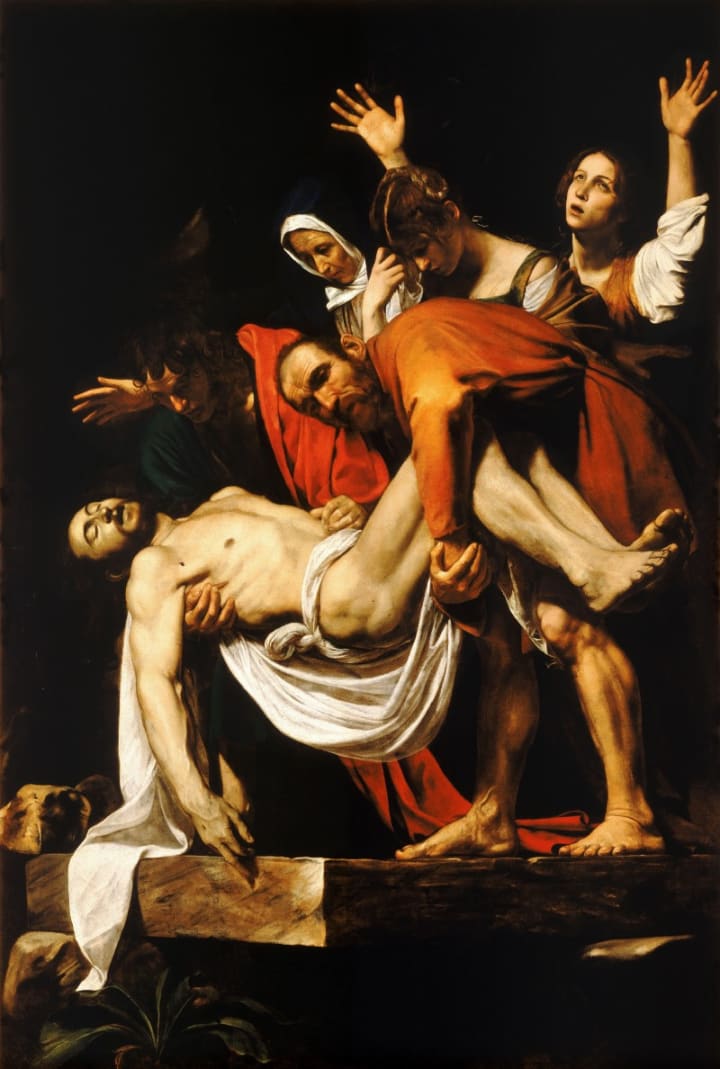 The other great innovation of Caravaggio it was the use of real people in these biblical roles. He painted from life. Hence his "Maria Maddalena" for example, it could be someone you might see walking on the streets of Rome in 1600.
For some this realism was vulgar.
But for others, who were looking for humanity in these stories, the figures of Caravaggio they were revealing. They hid the feeling of identification and involvement that the church desired from art.
The irony is that Caravaggio himself he was a serial sinner. Given his involvement in street fights and outbursts of anger that often led him to prison.
In 1606, he killed a man in a duel and was forced to leave Rome. From then on he wandered around Italy, causing problems wherever he went until he died, one thinks of a disease, in 1610 at the age of 38.
His involvement in the violence no doubt contributed to make some of his most gory works even more terrifying, but the stereotype of the romantic and crazy painter who dies before his time, he has tired and we can't help but think about what he could have shown us if only he had calmed down and had lived twice as long.
Because what we have is extraordinary.
And you can see that he was fighting with his sins and his faith in his works.
In "The Taking of Christ", for example, he paints himself in the scene as he runs with the guards, eager to observe the betrayal, the arrest of Jesus.
He holds a lantern in his hand, which symbolizes the artist's power to "illuminate the stories" that mean more to us.
To make them personal.
Truer than reality.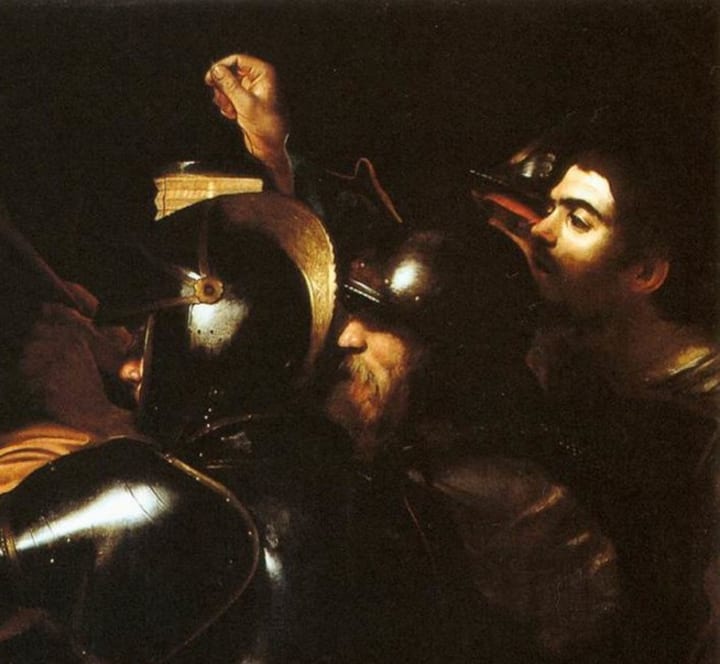 Maybe you can know what it was like for people to see a Caravaggio for the first time in 1605. His light traveled 400 years into the future, without fading.
Historical
About the author
An engineering student who in his spare time likes to write about philosophy, art and technology. Also i'm brazilian!
Reader insights
Outstanding
Excellent work. Looking forward to reading more!
Top insights
Expert insights and opinions

Arguments were carefully researched and presented

Easy to read and follow

Well-structured & engaging content

Heartfelt and relatable

The story invoked strong personal emotions
Compelling and original writing

Creative use of language & vocab

Eye opening

Niche topic & fresh perspectives

On-point and relevant

Writing reflected the title & theme

Excellent storytelling

Original narrative & well developed characters
Add your insights