Bobby Fischer: How the king's gambit played out
Price of genius sent chess ace into exile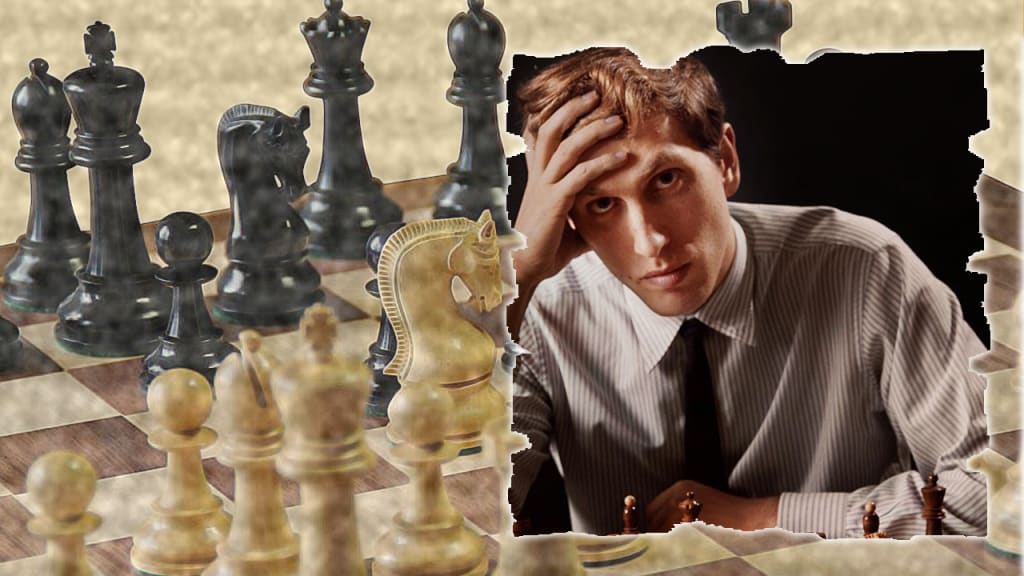 Not since the intense rivalry between the Americans and Soviets during the Cold War has chess enjoyed such prominence in popular culture.
During the periods of house arrest endured by the Netflix-watching world over the past 12 months, The Queen's Gambit has catapulted the game back into the limelight, with the character of prodigy Beth Harmon based loosely on the main protagonist in that Cold War rivalry… American Bobby Fischer.
Fischer became the first and only American-born world chess champion in 1972, defeating Boris Spassky to claim the honour, but his place in history invariably reminds me of an album track blasted out by a housemate when I was a student in Nottingham.
The track, which appeared on The Pop Group's 1980 album We Are Time, was entitled Genius Or Lunatic and succinctly describes the world's interpretation of Fischer.
Believed to have had an IQ of 181, he was also an extremely controversial figure, even going on the run from the US authorities after returning to the game 20 years after his world championship victory to overturn Spassky again in their much-anticipated rematch.
Once described by biographer Frank Brady as "the pride and sorrow of American chess", Fischer turned his back on the game for two decades after becoming world champion at 29 and spent the 1970s and '80s living in isolation in Pasadena and Los Angeles, while turning down lucrative offers to showcase his great talent against competitors eager to face him across the chess board.
Born on this day, 9 March, 78 years ago in Chicago, Illinois, Fischer barely knew his father, a German physicist who divorced his mother when he was two. He was raised by his older sister, Joan, and mother Regina Wender Fischer, a schoolteacher and nurse who later became a doctor and spent long hours at work while her children were growing up.
In 1949 they moved to New York, where Fischer attended a progressive private school on a scholarship. Given a chess set by his sister, he began to learn the game and by the time he was eight was playing matches at Washington Square Park in Greenwich Village under the guidance of Carmine Nigro, president of the Brooklyn Chess Club.
His education in the game continued at the Hawthorne Chess Club and in 1956, when he was only 13, he became the youngest winner of the US Junior Championship… going on to stun the American chess fraternity by winning the US Championship while still two months shy of his 15th birthday. Then in 1958, aged 15, he became the youngest international grandmaster in history by placing sixth at a tournament in Portoroz, Yugoslavia (now Slovenia)… an accolade he held until 1991 when Hungarian prodigy Judit Polgar surpassed it.
Polgar, no doubt, also served as inspiration for Harmon's character in The Queen's Gambit, although her story was somewhat different.
She was born on 23 July 1976 in Budapest, to a Hungarian-Jewish family, with her father Laszlo regarding the upbringing of his three daughters as an educational experiment.
His pursuit of fatherhood was heavily academic, even recruiting his wife Klara, a Ukrainian foreign language teacher, through letters describing the pedagogic undertaking he envisaged to raise prodigies and prove geniuses were made, not born. All three girls were educated at home, with chess a specialist pursuit… Judit and her elder sisters Zsuzsa and Zsofia all becoming grandmasters, with the youngest sibling almost universally regarded as the greatest female chess player of all time.
She is the only woman to have won a game against a reigning world number one player and has defeated 11 current or former world champions including Anatoly Karpov, Garry Kasparov, Vladimir Kramnik and Spassky.
Polgar retired from competitive chess in August 2014 and was elected as the new captain and head coach of the Hungarian national men's team in June 2015. But she too is no longer the world's youngest grandmaster, that title is now in the possession of Russia's Sergey Karjakin, who took over the mantle in 2003 at the age of 12 years and seven months.
But Fischer's elevation to grandmaster set the stage for him to take on the Soviets, who were universally regarded as being the best chess players in the world, with his mother writing directly to Soviet leader Nikita Kruschev in a bid to get her son invited to take part in the sixth World Youth and Student Festival in Moscow. The letter proved successful, although Fischer's invitation arrived too late for the event and his mother could not independently afford tickets.
His wish to play in the Soviet Union was granted the following year when producers of the game show I've Got A Secret gave him two round-trip tickets. Accompanied by his sister, Fischer played in a series of matches against top Soviet players, although no formal games were sanctioned and his wish to play reigning world champion Mikhail Botvinnik did not come to fruition.
In 1962, Fischer became the first non-Soviet player ever to win an Interzonal tournament, and qualified for the Candidates Tournament later that year. Falling short, he famously accused the Soviet players of pre-arranging draws to thwart his progress in the tournament.
Even by the early 1960s he had developed a reputation for being brash and was inclined to make outlandish demands to tournament directors for special lighting, seating and conditions to ensure quiet. He complained opponents were trying to poison his food, his hotel rooms were bugged and he began to fear flying.
The situation led to Fischer taking a break from Candidates qualification for the rest of the decade, although he continued to play domestically winning the 1964 US Championship with a played 11, won 11 record, the only perfect score in the history of the tournament.
After winning an eighth US Championship at his eighth attempt in 1967, Fischer took a break from the game to write My 60 Memorable Games, which remains one of world's best-selling chess books.
He made his return in 1970 and after closing with a seven-game winning streak won the Interzonal tournament by a 3.5-point margin to qualify for the 1971 Candidates Tournament, which featured an eight-player knockout.
Fischer beat Mark Taimanov 6-0 in the quarter-finals and repeated the score against Bent Larsen in the semi-finals, a 12-game stretch considered by many to be the best individual performance ever.
In the final showdown against Tigran Petrosian, Fischer won the first game, amassing a total of 20 consecutive wins against elite competition. Petrosian would end that streak in the next game, but lost the contest 6.5-2.5 with Fischer taking the spot in the 1972 World Championship Match.
Such was the interest the contest ignited that US National Security Advisor Henry Kissinger personally called Fischer to persuade him to take part when he threatened to pull out of the match days before it was due to be staged at Reykjavik's Laugardalsholl arena.
After delaying his departure from New York, Fischer first insisted on television coverage, then refused to play in front of the cameras because he could hear them. He started off the match by going down 2-0 to Spassky, not even showing up for the second game. But by the end of the fifth the score was tied at 2.5 points each, with the American establishing a 6.5-3.5 lead in the 24-match contest after game 10.
Honours were even over the next 10 games, eight ending in draws, leaving the match poised at 11.5-8.5 in Fischer's favour with four games remaining. It meant Spassky had to win at least three of the matches and not lose any to have any chance of holding on to the world title.
The next game began on 31 August and was adjourned after 40 moves with Spassky resigning the next day to leave Fischer with an unassailable 12.5-8.5 margin of victory.
The triumph was widely seen as a symbolic victory of democracy over communism and turned Fischer into an unlikely American hero, earning him interviews on television, an invite to the White House from President Richard Nixon and unsuccessful attempts to lure him into commercial contracts.
The pressure of this sudden fame weighed heavily on him and he opted not to defend his title in 1975 against Karpov, refusing to participate when an agreement could not be reached with international governing body FIDE over conditions for the match. It's said he came up with 179 demands… but not one was met and as a result Karpov won by default.
After forfeiting his title Fischer became reclusive and sometimes erratic, disappearing from competitive chess and the public eye for the best part of two decades until he met Spassky for a rematch in Yugoslavia in 1992.
During his hiatus he reportedly turned down huge financial offers to play, among them a bid of US$1.4m from the Hilton Corporation to defend his title in Las Vegas. Philippines dictator Ferdinand Marcos and the Shah of Iran were also said to have offered even larger sums for matches in their countries.
He became more involved with the Worldwide Church of God, a fringe church he'd become associated with in the 1960s, and for a time lived in Pasadena, California, the church's home base. Later abandoning the church, he started giving radio interviews where he was accused of spouting vitriolic anti-Semitic and anti-American tirades, despite the fact his own ancestry was Jewish, and his increasingly bizarre behaviour alienated friends and family.
His 1992 rematch with Spassky was held at Sveti Stefan, a resort in the Yugoslav republic of Montenegro, only a few miles away from the bloody warfare then raging in Bosnia… the US$5 million purse put up by Serbian businessman Jezdimir Vasiljevic.
At the time the country was under a United Nations embargo and Fischer's involvement in the contest angered the US government, which warned him his participation would contravene an executive order imposing sanctions on Yugoslavia.
The government ultimately issued a warrant for his arrest for violating American law meaning he could have served up to 10 years in jail by returning to the US. A defiant Fischer went into exile instead, living in Hungary before moving to the Philippines and then Japan, where he was arrested in 2004 and held for several months for using a passport the US government had revoked.
The arrest during a stopover from the Philippines meant he could not leave Japan as he was a stateless person wanted by the United States. Facing potential extradition to the country of his birth, Iceland came through and granted him citizenship by a special act of parliament, allowing him to live there until his death on 17 January 2008, aged of 64.
About the Creator
From Covid to the Ukraine and Gaza... nothing is as it seems in the world. Don't just accept the mainstream brainwashing, open your eyes to the bigger picture at the heart of these globalist agendas.
JOIN THE DOTS: http://wildaboutit.com
Reader insights
Be the first to share your insights about this piece.
Add your insights