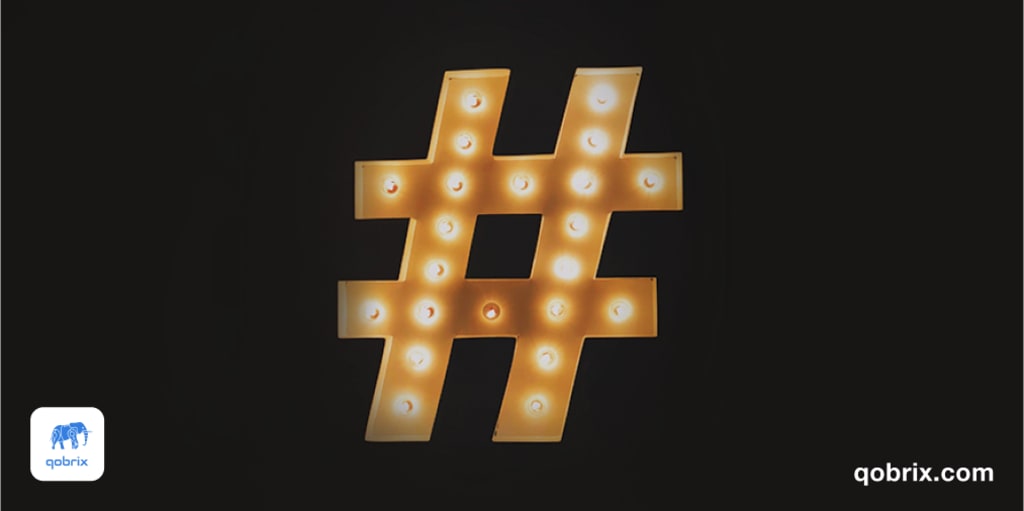 You've probably heard that using hashtags will help you boost your social media engagement. It's knowing how to use the hashtags correctly though that will impact your level of success. This stands true for any business trying to make its content discoverable on different social media platforms, including real estate enterprises.
In this article, we'll look at hashtags in a little more detail, why your real estate business should be leveraging popular hashtags, how to use them and what the best real estate hashtags are in 2023.
Table of Contents
What are hashtags?
Are hashtag statistics effective?
How to use real estate hashtags
What should you not do with hashtags?
How to find trending real estate hashtags
How many real estate hashtags should I use?
How many hashtags is too many?
Why do I need real estate hashtags?
What are the most popular real estate hashtags?
Conclusion
1. What are hashtags?
"A hashtag is a word or keyword phrase preceded by a hash, also known as the pound sign (#)." (Digital Marketing Institute). "They are used to connect social media content to a specific topic, event, theme, or conversation. They also make it easier to discover posts around those specific topics, because hashtags aggregate all social media content with that same hashtag." (Hootsuite). Hashtags for real estate follow the same principle, making your property-related content more searchable by social media users across the globe.
2. What do the stats tell us?
Stats on the effectiveness of hashtags are super interesting, to say the least, especially for real estate companies seeking to engage customers where they're online. CompareCamp has broken the stats down by social media platform as follows:
Twitter
Tweets with hashtags can increase engagement up to 100% (2x) for individuals and 50% (1.5%) for brands.
The hashtag sweet spot for a tweet is 1 to 2 hashtags. Tweets that follow this strategy can get up to a 21% increase in engagement.
Tweets that use more than two hashtags experienced a 17% drop in engagement.
Tweets with 1–2 hashtags have a 55% higher chance of getting retweeted.
Instagram
On Instagram, posts with at least one hashtag get 29% more interactions (for profiles with 1,000 or fewer followers).
Posts with 11+ hashtags have the highest interactions with 79.5% (for profiles with 1,000 or fewer followers).
Longer hashtags that have between 21 and 24 characters outperform shorter ones.
Facebook
Use a "less is more" approach. Too many hashtags can make your post look spammy and annoying.
On Facebook, posts with only one hashtag received the highest engagement with an average of 593 engagements per post; posts with 3 to 5 hashtags got 416; posts with 6 to 10 got 307; posts with more than 10 hashtags got the lowest average engagement per post with 188.
These numbers clearly evidence the benefits of implementing a hashtag strategy in your overall social media plan, especially so in terms of customer engagement and interaction.
TikTok
Your hashtags will count against the 300 characters TikTok enables you to use in your caption. Keep your captions short so that room is left for hashtags.
Sproutsocial claims that employing 3 to 5 TikTok hashtags will still allow enough for an fun, unique, and descriptive caption.
A big part of the TikTok experience is the use of hashtags. With 56 billion views, the hashtag #foryou is the most widely used.
Using one to three hashtags improves your engagement by 27%. However, using more than three has proved to only increase engagement by 5%.
Fewer hashtags are more effective because people see the content creator as more real and authentic.
Using too many hashtags makes your content appear spammy, much like Instagram.
3. How to use real estate hashtags?
For a real estate business looking to reach out to potential homebuyers on social media, using hashtags seems an obvious way to go about it.
Start with the basics
Add a hashtag to your location. People searching for a new home in a particular district, city or neighborhood will be looking under these headings. Hashtag the school districts under which your property listings fall. When looking for an area to move to, parents will definitely be thinking about the types of schools that they'll have access to.
Other hashtags to consider are:
Local attractions.
The name of your real estate business so that home buyers can find all your properties in one place.
If you want to promote your business in one region, consider using a hashtag like #UKRealEstate or #RealEstateUK. If you're targeting a global audience, use #RealEstate.
The style of property you are promoting (for e.g., #contemporaryarchitecture, #minimaliststyle, #midcenturybuilding, etc.).
Other generic terms that may increase the reach of your posts like #dreamhouse or #housegoals.
Think of all the possible words that have to do with your industry and choose the ones that appeal to you the most. Create your own unique hashtag, that would assist in gathering all your posts under one category and ask your partners to use it when they post about you.
Use trending hashtags
Usually, this means that a hashtag should have over 10,000 posts under it. Some platforms, like Instagram, for example, even provide you with a list of the most popular related hashtags to choose from. As the goal is to spread your reach, the more popular a hashtag is, the more people view it. Find influencers and competitors and check which hashtags they are using. However, using popular hashtags isn't always the way forward because you could get lost in the competition. Mix it up and use lesser-known hashtags where you could possibly stand out.
Use online tools to analyze which hashtags are trending
Some of the most popular tools marketing specialists use to implement a targeted hashtag strategy are:
Think about position and placement
Most platforms, especially Instagram, have algorithms that disapprove of profiles using the same hashtags across all of their posts. Therefore, you should research a wide range of hashtags that will work for you and use a select handful for each post.
Change them according to position. Use #interiordecor for an interior photograph, and #building for an exterior photograph of a house, for instance. Make the hashtag relevant to your post.
Placement should be considered. There are a few basic techniques for including hashtags into a post, regardless of the platform.
First, you might include a hashtag in the post caption by writing, "Thrilled to see this stunning #luxurypenthouse for sale. Make a tour appointment right now!"
Alternatively, you might add your hashtags to the conclusion of the article. For instance, "Check out this #beautifulhouse that's #forsale! Make an appointment now!"
To reduce visual clutter in the description, another common hashtag method is to add hashtags as the first remark on the post. This tactic is frequently utilized on Instagram.
3.1 How to use hashtags for Instagram
Instagram users may subscribe to hashtags that interest them. Even while it might not seem like much, this could help you gain a devoted audience for your real estate business.
Imagine you frequently use a hashtag associated with a local neighborhood or perhaps a street. Users could stumble onto these hashtags, at which point your content will display inexplicably in their stream. The good thing is that since so few people use these local hashtags, you won't face much competition.
You may also add hashtags to your Instagram bio. Obviously, local and well-known hashtags for real estate are the best, but you may consider creating your own, unique one for your own business. #AndyFrankRealtor may merely index your content, but if you encourage your followers to use it, they could get the chance to voice your praises afterwards. Use hashtags to draw attention to your company's distinctive features.
3.2 How to use hashtags for Twitter
The thing with Twitter is that hashtags count toward your word limit. This is fantastic if you're simply tweeting a snapshot, but if you have a lot to say, it could be a nuisance.
Thankfully, Twitter makes it simple to find popular local hashtags. To the left of your Twitter feed, there is a column with the name "#Explore" that is continuously updated. This will show a number of trending topics relevant to the content you provide and the people you follow.
Since you post a lot of real estate-related content, follow real estate-related Twitter feeds, and follow local accounts, that little sidebar is suddenly your best friend.
3.3 How to use hashtags for TikTok
Hashtags are crucial for locating content on TikTok. Thankfully, the strategy is pretty similar to other social networking sites. For content to reach the right audience, hashtags are used to sort it.
Profit from the prevailing trends on TikTok by following them. For example, TikTok likes a hashtag challenge. You might encourage your audience to create original content using your hashtag-branded name, such as a video of their favorite room in the house or a funny take on a virtual tour!
The TikTok platform is excellent for showing eye-catching listings. A brief video tour or a short film highlighting its unique or special qualities might help to expand its audience. Remember that TikTok is intended to be fun, creative, and extremely participatory.
3.4 How to use hashtags for LinkedIn
Realtors should always publish on LinkedIn, but they don't. Since LinkedIn has less eye-catching distractions than other social media platforms like Twitter, Facebook, and Instagram, potential customers are less likely to be distracted from your material there. Your content should have a more professional tone because LinkedIn is a platform for career success.
You should use hashtags on LinkedIn to target your audience and show up in the right streams. Keep in mind that not everyone will visit LinkedIn as regularly as they do Instagram, and therefore your audience may be smaller. Some fundamental hashtag guidelines include avoiding using punctuation, include hashtags in your writing, keeping them succinct, and never use too many.
3.5 How to use hashtags for Pinterest
Pinterest, on the other hand, is totally different. Compared to other social media platforms, Pinterest operates more like a visual search engine. Think of it as a customizable Google image search.
In order to stay below your 500-character limit, try to limit the number of hashtags you use in your pin description. It should be enough to have four or five. Watch out that they don't come off as spammy because the first four hashtags are what people see when they search for your pin.
You may find popular or local hashtags on Pinterest by putting #yoursearchterm into the search area.
3.6 How to use hashtags for Facebook
Because Facebook's algorithm disproportionately favors paid advertising, hashtagging there is less successful than it may be on other platforms. Use a couple of these well-liked real estate hashtags to organically broaden the audience for your Facebook posts.
4. What should you NOT do with hashtags?
Just as there are best practices in how to use hashtags, there are also several things to avoid doing. Don't go overboard in the number of hashtags you use. Quality over quantity is key. Avoid using punctuation marks, symbols or spaces. Remember that hashtagged content can't be viewed by non-followers if your account is set to private. Ensure your accounts are public. Don't use obscure words that are difficult to find or have no search volume. Finally, don't make use of or string a lot of words together. Keep your hashtags short and memorable.
5. How to find trending real estate hashtags
There is no one "correct" technique to identify popular real estate hashtags, but there are several strategies you can use to speed up the process. One method is to open a social networking app or website and enter the first hashtag that comes to mind. You can see how frequently it's used and what the most popular posts using this hashtag look like by using this to display both the top and most recent posts using the hashtag.
Additionally, a number of services assist in creating and monitoring hot hashtags across a range of topics. As an illustration, Best-Hashtags enables you to enter a hashtag and displays popular related hashtags.
6. How many real estate hashtags should I use?
Although real estate hashtags can be quite helpful, they are nevertheless susceptible to the "too much of a good thing" problem. To attract more views, it can seem logical to stuff your posts with as many hashtags as you can, but it is not the greatest strategy.
A maximum number of hashtags is allowed on some sites for each post. Instagram, for instance, permits 30 hashtags per post. The character restrictions for hashtags on Twitter is 280 and Pinterest is 500.
For Facebook and Tiktok, use three to five hashtags. Apparently 13 is the golden number for Instagram. Pick ten to fifteen hashtags per post on Instagram, where there is a larger restriction. Remember however that loading an article with as many relevant keywords as possible might make it appear spammy rather than welcoming.
7. How many hashtags is too many?
How many bedrooms does a house need? Depends on who you ask! So, how many hashtags should you use exactly? This is one of those inquiries that, if you ask five individuals, you will get 10 different suggestions.
Fortunately, the solution is not as difficult (or significant) as you would believe. Per post, Instagram enables up to 30 (!!) hashtags. Should you use 30 hashtags in every single Instagram post? Okay, no.
Please refrain from doing that. Although it's possible that Instagram won't penalize you (the evidence is still mixed on this), your audience will perceive you as being desperate. Think about the following guidance:
Use hashtags that are relevant to your post.
Keep track of the hashtags your followers are using, mix up popular and uncommon hashtags, and make up your own custom hashtag.
In addition, the following things should be avoided:
Don't use hashtags that are irrelevant.
Avoid overly generic hashtags.
Don't be excessive — adding 30 hashtags won't make your post stand out more.
8. Why do I need real estate hashtags?
The prevalence of smart devices with social media access, such as smartphones, has increased the importance of search functionality. In fact, according to the National Association of Realtors, more than 90% of millennials begin their property searches online rather than through personal recommendations. For this reason, real estate companies should start using hashtags to increase traffic to their websites.
Now that everyone uses the internet to search for houses, creating posts with searchable hashtags is important. Use those real estate hashtags to promote your content to a broader audience.
Connecting with your audience and building your brand through interesting social media posts that are found using hashtags may help you attract new and returning consumers.
Real estate hashtags are one of the finest social media marketing strategies to utilize in your plan, especially on Instagram and Twitter. This is because agencies and individual agents are constantly looking for new methods to differentiate themselves from the competition and connect with potential clients. Real estate hashtags help you get more leads, establish your brand, improve traffic and click-through rates, and interact with potential customers and other real estate professionals.
It's crucial to develop fresh strategies for creating an online presence that can guide your target audience in the direction you desire since technology and the way we use it both continue to advance quickly. You can build a strong social media presence that will ultimately generate more leads and boost your company's bottom line by combining a well-thought-out plan with real estate hashtags.
9. Trending real estate hashtags for 2023
We did all the research so you don't have to! Qobrix looked at the previous three years and noted popular real estate hashtags. After researching current and upcoming trends, we then created a list for 2023. Feel free to copy and paste it and start using hashtags!
General Tags
#realestate
#realtor
#realestateagent
#realtorlife
#homes
#homesforsale
#homegoals
#housegoals
#homeinspo
#homeideas
#luxuryrealestate
#interiordesign
#househunting
#homesweethome
#openhouse
#buymyhome
#proptech
#realtorlife
#makememove
#homebuying
#realty
#realestatesales
#realestatestyle
#rentalproperty
#investmentproperty
#realestateinvesting
#fixerupper
#newhome
#propertybuyer
#houseforsale
#homeportrait
#sellmyhome
#ecohome
Listing Tags
#justlisted
#firsttimebuyer
#offmarketlisting
#newlisting
#marblecountertops
#petfriendly
#openhouse
#curbappeal
#dreamhome#starterhome
#staging
#emptynest
#retiredcommunity
#custombuilt
#fixandflip
#urbanliving
#singlefamilyhome
#adultcommunity
#moveinready
#farmhouse
#penthouseliving
#penthouse
#sellingproperty
#homebuyingtips
#houseportrait
#luxuryhomes
#homesearch
#tinyhome
#homebuying
#virtualtour
Neighborhood Tags
#lovewhereyoulive
#loveyourneighborhood
#neighborsandfriends
#community
#downtown"city"
#beachlife
#walkableneighborhood
#HOA
#"neighborhood"realestate
#"neighborhood"homeforsale
#"city"realestate
#"city"homeforsale
#"neighborhood"living
#"neighborhood"life
#"city"realtor
#"neighborhood"+"typeofhome"
#suburbs
#suburblife
#explore"neighborhood
#location
#"county"realtor
#"state"realtor
#greattransportation
#uptown
#closetothebeach
#localattraction
#greattransportation
#onthemetroline
#treelinedstreets
Business Branding Tags
#listwithme
#yourfavoriterealtor
#buywithme
#sellwithme
#"yourname"
#"yourcompanyname"
#"yourbrokerage"
#justrealtorthings
#realestatehumor
#realestateexpert
#"your city"expert
#"your neighborhood"expert
#yourpersonalbrand
#toprealtor
#yourrealtor
#whoyouworkwithmatters
#thedailyhometip
#theweeklyhometip
#riseandgrind
#mondaymotivation
#realtorsofinstagram
#riseandgrind
#realestatetips
10. Conclusion
Using hashtags for real estate is easier than it may seem. All it requires is the knowledge of your audience, what they are seeking and how your business can cater to their needs. With experience, you will quickly learn which hashtags work and which aren't as successful. After you establish the hashtags that work best for you, form a list to simply copy paste into your future posts. Just remember to update it according to what's trending.
About the Creator
All-in-one platform. Built for real estate. Perfect for realtors, property developers, brokers, & asset managers. A leading real estate CRM system, innovative portals, & high-performing websites with MLS/IDX integrations.
Reader insights
Be the first to share your insights about this piece.
Add your insights